About Our Mascot, Talky Tina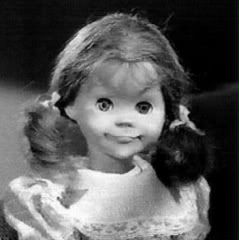 Talky Tina was a 22" Vogue Brikette doll that performed as a talking doll in a classic 1963 episode of The Twilight Zone, "The Living Doll."

Tina was modified with a custom wardrobe, a walking mechanism transplanted from another doll (possibly a Saucy Walker), and a "volume knob." Her voice was provided by June Foray.
















© Talky Tina Press, Medford, Oregon