HOME




Albert Cooper Allen, Jr.


I picked up a little yellow-backed volume a few days ago, and I laughed over it and cried over it in the way we are wont to do over a really good book.
Who wrote it?
A twelve-year-old boy. [

Allen would have been around 17 in 1892, when he wrote this essay.

] He wrote it, printed it and illustrated it in woodcuts made by himself. On its cover is a furled flag, for he has grown up under its folds and has listened to the bugle call every day for "reveille"--the drum call for "taps."
"Camp at Strawberry Valley and Other Short Stories" it reads, with the author's name, Albert C. Allen. It deals with a summer encampment of the United States troops at that charming spot, and is just the tale in which any eastern boy would delight.
After recounting the first part of their hot and dry march and how he had gone to sleep the first night "homesick and dreaming in a confused way of home and Strawberry Valley," he drops into this pretty little bit of descriptive narrative:
"For twenty miles westward lay the valley, a veritable park, bathed in brilliant, yellow light. At this great elevation (10,000 feet above the level of the sea) the atmosphere is so clear that objects can be seen plainly at great distances, so that a half dozen mounted Indians scudding across the plains, fully three miles away, seemed within easy rifle shot. Lit up by the rays of the sun, which:


Rolled o'er the glen their level way;
Each purple peak, each flinty spire,
Was bathed in floods of living fire.


"The contrast between this sunlit landscape and the dark forests through which we had been marching made it the most startling and lovely scene I had ever beheld."
Here is something to catch the eye of every boy:
"This evening I went hunting, but as I had only stones to throw I killed nothing. As I was returning to camp I stopped on an old log that gave out a whistling sound. On examining it I found a hole, and in it was a squirrel. I cut a stick and ran it into the hole and began to twist it so as to catch the squirrel's hair, but it would not hold him. I tried in every way I could think of to get the squirrel and finally twisted half its tail off. After an hour or more I got his hind leg out and tied a string around it and pulled him out. On the way back to camp I met a soldier and he offered to show me how to hold the squirrel. He said: 'Catch him by the back of the neck, and then he can't bite you.'
"I tried it and the squirrel bit me instantly. Then I got a long stick and tied him to the end of it and carried it to camp where I gave it away."
Where have you ever seen this surpassed as descriptive of a feeling we have all at some time known:
"I went on an exploring trip this morning over the mountains. I had an idea that by climbing a certain mountain that is in this vicinity I would be able to see Fort Duchesne, which is over 150 miles distant. I took the gun and after an hour's climbing I found myself about halfway up. As I was resting in the shade of some trees I suddenly heard a rustling in the bushes behind me. Jumping up, I looked around but saw nothing.
"Resolved not to be frightened out of this expedition, I loaded both barrels of my gun with buckshot and started bravely forward. Every gust of wind through the pine forest gave me a start. I believed myself able to cope with any wild animal to be found in this region, for I am familiar with the use of my shotgun, but the wildness of my surroundings, the overhanging cliffs which threatened to fall upon me, the great unknown distances up to the mist-enshrouded peaks, and the dark depths of the cañons below impressed me with a feeling of helplessness and danger. But I still pursued my course upward, and finally reached a point which I had supposed was the top, but I saw my mistake, for in reality I was still a long way from the summit. Here I gave way to that overpowering feeling of awe which oppressed me, and disappointed at not reaching the top, I abandoned my purpose. I had reached about 11,500 feet and found breathing difficult.
"Father told me that after many years' experience in the mountains and on the plains he has, himself, had the same sensations when in wild sections that I had; so as I am only 12 years old, I am not ashamed to tell of mine."
Here is a delicious bit of humor:
"Returning to the hotel I found my way to supper to which I did full justice after my hard day's journey. The only fault I found was that the waiter came up to me and recited the bill of fare with such rapidity that I could not understand a word he said except the last part, which was: 'What'll you have?' and this was just what I didn't know, but I managed by looking at the things on other tables to give my order, and he departed."
"It Was a Gay Society Week,"

Salt Lake Tribune,

June 26, 1892, page 4


A. C. Allen and brother are at the Walker House. They live at Fort Douglas, but couldn't get up last night, on account of the cars not running.
"Personal Mention,"

Salt Lake Tribune,

January 25, 1895, page 8


Recruit Albert C. Allen, formerly of

The Herald,

who has enlisted in the battery, has secured himself a natty uniform, which fits him like the kalsomine on the wall, and gives him a very martial appearance. Recruit Allen is likely to become a noncommissioned officer, and he will make a good one.
"Seamen Pass Through,"

Salt Lake Herald,

July 3, 1898, page 5


Mr. and Mrs. Henry Sadler announce the engagement of their daughter, June, to Mr. Albert C. Allen, son of Captain L. C. Allen, of the Sixteenth Infantry, now at Santiago. The date for the wedding has not been set.
"In the Social Realm,"

Salt Lake Herald,

July 8, 1898, page 8




UTAH BOYS BAD LUCK
No Chance For Battery C to Win Renown.
HAVE ABANDONED HOPE
WADING THROUGH MUD AND FIGHTING FLEAS
Life at the Presidio During the Rainy Season--Men Eager to Be Mustered Out--
Sergeant Lund One of the Sights of the Camp--Red Cross Ladies.
(Special Correspondence)


Presidio, San Francisco, Oct. 8.--The boys of Battery C have given up all hopes of distinguishing themselves on the battlefield, and it is with a great deal of chagrin that they are forced to do so. They had intended to make the rifles of Battery C be heard around the world like the shot on old Fort Sumter, but our armament is a joke with us now, and we are beginning to wonder what we are here for.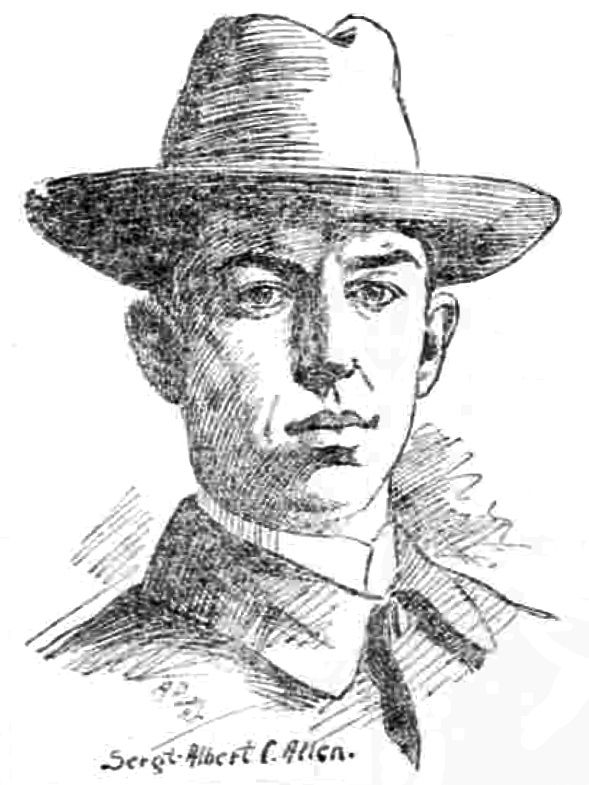 The longing for battle has not yet left the breasts of some of the boys at least. As a result a football has been purchased and a team is being organized. Already two challenges have been received from other organizations to play match games, and both have been accepted. The team has not yet been finally organized, but there are several applicants for positions.
At first it was thought of putting Sergeant Lund, who is about the tallest man in the Presidio, as center. He could then reach over the heads of the others and coolly pick the ball out of the hands of the opposing team, but Lund won't play, so Sergeant Leon took his place. There is good material in the battery for a team, and if they practice enough success should crown their efforts.
The first day that the pigskin was brought out two teams were picked, and after about 15 minutes' practice they challenged each other and a game followed. The result is that Corporal Malloy is going around with a stiff leg, the limb having been hurt in the contest.
Baseball also comes in for a good deal of attention. Balls, bats, gloves, etc. have been purchased, and games are going on whenever the boys get a chance after drill hours. The Nevada cavalry and our boys usually have a game each Saturday and Sunday which serves to pass away the time.
Occasionally we have some excitement in camp in the shape of a fire call, as was the case recently. Before it was half out the noncommissioned officers were out calling to the men to "fall in." In about a minute the battery was lined up and after a double-time of 100 yards or more we were halted and reported at the guardhouse for duty. As usual, we were the first on the scene by several minutes. The fire was over in the direction of the Tennessee camp, but we were not needed, as it was of no consequence.


LUND IS A CURIO.


All day long visitors are strolling about the Presidio, looking at the soldiers, and one of the sights which attracts attention in our camp is our big sergeant. Every lady who comes along gets out her kodak and tries to get a picture of him, but Lund is modest and does not like to have his picture taken. Occasionally, however, we see a picture of him taken unawares. The other day Lund met his match. A stranger--or rather an old friend to some of us--came into camp. It was Corporal McGiffin of B Company Sixteenth Infantry. McGiffin used to be stationed at Fort Douglas and will be remembered as the "little boy of the Sixteenth." He like Lund is over six foot 6 inches but is a little taller than Lund. McGiffin is here on sick leave, having contracted a fever while lying in the trenches before Santiago after the fight.


WADING IN MUD.


We are now up to our ankles in mud, at least we are when we get outside of our tents. The rainy season has begun, but so far the rainy season has proved the most pleasant part of our stay. We do see the sun occasionally now, but during the "dry" season it seldom showed itself.
San Francisco Bay lies at our feet dotted with white sails or marked by the trailing black smoke of a steamer. In the center of the bay is Alcatraz Island, rising sheer from the water's edge for 200 or 300 feet, and on top are the red brick walls of the military prison and a heliograph just below it which reflects the sun's rays to the Presidio. Across the bay can be seen Angel Island, with its barracks, and further to the right in the distance is Oakland, while the famous Golden Gate, guarded by fortifications, is on the left. At night it is a beautiful sight to look across the bay towards Oakland, whose lights sparkle like diamonds in the clear night air.


NO ESCAPE FROM FLEAS.


We had an idea that the rainy season would relieve us of at least one pest--the fleas. We thought of course the rain would drown them out, and it did, but only to drive them to the shelter of our tents. Our tents are all floored, and in that way we manage to keep a little cleaner than we would were we forced to have the bare ground for floors. The dampness, however, pervades everything, and even the grass under the floors is flourishing. The green blades are forcing themselves up through the cracks in the floor, and one would think we were trying to start a greenhouse, to see it.
The reservation is thickly planted with trees, and if one takes a walk through them he is sure to scare up a covey of quail and numbers of rabbits. The boys look with longing at them, and visions of quail on toast and rabbit pot pie rise before them like a delightful dream. But we are not allowed to hunt on the reservation, and as the quail and rabbits always keep within the line we are forced to dream of dainties unknown in the volunteer army.
Another sign besides the one prohibiting hunting is one which reads: "No dogs or kodaks allowed on this reservation." That sign confronts us at every turn, and we wonder why the dogs and kodaks are classed together. The reason for keeping kodaks off of the reservation is to prevent photographs being taken of the fortifications, but why the dogs are included with the kodaks we cannot understand.
Among the other signs we see about the Presidio and the city are "No help wanted" and "No peddlers." This last sign is fastened to nearly every door in the city.


RED CROSS DAINTIES.


It is truly wonderful to see what the people of San Francisco have done for us poor soldiers. Day after day the ladies of the Red Cross Society give us food and other comforts--things not issued to us by the government. Then every day sees some soldier in our camp made happier by the gifts of fruit and lunches brought us to them. Young girls and ladies have come to the camp to look around and while here engage in conversation with some of the boys, and a few days later they appear again with lunches for them. The ladies seem to take pleasure in giving dainties to the soldier boys, and nothing could better express the feelings of the volunteers than that old toast: "To the ladies. God bless them."
The other day a visitor started to walk along the battery street in front of the rear line of tents when a soldier stepped up and asked: "Want a guide to Chinatown? I'll take you all through, show you the joss house and the boys hitting the pipe." Just then a most uncanny chant was started in one of the tents, and it sounded as if a Chinese opera was in operation. It was then explained to the surprised stranger that the part of the camp in which he found himself was called "Chinatown."


UTAH VISITORS.


Among the visitors who have recently visited our camp are Mr. and Mrs. Joe Young and Miss Sherman, Mr. E. G. Ivins, Mr. and Mrs. Booth of Nephi, who are on their bridal tour, and Mr. Julius Gauer of Salt Lake, who is en route to Manila.
About the most interesting topic to the boys of the battery now is pay day, though if you wish to bring a smile to their lips tell them they are to be mustered out. We go whistling about our duties, but it is like the boy who went through the graveyard at night: He whistled to keep up his courage. So do we whistle just to keep up our spirits, and the day the order comes for mustering us out--well, we will be ready to
go.


SERGEANT ALBERT C. ALLEN, Battery C


Salt Lake Herald,

October 13, 1898, page 16


[Battery C, bound for Manila,] left Salt Lake 103 strong, three men coming on later. It is commanded by Captain Frank W. Jennings, with J. F. Murphy of Ogden first lieutenant, W. J. B. Stacey of Sanpete second lieutenant, Henry Barrett, Albert C. Allen, Edgar Stevenson, Chris Lund, Leo Lund, Albert Hulbert and Edgar J. Bonstell sergeants.
"Are Anxious to Go,"

Salt Lake Herald,

November 2, 1898, page 1


Official orders received yesterday from the War Department announce confirmation of the telegraphic instructions of Dec. 13, directing the honorable discharge from service of Sergeant Albert C. Allen of Battery C, Utah Volunteer Artillery. Sergeant Allen is a son of Captain Levin C. Allen of the Sixteenth Infantry, and one of the heroes of San Juan Hill. He was a

Herald

reporter at the time of his enlistment.
"Recent Army Orders,"

Salt Lake Herald,

January 8, 1899, page 5




ALBERT ALLEN HERE
Well-Known Young Soldier Visits Salt Lake.
IS NOW A LIEUTENANT.
WON HIS STRAPS BY VALOROUS SERVICE.
Came Here on Sick Leave, His Health Having Been Impaired by an Attack of Fever--
Thinks the War is Not Nearly Over--Much Fighting Done.


After a year's active campaigning in the Philippines, every day of which was fraught with perils, Lieutenant Albert C. Allen returned yesterday to Salt Lake, to remain here about two months. He went away as a private--he returns with shoulder straps, all of which is a lasting tribute to his sterling services for his country.
But Lieutenant Allen's experiences in the Philippines were not all attended with the glory and pomp of war. Like many others who went to the faraway island to fight for the flag, the fever got into his blood, and his return was necessitated by ill health. He expects to recuperate sufficiently in two months to return to active service, and to do his part in the ending of the war against the dusky Filipinos.

The gallant lieutenant has just returned from the scene of action, and is in a good position to know the situation over there. It is his opinion that the end of the conflict is not yet in sight, and, indeed, that it is a long way into the future. Every day battles are being fought of which the American people do not hear, and they are battles that have a vast bearing on the situation. Lieutenant Allen himself participated in seven battles during the month of January, a number of the men being killed.

"No, the war is not nearly over," he said yesterday, "and there is no way of judging when it will end. There will have to be lots of fighting done yet before the end may be looked for. We have just about shattered the enemy's organization, but they fight on just as desperately and almost as efficiently as before."

Never Relax Their Vigilance.

"Never for a moment do they relax their vigilance. Although it would look, to one unacquainted with their fighting qualities, that the war is over, it is exceedingly dangerous to even step outside of the American lines. If a man does venture out, he encounters the vigilance of the enemy, and he quickly returns to the music of whistling Mausers.

"To say that I am glad to get back to Salt Lake, even for a short period, does not half express it. While there is plenty to keep one busy in the islands, everything is so different there from what an American has been accustomed to all his life that a return to one's native land is very welcome."

Lieutenant Allen is a son of Captain Allen of the Sixteenth Infantry, and while he has lived in officers' quarters all his life, his first experience in the service was with Battery C of the Utah volunteers. It will be remembered that this section of Utah's men got no farther than Angel Island, off the coast of California. After they returned to Utah, Lieutenant Allen enlisted in the Twenty-First Infantry as a private, and was sent to Plattsburg, New York.

About a year ago he was ordered with the regiment to the Philippines, and it was while fighting there that he won his straps, and was transferred to the Thirty-Eighth Infantry. He has served in that regiment since January 6. Before enlisting he was for some time on the reportorial staff of

The Herald.

Salt Lake Herald,

April 13, 1900, page 3

SICK LEAVE EXTENDED.--Lieutenant Albert C. Allen of the Thirty-Eighth Infantry, who has been visiting at his old home in this city on sick leave from the Philippines, has had his furlough extended another month by the War Department.

"Local Briefs,"

Salt Lake Herald,

May 22, 1900, page 8



Miss Edith Keith gave a delightful tally-ho party to the Salt Palace races on Tuesday evening in honor of Lieut. Albert C. Allen. The party were entertained afterward at a supper at the Keith residence on East South Temple Street.


----


The wedding of Miss Lillian Keith and Lieut. Albert C. Allen, which took place on Wednesday evening, was one of the most elaborate events of the year. The handsome Keith residence on Est South Temple, where the affair took place, was magnificently decorated, the arrangement being designed by Mrs. Samuel Woodward. The drawing room in which the ceremony was performed was decorated in red, white and blue, the bridal party standing under a canopy of satin ribbons in the three colors, and flowers in red, white and blue being arranged on all sides. The most striking feature of the decorations was a large electric flag, arranged with rows of tricolored globes, which were flashed into light alternately, producing the effect of waving folds. Palms and plants were banked beneath it as a background for the alcove, and a frieze of vines ran around the walls. Ferns and smilax festooned the curtains, and the mantel was dressed with palms and American Beauty roses.
Yellow was the color chosen for the library, marigolds and nasturtiums being the flowers used, and palms and plants filling available corners and niches.
In the hall red prevailed, carnations gleaming from mantels and piano, while around the balcony was festooned ropes of smilax, with palms and plants forming a bower in which the orchestra was ensconced.
The dining room was done in pink and green, pink sweet peas, candles and ribbons being used with artistic effect. A cloth of white Mexican drawn work was spread over pink satin, and in the center a large oval mirror rested, with a square of Duchesse lace covered with sweet peas making a beautiful centerpiece. At 7 o'clock the party entered the drawing room to the strain of Mendelssohn's wedding march, little Mary Woodward, the flower girl, and David Keith, Jr., leading, followed by the maid of honor, Miss Etta Keith, and then the bride on the arm of her father. They were met under the canopy by the groom, and his best man, Mr. Sam Porter, and Bishop Scanlan read the marriage service. The bride wore an exquisite gown of white liberty satin en train with flounces and bodice of white Duchesse lace. Her veil was of tulle, and was fastened with a sunburst of diamonds. Her flowers were a shower bouquet of bride's roses. The bridesmaid was gowned in pink organdie over taffeta of the same color, and carried pink roses. Mrs. Keith wore heliotrope crepe with yoke of Duchesse lace. During the ceremony the orchestra played "Cavaleria Rusticana," which was changed to "Star Spangled Banner" at the close of the ceremony.
After receiving the congratulations of friends during the evening Lieut. and Mrs. Allen left for San Francisco, where Lieut. Allen will be stationed at the Presidio pending orders to join his company in the Philippines.
The bride is the daughter of Mr. David Keith of this city and the groom a son of Capt. Allen of the Sixteenth Infantry. He enlisted in Battery C, Utah Light Artillery, during the war with Spain, and afterwards enlisted as a private for service in the Philippines but was there promoted to second lieutenant.
Among the many presents received by the young couple was a check for $2,500 from Mr. Keith, a chest of silver from Mr. and Mrs. Thomas Kearns and a tea set from Mrs. Judge.
Among the guests were: Mr. and Mrs. James Ivers, Miss Ivers, Mr. and Mrs. Thomas Kearns, Miss Kearns, Mrs. Mary Judge, Mrs. Woodward, Mr. and Mrs. W. M. O'Brien, Miss Kathryn Judge, Mrs. M. S. Woodward, Miss Rilla Snyder, Mr. and Mrs. Don R. Porter, Miss Porter, Mr. and Mrs. J. X. Ferguson, Mrs. Ferguson, Miss Kate Johnson, Mrs. Kate Burton, Mr. and Mrs. W. J. Bush, Miss Baillie, Mrs. L. C. Allen, Bishop Scanlan, Father Kieley and Mr. K. C. Kerr.
"In the World of Women,"

Deseret Evening News,

Salt Lake City, August 11, 1900, page 14


Lieutenant and Mrs. Albert C. Allen, who returned from the coast yesterday, where they have been sojourning since their marriage, found on their arrival that Hon. David Keith, father of the bride, had purchased for them a handsome residence on First and Q streets.
"Building and Realty,"

Deseret Evening News,

Salt Lake City, October 20, 1900, page 3


Mrs. Albert C. Allen, who has been critically ill, was much improved yesterday, and her speedy recovery is looked for.
"Society,"

Salt Lake Herald,

September 6, 1901, page 4


Mr. and Mrs. Albert C. Allen, child and nurse leave here on the 8th and sail from San Francisco on the 15th for a trip of several months to Honolulu and the Orient.


The Intermountain Catholic,

Salt Lake City, October 5, 1901, page 8


Mr. and Mrs. Albert C. Allen, baby and nurse left on Wednesday for Honolulu. After a sojourn of three weeks there they sail for Japan, China and the Philippines, returning to this city late in the spring.
"Society,"

Salt Lake Herald,

October 11, 1901, page 4


Mrs. L. C. Allen, Mrs. Albert C. Allen, children and maid left yesterday for San Francisco, where they will meet Major Allen returning from the Philippines.
"Coming and Going,"

Salt Lake Herald,

June 29, 1902, page 14




PROMOTION IS GIVEN TO MAJ. L. C. ALLEN


WASHINGTON, March 27.--Maj. L. C. Allen of the Sixteenth Infantry has been promoted to be lieutenant colonel of the same regiment. The appointment dates from March 15th. Four companies of the regiment are at Fort Slocum and nine at Fort McPherson.

Lieut. Col. Allen is well known in Salt Lake. He was stationed at Fort Douglas with the Sixteenth Infantry and has a son, Albert C. Allen, now residing in Salt Lake. Col. Allen graduated from the military academy July 1st, 1868. He was appointed second lieutenant and assigned to the Sixteenth Infantry June 14, 1872; promoted to first lieutenant July 1, 1880, to captain February 24, 1891, and to major October 10, 1899. On his appointment as major he was transferred to the Twelfth Infantry, remaining with that regiment until May 25, 1900, when he returned to his first love, the Sixteenth, of which he now becomes lieutenant colonel.

Salt Lake Telegram,

March 27, 1903, page 3



Mr. and Mrs. Albert C. Allen returned Saturday morning from their trip through the Yellowstone Park.
"Society,"

Salt Lake Tribune,

August 18, 1903, page 5


Mr. and Mrs. Albert C. Allen leave for Los Angeles next week, and, owing to the health of Mrs. Allen, may remain there permanently.
"With the Willies and the Wits,"

Goodwin's Weekly,

Salt Lake City, October 24, 1903, page 11


Mr. and Mrs. Albert C. Allen will reside in Los Angeles for the future, owing to Mrs. Allen's health being better in a lower altitude.
"Social and Personal,"

The Intermountain Catholic,

Salt Lake City, October 31, 1903, page 8


Mr. and Mrs. E. E. Wood entertained last evening in honor of Mr. and Mrs. Albert C. Allen, who leave soon for the coast.
"In the Social Whirl,"

Salt Lake Tribune,

February 7, 1904, page 13


Albert C. Allen leaves early next week for an extended tour of the Pacific coast and will probably locate permanently in one of the coast cities.
"Society,"

Salt Lake Tribune,

February 9, 1904, page 9


C. E. Stewart today sold his fine orchard farm, which lies two miles west of Medford, to A. C. Allen, of Salt Lake. The consideration was $30,000. This place consists of 200 acres of land with 100 acres set to choice fruit. Mr. Allen left for Portland tonight and will return soon, accompanied by his family.
"Rogue River Farms Sold,"

Morning Oregonian,

Portland, May 6, 1904, page 4

1905 Oldsmobile ad
A. C. Allen has purchased an Oldsmobile. This gives him and his household two 'mobiles, which fact will enable them to get all needful enjoyment out of Jackson County's thoroughfares.
"City Happenings,"
Medford Mail,
May 12, 1905, page 5
DOES HIS OWN IRRIGATING.

One of the numerous subterranean veins of water which flow through the valley rises to the surface on the north end of the Hollywood Orchard farm, west of Medford, and owned by A. C. Allen, forming a swamp of some ten acres in extent. This swampy place didn't "look good" to Mr. Allen when he purchased the place, and besides he conceived the idea that the water which was going to waste in making a mere swamp might be utilized. He put the idea into execution by laying lines of tiles converging to a common center and thus collecting the water which had formerly spread over this marshy ground and running it into a reservoir with a capacity of 75,000 gallons. This had the effect of making the swamp land arable and at the same time gave Mr. Allen an ample water supply for irrigating purposes.
In order to use this water Mr. Allen has installed a 3½-inch centrifugal pump, which is driven by a 12-horsepower gasoline engine and has a capacity of 300 gallons a minute. This pump drives the water from the reservoir through a 6-inch pipe into a tank of 10,000 gallons capacity, from which it can be distributed by means of flumes to the different portions of this ten-acre tract, as it is needed. In addition to the 3½-inch pump there is an auxiliary pump which can be used in case of emergency. The engine which furnishes the power is a portable one, and when not in use for pumping purposes can be used on other work about the place. At present Mr. Allen only purposes covering the ten-acre tract above mentioned, but ultimately intends to extend the system so that he can irrigate the whole area of land he owns. The reservoir has been so constructed that it can be enlarged at any time until it has a capacity of at least 500,000 gallons of water, furnishing an ample supply.
This year Mr. Allen intends to try his hand at onion raising and is confident that the soil of the reclaimed land will produce onions that will rival the far-famed Eagle Point product.
When he gets the system working nicely a private electric lighting plant will be installed, and then Mr. Allen will be about as independent as they make them. With his own irrigating system and his own lighting plant, he will pay tribute only to Standard Oil for gasoline to furnish power.
Medford Mail,
January 5, 1906, page 1
A. C. Allen:--"Did you see that new gasoline engine I received Monday? It was quite a load for two horses the way the roads are now, but fortunately I won't be compelled to move it very often for awhile. I intend to commence pumping water into my reservoir as soon as I can, as the water in the swamp I am trying to reclaim is raising and I want to get it out of the way."
"City Happenings,"
Medford Mail,
January 12, 1906, page 5
Born--At the Allen farm, west of Medford, Tuesday, March 20, 1906, to Mr. and Mrs. A. C. Allen, a son.
"City Happenings,"
Medford Mail,
March 23, 1906, page 5
Among the attractions at the exhibit building this week is a plate of mammoth peppers, grown by A. C. Allen at the Hollywood Orchards, west of Medford. He also shows some fine okra or gumbo and some huge turnips. He finds the growth of fine vegetables easy with his pumping plant in operations, as he can throw an immense stream of water from his tile drain by means of the ten-horsepower gasoline engine he is using. A hundred acres of this fine orchard can be irrigated by this means.
"City Happenings,"
Medford Mail,
August 10, 1906, page 5
1907 Thomas 40 ad
A. C. Allen boasts a handsome new Thomas Forty automobile. The big touring car attracts much attention as it speeds through the streets of our city. It was purchased through the local firm of Wm. M. Hodson & Co., who also report the sale of a fine Buick $1550 touring car to Geo. F. King and another car of the same make and price to Hon. W. I. Vawter. This brings the total number of automobiles now in use in this city to nineteen, and there are eight more ordered and sold to parties in this vicinity, as soon as the next carload arrives from the factory.
"City Happenings,"
Medford Mail,
April 19, 1907, page 5
CONTENTED HORTICULTURISTS.
Mr. and Mrs. A. C. Allen, who live two miles west of Medford, on the Jacksonville road, are among the happy and contented home-builders who have been "driven back to Eden." They were former residents of Salt Lake City and came west for the benefit of Mrs. Allen's health, which has improved wonderfully in the "glorious climate of Oregon." Mr. Allen was formerly employed in the art preservative of art [
i.e., printing
], and was also in the employ of Wells, Fargo & Co. Mrs. Allen is a daughter of David Keith, the well-known railroad builder. The Allen home is one of the best in the county, surrounded by a young orchard of 120 acres and a tract of garden land which will produce vegetables of any kind and of the best quality. These people take great pride in their beautiful home and, being automobilists, are advocates of good roads.
Medford Mail,
April 26, 1907, page 2
A. C. Allen, the orchardist, favored some of his friends with a test trip on his handsome new Thomas Forty automobile touring car a few days since. The party, in addition to Mrs. Allen and baby and little daughter Mary, consisted of Mr. D. H. Miller and Messrs. A. S. Bliton and W. E. Willis of the
Mail.

The spin was made out on the country road, to the south, where the thoroughfare was found to be in most excellent condition. With apparently no effort the big car glided along at the rate of fifteen miles an hour, with little power on. Later on Mr. Allen turned on the power, and 24 miles per hour was quickly reached, as was indicated by the novel device known as the autometer, which registers not only the speed at which the car is moving, but likewise tells how many miles have been covered during the trip, as well as keeping a complete record of all the miles traversed during the entire season.
The beautiful big touring car glided gracefully along, and its occupants could hardly believe that they were being whirled through space at a rapid rate, for it rode as easily as if one were in a Pullman and was really much more comfortable.
All the latest ideas are combined in this magnificent auto, and nothing is wanting to add comfort and pleasure to the fortunate occupants of it. The machinery is of the latest and most approved design, and the various devices are remarkably clever. With a forty-five horsepower [engine] and being capable of running at the rate of fifty miles per hour, this $3200 touring car may well be regarded as the very acme of automobiles, and Mr. Allen has every reason to feel much pleased over this investment, for it is going to be the source of much real comfort and pleasure for himself and his fortunate friends. This car was purchased by Mr. Allen through the local auto firm of W. M. Hodson & Co., who are placing many such fine vehicles in this city and surrounding country.
Medford Mail,
April 26, 1907, page 8
A. C. Allen and family returned last week from a tour of Northern California. They went in their Thomas 40 touring car, with George King, going by way of Crescent City and Eureka and returning by Yreka and the Siskiyous. The whole trip was made without mishap of any kind outside of a broken spring and worn-out tire or so, and everybody arrived home well and hearty, but extremely glad to be in the Rogue River Valley once more.
"Purely Personal,"
Medford Mail,
August 16, 1907, page 4
A. C. Allen and wife with Messrs. Nicholson and Platt, of the Nicholson Hardware Co., were bound for the woods near Grants Pass last Sunday, in Mr. Allen's big red auto, when at the O'Brien ranch a spring broke and they were compelled to phone in to the Hodson Auto Co. to send them a new spring, upon the arrival of which they went on their way. Shooting jackrabbits by the lights from the auto made sport on the way home. Platt "came near killing" one rabbit.
"Additional Local,"
Medford Mail,
October 18, 1907, page 2
One of the troubles incident to the ownership of automobiles is that of keeping polished the many brass mountings. Parenthetically we are going to say that these are not our troubles--they're borrowed. However, Mr. A. C. Allen, who owns one of the best high-grade cars in this locality, has sidetracked this trouble by having all his mountings nickel plated, and if you fellows don't believe the appearance has been improved, just take a look at this car and then shuffle off some of your own trouble, by having the nickel plating applied.
"City Happenings,"
Medford Mail,
March 13, 1908, page 5
Four large automobiles have left San Francisco and are headed this way. One of them is the 40-horsepower Thomas, owned by A. C. Allen of the Hollywood Orchard. He left there with his wife and two children, and they returned by train a few days ago. He has with him his father and a party of friends.
Excerpt,
Medford Mail,
July 31, 1908, page 1
R. W. Gray: "I have a gang at work . . . putting up a water tank tower for A. C. Allen, out at his Hollywood Orchard. This tower is 30 feet high and the water is supplied by a hydraulic ram. Mr. Allen has an abundance of water for irrigating purposes, and from this tank the very best spring water is supplied his home."
"Local and Personal,"
Medford Mail,
August 21, 1908, page 5
David Keith of Salt Lake City arrived in Medford yesterday and will visit a few days with his son-in-law, A. C. Allen, and family out at their Hollywood Orchards, west of Medford.

"Local and Personal,"

Medford Mail,

August 28, 1908, page 6


A. C. Allen, living a couple of miles west of the city, feels greatly elated over the fact that he had just completed putting down a little over 3000 feet of tiling on his place before the present storm commenced, and is now draining a large quantity of water from his land.
"Local and Personal,"
Medford Mail,
January 15, 1909, page 5
Colonel L. C. Allen arrived in Medford last night and will spend the summer with his son, A. C. Allen, and family, out at their beautiful Hollywood home, west of Medford. The senior is a retired government officer.
"Local and Personal,"
Medford Mail,
April 9, 1909, page 2
A. C. Allen and family returned yesterday from an automobile trip to Crater Lake. In going to the lake, he left Medford with three grown persons and two children in the car at 7:30 a.m. and arrived at Crater Lake the same day at 5:20 p.m. Upon returning they left the lake at 8:45 a.m. and reached Medford at 7 o'clock the same day.
"Local and Personal,"
Medford Mail,
August 6, 1909, page 5
TWO ELK ADDED TO HOLLYWOOD PARK
A. C. Allen Secures Elk for His Park, West of Medford--
Has 13 Deer Besides--Is After More.

Yesterday A. C. Allen received by freight a pair of young elk from California which he has taken to his park at the Hollywood Orchards and liberated with the 13 head of deer he has there now.
The elk were fine-looking specimens, and Mr. Allen is correspondingly proud of the addition to his park.
"I haven't what you might call a menagerie," said Mr. Allen, "but sometimes it makes a noise like it. Especially when the two peacocks, the local roosters and the neighbors' dogs all get busy about the same time in the morning. Mrs. Allen objects to the tone of the peacock's voice, but I am trying to persuade her to allow me to get more, so that the other sounds may be drowned out, and I suppose in the course of human events one could become accustomed to the peacock's melodious (?) notes."
Medford Mail Tribune,
May 11, 1910, page 1
TELLS STORY OF SECOND AUTO IN ROGUE VALLEY
It Was an '05 Model of "Bronco" Type--Sometimes It Went
and Sometimes It "Didn't Went"--Miss Keith First Lady Driver in the Valley.
MRS. A. C. ALLEN
In the spring of 1905 Miss Margaret Keith, sister of Mrs. A. C. Allen, brought into Medford the second automobile owned in Rogue River Valley. This car was, like nearly all the '05 models, of the bronco type--sometimes it would go and at other times it would "balk," but at most times it acted in a rather untamed manner. After a time Miss Keith and her sister managed to gain an understanding of its eccentricities to such an extent as to be able to coax the auto out and back home again. And so it was that Miss Keith became the first lady to drive an automobile in the valley.
Outside of the fact that the automobile was an uncommon sight here, it was still more so to see a lady driving the car, and they always drew an interested crowd when "the pesky thing" balked in the middle of the street. At such times the ladies always spurned any aid, but promptly got out the tool kit and in some mysterious way got the car out of its tantrum and started again.
When asked, "How did you know what was the matter with the car?" the reply was, "I didn't know. I simply took out the spark plug, looked at it and put it back. I have not the slightest idea what I expected to find the matter with the spark plug, but if I didn't look there for the trouble where else would I look?"
That question would have puzzled almost anyone at that time. At any rate the treatment seemed to be all-sufficient, for the car would finally start.
Then, too, it was trouble all along the road, for when the car wasn't "kicking" the users of the public highways were, for nearly all--including the horses--resented the appearance of the auto on the road. Things were not so pleasant in those days for the autoist.
Medford Mail Tribune,
May 15, 1910, page C1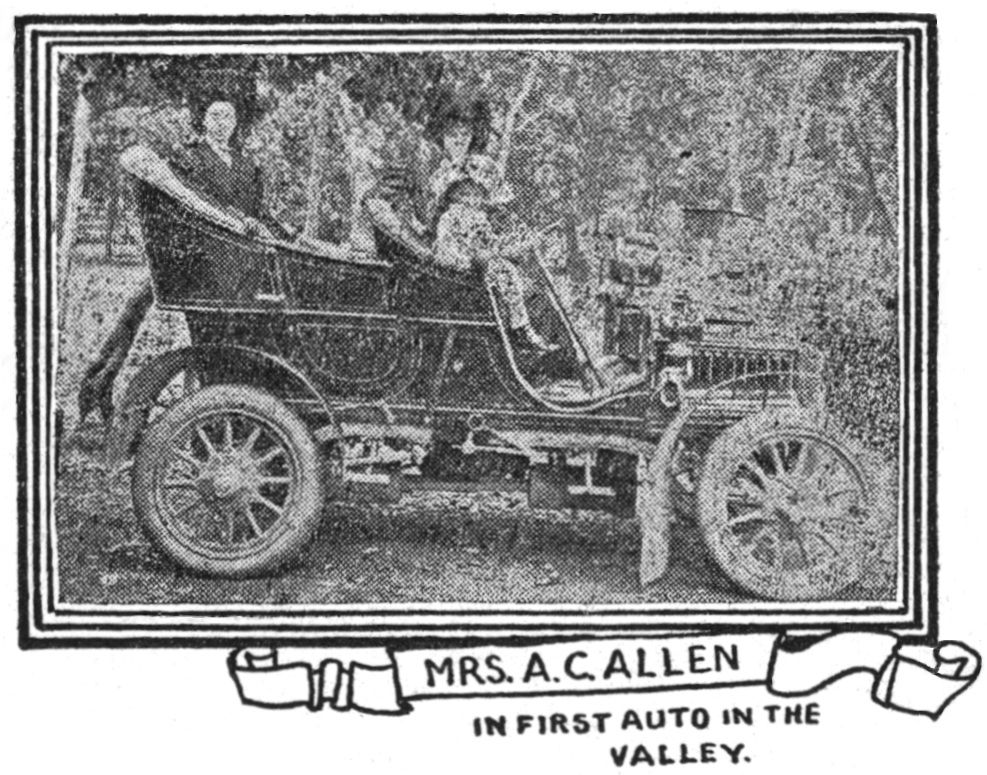 May 26, 1910 Medford Mail Tribune

KANGAROOS FOR ALLEN'S PARK
Orchardist Buys Two, But Finds He Has Four on Arrival--
Finds Two Little Ones Peeping Out of Mother's Pocket--Quite a Menagerie.

It is not often that when one buys wild animals that he receives more than he bargains for--in the way of numbers--but A. C. Allen, of the Hollywood Orchards, has had that experience.
Sunday Mr. Allen received two young Australian kangaroos from California. The female is a few months over a year of age, while the male is only a few months old.
When Mr. Allen went out to look at his new pets Monday morning he thought he "had 'em" for a few moments, for, peeping out of the "pocket" of the female was the head of a baby kangaroo. In a few seconds another one bobbed up.
Instead of two of the marsupials he has now four, which, with his deer, elk and other animals, makes quite a menagerie.
Medford Mail Tribune,
August 1, 1910, page 1
TO THE PUBLIC.

I have been at considerable expense and trouble to put my deer, elk, etc. at the front of my ranch, so that you could see and enjoy them. These animals are private property, and as such are as much entitled to protection under the law as any other personal property.
It has become the custom of a great many to stop in front of my place and fill the air with every kind of discordant sounds in order to frighten the animals, thereby endangering my property by causing the animals to injure themselves. This is especially try of some autoists who stand in front of the pens and blow their horns for the especial purpose of frightening these animals.
Therefore I request that these animals be left undisturbed, and I hereby give notice that I will prosecute and sue for damages any person or persons caught molesting the animals on my place in any way whatever.
HOLLYWOOD ORCHARDS.
A. C. Allen, proprietor.

Medford Mail Tribune,
May 23, 1911, page 5
Mrs. A. C. Allen and son returned Tuesday from San Francisco, where the latter was operated upon several weeks ago for appendicitis, from which he has now almost entirely recovered.
"Society,"
Medford Mail Tribune,
September 23, 1911, page B6
Miss Macre, a trained nurse of San Francisco, who has been attending the son of Mr. and Mrs. A. C. Allen, returned to her home this morning.
"Local and Personal,"
Medford Mail Tribune,
September 29, 1911, page 5
A. C. Allen and family and Prof. and Mrs. P. J. O'Gara left this morning for Klamath County. They will go first to Mr. Allen's houseboat, at Rock Point, and after enjoying a several days' cruise about the lake they will tie up at Wildwood, Mr. Allen's summer home, where they will remain several weeks.
"Local and Personal,"
Medford Mail Tribune,
October 2, 1911, page 2
Once again Rogue River Valley pears have won laurels. This time exhibits of Bosc, Howells and Comice were awarded firsts at the Walla Walla district fair, according to a letter received by Prof. P. J. O'Gara from C. L. Whitney, commissioner of horticulture, Washington, who was in charge of the fruit exhibits at the fair.
Mr. Whitney writes Prof. O'Gara as follows:
"I take pleasure in notifying you that Bosc and Comice pears grown by A. C. Allen, Hollywood Orchards, received a first prize each; also Howell pears grown by R. H. Parsons, Hillcrest Orchards, received a first prize."
"Medford Pears Win Out Again,"
Medford Mail Tribune,
October 11, 1911, page 4
WEATHER MAN IS MAROONED
Jupiter Pluvius and His Associated Storm Kings
Catch Local Man Off His Guard and Keep Him Prisoner on Lake.

Catching Professor P. J. O'Gara out of his district, and evidently neglecting his weather business, Jupiter Pluvius and his associate storm kings held the professor a prisoner for three days on Klamath Lake. The professor was finally allowed to go by the wet monarch upon his promise to return to Medford and 'tend to the weather properly.
Professor and Mrs. O'Gara were the guests last week of Mr. and Mrs. A. C. Allen on their houseboat on Klamath Lake. They had wandered down the lake in the boat and were anchored in a little cove when a storm broke. For three days they were marooned. But, according to the professor, they had a splendid time just the same.
Medford Mail Tribune, October 11, 1911, page 8

Mrs. A. C. Allen left this morning for her home in San Francisco after a few days' visit with her son, A. C. Allen, and family, at Hollywood Orchards.
"Local and Personal,"
Medford Mail Tribune,
November 17, 1911, page 2
Mrs. A. C. Allen left for Palo Alto, Cal., where her daughter is attending school. Mrs. Allen will return home shortly, accompanied by her daughter.
"Local and Personal,"
Medford Mail Tribune,
November 21, 1911, page 2
COLONEL ALLEN DIES AT SAN FRANCISCO

Colonel L. C. Allen, father of A. C. Allen, owner of the Hollywood Orchards near this city, died at the Presidio hospital in San Francisco Saturday as the result of an operation for appendicitis. Mr. and Mrs. A. C. Allen left Sunday for San Francisco.
Colonel Allen served in the regular army for 40 years and but recently retired. He was 63 years of age.
He leaves a wife and three sons, A. C. Allen of Medford; G. M. Allen, Nineteenth Infantry, now stationed in the Philippines, and L. C. Allen, Jr., of San Francisco.
Medford Mail Tribune,
January 22, 1912, page 6
David Keith, owner of the
Salt Lake Tribune and Telegram,
left Sunday for his home, after a few days' visit with his daughter, Mrs. A. C. Allen, of Hollywood.
"Local and Personal,"
Medford Mail Tribune,
April 1, 1912, page 2
Lieutenant and Mrs. Gilbert M. Allen will arrive in Medford Thursday evening direct from Manila, P.I., and will visit with A. C. Allen and family out at the Hollywood Orchards, west from Medford.
"Local and Personal,"
Medford Mail Tribune,
April 16, 1912, page 2
PEARS BRING HIGH PRICES
Bosc and Anjou Varieties Sell at $4.17 and $3.37 Respectively.

MEDFORD, Or., Sept. 26.--(Special.)--The 1912 record for local pear prices was broken today when a car of Bosc and Anjou pears was sold by the Rogue River Valley Fruit and Produce Association at an average of $4.52 a box.
The car was packed at Hillcrest Orchard and the A. C. Allen orchard, two of the most famous orchards in Southern Oregon. The full boxes of Bosc brought $4.17, the full boxes of Anjou $3.27, the half boxes of Bosc $2.75, and the half boxes of Anjou $2.53. The sale was made in New York through the Northwest Fruit Exchange of Portland.
Although the pear sales for 1912 have not been completed, recent sales assure a price 20 percent higher than in 1911.
Morning Oregonian,
Portland, September 27, 1912, page 1
WANTED--Woman to teach two children, mornings. Give references. Address A. C. Allen, Medford.
Classified ad,
Medford Mail Tribune,
November 21, 1912, page 5
Mr. and Mrs. A. C. Allen and children are here from Medford, to spend the summer months on the Upper Lake. The Allens own a spacious houseboat on the lake, and it has been their wont to summer there for several years past.
The Evening Herald,
Klamath Falls, May 22, 1913, page 4
TO OIL JACKSONVILLE ROAD.
County Court Decides to Experiment on Road to County Seat.

The county court at its final session Friday decided to experiment with oil on county roads and purchased 10,000 gallons from A. C. Allen to sprinkle on that portion of the Jacksonville road that has just been scarified, dragged and rolled.
The entire road to Jacksonville is to be treated in the same manner, first the old rough surface loosened, leveled and rolled, then treated with oil.
Ashland Tidings,
August 11, 1913, page 1
David Keith, a capitalist of Salt Lake, is the guest of his daughter, Mrs. A. C. Allen, of Hollywood.
"Local and Personal,"
Medford Mail Tribune,
December 6, 1913, page 2
AUTOISTS TO FIGHT TAX
MEDFORD MOTORISTS WILL REFUSE TO PAY STATE LICENSE.
Southern Oregon Automobile Association Organized and A. C. Allen Is Elected as President.
MEDFORD, Or., Dec. 20.--(Special.)--At a meeting of local auto owners at the public library, the Southern Oregon Automobile Association was formed, with A. C. Allen president, Dr. Korinek, vice-president, and H. C. Garnett treasurer. Frank Amy was delegated to secure new members. The immediate work before the association will be to secure the repeal of the state auto tax, which autoists claim is unconstitutional, as it is a double tax, autos being included in the personal property tax.
The membership fees of $1 will be devoted exclusively to a fight against this tax, legal aid will be secured and all members will refuse to pay the state auto tax for 1914.
Although this tax repeal is the immediate object of the organization, the association will be a permanent one and will work for better roads, better laws and better conditions for the autoist. A book describing the best auto drives in Southern Oregon will be issued, and club auto trips are a possibility.
At a meeting in the near future bylaws for the association will be drawn up and details of the anti-tax campaign decided upon.
Sunday Oregonian,
Portland, December 21, 1913, page 49
Mr. and Mrs. A. C. Allen and family left Sunday for San Francisco, where Mrs. Allen will undergo an operation.
"Local and Personal,"
Medford Mail Tribune,
January 12, 1914, page 4
Auto License Law Valid; Must Pay

A. C. Allen of Medford announces the Jackson County Auto Association, formed to contest the legality of the state auto tax, have given up the fight, owing to a recent decision of the California supreme court declaring the law valid. The members will pay their licenses.
Ashland Tidings,
March 5, 1914, page 8
Prof. P. J. O'Gara was guest of honor at a farewell banquet Tuesday evening given by A. C. Allen at the University Club.
"Society,"
Medford Mail Tribune,
March 21, 1914, page 3
ALLEN TO TAKE MOVIES OF FAMILIAR SCENES

A. C. Allen of Hollywood Orchard has secured a moving picture machine and will take local views of familiar scenes and faces. As soon as a few pictures are taken they will be developed and shown at the Isis. Pictures showing orchard work, movies of Crater Lake and fishing scenes will be specialized.
Medford Mail Tribune,
May 11, 1914, page 1
A. C. Allen and family have returned from an auto trip to Yellowstone Park. Nine days were required to make the trip each way. Three weeks were consumed on the jaunt.
"Local and Personal,"
Medford Mail Tribune,
August 26, 1914, page 2
Mrs. A. C. Allen gave a dancing party at the Natatorium, last Monday evening in honor of her daughter, Miss Mary Allen, and Miss Henriette Weiss of Guatemala, which proved to be a most delightful affair. . . .
"Society,"
Medford Mail Tribune,
January 2, 1915, page 3
A. C. Allen and wife of Hollywood Orchards left Tuesday for San Francisco, where their son will undergo an operation.
"Local and Personal,"
Medford Mail Tribune,
February 3, 1915, page 2
A. C. Allen has returned from San Francisco, where his eight-year-old son was successfully operated upon for hernia. He reports the exposition as far from complete. Much interest was shown in the proposed moving picture story panorama of the Rogue River Valley, and exposition authorities asserted that this class of entertainment far excelled the exhibits for advertising purposes.
"Local and Personal,"
Medford Mail Tribune,
February 18, 1915, page 2
Game Warden Finley has arranged to supply 600 feet of Rogue River fishing films for the moving picture panorama. A. C. Allen is preparing for the Rogue River Valley movies at the Oregon building at the fair.
"Local and Personal,"
Ashland Tidings,
March 11, 1915, page 5
Moving pictures of the fire department making a run are being taken by A. C. Allen this afternoon, the entire department being out, with all hands at their posts.
"Local and Personal,"
Medford Mail Tribune,
April 3, 1915, page 2
Word received from Albuquerque, N.M., tells of the death of Frank H. McKee, cashier of the Albuquerque National Bank, from injuries sustained in an automobile smash-up. Mrs. McKee, who has for several years managed their orchard at Seven Oaks, left a few days ago on receiving word of the accident. Mr. McKee was well known in the valley, having frequently visited it during recent years, and was an uncle of A. C. Allen.
"Local and Personal,"
Medford Mail Tribune,
April 15, 1915, page 2
A. C. Allen, cash advanced for taking movies for Panama exposition . . . . $600.00
"County Court Proceedings,"
Medford Mail Tribune,
April 16, 1915, page 7
A trial run of the moving pictures of the Rogue River Valley taken by A. C. Allen was given at the Page Theater Thursday afternoon, and proved mechanically perfect. All the scenes were without a flaw, and the next step will be to connect them on the film so as to form a connected narrative. The dramatic elements in the pictures are the work of Judge Withington. An early public presentation of the pictures will be made, after which they will be shown at the fair.
"Local and Personal,"
Medford Mail Tribune,
April 23, 1915, page 2
A. C. Allen plans to leave the first of the week for Crater Lake with his moving picture outfit to take final pictures for his Jackson County movies for the exposition.
"Local and Personal,"
Medford Mail Tribune,
May 14, 1915, page 2
In response to many inquiries as to the date of the production of the "movies" which A. C. Allen and Holbrook Withington are taking for the Jackson County exhibit at the Panama Pacific fair, the producers announce that if they have favorable weather they will be through taking pictures in about a week, as they already have about four reels. They cannot fix the date when the film will be shown here, as they are at the mercy of weather conditions, but the date will be announced as soon as possible in these columns.
"Local and Personal,"
Medford Mail Tribune,
May 21, 1915, page 2
Take Movies of Park Scenes

A. C. Allen was up from Medford Friday accompanied by a party of Medford people who are taking the motion pictures which are to be shown in the Oregon building at the exposition. Several scenes were taken in the park, but owing to the cloudy day a second trip will be made to Ashland and other scenes taken. A story is being interwoven with the pictures, and hundreds of scenes from throughout the valley will be shown. It is hoped to have the pictures shown at a local theater before they are sent to the exposition. About 4,000 feet of film have been taken. When completed there will be 7,000 feet. Judge Withington of Medford is directing the production and directed the action of the Medford actors and the crowd of Ashland supes in Friday's pictures. About a hundred of Ashland's most handsome men and beautiful young ladies were used Friday. Doc Freeburg took an important part in the production.
Ashland Tidings, May 24, 1915, page 1

The movies which are being taken through the valley by A. C. Allen and Holbrook Withington for the Jackson exhibit at the exposition will be completed within the next week, provided a couple of clear days allow of the finishing up in this district. The pictures will be shown in Medford and probably in Ashland before being taken to the exposition.
"Local and Personal,"
Ashland Tidings,
May 24, 1915, page 5
Medford Grizzlies Scale Grizzly.

Forty-six members of the Medford Grizzly hiking club climbed Grizzly Peak last Sunday and enjoyed a very pleasant day of real mountaineering. Moving pictures of the crowd were taken by A. C. Allen. The
Medford Tribune
concludes an interesting article on the trip with the following:
"No one who has ever had the pleasure of viewing the Rogue River Valley from this peak, with the great systems of mountain ranges on every side and the snow-capped peaks of Mount Shasta, Mount McLoughlin and Mount Ashland in the distance, will ever regret making the trip to the summit of Grizzly Peak."
"In the Social Realm,"
Ashland Tidings,
June 3, 1915, page 4
A. C. Allen, who is taking the southern Oregon moving pictures for the Oregon exhibit at the exposition, is at Crater Lake getting several hundred feet of film.
"Local and Personal,"
Ashland Tidings,
June 7, 1915, page 5
A gasoline stove exploded in the home of A. C. Allen of 1124 West Tenth Street yesterday afternoon. Little damage was done. Neighbors hearing the explosion sent in a fire alarm.
"Local and Personal,"
Medford Sun,
June 9, 1915, page 2
A. C. Allen, who is taking the moving pictures of valley scenes, will return to Ashland sometime this week to take pictures of the new auto camp grounds.
Ashland Tidings,
June 14, 1915, page 1
A. C. Allen, who has charge of the moving pictures of the Rogue River to be shown at the 1915 fair, reports that all the scenes will be completed in a week or ten days, except the Crater Lake film, and that the pictures will be shown at the Page Monday and Tuesday, July 5-6. The films will be ready for exhibition at the exposition by the middle of July, when the heaviest travel is expected to begin from the East.
"Local and Personal,"
Medford Mail Tribune,
June 22, 1915, page 2
The movies of valley scenes taken for exhibition in the Oregon building at the Panama exposition will be shown at the Page Theater in Medford July 5 and 6, according to A. C. Allen, who took the pictures. It is hoped that it may be possible to have them shown at a local theater before they are shipped south.
Ashland Tidings,
June 24, 1915, page 1
Valley Movies Shown Here First

The moving pictures taken by A. C. Allen of Ashland and the Rogue River Valley will be shown for the first time in Ashland at the Vining Theater on Wednesday and Thursday, June 30 and July 1.
There are between 5,000 and 6,000 feet of film in the pictures, which include many views of the valley's beauty spots artistically woven into an interesting story. A prominent Medford lady starred in the story. Pictures were taken here in the park, at the springs, on the streets, on the scenic drive and in other parts of the city.
Ashland Tidings, June 28, 1915, page 1

MOVIES REMARKABLE SCENIC PRODUCTION
OF LIFE IN VALLEY

Great credit is due A. C. Allen, Holbrook Withington and their many assistants in preparing the moving picture scenario of the Rogue River Valley for exhibition at the San Francisco exposition. With one or two exceptions, due to cloudy weather at the time the pictures were taken, the pictures are clear and distinct. They comprise not only a panorama of the valley's beautiful scenery, but faithfully portray scenes from its early history as related by pioneers, contrasted with the development of today.
The scenery shown depicts the orchard in bloom, the verdure-clad and snow-capped mountains, the newly completed Siskiyou grade, the paved Pacific Highway, the cities of Ashland and Medford, the Rogue River, its cascades and gorges, Mill Creek and Bar Creek falls, and the countless vistas that open on every side in the Rogue River Valley.
The placer mining scenes at the Sterling Mine are probably the finest pictures of placer mining ever shown. They are contrasted with the primitive methods of the days of '49. Camping and hunting scenes are shown, while the fishing scenes on the Rogue give a good idea of the sport of fly fishing. Orchard scenes are numerous, while details of social life in the valley are well patronized.
The Medford Community Day parade is shown, and the Ashland community labor on [the] scenic Boulevard is also portrayed. Sports and exercises by school children are depicted, including the open-air production of "Midsummer Night's Dream" by the pupils of Roosevelt School. Glimpses of busy days on Ashland and Medford streets are also set forth.
Glimpses of social life show a swimming party at a private swimming tank at a Gold Hill orchard, tennis and golf matches at the Medford Country Club, automobile drives and a fairy dance at a Medford country home. The scenario ends with the chief dancer fading into silhouette as the words "Come to Jackson County" gradually emerge in the background.
Throughout the scenario runs a pleasing thread of comedy and romance that adds greatly to the attractiveness of the pictures, which are most artistically arranged. When it is considered that this is the first attempt, both of the photographers and actors, the result is remarkable and shows that Medford possesses genius for movie productions as well as in many other lines.
The pictures will be shown again this afternoon and evening at the Page, and no one should miss seeing them. They are well worth while.
Medford Mail Tribune,
July 6, 1915, page 3
CRATER LAKE PICTURES AT STAR THEATER

The pictures of Crater Lake taken by A. C. Allen that are to be sent to the San Francisco exposition will be shown at the Star Theater tonight and Sunday and Monday matinees and nights. These are the first moving pictures ever taken of the lake, are said to be fine, and this will be the only time they will be shown in Medford.
Medford Mail Tribune,
July 31, 1915, page 4
JACKSON COUNTY MOVIES SHOWN AT EXPOSITION DAILY

A. C. Allen has returned from San Francisco, where he inserted the Crater Lake movies in the Jackson County scenario and arranged to have the pictures shown every afternoon at 3:30 o'clock at the Oregon building, instead of every other day as heretofore. While there he lectured upon the pictures as shown and found no trouble in holding the audience, which had been leaving because the operator took three minutes to change films. Ben Sheldon and others will lecture hereafter.
"I found that the Oregon and Canadian buildings had the largest crowds," said Mr. Allen, "but the movies were neglected. California has an operator busy from 10:30 a.m. until evening, while Oregon employs an operator only two hours a day.
"There were no signs at the Jackson County exhibits in other buildings calling attention to the movies, and this should be remedied. Considerable jealousy exists among other Oregon counties against the Jackson County movies, because they are so much more complete than any other. The reel has been shortened some, but there is no reason why there should not be a daily exhibit of all the films.
"Of course all the audience does not stay throughout the show, but all who are in any way interested do. It is the same with all the exhibits--those interested examine closely, those not, come and go.
"Jackson County is certainly getting its share of publicity. Fresh fruit is needed to keep the display up to date."
Medford Mail Tribune,
August 9, 1915, page 6
"Topsy," the leader of the elk herd at Hollywood Park on the road to Jacksonville, died Monday afternoon of throat trouble produced by eating foxtail. Her keeper attempted to put a rope around the elk's neck, so as to administer treatment, and the elk choked to death in the operation.
"Local and Personal,"
Medford Mail Tribune,
August 31, 1915, page 2
Mr. A. C. Allen and Judge Holbrook Withington, who are at the head of the movement to organize a motion picture film company for Rogue River Valley, report excellent progress in the matter. They have already a large part of the equipment and have reached a point in the initial work that practically assures success.
"Local and Personal,"
Medford Mail Tribune,
December 7, 1915, page 2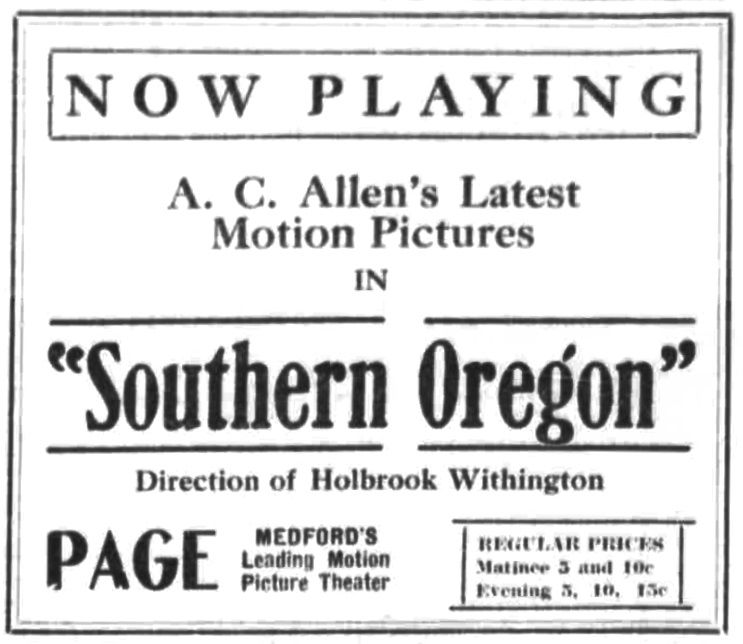 February 16, 1916
Medford Mail Tribune
LOCAL MOVIES AT PAGE THEATER GOOD

"In Southern Oregon," the moving pictures taken by Judge Withington and A. C. Allen, were given at the Page Theater last night to a large crowd, and the pictures pronounced better than the first. Another large crowd will see the films today and tonight. They are worth while.
Medford Mail Tribune, February 17, 1916, page 3

PHOTOPLAY IS ACTED NEAR MEDFORD
IN SISKIYOU MOUNTAINS
Photographers Prepare to Establish Permanent Commercial Studio in Rogue River Valley, Asserting Pacific Highway Has Opened Up Wealth of Material in Way of Natural Stage Settings.

MEDFORD, Or., March 4.--(Special.)--That the Pacific Highway over the Siskiyous has opened up a wealth of moving picture material is the belief of Holbrook Withington and A. C. Allen, who took the Medford movies for the Panama Exposition, and are now preparing to establish a permanent commercial moving picture studio in the Rogue River Valley.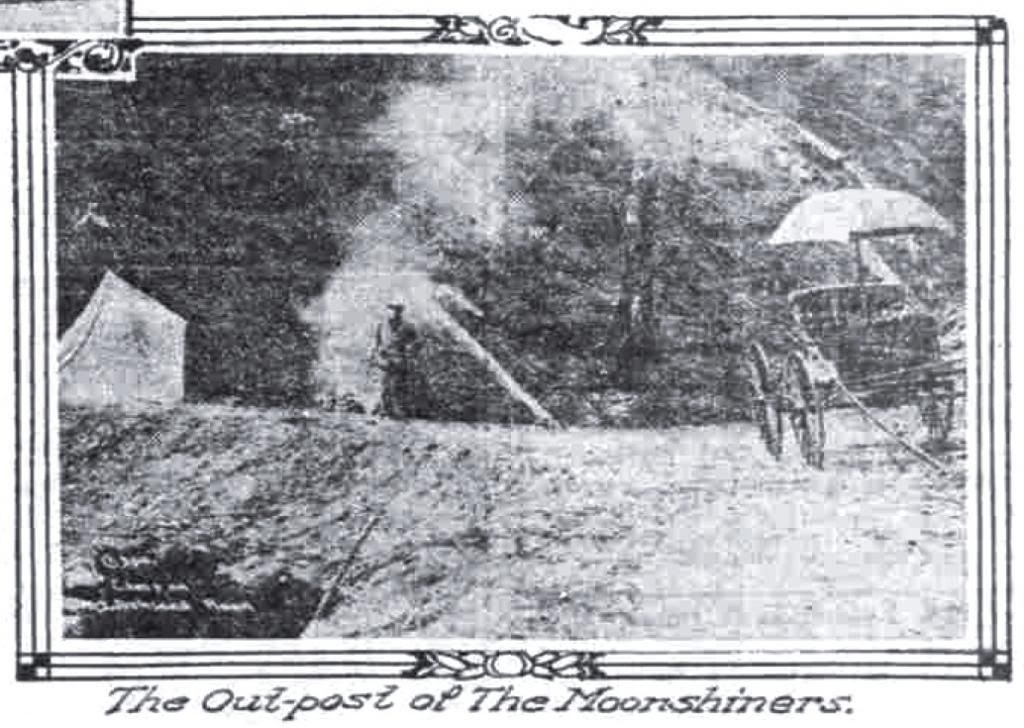 A few of the natural stage settings are shown in some of their photographs, and a scenario is being prepared, based upon a raid on Siskiyou "moonshiners," with a liberal romantic theme worked in.
The plot has not been completed, but it probably will include the hero's escape from the moonshiners by jumping from a concrete bridge to the top of a passing Southern Pacific train, the heroine threatened with death in the boiling springs near Ashland, an attack upon the moonshiners' camp, and a pursuit through the Ashland "glaciers."
Messrs. Allen and Withington maintain that there is every type of natural scene in and near Medford with the exception of "marines," but as the ocean is only 100 miles away this difficulty can be readily overcome.
Oregonian,
Portland, March 5, 1916, page E9
A. C. Allen of Medford was in Ashland Friday. Mr. Allen is enthusiastic over the possibilities of producing motion pictures in the valley, and with other Medford men has formed a company for commercial production of "movies."
"Local and Personal,"
Ashland Tidings,
March 13, 1916, page 5
Fruit Commissioner Here

Horticultural Commissioner A. C. Allen was in the city from Medford Saturday, and in company with H. E. Gale visited the local merchandising houses and made examinations of the fruits which were kept for sale. They found a quantity of diseased apples, and acting upon his authority, Commissioner Allen condemned apples at several of the stores. The apples condemned were destroyed by being disinfected with coal oil.
Rogue River Courier,
Grants Pass, March 26, 1916, page 5
A. C. Allen, horticultural commissioner for the Southern Oregon district, and his son have returned to Medford after an auto trip through Eastern Oregon and Idaho. Mr. Allen took a motion picture camera with him and secured a number of excellent films. Those of various Idaho lava beds are particularly interesting.
"Local and Personal,"
Medford Mail Tribune,
August 29, 1916, page 2
PEAR INDUSTRY OF VALLEY TO BE SHOWN IN MOVIES
A. C. Allen has spent a couple of afternoons on the river, where he took some motion pictures of steelhead fishing to be used in the series of "out-of-doors" pictures which he is making. Some excellent pictures were secured and will prove interesting additions to the series.
Professor
P. J. O'Gara
is associated with Mr. Allen in the venture, and the latter has secured about 3000 feet of unusual hunting, fishing and scenic pictures in eastern Oregon and Idaho. These pictures will either be sold to some large motion picture organization or will be released by themselves.
Mr. Allen has sold a number of films to the Gaumont company and Pathe-Freres, three of which are at present released and being shown on the screen.
On Wednesday and Thursday at the
Page Theater
will be shown over half a reel of Mr. Allen's pictures, released by Pathe, on the pear industry of our valley. These pictures have received very favorable comment in the trade journals and were shown at the Columbia Theater in Portland for a full week's run. All the scenes were taken around Medford and show in detail the growing of pears from the nursery to the bearing tree, grafting, cutting out blight, picking, packing, etc., and a fine scene of smudging just at sunrise.
Medford Mail Tribune,
September 19, 1916, page 6
A Wonderful Money-Saver
Caterpillar "18" Proves a Highly Profitable Investment
for Hollywood Orchards of Medford, Oregon.

"The Caterpillar 'Eighteen' is the best money-maker I have ever seen," writes Mr. H. J. Nordmann, who until recently has been superintendent of the Hollywood Orchards, near Medford, Oregon. "The tractor can do more work than any 8 horses at any time. We have a 3-12 inch bottom gang. I last winter plowed our soil from 9 to 12 inches deep--this is below the old horse-plow crust.
"The farmers around here began to tell me the mistake I was making by plowing so deep.
CROP MORE THAN DOUBLED

"Last year, from 28 acres with horse plowing we threshed 450 bushels of barley. This year, I plowed with the tractor the same ground from 9 to 12 inches deep and threshed 1038 bushels of barley, and the weather condition last year was better than of this year. Does this pay? Where is the farmer with horse plowing?
"Ten horses could not pull this plow the depth we pulled it with the tractor and keep it up. Mr. Farmer, did you ever stop to figure the cost to keep 10 horses? They eat 3 meals a day.
"The tractor burns about 14 gallons of distillate per 10 hours; 1 gallon of cylinder oil; 3 gallons of crude oil.
"I have cultivated 40 acres of orchard in ten hours with the 18-horsepower tractor, and have plowed 8 acres.
"We have had the tractor now 16 months, and the expense for repairs has been only $18.00. The inspector looked the machine over a few days ago and found her in first-class condition.
"Yours very truly,
"H. J. NORDMANN."

Caterpillar Times,
December 1916, page 9
Movies to Impress Fish Screen Need

A. C. Allen, who took the Rogue Valley motion pictures which were shown at the San Francisco exposition, has secured some fine pictures of the Aitken fish screen and has taken them to Salem, where he will show them before the legislature in an endeavor to convince them of the need for adequate screen legislation.
Ashland Tidings,
January 25, 1917, page 1
ORCHARD THINNING IN MOVIE PICTURES
Medford will soon have an opportunity again to see a portion of itself in the widely exhibited Mutual Weekly. On Monday Dr. E. B. Pickel, owner of the Broadhurst apple orchards, chaperoned a group of Medford college and high school girls on a thinning excursion, and motion pictures of this expeditionary force were made by A. C. Allen. The Mutual company will release these scenes within two or three weeks.
Medford Mail Tribune,
June 12, 1917, page 2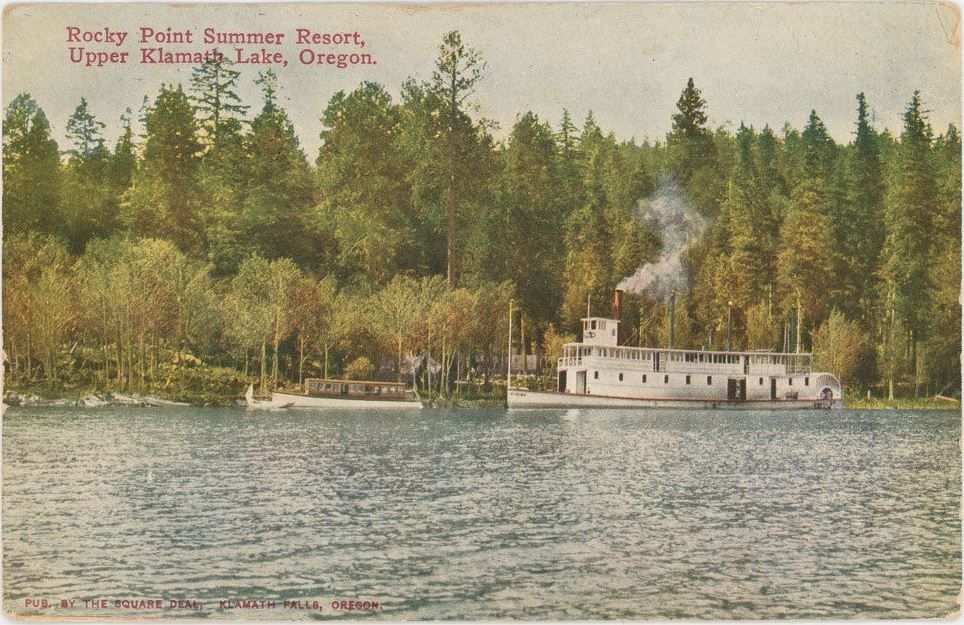 Rocky Point circa 1910
A. C. Allen, who spent the summer at Rocky Point, returned this morning to his home at Medford. Mr. Allen goes to Rocky Point each year for the summer months.
"Personal Mention,"
The Evening Herald,
Klamath Falls, November 13, 1917, page 4
ALLEN MAKES CORRECTION OF THE TRIBUNE STATEMENT

It has not been my intention, during the present campaign in which I am a candidate for County Judge, to do much advertising, as it has seemed to me, even had I unlimited means, that the money so spent could be used to better advantage. However, as the editor of the
Mail Tribune
stated in his editorial that I pay but $10.70 in taxes, I feel called upon to correct that statement. My taxes are $42.31--not much, I'll admit, when it is remembered that in 1913, as proprietor of Hollywood Orchards, I paid $654.28 in taxes, and in 1914 the sum of $867.38.
From 1904 to date I have brought into Jackson County over $80,000.00, and I have never taken one dollar out. Because I have spent this sum in the county, because I have my every interest here, because I pay less taxes now than in 1914, does this make my efficiency to fill the office of County Judge any the less?
In 1915, when I was appointed Horticultural Commissioner, the county was spending over $14,000.00 per year for fruit inspection--this amount exclusive of pathologist. I have put the office on a business basis, and it is now running at about $3800.00 per year, at a saving of about $10,000.00.
A. C. ALLEN.
(Paid Adv.)
Medford Mail Tribune,
May 16, 1918, page 2
AUTO TAX DECLARED INEQUITABLE
Old Models of High Horsepower Are Practically Confiscated.
MEDFORD, Or., Feb. 22.--(To the Editor.)--I have just read, in your issue of the 21st, your editorial and also a letter on the proposed increased license on automobiles to build the roads of the state. I heartily endorse the statements expressed, but would like to add a little to them. You said, in part, referring to the man who owns an old car, "that man is likely to try to knock the whole road building scheme to pieces." You erred slightly in this statement, for you should have said "will'' instead of "likely," for I can promise now that we fully intend to fight it tooth and toenail. Just so sure as this legalized holdup carries we will fight it at every turn, and if there is a hole left in it as big as the eye of an needle we will find it.
The writer has always been one of the best of friends of the good roads movement. I owned the second car brought to the Rogue River Valley and have worked for and donated money for good roads, but when a piece of confiscatory legislation passes which will prevent me from using my car on the roads I naturally lose interest and become an enemy. I own an old 48-horsepower car which cost me actually less than $400 and is today assessed at $150. This car is ten years old, being a 1909 model. I own it because I cannot afford another. I use it almost entirely in my work and actually ran it less than 1000 miles in the state of Oregon in 1918. The proposed act will place a charge of $65 per year, if I understand it correctly, upon this old rig, which is valued at $150. Besides this, the tax on gasoline will mount up considerably, and especially will it hurt when you understand that we are paying 27 cents a gallon now. Also think of what it means to the man in Eastern Oregon who has to pay already from 35 to 40 cents per gallon for gasoline.
The absolute injustice of it all is so apparent that no one should have to pause to see it clearly. The whole scheme shows on the face of it that the legislators know that the people at large would not stand for it, for they refuse to refer it and pass it under an emergency clause, when it is palpable that no emergency exists. One legislator, according to the report in the paper, stated that every member of the legislature knows that his constituents are solidly back of this law. That is not true, for the Jackson County delegation, to my own personal knowledge, received protests in plenty against it. Also for his information, I can add that if this outrageous tax is put on automobiles we will fight it even through the courts. This is not a threat but a fact.
Here is a specific case of injustice, and there are many more. I know a man who, like myself and others, owns an "old rattletrap" of a car. He works steadily six days in the week. On Sundays and occasional holidays he can take out his "old bus" and get a little new life with his family in the woods. He probably does not run his car 500 miles in a year, yet this law will place a tax on his car at such a price that he cannot use it. In other words, though he is taxed on his home to build roads and is therefore entitled to use them, yet he is prohibited by a tax he cannot pay. It is an outrage.
The whole plan is wrong when they make one class pay the entire cost of a scheme which every individual uses and gets the benefit of. I can cite you to a piece of road in southern Oregon which the county built at a big expense. It was no sooner completed than a company purchased some timber from the government, put in heavy tog teams and tractors, closed the road entirely at one place, and practically ruined it. Yet the auto is blamed for all the damage and must build roads for these tractors and heavy teams to ruin. I can name you several of these examples.
Besides the tax on gasoline and "other engine fuels" means that every person that uses gasoline, kerosene or distillate or even crude oil must pay to build the roads, while a man with a steam tractor, using wood fuel, can hook on a train of log wagons, rip up the road and not pay. Or he can use "hay burners" and cut the roads to pieces without paying a cent. Under the fuel oil tax the cleaners must pay a tax on their gasoline for cleaning purposes. The farmer must pay a tax on his kerosene for his lamps. The orchardist must pay a road tax when he sprays his fruit and many who use the fuel in various ways other than in cars must pay a road tax.
There are too many acts of injustice under this to mention, but I would like to know why these roads cannot be built out of money from direct taxation? Or, if the users of the roads must pay for it all, then why not make a wheel tax on every vehicle? Or why not tax the school children alone for the school, placing a tax graduated (unequally, of course) according to age? Or why not--but what's the use?
A. C. ALLEN.

Morning Oregonian,
Portland, February 25, 1919, page 12
A. C. Allen has resigned as manager of the Rogue River Fruit and Product Association, a position he has held since November 1, when he succeeded S. V. Beckwith to that position. Alfred Carpenter, who succeeds Mr. Allen as manager, assumes the office today. Mr. Allen resigned because his personal affairs required all his time.
"Local Briefs,"
Medford Mail Tribune,
July 15, 1919, page 2
"I saw smoke coming from the chimneys of my neighbors' homes and I thought they were wiser than I am or else more foolish. Well, in a short time stoves began glowing up, and I was thankful that we cooked our breakfast over a heater," says A. C. Allen of Medford, who is registered at the Hotel Portland. "Our country isn't built for cold weather, so when it went to 7 below it just froze us up. We were without electric lights or gas, and there were no newspapers printed for two days. About three score of telegraph poles went down between Medford and Ashland, which are only a few miles apart. The day the storm hit Portland a dispatch was sent out saying that the snow extended from Medford to the north. One of the local editors published the dispatch and inquired, editorially, where the snow was. Next morning when we woke up there was a foot of snow on the ground and the town was paralyzed. The first time the editor had a chance to issue another he published an editorial declaring he would not discuss the weather again."
"Those Who Come and Go,"
Oregonian,
Portland, December 16, 1919, page 10
SALEM, Or., March 3.--(Special.)--Albert C. Allen of Medford today was reappointed by the state board of control as horticultural commissioner for the 3rd district. His present term will expire on March 31.
"Albert C. Allen Reappointed,"
Oregonian,
Portland, March 4, 1921, page 16
Three New Summer Homes to Be Built at Rocky Point

Yesterday, a consignment of canoes and Evinrude motors for attaching to the canoes was sent to Rocky Point by A. C. Allen,
William Barnum
and F. C. [
sic
]
Medynski
, all of Medford, and a 14-foot pleasure Indian canoe by Dr. and Mrs. T. H. Conger of Berkeley, California, the transportation being handled by the Western Transfer of this city.
Dr. and Mrs. Conger have for the past 12 years maintained a summer home at Rocky Point and spend the major portion of vacation time there. A. C. Allen, a well-known fruit grower and former government employee, recently sold his summer home at Rocky Point. Messrs. Allen, Barnum and Medynski will erect new cottages there within a few weeks, the supplies being ordered today from the Pelican Bay Lumber Company. Mr. Barnum is president of the Medford and Jacksonville railroad, operating out of Medford.
The Evening Herald,
Klamath Falls, June 16, 1921, page 1
A. C. Allen returned today from his summer home at Pelican Bay. Mr. Allen while cranking his car last week received a kick from the old boat which sprained his arm quite badly, and he has returned for several days to receive medical attention.
"Local and Personal,"
Medford Mail Tribune,
September 13, 1921, page 2
Ice in Klamath Breaks Up.

MEDFORD, Or., April 18.--(Special.)--A. C. Allen, member of the state horticultural board, who recently purchased the Rocky Point summer resort on Klamath Lake, has received word here that the ice in that lake broke up several days ago. This is the latest for many years that the ice has broken up in that section of Klamath County.
Morning Oregonian,
Portland, April 19, 1922, page 2
A. C. Allen, who recently purchased the Rocky Point resort at Pelican Bay on Klamath Lake, returned yesterday from that place after a stay of several weeks. He reports that the road over the Green Spring route from Medford to Jennie Creek is a veritable boulevard and that from Jennie Creek on it is as good as usual. He does not expect that the Lake of the Woods route by Dead Indian will be open until about July 1st. Mr. Allen expects to return to Rocky Point Thursday.
"Local and Personal,"
Medford Mail Tribune,
June 6, 1922, page 2
A. C. Allen, accompanied by his son A. C. Jr., more familiarly known as Jim, the high school basketball star, left early this morning on a business trip to Klamath Falls.
"Local and Personal,"
Medford Mail Tribune,
April 30, 1924, page 2
LOCAL PICTURES IN BIG FILM REELS
A. C. Allen has just completed a series of motion pictures of the orchard heating operations in the valley for Fox News. Medford is one of the few smaller cities of the country who have a resident motion picture news cameraman.
Mr. Allen began taking news subjects for the Gaumont News twelve years ago. Since then he has taken subjects for Selznick and, since its inception several years ago, he has been with Fox News.
Besides the news work, Mr. Allen has sold several thousands of feet of negative to the big producers, and many of his subjects are still being exhibited. He was the first cameraman to successfully photograph Crater Lake, and his subject was released by Gaumont in their series of "See America First.
From his activities Mr. Allen has brought to Medford and Southern Oregon much publicity through the motion pictures. There is scarcely a month passes but what some subject of this vicinity is being exhibited in motion pictures taken by Mr. Allen.
Medford Mail Tribune,
April 3, 1926, page 6
The group of motion pictures taken by A. C. Allen of Medford, of the salmon run this year, were sold to the Kinogram News Reel people recently and are now ready for national release.
"Local and Personal,"
Medford Mail Tribune,
May 18, 1927, page 2
Just across the highway another sign over the gate proclaims "Hollywood Orchards," a place covering a total of 200 acres, 100 of which is planted to fruit trees. Fifty acres are utilized for Comice and Bosc pears alone, twenty years old; 20 acres for Boscs seven or eight years old; four acres are in peaches, two acres in mixed fruits for family use; fifteen acres in Newtown apples, and twenty-five acres in oak grove containing the residence of 8 rooms, two cottages, barn 90x60, tank houses, silo, oil house with 16,000 gallons of smudge oil, and tool house, as well as the deer park for two deer. Four horses are used, and ten head of cows are milked.
The orchards produce about [
omission
] carloads of pears (532 boxes to the car), 4000 to 5000 boxes of apples, and about 2000 boxes of peaches. The Hollywood Orchard is the property of David Keith, Jr., of Salt Lake City, Utah, and is under the direct management of W. E. Brayton, who with his family live on the place. The residence sits back from the highway with the deer park in front, and a nice cluster of shrubs and flowers in the yard. The Park also contains Canada geese, and about 30 mallard ducks have the freedom of the place. Fourteen peafowl and about 50 R. I. Red chickens range about the barnyard.
"Prosperous Ranches, Nice Homes Along the Jacksonville Highway,"
Medford Mail Tribune,
July 9, 1927, page 3
HIGH PRAISE IS GIVEN A. C. ALLEN FOR LATEST BOOK

In his able review of "Little Shepherd of Lava Lake," the latest book by Albert Cooper Allen, the well-known Medford author and horticulturist, broadcast last Wednesday evening over KGW, the Oregon station at Portland, by Richard G. Montgomery, who makes all the book reviews for that station, he said:
"I have just mentioned a mystery story with a western setting and now, by way of contrast, I want to say just a little about a western story with a 'mystery setting,' if such a thing is possible. Albert Cooper Allen, of Medford, Oregon, who wrote such a delightful book last year in 'King of the Wilderness,' now comes forward with another story that catches the spell of the outdoor West and puts it neatly between the covers of a book which he has called 'The Little Shepherd of Lava Lake.' It is a real Oregon setting, and for that reason as well as for others its local appeal should be great.
"In this sparkling book you will make the acquaintance of Jack Renard, the little shepherd of Lava Lake oasis, from which the book takes its title. You will read of the mighty struggle he has to face in order to hold this property against odds that seem almost overpowering. Frankly, I like the free, open way that Mr. Allen has with his characters. They are as real as the West itself, and in Jack Renard, Gordon Strong, Lucinda and a half dozen others you'll meet a bunch of real, red-blooded Westerners who will all but speak to you from the pages of the book.
"There is plenty of mystery in 'The Little Shepherd of Lava Lake,' and Mr. Allen has done, in my opinion, a clever job in mixing together the desert, the oasis of Lava Lake, kidnappings, hard fights, engineering problems and cowboys in such well-balanced proportions that a convincing and swiftly moving yarn results in which the mystery is sustained until the end. There is also a love story running counter to the rest of the action, and throughout the author succeeds in balancing the two most appealingly.
"Now here is the whole matter in a nutshell, as I see it. The 'western story,' so called, is pretty much 'done to death.' Therefore, to make any impression at all, a western story must be well done. The old run of things won't do. I think that Mr. Allen's book is of the stuff that will prove successful. It is carefully written, well worked out technically, and destined to be read with interest by those who want an occasional glimpse of the real West as it is. I'm sure you'll find hours of pleasure in 'The Little Shepherd of Lava Lake,' a new western thriller by another of our Oregon writers, Albert Cooper Allen. There is a freshness and spontaneity about this book that is indescribably delightful."
Medford Mail Tribune,
May 6, 1928, page 8
ALLEN, Albert Cooper, author, horticulturist; b. Nashville, Tenn., June 18, 1875; to Ore., Feb. 1904; University of Utah; m. Bessie McCann 1927; children--Mary Allen, Albert C.; commissioner Oregon State Board of Horticulture; Spanish American Water veteran; Republican, Protestant. Address, Medford, Oregon.
Who's Who in Oregon 1929-1930,
Oregon City Enterprise, page 23
YOUNG ALLEN ARRIVES IN STORK'S WING

An interesting young man arrived in Medford about a week ago, and considering who he is and who his people are, it seems to the writer that his arrival merits something more than a mere announcement of arrival or a few lines among the "city briefs."
Just where the news should go in the paper, however, the writer is at a loss to say. It would fit in nicely in the social department, for the young man's mother and grandmother frequently entertain. It wouldn't be out of place on the literary page (if we only ran one), for his father and grandfather are writers of some note, particularly "granddaddy." Then again, it could be published among the sporting events, for his paternal grandfather says "A new center for the basketball team is with us." Too much of a puzzle after a hard day's work. The writer will let the city editor figure it out, since that's his job anyway.
The young man in question is Mr. Albert Cooper Allen, the Third, if you please. At present he is residing at the
Purucker Maternity Home
, where his mother, Mrs. Albert Cooper Allen, Second, is visiting, and where Albert Cooper Allen, Second, known to his many friends as "Jimmie," is a frequent caller. It is said that the young man has started in training as cheerleader for the basketball team, and has let out some fine lusty cheers. At least that is what his grandfather said.
Medford Daily News,
January 20, 1931, page 2
A. C. ALLEN SHOULD BE RETAINED

We heartily endorse the desire of local fruit growers to have the services of A. C. Allen retained in Southern Oregon, under the new agricultural regime now established in Salem.
Mr. Allen has worked over 17 years as a deputy horticultural commissioner in this section, and has rendered invaluable service to the fruit industry. He not only knows all there is to know about pests, he knows all there is to know about the conditions and problems in Southern Oregon.
To lose the benefits of his knowledge and expertise at this time would be extremely unfortunate to all concerned. So we gladly add our endorsement to those of the various fruit organizations to the request that Mr. Allen's services in the regulatory field be retained.
Medford Mail Tribune,
June 9, 1931, page 12
$5,000,000 LEFT TO OREGON MAN
Albert C. Allen Jr. to Get Keith Estate.
TRUST FUND ESTABLISHED
Central Point Orchardist Refuses to Get Excited.
INCOME PAID AT FIRST
Bulk of Fortune to Be Released When Heir Reaches 35, Seven Years Hence.
BY EVA NEALON HAMILTON
Staff Correspondent,
The Oregonian

MEDFORD, Or., May 18.--(Special.)--Albert C. (Jimmy) Allen Jr., 28, Central Point orchardist, whom the Medford High School prophecy of 1925 predicted would be "a first-class dishwasher" 20 years hence, was today named heir to $5,000,000, and remarked when interviewed, "It is nothing to get excited about."
Questioned by telephone regarding the fortune, the ex-basketball star appeared more concerned over the toll of the country telephone line than the sum left by his aunt,
Margaret Keith
, who recently committed suicide in Los Angeles.
"What will you do with the money?" brought no line of forecasts from young Allen, who simply replied, "I haven't got it yet. It will be many years from now when I do, and I think the sum is greatly exaggerated."
He has a wife and young son, Albert C. Allen III, 2½ years old, who will probably help him spend it.
Announcement of the will came as no surprise to Allen today. He recently returned from California, where he attended the funeral of his eccentric aunt. He was informed even before her death that she would name him as heir, the letter coming a short time before news of her suicide, inspired by the approaching loss of her eyesight.
The money, it is understood here, was left in a trust fund, and the estate will come to young Allen when he is 35 years old. He will, however, receive his income from the money in the meantime.
Allen, who graduated from the local high school in 1924, is the son of A. C. Allen, orchardist and writer, whose first well-known book was "King of the Wilderness," published a number of years ago. His mother, sister of Margaret Keith, died about two years ago. The women were heirs to the Keith mining fortune in Salt Lake City. Jimmy Allen, as he is known here, has a sister, Mary Allen, in Los Angeles, and said today he did not know whether she would share in the estate.
In high school Allen played for four years on the basketball team which won the state championship and sought the national title in Chicago. He was also a student body officer and a popular member of the organization.
Following high school he joined his father in operation of his orchard, "Lafalot on the Rogue," and began writing. He has had a number of stories published in western magazines and uses as his pen name "James Cooper Allen." He is tall--six feet something--of medium complexion, and very quiet in demeanor. His lack of talk today regarding the fortune was characteristic of his general attitude, "little to say, much to do." He is fond of books and the great outdoors.
A few years ago Allen married Eva Jester of Rocky Point, and they have since made their home on Rogue River, where efforts today to locate him proved they have no telephone communication with the outside world. Allen came to the country store to answer the call.
----

LOS ANGELES, Cal., May 18.--(AP)--The $5,000,000 fortune of Miss Margaret Keith, eccentric 49-year-old recluse, who had orchestra music played and flowers placed beside her body for several days after her recent suicide, will go to a 28-year-old nephew, Albert C. Allen Jr., of Central Point, Or., it was disclosed in the 220-word will to be filed probably today.
The terse document, which names the Security First National Bank of Los Angeles as executor and trustee, bequeaths the entire estate to young Allen, with the exception of a few minor bequests to several other relatives, all of whom are described in the will as "in good financial condition."
Etta K. Eskridge, Los Angeles, a sister, was bequeathed $50 and the cancellation of a $4000 debt. Ten dollars each was left to David Keith, half brother; David Keith Jr., nephew; D. K. Eskridge, brother-in-law; D. K. Eskridge Jr., nephew; M. A. Towle and Albert C. Allen III.
Heir to a large Utah mining fortune, Miss Keith hid herself from the world behind the barred gates of her Palos Verdes estate, 23 miles south of here, and finally ended her life in her Beverly Hills mansion a few weeks ago.
A note directed that her body be held several days before cremation, that an orchestra play classical compositions beside her body, and that fresh flowers be put in the room each day. These wishes were carried out.
Oregonian,
Portland, May 19, 1933, page 1
FACE OF RECLUSE SHOWN IN COURT
Photographs of Margaret Keith Produced in Will Case
Los Angeles, January 9.--Margaret Keith's often-expressed fear--"I'd hate to be 'Exhibit A'"--was justified today. Her face, unseen by man for 20 years, was unveiled in Superior Court.
A jury of seven women and five men, hearing the contestation of her $1,000,000 will, gazed curiously at photographs--two of the few known to exist--of the eccentric veiled heiress and saw a dark-eyed beauty of the 1910 period, hair pompadoured high, chin out-thrust imperiously.
Mrs. Etta Keith Eskridge, her sister and one of the contestants of the will, produced the photographs of the woman who committed suicide by inhaling an anesthetic in a flower-bedecked room in one of her two pretentious mansions.
"Margaret never had a picture taken since she was 19 or 20 years old," Mrs. Eskridge testified. "I had vowed to uphold Margaret's idea of not being exhibited to to the public view, but--" the witness vowed her head--"I think it proper to show the photographs now."
Mrs. Eskridge described many eccentricities of Miss Keith's life, a life dedicated to the ideal of solitude. "Margaret was an unusual child," the witness said. "She exhibited strong passions."
Miss Keith left her fortune, inherited from her father, a Utah silver magnate, to a nephew, Albert C. Allen, Jr., of Medford, Ore.
The Gazette,
Montreal, Canada, January 10, 1934, page 9
RECLUSE'S ESTATE FINALLY SETTLED

LOS ANGELES, Oct. 1 (A.P.)--Superior Judge Robert W. Kenny today approved a settlement effected out of court in the estate of the millionaire recluse Miss Margaret A. Keith, who committed suicide last year in her Beverly Hills mansion. The Beverly Hills mansion of the wealthy spinster will go to a brother and sister, David Keith, of Salt Lake City, Utah, and Etta Keith Eskridge of Los Angeles. They also will get 4600 shares of Silver King mining stock. Mary Allen Towle, a niece, receives 4000 shares of the stock. Albert C. Allen Jr., Oregon farmer, who was bequeathed virtually all the estate under Miss Keith's two wills, will receive the remainder of the estate, with the provision he shall provide a trust fund of $50,000 for the benefit of his son, Albert C. Allen III. Kenny was informed by lawyers the inheritance tax on the estate will amount to $31,000.
San Diego Union,
October 2, 1934, page 7
ALLEN, ALBERT COOPER
Author; Horticulturist.
b. Nashville, Tenn. June 18, 1875; son of Col. L. C. and Kate Allen; educated public schools and army post schools; University of Utah; m. Bessie McCann, Portland Dec. 18, 1926; children Mary Allen and Albert C.; began as printer in Salt Lake City; later teller Wells Fargo Bank, Salt Lake City; associate
Salt Lake Herald
and
Salt Lake Tribune
; also correspondent
Army & Navy Journal
of New York; many years wildlife motion picture cameraman for Gaumont, Fox, Universal, Selznick Studios; to Medford in 1906; engaged in horticulture, owning, developing and operating Hollywood Orchards; active in Southern Oregon affairs; one of organizers of the Rogue River Fruit and Produce Association, serving as director, vice-president, president and manager; also operated a summer resort on Klamath Lake for two years; two years Postmaster, Rocky Point, Klamath County; 17 years member Oregon State Board of Horticulture; now rancher, Lafalot on the Rogue; Sergeant Utah Volunteer Artillery 1898-99; corporal in infantry 1899, later 2nd lieutenant; served one year active duty Philippine Islands; one of organizers and first directors Medford Commercial Club; writer many short stories and articles for various publications; author "King of the Wilderness," "Little Shepherd of Lava Lake"; another book, "Meeko," in process of publication and soon to be distributed; Republican; Protestant; address Rt. 1, Box 480, Central Point.
Capitol's Who's Who for Oregon 1948-49,
pages 23-24


ALLEN, ALBERT COOPER, JR.
Farmer and Author.
b. near Medford, Oregon, March 20, 1906; son of Albert Cooper and Lillian K. Allen; educated in public schools in Medford; m. to Eva Mae Jester, Rocky Point, Oregon July 10, 1929; son Albert Cooper III; was Horticultural Inspector for Jackson County; at present principal business is farming, two ranches, one near Ashland, and home ranch is "Lafalot-on-the-Rogue," Central Point; author of many articles to papers and magazines and of many short stories to various national magazines; Republican; Protestant; address Rt. 1, Box 480, Central Point.
Capitol's Who's Who for Oregon 1948-49,
page 24
Cool Reception Irks

To the editor: I had the pleasure of attending the concert of the Medford philharmonic orchestra Sunday afternoon. The entire performance was excellent and a real treat to we who love good music. Richard Werner deserves great credit for developing such a worthwhile organization, and each musician should get much satisfaction from their part in making it possible. I, for one, appreciate it.
There seemed to be considerable complaint about the high school auditorium being cold. I was not cold. I had on my long woolen underwear, three pairs of socks, heavy shoes and my wool suit and overcoat. I can't imagine why the audience was kicking about the cold. The temperature must have been at least 45.
What do these music lovers expect from a poor little backwoods village like Medford? After all, the place only has some 20,000 population and the reputation of having one of the best high school plants in the country. It is just downright unappreciative of the handful of cultural-minded citizens who showed up for the concert.
And speaking of the handful of real music lovers who braved the Arctic exposure of the high school auditorium, I wonder if that actually is the sum total of those who do appreciate good music? I understand there are some 1,200 civic music association members. I wonder what happened to the other 1,100.
To Mr. Werner and the members of the philharmonic orchestra, all I can say is "thank you" for a fine performance under most "chilling" auspices. As a former resident--in fact, a native--of Medford, I tender you my regrets and humble apologies for the manner in which your fine efforts were received.
A. C. ALLEN, Jr.
Central Point, Ore.

Medford Mail Tribune,
January 17, 1950, page 6
Albert C. Allen, Horticulturist and Author, Dies

Albert C. Allen, 97, retired author, horticulturist and printer, died late last night in a Medford nursing home.
He had made his home for many years on the Rogue River in the Table Rock district, where one of his latest achievements was writing, printing and binding books "with his own two hands." His book, "Crater Lake and its Legend," went into its fifth edition in 1962. He had to learn to make rubber printing plates from his hand-set forms for this edition.
The illustrations in the book record historical scenes for which Allen learned to make his own engravings.
Allen came to Jackson County and purchased the C. E. Stewart orchard west of Medford in 1904. He operated the orchard property for many years before moving to his river home, where he continued with writing and printing, which he had begun at an early age. He got his first printing press when he was 14.
During the Spanish-American War he was appointed special war correspondent of the
Salt Lake City Herald
after enlisting in the Utah Volunteers.
His writings ranged from technical writing to nature studies and adventure stories.
He is survived by a son, Albert C. Allen Jr., of Modoc Road, Central Point.
Funeral arrangements will be announced by the Perl Funeral Home.
Medford Mail Tribune,
November 29, 1972, page 1
Private Services Held for Author Albert C. Allen

Private services for Albert C. Allen, 97, who died in a Medford nursing home Tuesday, were held today at the Perl Funeral Home followed by entombment in the IOOF Eastwood Mausoleum.
Mr. Allen came to the Rogue River Valley in 1904 and recorded much of the area's history 10 years later when he filmed the motion picture
"Grace's Visit to the Rogue River Valley,"
now preserved in the Jacksonville Museum.
The film was re-shown just before Thanksgiving at an event arranged by Mrs. Conro Fiero, the former Grace Andrews, featured in the scenario.
As author, horticulturist and wildlife photographer, Mr. Allen was best known during his more active years. He, however, sold a number of films, including a Pathe scenic of "Pear Growing in Oregon" and others on fishing and hunting in Oregon and Idaho, taken while he was newsman for Pathe.
He was first to film Crater Lake, and his auto was the first to make the trip into Crater Lake National Park.
Material for his book, "Crater Lake and its Legend," includes much information he obtained from Will Steel, known as father of Crater Lake National Park. One of the illustrations shows Judge Steel's party leaving Medford for Crater Lake in 1903.
A veteran of the Spanish-American War, some of his technical writing, published after he resigned his commission and was honorably discharged, compared the merits of the Krag-Jorgensen and Mauser rifles.
His versatility was further evidenced in such books as "King of the Wilderness," "The Little Shepherd of Lava Lake," "Meeko" and "Rabbit Trails."
Born in Nashville, Tenn., June 18, 1875, Mr. Allen was the son of Leven C. Allen and Kate McKee Allen. He was married in Salt Lake City, Utah, in 1899 to Lillian Keith. Following her death he was married in Eugene, Ore. in 1926 to Bessie Courtney, who also preceded him in death.
He is survived by a son, Albert C. Allen Jr., a grandson and two great-grandchildren, all residing in the Modoc Road area of the Table Rock district, where Mr. Allen had his own print shop in his home on the Rogue River.
He started writing as a child. He wrote for school publications, newspapers and magazines before he went into authorship of books.
Medford Mail Tribune,
November 30, 1972, page 15
Last revised July 8, 2017