Brown's

Notes on the venerable institution at Main and Front.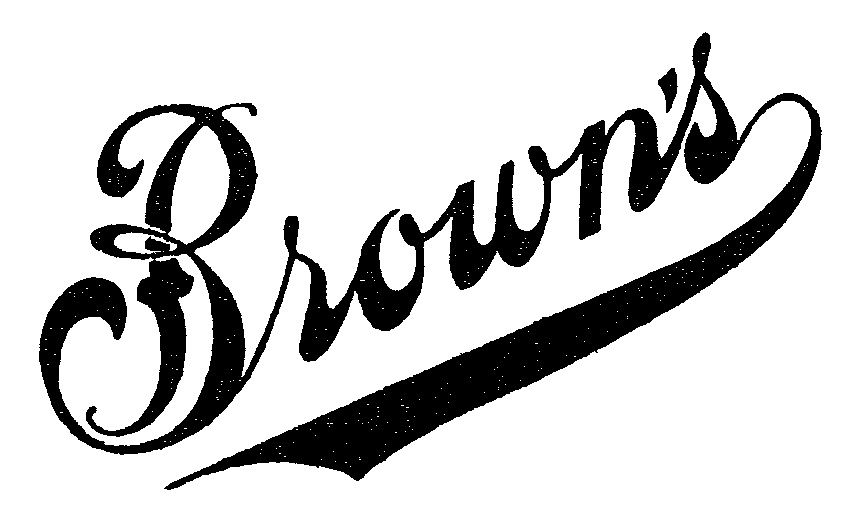 Brown's logo, July 4, 1911
Medford Sun



S. T. BROWN & CO.--Billiards, Cigars and Soft Drinks. Up stairs, Young & Hall building. A nice cool place to spend the hot afternoons.
Classified ad,
Medford Mail Tribune,
March 24, 1910, page 7
BROWN PUTS ONE OVER ON THE BUNCH

Ed Brown put one over on the Medford fight fans today when by a little telephoning he got them borrowing each others' pencils to write out checks to cover a mysterious $2000 of Kayo Brown money. Even now the bunch is waiting for the New Yorker with the bankroll to show up at the Quiz, sporting headquarters, and cover the coin. It happened thusly:
Brown, who is always either putting a good one over, or falling for one, had a friend, voice unknown, call up the Quiz shortly before noon today. Art Burgess answered the phone, and the conversation ran something like this:
"Hello. Is this the Quiz?"
"Yes, sir."
"Well, this is so-and-so of New York at the Medford Hotel. I understand your place is headquarters for fight fans."
"Yes, sir."
"Well, I and a friend of mine are here from New York, and we know Kayo Brown very well. We'd like to get up about $2000 at prevailing odds."
Art warmed up and invited him down.
"Well, I will meet you at 3 o'clock. I have a little business to attend to."
"All right; we'll have the money."
Then the local fans got busy. Checks were written and all the faithful Anderson backers given a chance. They came in droves and all of them left some coin.
And while Brown and his few friends in on the joke are laughing this afternoon the bunch at the Quiz, armed with a hatful of checks, are watching and waiting for the stranger.
They'll understand his absence when they read this.
Medford Mail Tribune,
March 14, 1913, page 2
GUN EXPLODES IN ED BROWN'S HAND

By the explosion of the barrel of a Remington rifle he was testing, Ed G. Brown this morning suffered laceration of his left hand that may bring amputation of the forefinger. The accident occurred at the target grounds near the fair grounds. Brown and R. L. Ewing went to the grounds with the gun, which Brown contemplated buying for his wife. Ewing discharged the weapon three times. Brown then placed the rifle to his shoulder for a trial shot and the barrel split where the hand gripped with the pulling of the trigger. The gun was of high power and the latest make.
The injured man was rushed to the Sacred Heart Hospital and medical assistance given. The gun will be sent back to the factory for examination.
Medford Mail Tribune,
September 3, 1915, page 2
Ed G. Brown, who sustained a badly lacerated hand by the explosion of a rifle barrel Friday morning, will suffer no permanent injury as first feared and will be downtown today.
"Local and Personal,"
Medford Mail Tribune,
September 4, 1915, page 2
Ed. Brown, who beat the New Year to it by a day or so when he closed his saloon permanently on Wednesday evening, is now at work in the reconstruction of the interior of the building, on the corner of Main and Front streets, for the proposed cigar and confectionery business and soft drink parlor.
"Local and Personal,"
Medford Mail Tribune,
December 31, 1915, page 2
BROWN'S

Then it was known as Brown's. And it was a good sort of place, at that. There was rich mahogany, and plate glass mirrors and a shaded air of intimate exclusiveness, but no one thereabouts seemed particularly joyous or happy or proud of themselves. An opaque screen shut out the sunlight, and now and then some overindulgent customer had to be carried out or taken to the hospital or the jail just around the corner.
And now it is known as Brown's. The opaque screen has been removed, the mahogany bar has been replaced by white enamel and wicker, birds are singing in the flood of sunshine, and everyone seems happy and joyous and contented.
The prohibition law has done considerable for Brown's.

Medford Sun,
March 12, 1916, page 4
PROGRESS AT MEDFORD
Modern Stores Take Place of Former Saloon Buildings.

MEDFORD, Or., June 3.--(Special.)--Front Street in Medford is being transformed from a row of unsightly shacks and tumble-down saloons into an attractive business street. Several months ago Brown's saloon, at the corner of Main and Front streets, was changed into a modern confectionery store.
Now the [Seattle] rooming house will be remodeled by R. Nurmi, of the Nurmi Baking Company, into a model baking establishment, with new machinery and fixtures, costing about $4000.
Sunday Oregonian,
Portland, June 4, 1916, page 18
OVERDRAFT LAW IS UPSET
Medford Man Acquitted on Charge of Uttering Fraudulent Checks.

MEDFORD, Or., July 10.--(Special.)--The first case brought to court in Jackson County under the new law passed by the Legislature relating to the overdrawing of accounts by check resulted in favor of the defendant today, when E. H. Fish, former manager of Brown's confectionery store, was acquitted of the charge made by E. J. White of uttering two fraudulent checks, one for $11.34 and one for $16.95.
No denial of the overdraft was entered by the defendant, but he maintained there was no intent to defraud, and the court sustained him.
Morning Oregonian,
Portland, July 11, 1917, page 16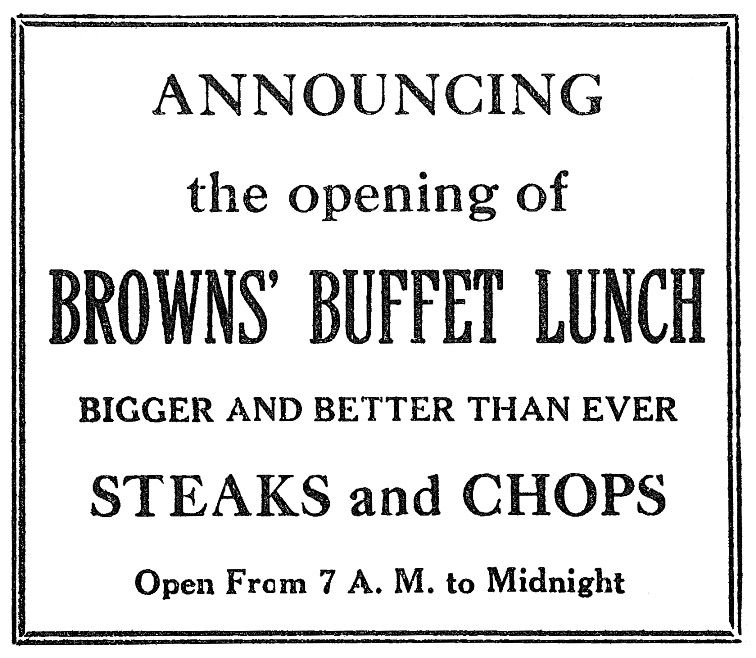 December 18, 1923
Medford Mail Tribune
Brown's

Brown's opened for business in 1909 with three employees. They also have grown with the city until now they have 14 employees and have added new departments as the business has grown.
Under the management of Ed Brown, this establishment has become one of southern Oregon's most popular recreational places, where billiards and pool may be enjoyed in an atmosphere of clean respectability. Every possible step has been taken by Mr. Brown to provide a strictly high-class recreation hall for those who enjoy "the gentleman's game."
Brown's coffee shop has won a wide patronage because of tasty foods and excellent service. In the same establishment is a soda fountain, department for the smoker, a barber shop and a shoe shining parlor, as well as a room for those who wish a friendly game of cards.
Billiard tournaments are frequently staged at Brown's, and many nationally known cue artists have appeared in exhibition matches there.
"Brief History of Old-Time Medford Firms Given,"
Medford Mail Tribune,
September 29, 1930, page 8
ED BROWN SELLS AFTER 30 YEARS IN BUSINESS HERE
Purchased by Mrs. Grace Fredette--Browns to Take Long Rest.


After 30 years in business here at the same corner, Mr. and Mrs. Edward G. Brown will retire in a few days for a long rest and "one good night's sleep."
"The first thing I'm going to do is hunt up a nice big pine tree and go to sleep under it," Ed Brown declared. Mrs. Brown demurred to this, however, and suggested a little sojourn at the seashore.
"Anyway," Mr. Brown went on, "we are going to continue to live here. We wouldn't think of living anywhere but in southern Oregon."
The Browns have sold their cafe business at 101 East Main Street to Mrs. Grace E. Fredette. The transaction, handled by the Mark A. Goldy Agency, Inc., will become effective within a week. The business will be managed by Mrs. Fredette's husband, Harry C. Fredette.
The business includes a restaurant, lunch counter, billiard room and allied adjuncts. The Brown will continue to own and manage the bachelor apartments upstairs.
Brown's is one of the longest continuous businesses at once place in Medford. Mr. Brown gave an idea of the age of the place when he said the bar was a hand-carved masterpiece that had not been moved an inch since it was first installed 37 years ago.
Mr. Brown recalled that as a traveling representative of a Chicago company he came to Medford on April 8, 1909. He declared that he was so awed by the peace and beauty of the city after a damp, foggy winter in Portland that he immediately sent word to Mrs. Brown to join him here, as Medford was to be their future home.
Mr. Brown bought out Young & Hall, [the] partnership that had operated the saloon at 101 East Main Street for a number of years. Since then the corner at Front Street has been known as Brown's.
When the Browns first came here, boom times were in evidence. There were booms in mineral lands, but more particularly in pear and apple orchards. Promoters were busy, and easterners with capital to invest in the orchard business were arriving on every train, Mr. Brown recalled.
Mr. Brown operated the saloon and billiard room until prohibition came along. Then he had to adjust his business to the new regime, and a restaurant and lunch room were added. During ten years of the prohibition period Syd I. Brown, now sheriff, was a partner in the business. The two Browns, incidentally, are not related.
The Fredettes are well known here, having been identified with various enterprises in Medford for years. Mr. Fredette once owned and operated a cafe business here and more recently was owner of the Medford Poultry & Egg Company.
Medford Mail Tribune,
August 17, 1939, page 12
Brown's Cafe Is Sold Again
Arrangements for the sale of Brown's Cafe by Mrs. Grace E. Fredette to the Roxy Ann Investment Company were completed Tuesday, after several weeks of negotiation.
The Roxy Ann Investment Company was incorporated by Frank P. Farrell, Agnes Wheeler and Mabel Showers.
A. C. Leighton, vice president of the company, will be manager of the cafe. Other officers of the company were not made public.
Brown's has been owned by Mrs. Fredette for the past 22 months, and prior to that time was owned by Ed Brown.
The transaction was handled by Mark Goldy.
Just who the present stockholders of the Roxy Ann Investment Company are is a matter of considerable conjecture about the city, with best available information being that they are "six prominent Medford businessmen."
Medford News,
June 27, 1941, page 1
Brown's Cafe So. Ore. Recreational Center
It is only natural, when looking for a place to spend a few hours of recreation, to go where the service and accommodations are the best. At Brown's Cafe, located at 101 E. Main in Medford, you will find a newly renovated, modern, up-to-date recreation center operated for your pleasure. Brown's Cafe offers diversified entertainment--they have excellently equipped pool tables kept in first-class condition, also a card room where you may play your favorite game with congenial companions. The bar at Brown's Cafe has won popular acclaim, as all beer is drawn direct from the keg, eliminating a possibility of corroded and unsanitary coils. The cafe itself is operated by experienced cooks who have catered to the desires of particular customers for many years. Everything is kept scrupulously clean, the food is excellent and served in an appetizing manner. The new manager has spared no expense in bringing us a place of recreation worthy of any large metropolitan center.
Medford News,
April 3, 1942, page 2
Brown's Billiard Parlor,
18 North Front Street. Federal gaming tax. No slot machines in evidence. Reported same in storage. Gambling on pinball machines. Owners: Bert L. Cook and Mark A. Goldy. Resorted to by criminal characters, pimps, narcotic peddlers and addicts, particularly marijuana. Investigative leads: cultivate through taxicab drivers.
----

Brown's Cafe,
101 East Main Street, Medford, Oregon. Federal gaming tax. No slot machines in evidence. Gambling on pinball machines. Owner: A. C. Leighton.
Walter S. Jeffreys, Sr.,
Confidential Crime and Efficiency Survey,
September 14, 1953
Threat of Bombing Here Thought To Be Hoax by City Police

A bombing threat, which turned out to be an apparent hoax, was made in Medford last night.
An unidentified man telephoned Brown's Cafe and Lounge, 101 East Main St., at about 7:05 p.m. yesterday. A thorough search of the building by Medford police failed to find any bomb.
The threat, the first reported in Medford, is the latest in a series of bombing hoaxes, threats and one actual bombing which have busied police authorities in Oregon and Washington in recent weeks. It started when a bomb exploded in Meier and Frank's Department Store in Portland, in an apparent extortion attempt.
But since that time, most of the calls have been made by hoaxsters or those bearing grudges. The Meier and Frank incident was the only one where a bomb actually exploded.
DA Gives Warning
The threat brought a warning from District Attorney Walter Nunley that threatening the commission of a felony is itself a felony, punishable by a maximum of five years in the state penitentiary upon conviction.
Medford police said Ambrose Whitney (Spike) Lloyd, 36 South Stage Rd., an employee at Brown's, received the call, and a male voice said, "Brown's will be bombed at 11:00 o'clock."
Police immediately searched the cafe and lounge and Brown's Billiard Parlor, 18 North Front St., but failed to find any bomb.
They advised that the business close at 10 p.m., which it did.
Search Entire Building
Six officers then searched the building, including more than 30 offices upstairs. A guard was stationed at the cafe until 11:15 p.m., at which time it was taken off because officers came to believe that the threat was a hoax.
Police said Lloyd told them the voice was definitely a male voice, and sounded like an adult. Lloyd said he asked the person to repeat what he had said, and the person again replied, "Brown's will be bombed at 11 o'clock."
Lloyd told police he asked who was calling, and the person said: "This is Santa Claus and I am not fooling." He then hung up the receiver, Lloyd said.
Lloyd and other employees said they did not know of anyone who had a grudge against them or the cafe.
Police questioned a 20-year-old Medford man, but said he apparently had no connection with the call. He was questioned after police noticed him driving in the vicinity at least five different times. They said he was driving around to see what was happening.
Medford Mail Tribune,
May 20, 1955, page 1
Last revised May 31, 2016