HOME
Going to Crater Lake
What it used to be like.
During my sojourn in Jacksonville a party of gentlemen planned an excursion to the Rogue River Falls and Crater Lake, two scenes well worthy of a visit from those who appreciate the beauties and wonders of nature, and at their invitation I accompanied them. Starting out early in the morning, we looked, as we emerged on the plains, like a body of guerrillas going on a raid, as our raiment was composed of many textures and colors, and we were armed with rifles, shotguns, revolvers, and bowie knives, while our mustangs ranged in hues from black to piebald and white. Our motley appearance produced many witty comments from members of the cavalcade, but one was so carried away with its imposing mien that he compared it to the march of a body of knights going on a chivalric mission to break lances with their foes. A practical individual destroyed the effect of this noble simile, however, by suggesting that we looked more like horse thieves, or outcasts from civilization, who were rushing all over the country in search of something to steal, and he strongly intimated that our presence in any hamlet would cause the people to lock up their houses, or to turn out and fight us. With such good-natured badinage as this the morning passed rapidly away, but finding that we should not reach our destination as soon as desirable by keeping at the pace we were then going, the leader gave the driver of the wagon containing our tents and provisions instructions where to meet us, then slyly hinted that we ought to gallop away from the wagon as rapidly as possible if we would not be suspected of being out on a poultry-stealing expedition. The hint was laughingly taken, and putting spurs to our mustangs, we were soon dashing over the prairie at a breakneck pace, and in a comparatively short time reached our first halting place, on the wooded banks of the Rogue River.
I noticed here, as I had in the open spaces, the unusual abundance of liliaceous plants, and the gaudy colors of nearly all the flowers. This gave the region a most brilliant appearance, for red, yellow, crimson, purple, straw and light blue hues were the most prominent; modesty of floral attire was, in fact, conspicuous by its absence, and this I subsequently found to be the case throughout the whole of Northwestern America.
Our first movement, after tethering the horses and turning them out to graze in a pasture so rich that the grass reached above their knees, was to make a pilgrimage to the Rogue River Falls, and drink in their beauty for an hour. These falls are formed by the river not far from where it breaks through the Coast Range on its way to the sea. The stream, being surrounded by magnificent firs, pines, cedars, and other trees throughout its entire course, it has the appearance, in perspective, of an undulating silvery thread stretched through an extensive field of foliage; and where it takes its abrupt leap the forest is so dense as to be almost impassable in summer, owing to the luxuriance of the shrubbery and undergrowth, and so dark and cool, even in the warmest weather, as to exhale a palpable humid coolness. Looking upward at the falls from their base, they are seen to emerge from a narrow opening between two huge masses of dark crags; but ere they reach the ground they seem divided into three sections of foamy spray, owing to the interruption of the line of sight by the dense and tangled foliage. Their actual height is estimated at 200 feet, and their width at 30, and their volume of water in early summer, during the spring freshets, at a depth of 8 feet. They are then in their finest condition, and the stream possesses such powerful velocity that it whirls large crags along its course as if they were pebbles. One of the most interesting features of the falls is the luxuriance of the mosses and lichens wherever the spray falls. Their base is surrounded by cedars, junipers, alders and willows, which are covered with moss to such an extent that their trunks and branches are almost concealed. This, of course, prevents much leafage, so that they present the appearance of a forest of gigantic mosses. Desiring to avoid the spray, I tore away some of the mossy covering from a tree, and found between it and the trunk a chamber, large enough to hold ten persons, and thoroughly waterproof. In this snug retreat I had a fine opportunity of studying the delightful scene before me, which in picturesqueness excelled any of a similar character I had seen before. The water in its fall threw copious showers upon the evergreens, and produced a permanent rainbow in the forest which extended from the highest tree to the lowest shrub. This was the first effect of its kind I had ever noticed, and most pleasing it seemed, as the line of foliage through which it passed was brilliantly illuminated with all the prismatic hues.
Having feasted our eyes on this vista of wood and water, we returned to the upper world once more and made preparations for supper. As we had no fresh meat it was decided to kill some deer, while others went fishing; but who should hunt and who should fish was a difficult matter to decide, as all seemed to be aching to practice their rifles or shotguns on something, if it were only a squirrel. The dilemma was solved, however, by drawing lots as to who should be compelled to try and drown a worm for an hour or two; and as I was one of these, I cut a twig for a rod, tied my line to it, and soon had my legs dangling over a bank, trying to drown a very small angleworm. I was not long engaged in this arduous duty when my hook was seized with a vigor that seemed to bring my heart to my mouth, but I soon recovered myself, and fought as well as I could against a 6-lb. trout as to whether I should land him on the bank or he pull me into the water. Science triumphed and I was victor. The fish were so plentiful and voracious that it became a labor to haul them ashore; and thinking I had enough, after I caught two dozen splendid fellows, I returned to camp, and there found some of the expedition busily engaged in skinning two fine stags which they had slain within half an hour after starting on the hunt. The others were not so fortunate, but everyone brought in something--a hare, a wood duck, or a grouse; and one individual who could find nothing else, and was resolved not to return empty-handed, brought in a long-tailed wood rat--the greatest thief on earth--which he found trying to steal an old boot heel, hoary with age and hard work. When he threw his treasure on the ground, a cry was raised immediately to hang him as a "heathen Chinee" sailing under false colors; but the sentence, after much argument, was changed into making him bring all the water needed for supper, and this he promised to do. That al fresco meal was a joyous one, for wit and humorous story enlivened it. When it was finished, and pipes or cigars were lighted, the "yarners" commenced their work and kept it going until near midnight, when the laughter-satiated expedition retired to rest. We were astir early the next morning, and after breakfast moved for the Cascade Range, about eighty miles distant, to visit Crater Lake. Our route led over some of the finest views to be found on the continent, for on one side were the cumulus-covered snow peaks, and on the others, heavily timbered mountains 4,000 feet high, while between, like a sea of verdure, rolled the undulating valley. We camped out the first night without any other covering than our blankets, and by noon of the next day reached the object of our journey, high up amidst the forests of the Cascade Range.
I had heard much of this lake, and expected much, as a matter of course, but I must say that it went far beyond my most sanguine expectations. When we first reached its summit the mountain was covered with an almost impenetrable mist that concealed all objects; but that soon cleared away, and we had a fine opportunity of gazing down into the cavernous depths of the rock-bound tarn. From measurements made by a party of engineers, the lake was found to be the most deeply buried body of water of its size known, the altitude of its walls being placed at 2,500 feet, and its superficial area at thirty-six square miles. It is said that a ball fired from a rifle cannot be seen to strike the water, a statement very natural to believe, inasmuch as it is nearly half a mile from the top to the surface of the lake. Several of our party tried it, but in no instance could the bullet be seen to strike, nor did I expect it at that distance. We reached the water by following a steep trail formed by the large wild animals which frequent it to allay their thirst, and considered ourselves quite fortunate in doing so without suffering any greater injury than a few gashes from jagged stones. Once below, and we had a splendid view of the watery waste that stretched out before us like a lake of ink, and the towering walls that enveloped it in so close an embrace that no vestige of a shore line was visible. The water had a dark-blue look, exactly like ink, and this blackish effect was increased by the sooty crags and the somber conifers that grew on their summits. The picture it presented had no expression of brightness or gentleness in its composition; all was savage wildness, rude grandeur and cold desolation, for look were one would and nothing greeted the vision but black waves, bare crags and gloomy trees. The silence was so oppressive as to seem droning, and the absence of all life gave it an air of weird solitude that appeared unnatural. It is a perfect tarn of death, for not a fish lives in its inky waters, nor a fly in the air, and no songbird ever enlivens its brooding stillness with a merry warble. After gazing upon it for awhile it seems exceedingly unearthly, and arouses a feeling of strangeness akin to awe, which is difficult to shake off.
Our party went on a tour of exploration over it, having found an old skiff, which had been built by earlier visitors, near the shore. Our first halt was at a rocky islet which rises up in its center to a height of 1,200 feet. This has a crater in the top which is 100 feet deep, and whose mouth is one mass of scoriaceous lava. A long line told us that the water at the base of the island was over 500 feet deep, so that the lake from the top of the walls to the bottom is over half a mile in depth. It is certainly a wonderful spot, and one well worth visiting, if only for its unique character.
John Mortimer Murphy,

Rambles in North-Western America

, London 1879, page 78


OFF BEATEN PATHS.

"Simon Peter said unto them, I go a fishing. They say unto him, We also go with thee."
So spake the apostles of old; so also said we, Peter, and Thomas, and James, three modern apostles, mastered by the desire to find "fresh woods and pastures new" in which to spend our summer vacation. A trip to the Old World, with "Cook's tourists " everywhere, was not to be thought of for a moment; in the East nearly every nook and corner of mountain and valley was known to us; and for years past we had wandered at intervals through various parts of California. So this one summer found us fishing for something new. Appeared on the scene one day John, a brother apostle, for years past a denizen of Southern Oregon's wilds, and until now by us long time unseen.
"Is there," said we to him, "no strange place of which you know, that would be to us 'something new under the sun'?"
"Yes," said he, without a moment's hesitation; "there is Crater Lake, something probably without a parallel in the scenery of the world. Called at different times by such various names as 'Blue Lake,' 'Mystic Lake,' 'Lake Majesty,' and 'Deep Lake,' its last and most appropriate name of 'Crater Lake' is probably the one it will now bear forever. The deepest clear-water lake on the American continent, reliable soundings by a party of surveyors having been taken to a depth of 2012 feet, it is only to be seen after climbing nearly seven thousand feet above sea level. Comparatively easy of access, and in the midst of scenery really sublime, you will have freedom from the perennial tourist who haunts more beaten paths, besides fishing and hunting for every day you are gone."
With the prospect of such things before us, who would not have done as we did? With John's consent, he was at once installed as guide and director of our party. Within a week we were in Medford, Oregon, a small railroad station in Rogue River Valley. Wagon, driver, food, blankets and all that goes to form an outfit for mountain travel and camping being procured at that place, the railroad was left behind and our pilgrimage begun. Good weather for weeks to come was assured us, storms never--at least, hardly ever--beginning until late in the autumn, and it was now midsummer.
After riding a dozen miles down the valley, Rogue River--corrupted from Roque, the Frenchman in whose honor the stream was named [
not true--"Rogue" comes from the English, as applied to the local Indians
]--was reached and crossed at the foot of "Table Rock." Here [
again, not true
], in the days of Oregon's early settlement, were fought many bloody battles between the Indians and whites, and numerous are the tales told of battles fought, dangers incurred and perils braved by the hardy settlers of early days. What a contrast then to the peaceful scene we looked upon!
Our road now followed for miles along the margin, and no river scenery could be more enchantingly beautiful, with its verdure-clad, willow-lined banks, and the smooth, beautiful water, with trout leaping from still pools, or making their way with mighty splashings through its shoals. As we ascended the valley the river grew gradually narrower; farms and dwellings were fewer and farther between; the forests grew more and more dense, while large boulders betokening volcanic origin were occasionally seen, with now and then a waste of pulverized pumice stone over which to travel.
At the place known as "Hole in the Ground" [
i.e., Natural Bridge
], a small stream pours into an opening only totally to disappear, the sound of its waters growing gradually more and more indistinct as it passes out of sight. It is not a chasm, as might be supposed, but literally a "hole in the ground," whose depths no one has yet been able to sound. Flounce Rock lifted a flattened peak above us, its sides befrilled with stony ruffles representing a bygone style in more enduring material than the pages of a fashion journal.
One encounters queer types of the human family traveling through the woods. It would seem that the ability to conceal one's true character bears a direct ratio to the amount of knowledge. Among these illiterate and poor people generosity or greed, honesty or dishonesty, with many other characteristics, are all freely exhibited. The women of most families, strong and hearty, but rough and uncouth, as a rule do as much outdoor work as any man; plowing, harrowing, sowing, reaping, and mauling rails, with the best of them. The following, which John's wife related as one of her experiences among them on her first trip to the lake, seems worth repeating:
"We too were going to Crater Lake, traveling the same road over which you will pass. We did our own cooking over a camp fire, but intended to stop for the night at houses we knew of along the road as having accommodations for travelers. One day, being delayed by a balky horse, and unable to make our full day's drive, we were forced to find what stopping place we could. The houses, as you will find, are few and far between, so when we came to a settlement about nine o'clock at night, we knew that here must be our stopping place, whether or no.
"Going to bed as they do at the same time with the chickens, everyone on the place was fast asleep. My husband got out of the wagon, went to the door, and returned after some time, accompanied by the man of the house, who looked our outfit over by the light of his uplifted lantern, then said:--
"'I guess you kin fetch up here.' To me--'You come in the haouse an' crawl right in whar I've ben, 'longside my old 'oman, an' us men folks 'll sleep aout in the barn.'
"I didn't relish the prospect in the least, but followed him, a most unwilling victim, to the 'haouse,' which seemed to consist of but two rooms. The one into which he ushered and left me, with the assurance that 'the old 'oman 'ud be thar purty quick,' was not larger than ten feet by twelve, yet contained a dog, two cats, and a bed where four children lay asleep, two at each end. Their clothes were in little heaps about the floor, evidently left just as each little one had stepped out. With window and doors closed, the air inside is perhaps better imagined than described! A little while after I had seated myself, a rustling sound caused me to turn my head, and I saw the 'old 'oman' entering from the other room. A calico dress, evidently donned in a hurry, for the waist was not buttoned more than half way up, seemed to be almost the only garment she had on: being very short, it left exposed a rather shapely pair of ankles, and two bare feet, hard and brown. A crop of short curly hair stood out on all sides of her head, looking as if brush or comb were unknown articles. She came into the room on tiptoe, sat down on one side of the children's bed (I had the only chair in the room), began swinging her crossed feet, twirling her thumbs, and looking at me without a word. I had said 'good evening' as she entered, but received no reply. Pretty soon I ventured to say we were very sorry to intrude on them, and was proceeding to explain how we had been delayed, when she interrupted me, saying:--
"'Geth I hain't drethed up much fer comp'ny.'
"I suggested that full dress could hardly be expected on such short notice as she had received. I never did like to do all the talking, so silence ensued for a few moments, when she said:--
"'Mith Powers's baby jetht had the measles, an' naow Jane's got 'em.'
"I expressed my sorrow--and imagine my feelings, for my little girl had never yet been exposed to them.
"'I s'pose you heern what happened daown to Allen's t'other day?'
"No, I had not.
"'Wall, it war twins.'
"I gasped for breath, and turned the conversation into other channels. Her tongue once unloosened, there was silence no more. Further conversation revealed the fact that she had six children, 'half boys and half girls.' Considering what her life must have been, she was a very youthful-looking woman, so for lack of anything else to say I remarked that she looked very young to be the mother of so large a family. The effect was as unexpected as instantaneous. She quit swinging her feet, folded her hands, sat up very straight, and said: 'O, you jetht ought ter thee me with my falth teeth in!'
"I had noticed that she lisped badly, but had not missed the teeth.
"Imagine my feelings when a little later I found that my little girl and I were expected, quite as a matter of course, to share the bed with herself, a child three years old, and a baby of three months. They meant kindly, but I arose with the courage of desperation, ostensibly for the purpose of calling my husband to get me something from the wagon, but in reality to tell him how strong was my determination to share the barn with him, and not 'crawl in with the old 'oman.' We excused ourselves to them on the score of not wishing to discommode them to such an extent, wanting to start very early in the morning, etc., etc. So we spread out some shawls and rugs on the hay, and spent the night in the barn loft, while in the yard below some pigs kept up an incessant grunting and squealing.
"In the morning, O so early, the commotion among the pigs increased, the roosters crowed, dogs barked, and what with horses, mules, sheep and geese all adding their own particular cry for breakfast, it seemed as if we couldn't get away fast enough. Bad as it was, however, think what it would have been in the 'haouse.'"
Passing the scene of this incident on our way, we smiled, but did not stop to interview the family.
After we had traveled about fifty miles, Prospect--formerly called Deskins--was reached, where a post office, sawmill, and three or four cabins constitute the settlement. Our road for a few miles back had passed through the depths of a vast forest of firs and sugar pine trees, of so dense a growth that, though the mill has been in existence almost thirty years, no visible inroads have been made. But for stumps standing here and there, one would imagine the forest untouched. So gigantic is the growth that trees two or three hundred feet in height, with a diameter of from six to ten feet, are no uncommon sight. The lumber is unsurpassed in quality, but the great difficulty in transportation over the rough mountain roads forbids the immense profits that might otherwise be derived from it. A flume company now organizing will do much to change all this.
Red Blanket Prairie lying near (so called because a red blanket was the price for which it was purchased from the Indians) must become a valuable piece of property, comprising as it does several hundred acres of extremely rich, level soil, naturally fenced by steep and rugged mountains rising on all sides and plentifully watered by numerous streams of clear, cold water. Immense crops of wild hay and grasses are annually cut. When fully cleared and cultivated, it will be a most valuable stock ranch.
Near this point the rapids are found, where Rogue River tears madly through a deep gorge that it has cut through the lava, falling a distance of over three hundred feet in one and a half miles. It is a grand sight to see it plunging from rock to rock, whirling, eddying, boiling or resting in some protected basin until renewed force is gathered again to go rushing on its way.
A short distance below the rapids is Rogue River Falls, one of the finest among several to be found in these wild regions. The stream that turns the mill wheel forms this fall, leaping from a perpendicular cliff one hundred and ninety feet high without a break into the river below. The vegetation being so dense on the brink from which it plunges, the source is invisible, so that it seems to spring directly out of the face of the cliff. Completely undisturbed until within the past few years, nature has worked unmolested, until now, trees, rocks, the ground--everything is covered with a mantle of most beautiful moss. Soft and green, varying in depth from four to twelve inches, of many kinds and varied tints, when lit up by the sun shining through the trees it is of indescribable beauty. The finishing touch is added by a fine rainbow formed on clear days in the cloud of spray at the foot of the falls.
Once more taking up the line of march, we found that our road still ran for miles through "forests primeval," so dense and with trees of such immense size it would almost seem that here was lumber enough for ages to come, were there no other source of supply on the Coast.
Our way now ran along the edge of Pyramid Canyon [
Godfrey Glen
], which time and water have washed out to a great depth. It must have been many years ago, for in it grow large forest trees. All through this canyon stand curious rocky columns, measuring at the bottom perhaps thirty or forty feet, with a height of from fifty to over one hundred. Evidently composed of harder material than that which surrounded them, they were preserved to form another of the curious sights to be found in this region.
Reaching higher altitudes, we left behind the immense growth of sugar pine. The road grew steeper and much more difficult of ascent as we neared the summit of the mountain. Evidences of volcanic action grew more and more apparent, while the road for miles was bordered only by scraggy pines or red hemlock trees, puny and stunted.
Three miles from the lake we left the main road for one little traveled, so rough and full of sharp angles that, though horses can be driven to the top, it is far better to tether the animals and travel the last few thousand feet on foot.
The scenery now changed rapidly as we advanced, but no indications of water were to be seen, and indeed the elevation, nearly seven thousand feet above sea level, seemed too great to expect it in any large body. The springs and small streams, so plentiful a short distance back, were all gone, the grass less abundant, the trees stunted, presenting a marked contrast to the luxurious growth of regions left behind but a short time since. Through the trees we had occasional glimpses of some towering peak; but for any opening, or for the lake, we looked in vain. To all appearance it was still in the "far dim distance."
It has been truly said that
Oft expectation fails, and most oft there
Where most it promises; and oft it hits
Where hope is coldest, and despair most sits.

For when least expecting it, we suddenly emerged from the timber into a large circular opening. The object of our journey was accomplished: the lake lay at our feet.
We found ourselves almost on the edge of an immense precipice, looking across a wide stretch of water lying almost two thousand feet beneath us. As we stood in silence contemplating the grandeur of the scene, no evidence of life outside our party visible, the stillness and solitude became almost oppressive, and yet it was not at once we could realize just how wonderful it all was.
Long ago, before all the country round about was covered with ashes, lava and volcanic scoriae, here must have stood one of the grandest mountains in the world. Shorn of its crown, yet almost thirty miles in circumference where we stood, to what lofty heights must it first have reached? Imagine the interior a boiling, seething cauldron--a gigantic witches' kettle eight by twelve miles in extent--with an unknown depth. From its awful mouth shot forth lava in tongues of liquid fire; its bowels of ashes and rock belched for many square miles over the surrounding country. More than thirty miles away the soil for twenty feet in depth is plainly of volcanic origin, beneath which is a dark, rich alluvium. Those miles of desolation, these rocky walls, this vast crater, all bear witness to the terrible convulsions of nature that must have taken place.
In time its fury was spent, but not until several thousand feet of the top had collapsed, leaving the hollow basin that now forms the lake. A rocky wall from fifteen hundred to three thousand feet in height rises on all sides of the lake, only broken here and there by narrow rifts or passages, which sometimes extend almost from base to summit. The basin is more or less filled with debris, consisting of sand, dirt or boulders broken from the ridges on either side, the slope always at a sharp angle; and woe betide whoever may be between the water's edge and a loosened stone, for when it is once started, its speed accelerating as it moves, detaching others on its way, one might as well hope to stand before a battery of Gatling guns. We spent some time in the fascinating, though rather frightful amusement of sending rocks and boulders into the water. Down they would go, thundering along in a great cloud of dust, with dozens of companions they had started clattering after them. Striking an impeding object, they would bound into the air a hundred feet or more, repeating this again and again, until lost to sight, or till we would see them give a mighty plunge into the water almost three thousand feet below us.
There is no shore, the lake's walls seeming to rise directly out of the water, except in one place where a bit of sandy soil is dotted with boulders is seen; and so far as known, there is but this one place where the descent to the water's edge can be made. Here there has evidently been a rock slide, which has worn a passage-way where powdered pumice stone and dust lie ankle deep, to be waded through as one goes to and fro. On account of the loose character of the soil, and danger from rolling rocks, great caution in descending must be exercised. The path varies thirty to forty-five degrees from the perpendicular, and as may be imagined, is easier to go down than up. One of our party insisted that he descended in ten minutes, but was two hours returning. This statement, however, should probably be taken
cum grano salis.
In the midst of the lake lies Wizard Island, to which we made a trip in a leaky old boat, left, I believe, by a surveying party. Looking up, one realizes more fully than can be done in any other way, the immense height and steepness of the rocky walls surrounding the lake. Viewed from below, the slide down which we came looked almost perpendicular.
Reaching the island in safety, we landed upon the loose shingle that surrounded it, upon which volcanic rocks lie piled in wild confusion. The sides are covered with a growth of spruce and and black pine, growing more scattering as we ascended. At the top, nine hundred feet above the water's edge, is an opening nearly five hundred feet in diameter, with a depth of about one hundred and twenty-five. This, before the great collapse, must have been the chimney of the volcano, and judging from the growth of timber within it, has slept for ages. We also found inside it a snow bank, from which our thirst was quenched.
The water of the lake is extremely cold and very clear, objects far below the surface being readily discerned. Except the melting snow trickling down in quantities insufficient to make a stream of any size, neither inlet nor outlet has yet been discovered for this strange lake. Annie's Creek, with several other streams, which emerge in a body from the sides of this mountain, are supposed to come from the lake, and one branch of Rogue River, it is thought, also has its source therein, for it rushes with great force from the side of the mountain about two miles from the summit, and its waters are of the same peculiar shade of greenish blue as those of the lake.
Yet is it blue? One could stand for hours, never tiring of the varying lights and shades and play of color on its surface, changeful as a kaleidoscope. Now blue and sunny as Italy's own brightest beauty, or changing even as we look to a darker shade, yes, even to purple. Varying shades of green, brown, crimson, yellow and orange--we saw them all. So smooth and still generally that the rocky margins, trees, clouds, all are reflected with the same unerring precision seen in Yosemite's Mirror Lake--anon comes a soft motion, breaking the surface into ripples: so gentle the breeze, one feels it might be the breath of some Spirit of the Waters.
The Indians in this section of country have several traditions concerning the lake. One that it is the abode of evil spirits; that whoever looks into its silent depths will soon die, and solemn warning has been given the whites to keep far away, lest harm befall them. Others say it is holy ground, made sacred by the immediate presence of the Great Spirit; that in the past none ever visited it save the medicine men or their pupils. When one of the young men of the tribe received a "call" to become a healer, before becoming a proficient he must first spend weeks upon its shore, fasting and praying to the
Saghalie tyee
[
"the chief above," i.e., God
]
.
Having communed with the dead, seen visions, and dreamed dreams, after his descent from the mountain, and initiation into the mysteries of the medicine dance, he was ever after looked upon with reverence, as having seen the denizens of the Unknown World, and held communion with the Great Spirit. Certain it is that whether from awe and reverence or fear of harm, no inducement can be offered sufficiently strong to get an Indian within sight of its waters.
All is not yet seen, and still further reward awaits us as compensation for the fatigue of our journey.
At so great an elevation the surrounding country lies spread before us like a map, and in the clear mountain air objects at an almost incredible distance can be discerned without difficulty. With the aid of good glasses yet more can be seen.
To the south, but a short distance away, flows Annie's Creek, where there is excellent hunting and fine scenery, abounding in cascades, falls or romantic canyons. At one side are the Cascade Mountains, parts of the range rising from six thousand to ten thousand feet in height. Near them some tiny spots of white are all that can be seen of Fort Klamath, a small post just vacated in obedience to orders from Uncle Sam.
Off in the southeast a bit of brightness catches the eye, which anyone acquainted with the country knows must be Tule Lake. Just beyond, a long dark line is all that can be seen of the lava beds, scene of the Modoc War. It was in the winter of 1872-73 that the Modoc chief, Captain Jack, and a few braves defied and for a while held at bay a portion of the United States army. It was here, also, that General Canby and Commissioner Thomas were so treacherously murdered by the Indians, for which crime Captain Jack, with others of his tribe, were afterward tried, found guilty and hanged at Fort Klamath.
Yonder old Shasta, hoary monarch of all the surrounding country, pushes his snow-capped head into the clouds, up and up, till a height of almost fifteen thousand feet is reached. It is supposed to have been at one time an active volcano like the mountain on which we stand. Who knows the passion of love one for the other that may have burned within each fiery heart. In what mighty tones must they have given voice to their affection, trembling from the force of it, throwing their stony kisses or flashing their signals across the country in sheets of flame or lava streams, speaking a language awful if incomprehensible to the mortals agape with fear. But commanded by a force yet mightier than they, one must perish--or was it a heart broken in despair? The other, sending no more messages for all the ages, since stands wrapped in his snowy garb, cold and desolate, a monument of grief and constancy.
To the southwest, about twenty-five miles away, Mount McLoughlin may be seen, and in spite of its ten thousand feet altitude forms a marked contrast in point of size to Mount Shasta. Off to the west, the course of the Rogue River may be followed for many miles on its journey to the ocean, while a little north, Diamond Peak and Mount Thielsen can be seen above the horizon, and still farther on the Three Sisters, each ten thousand feet high, covered perpetually with snow.
The secluded situation, away from the usual routes traveled by tourists, keeps the lake still comparatively unknown, but as it is described from one to another the number of its visitors is increasing yearly, and the time is not far distant when it will become one of the regular sights for the tourist in its vicinity. Sufficient interest has already been aroused to cause the President to withdraw all the land surrounding the lake from the public market, and bills have been introduced, if not passed, in Congress, asking for its maintenance and government as a national park. It is certainly a trip well worth taking, for no words can adequately describe this wonderful piece of nature's handiwork. It must be seen to be fully appreciated.
Aside from the minor points of interest on the road, good hunting is found almost every mile of the journey. Elk, deer, bear, wolves and wildcat are most abundant, besides duck, quail and other small game. Nearly all the streams, the water of which is cold as if direct from the Arctic regions and clear as crystal, abound in mountain trout, while in the larger ones another variety is found, weighing from fifteen to twenty-five pounds each, the name of which is still a subject of dispute.
One can retrace his way on leaving the lake, or as we did, resume the main road and continue on over the mountains to the railroad at Ashland, where the train may again be taken for home. We learned much hitherto undreamed of as to the resources of Southern Oregon and the country through which we passed. Gold, silver, quicksilver, chrome iron, gypsum, carbonate of lime and kindred minerals are discovered in many places. The miner drawn thither by the gold fever years since still finds ample occupation, for new and rich discoveries are constantly being made. The immigrant is charmed as he hears of the delightful climate, rich soil and large crops, both of grain and many varieties of fruits, successfully raised in the valleys or on the hillsides.
But to the tourist especially its attractions are great; places visited by few and described by none; hunting and fishing unsurpassed; lofty mountains, weird and majestic, mysterious lakes, splendid waterfalls, all that goes to form grand and beautiful scenery.
Overland Monthly,
July 1891, page 19
July 13, 1913
Sunday Oregonian
MEDFORD HAS TEMPERATURE OF 92
AND 35 MILES AWAY SNOW IS DEEP
Motor Party Beats All Records, Reaching Crater Lake Nearly 30 Days Earlier Than Ever Before--Result of Army Engineers' Work Particularly Noticeable on Corkscrew Curve,
Where Grade Is Cut to 10 Percent.

MEDFORD, Or., June 6.--(Special.)--While the thermometer was at 92 on May 27, breaking all records for the month in Medford, the first motor party to Crater Lake for the 1914 season was shoveling its way through snow drifts 20 feet deep. This climatic contrast within a radius of 35 miles indicates what advantages this unique natural wonder has as a summer resort.
The motor party made the rim of the lake nearly a month earlier than it has ever before been accomplished. The car invaded the Crater Lake Forest Reserve also, thus making a record as the first motor car to cross the line before June 15.
Seely Hall
, generally recognized as the most capable mountain auto driver in Southern Oregon, made the trip with his Hupmobile accompanied by Ed Weston, photographer of the Medford Commercial Club, and Homer Rothermel, a newspaper man. The party left Medford at 2 p.m. Tuesday, May 20, and reached Prospect, 47 miles distant, at 5:45. Through the yellow pine forests, beyond Prospect, the Hup made a fast run on excellent roads until the winter weather was reached. Snow drifts were encountered from five to 20 feet deep, soft underneath, but they were all negotiated until within a few miles of White Horse Creek. Here the road became impassable, and it was necessary to detour through the forest, Rothermel going ahead with an ax to clear a right-of-way. The car traveled over half a mile, coming back to the road only 200 feet nearer the lake.
At White Horse Creek, however, the car had to be abandoned, and the party walked on to Arant's Camp, where they passed Wednesday night and walked to the rim of the lake Thursday.
For over a year Army engineers have been extending new roads within the park, while Superintendent Steel has had a force of men improving the present roads leading to the rim. Instead of a 33-percent grade up Corkscrew Curve, for example, the maximum has been cut to 10 percent, allowing all cars to make the hotel and lodge. Local automobile men declared the running time from Medford will be reduced to an average of six hours, with the return easily made in five hours.
The auto stage will run from Medford this year three times a week, and arrangements have been made to carry mail, which will reduce the time for first-class mail between Crater Lake and Portland three days. Formerly the mail was carried via Klamath Falls.
The fishing in Crater Lake is now as fine as anywhere in the state of Oregon, trout being plentiful. Work on the Crater Lake Hotel and Lodge is progressing rapidly. Everything points to a record-breaking season at the lake in 1914.
Sunday Oregonian,
Portland, June 17, 1914, page 50
September 5, 1914
Medford Mail Tribune

Crater Lake Special Trips.
Parties wishing to go to Crater Lake during the fine weather can make special arrangements with the Hall Taxi Company. Seven passengers, round trip, $10 each; six passengers, round trip, $11 each; five passengers, round trip, $12; four passengers, round trip, $13.50.
For particulars phone Seely Hall, manager Hall Taxi Company.
Medford Mail Tribune,
September 28, 1914, page 2
MEDFORD-CRATER LAKE TRIPS BEGIN IN EARNEST
Governor's Party Opens Season with Visit June 24
and 10,000 Tourists Are Expected at Resort During Season.
MEDFORD, July 3.--(Special.)--The first trip to Crater Lake from Medford this season was made by Seely Hall on June 24, when the party got within two miles of the rim and walked on to the new lodge, which opens for the first time this year. The road from Medford to Arant's camp is in perfect condition, and the run can be made easily up the picturesque Rogue in five hours.
On July 1 the season formally opens, although Governor Withycombe and party virtually opened the season on Monday, June 28, when they stopped there overnight as the guests of Will G. Steel, superintendent of the park, and Manager Parkhurst, of Crater Lake Lodge.
All records for travel to Crater Lake already have been broken this season, and everything points to unprecedented travel during the Exposition year. Manager Court Hall, of the Medford auto stage line, has booked tourist parties for every week in July and August, and Superintendent Steel believes that 10,000 people will register at the lake before the season closes.
Heretofore visitors at the lake have slept in tents and have taken their meals in a temporary building, but this year the elaborate stone lodge will be open, the dining room and kitchen are now finished, and sleeping accommodations have been provided in the building formerly used as a dining room. The lake is alive with trout. Guides will be on hand to take parties to various points of interest.
Twenty-eight private automobiles had registered at Arant's camp, June 24, which is a new record for that date. With the road from Medford in better shape than it has ever been before at this time of the year, thousands of motoring parties are expected during the next two months.
Sunday Oregonian,
Portland, July 4, 1915, page C10
FROM MEDFORD TO CRATER LAKE REGION
Not until the beginning of next month, if the records of previous years are duplicated, will the road from Medford, Oregon, to Crater Lake be in proper trim for motorists, yet Seely Hall, of the aforementioned town, set out to make this trip early last April. It appears the same spirit that urged Steve Brodie to jump off Brooklyn Bridge prompted Seely to make this attempt; he wanted to show that it could be done. He did not do it, however, but he had lots of fun trying, and incidentally demonstrated to his own complete satisfaction that Zerolene is
the
motor oil for the Chevrolet, which make of car Hall sells at Medford. Accompanying him on this dash into the wildwoods was S. S. Chadderton, a Standard Oil automobile engineer. In the interests of proper motor car lubrication Chadderton has seen some strenuous going during the past three years, and he states that this trip made much of his previous experience seem like the sheltered life sort. Here's his log of the adventure: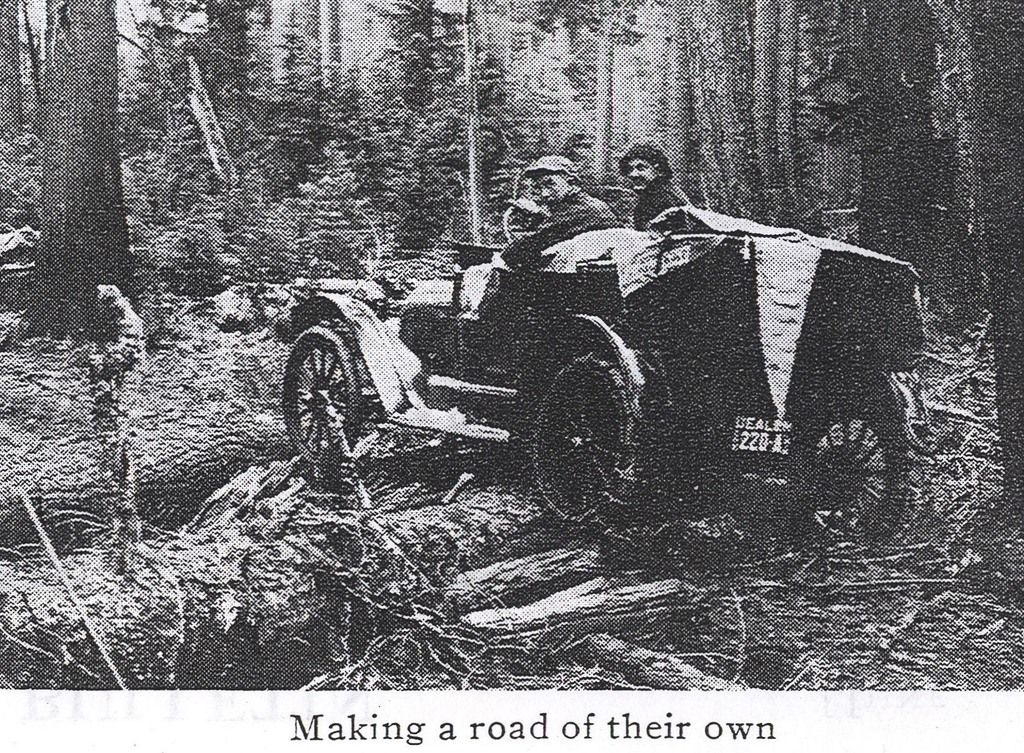 "We left Medford at 1:40 p.m., Sunday the 7th of April, arriving at Prospect, a small village in the mountains, 45 miles from Medford, at 4:45 p.m. The road between Medford and Prospect consists of some very steep grades with treacherous turns, and owing to the recent rains it was very soft, slippery and muddy. Several times the little car buried herself clear to the hubs in mud, but with chains on she managed to pull through it, never missing a shot, and only on one occasion did we drop down to second speed; this was owing to a deep ditch that had been formed across the road with the rush of water down from the mountain. We put up at Prospect for the night. Next morning we left Prospect equipped with shovels, axes and all necessary camp equipment. We struck our first snow about one mile from Union Creek, which I should judge is about 10 miles from Prospect. We plunged through this first drift, which was about 15 inches deep and about one-half mile long. We then continued for about three or four miles on the road, when we struck another drift of snow four feet deep and 400 yards long. There was no way to go around it, so we shoveled our way through, first bucking it with the car, then shoveling off the top snow, then bucking it some more. It took us two hours to get through this drift. Proceeding about another four miles, alternately shoveling and bucking the snow with the radiator, we came to five large trees lying across the road, the smallest being 3½ feet in diameter and about 100 to 250 feet apart. On the other side of these trees was a very large drift of snow, so we decided to leave the road entirely and make our way through the timber.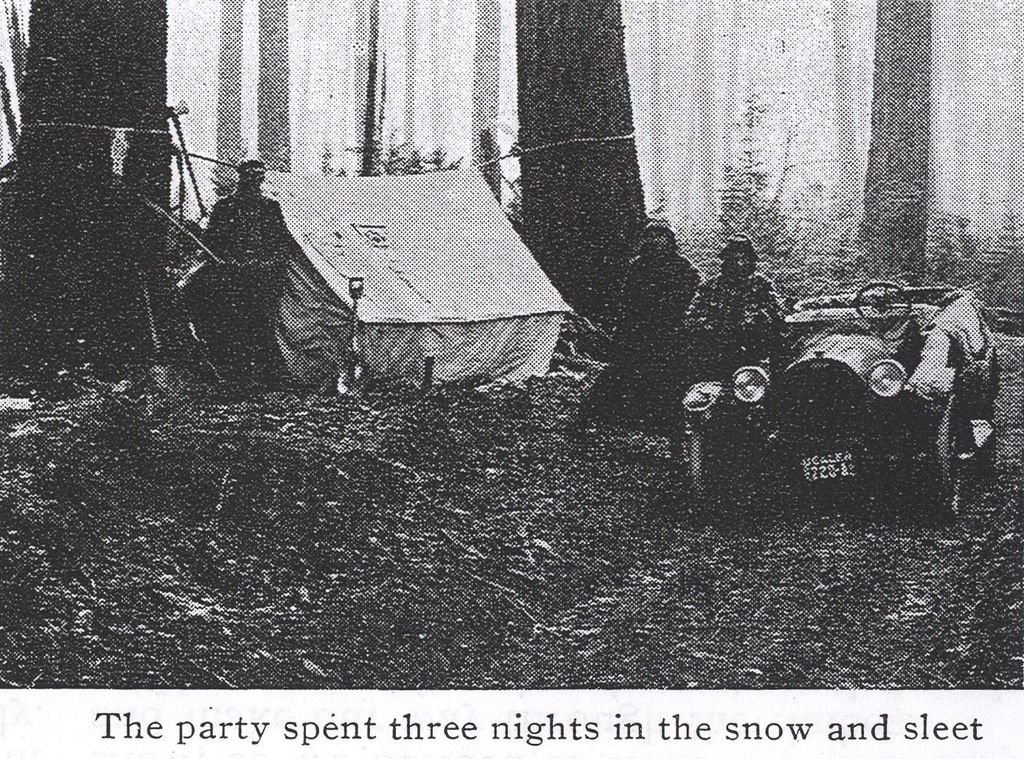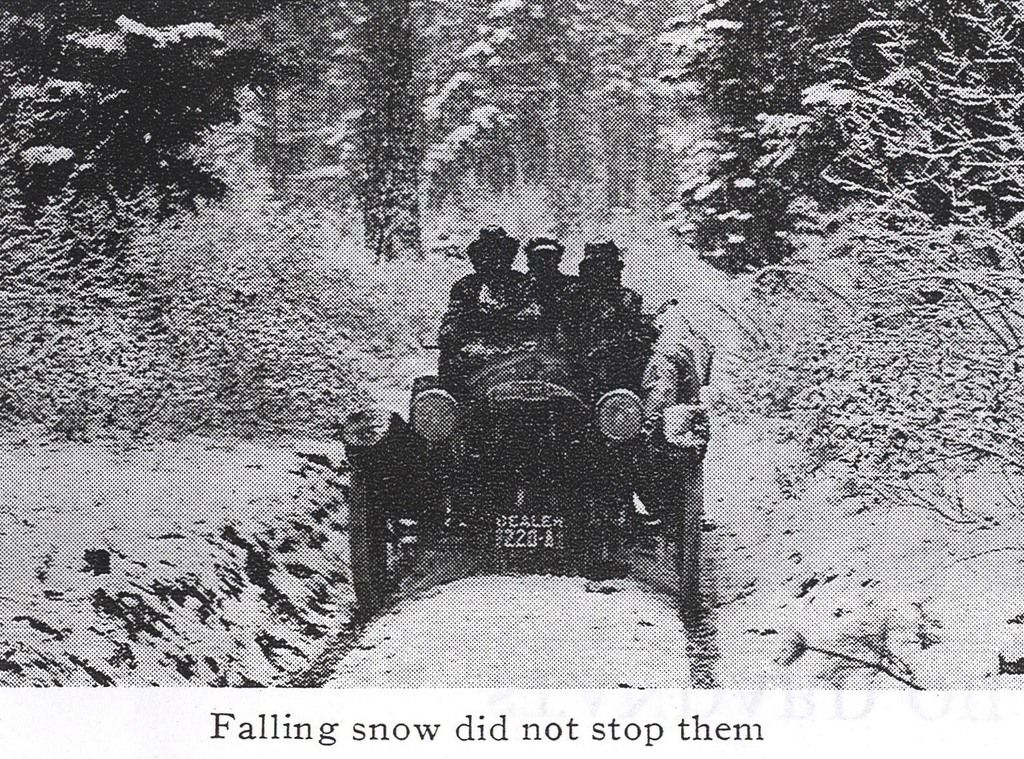 "You cannot imagine the test on the car here unless you happen to have been in a similar position yourself. We cut down trees, we climbed over fallen logs which were too big to cut, sunk ankle deep in the soft loamy soil, bucked through saplings and shrubbery till you would have thought that there would be no car left. On striking the road again, we were confronted by more snow, so that it was a constant repetition of bucking the snow, climbing over logs, or plunging through the jungle. We camped in the snow on Monday and Tuesday nights and on Wednesday morning about 10 o'clock we found ourselves on Whiskey Creek with snow all around us, in some places 14 feet deep. Seeing that it was utterly impossible to get a car any farther, and as it was continually snowing and the snow under foot very soft, we decided to return to Medford."
The trip was altogether a splendid test of the car and the automobile products used--Red Crown gasoline and Zerolene. Chadderton is most enthusiastic over the scenery of Southern Oregon, and Hall is just as enthusiastic over Red Crown and Zerolene. He says: "The little Chevrolet never missed an explosion from the time we left the agency until we returned. I am well satisfied with the way Zerolene works, and unhesitatingly recommend it for the cars I sell."
Standard Oil Bulletin,
June 1916, page 4
Last revised July 5, 2015