Notes on Pinto Colvig

Open the images in another window for a better view. There's a brief bio of Pinto here.

We are pleased to announce that the condition of Mrs. W. M. Colvig, which was critical for a time, is much improved at this writing. Dr. DeBar, assisted by Drs. Pickel and Geary of Medford, found it necessary to perform some operations, which have proved successful.
"Local Notes,"
Democratic Times,
Jacksonville, February 5, 1892, page 3
A son was born to Mr. and Mrs.
W. M. Colvig
at Jacksonville, on the 11th inst.
"Local and General,"
Southern Oregon Mail,
September 23, 1892, page 3
A serious runaway accident occurred in Jacksonville on Saturday morning. Mr. Henry Murray, a fruit and vegetable dealer, was delivering his goods and while crossing the streets near the M.E. Church the clip came off the neck yoke and let one side down, which frightened his spirited team, and it started to run; a little son of Hon. W. M. Colvig was in the seat by Mr. Murray, and in his endeavor to shield the little boy from possible harm, the horses got the advantage of him, and in their wild run collided with a road cart in which Mrs. Mary E. Kime and her little grandson were riding. In the general smashup Mrs. Kime was thrown violently to the ground and quite seriously injured and the cart was upset on the boy. Mr. Murray and the little Colvig boy jumped from their wagon and let the team go and went at once to Mrs. Kime's assistance. She was carried into the residence of G. Elksnat unconscious and Dr. DeBar hastily summoned. She revived shortly after, but appears to have serious internal injuries. Mr. Murray's vegetables and fruit was distributed over several blocks, his horses badly hurt and his wagon almost a wreck.
Ashland Tidings,
August 9, 1897, page 3
"I was born in Jacksonville and named Vance DeBar Colvig. At age 7 (because of too many freckles, and goony antics) I was nicknamed 'Pinto the Village Clown' (which I have used professionally during my circus and other show business activities, besides occasional jobs as a newspaper cartoonist."
"'Pinto' Colvig Writes About Names, History of Clowning,"
Medford Mail Tribune,
July 12, 1961
July 24, 1959
Hi There, "Father J-ville"!
You kin kill yer fatted calf, 'cause your Prodigal Son returneth!! That's right. Looks like he'll be there for the Big Gold Rush Days.
Yep! PINTO, The Village Clown--That Old Web-footed Oregon Appleknocker and His Corny Clarinet--J-ville's Perennial Juvenile Delinquent; Fugitive from the Poolhall Regions and Maker of Fine Cigaret Ashes Since 1892 hopes to say "Howdy" and toot his sour, squeaky E-flat clarinet in The Old Hometown Silver Cornet Band.
He wants to look over The Old U.S. Hotel Op'ry House, where (nearly 60 years ago) he started out on his Wild-and-Checkered Career in Show/Business as a Wand'ring Minstrel when he clown'd on/stage; pranced the hi-steppin' "Cake/Walk" and warbled
"Any Rags, Any Bones, Any Bottles Today? There's a Dirty Old Rag-picker A-comin' This Way!"
Happy Days . . . and HAVE FUN!
Sincerely,
[signed "Pinto" Colvig]
Typescript letter on "Bozo" Capitol Records stationery, addressee unknown, SOHS MS9, folder 1
Large crowds braved the heat yesterday afternoon to participate in first day events in the weekend Jacksonville Gold Rush Jubilee. . . . Pinto Colvig, "Bozo the Clown," who was born in Jacksonville, is official host for the two-day event, and led the Kids' Centennial Parade yesterday morning.
"Jacksonville Gold Rush Slate Features Big Panning Contest,"
Medford Mail Tribune,
August 2, 1959, page 1
Sixty-three years ago Pinto danced the Cakewalk in the U.S. Hotel in Jacksonville, and sang his first song in public,
"Any Rags."
The act was in blackface, with a high silk hat, cane and tails.
"Jacksonville Jubilee To Star Village Clown,"
Ashland Daily Tidings,
July 30, 1962
Oregon Street, Jacksonville, Oregon
William M. Colvig, 54, lawyer, born Mo. Sept. 1845, father born Va., mother Ohio
Addie V. Colvig, 44, born Ore. Jan. 1856, father born Ohio, mother Va.
Hellen M. Colvig, 17, born Ore. Feb. 1883
Mary F. Colvig, 13, born Ore. Dec. 1886
Donald L. Colvig, 11, born Ore. Nov. 1888
Vance D. Colvig, 7, born Ore. Sept. 1892
Annie Birdsey, 13, born Ore. Nov. 1885, niece
U.S. Census, enumerated June 5, 1900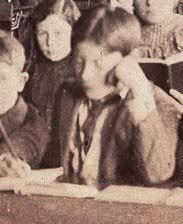 Pinto Colvig in Jacksonville School, 1900
There were three divisions to the parade. . . . The second division was led by the handsomely rigged battleship
Oregon,
Master Vance Colvig in command. This handsome little ship, designed by Mr. Francis Voyle, was a surprise to all who saw it. The float representing our army and navy was well planned and carried out the idea of protection in full.
"Jacksonville's Celebration,"
Medford Mail,
July 12, 1901, page 3
Hi! Would you be interested to know that my first job in [the] newspaper/publishing business was way back during the early 1900s, on the Jacksonville SENTINEL?
An itinerant printer named Miles Overholt (an O. Henry type) hit town and took over the
Sentinel
(I believe from a Mr. Meserve?). Overholt, a likable guy, mixed with the younger gay-blade set. Besides editing the paper, he concocted a comic booklet titled "TANGLEFOOT" Magazine (so called after a sticky FLY paper by the same name). For some time I had been pestering him for a job about the print shop . . . cartooning, writing, printer's devil . . . anything! So, eventually came a day when he gave me my first job . . . to catch for him 250 house flies: Which I did. A fruit jar full. Then, we suffocated them with camphor. My net pay was to be $1.50, but my job didn't end there. Now, I was to painstakingly place a drop of glue on [the] center of each PAGE ONE; and carefully attach a fine, fat fly thereon.
Yep! You guessed it. Or did you? The printing on that page was:
NOTICE.
THIS
is the
FLY
-
LEAF
!
At the time I thought it was a funny gimmick . . . and I STILL do!
"Letter from Pinto,"
Jacksonville Sentinel,
August 31, 1962, page 1
At one time we had a willow whistle band with Pinto Colvig as conductor. He would write the music; instead of notes he would use numbers: every hole on the thing would have a number, and that would correspond to the number on the music.
One summer Pinto organized a kid circus--trained dogs, trapeze, snake man magician, and our whistle band played. Pinto was band leader, blackface clown and ringmaster with a big whip he would crack. As I remember, the admission was two sticks of gum or 10 marbles.
"Recollections by George W. Wendt," typescript 1970, SOHS MS115
Masters Don and Vance Colvig, accompanied by Geo. Birdseye, are spending their vacation with their grandmother, Mrs. C. Birdseye, near Woodville.
One of the most successful events of the week was the "American Beauty" party given by Miss Helen Colvig on Tuesday evening. This is one of a series of original and unique parties given by Miss Colvig this winter, and was a very pretty affair. Music, games and dancing was the order of the evening. Dainty refreshments were served. It was past midnight when the merry crowd dispersed--one and all voting the American Beauty a success. Those present were Misses Laura and Lucinda Reames, Sophia Muller, Marie Nickell, Gertrude McCallen, Messrs. P. Donegan, Louis Ulrich, Chas. Nunan and Irwin Eckelson.
"Jacksonville Items,"
Medford Mail,
January 3, 1902, page 3
Misses Mary and Ruth Peter, Zepha Basye and Donald Colvig, pupils of Mrs. E. E. Gore's musical class in Jacksonville, took part in the program of the pupils' recital at the Presbyterian Church in Medford Saturday evening, March 1st.
"Jacksonville Items,"
Medford Mail,
March 7, 1902, page 3
Mary and Vance Colvig are spending a portion of their vacation with their grandmother, Miss Clara Birdseye, of Foots Creek.
"Jacksonville News,"
Medford Mail,
July 11, 1902, page 3
The procession, headed by Sheriff Orme, as grand marshal, marched in the following order: . . . Jacksonville's baseball nine in suits of blue and gold afoot preceded by Vance Colvig leading the team's mascot, a goat, wearing the blue and gold. . . .
"Jacksonville's Celebration,"
Medford Mail,
July 11, 1902, page 3
Mrs. C. S. Birdseye and grandchildren, George Birdseye and Mary and Vance Colvig, were visiting at the home of W. V. Jones Sunday.
"Woodville Items,"
Medford Mail,
July 18, 1902, page 3
Master Vance DeBar Colvig entertained a party of twelve of his friends on Saturday, Sept. 13th, the occasion being his tenth birthday anniversary.
"Jacksonville News,"
Medford Mail,
September 19, 1902, page 3
"[In 1903], the Verna Felton Players came to town from up in Portland. Little
Verna Felton
(who stars as Hilda Crocker on KOIN-TV's 'Pete and Gladys' show, which starts [its] new season Monday night) was the Shirley Temple of her day. She was something, with her striped stockings and her little hat with a flower on it. I was a loony, skinny-legged kid with uncombed hair.
"But I applied for a speaking part in the show, 'The Power of Wealth,' [
by William Joseph Lincoln
] which was running for a week in the United States Hotel opera house, set there in the maples.
"After a lot of persuasion, they gave me three and a half words. I was to walk on stage carrying a cat, go over to a prop well, and say, 'Psst! Let's duck it!'
"But I was so entranced working with Verna that I just stood there on stage, grinned at the audience, and held onto the cat. She pulled and the cat started yowling, but I didn't let go until she took off her shoe and hit me on the head."
Pinto Colvig, quoted by Francis Murphy, "Behind the Mike,"
Oregonian
, Portland, September 18, 1961, page 37
Verna Felton, February 23, 1901
Oregonian
Remember that little Verna Felton appears in "The Power of Wealth," which was written for her, at the matinee Saturday afternoon.
There will be a matinee at the U.S. Hall Saturday afternoon, when little Verna Felton, the theatrical wonder, will appear in a play especially written for her, entitled "The Power of Wealth." It is pronounced first class by all who have seen it.
"Local Notes,"
Democratic Times,
Jacksonville, April 29, 1903, page 1
A FIRST-CLASS TROUPE IN SOUTHERN OREGON
Has Been Playing at Ashland and Jacksonville--Will Be in Medford Next Week.

The Allen Stock Company, which concluded a week's engagement at Jacksonville Saturday night, is now at Ashland, where it already had played a week. It is one of the very best that ever visited Southern Oregon. It can be truly said that never during their history have the people of those towns enjoyed a more royal treat, and their appreciation was shown in constantly increasing houses from first to last.
Besides being a company composed of high-class talent, its personnel is quiet and courteous, and the deportment of all in every way that of well-bred and self-respecting ladies and gentlemen.
The music at the open-air concerts during the afternoon and at each performance is worth much more than the price of admission, while the plays are presented with a refinement and delicacy possible only with true artists.
Each presentation is staged with appropriate scenery, while the costumes are rich and striking, and add much to each performance.
The company may well be proud of its cast. With the little heroine, Verna Felton, the child wonder, who apparently acts without knowing it, and always says and does the right thing at the right time; the modest and cultivated Miss Ethel Roberts, her ability, grace and rich modulation never fail to please the audience, compel its admiration and enlist its sympathies. Miss Dorathy Davis is a happy and faithful portrayer of human sentiment and passion, magnetic and forceful. Miss Georgia Francis, like the energetic and many-sided Dutchman, Wm. Bond, of rapid speech and acrobatic tendencies, always creates a broad ripple and makes telling hits.
It would be impracticable to mention specifically each member of the company, since there are twenty or more of them. The following are the leading artists, and will be seen to good advantage in their several parts: Hayden Stevenson, Sydney Platt, Reginald Barker, Wm. Bond, Russell Reed, Will Walling.
The specialties are by Frank Walsh, a splendid singer with a heavy baritone voice, of whom the audience never gets to see or hear half enough; Chas. Royal and Little Verna.
Democratic Times,
May 6, 1903, page 1
"My family was always musical, and somehow I picked up the E-flat clarinet. I started out playing with the town band, and then I was playing for everything. When I'd hit the high notes, I screwed my face up and looked cross-eyed. I guess I was just meant to be a clown. And it finally happened when I was about twelve. My dad took me to the Lewis & Clark Centennial Exposition at Portland in 1905. But I never got past the Crazy House on the Midway. There was a guy outside beating a drum and roaring 'Hubba Hubba!" I went up to him and told him I could play squeaky clarinet. 'O.K. Come back tomorrow, and I'll give you a listen,' he said. 'No, sir, I'll be back today,' and I ran back to the hotel for my clarinet. I went to work that day, just 'squawking.' And the next day the guy put the clown white on me for the first time. Then he made me put on an old derby, and some big old clothes, and he stepped back and took a look at me. 'Now you make a good bozo,' he told me. A bozo clown in those days was a tramp clown.
"I never was able to get circuses and carnivals out of my blood after that. Wintertimes, I'd go to school, but the minute spring came, I'd turn up missing. I've hoboed a lot of miles across the country and back, eating stew in hobo camps down by the tracks. I even went to Oregon State College for three years, but every spring--off to the circus. Or the vaudeville circuit. Always with my screechy clarinet. I didn't know when I was going to school whether I wanted to be a clown, draw cartoons, write, hobo, or be a musician. So I wrapped it all up and made stew out of it."
Pinto Colvig, quoted in "A Brief History of Vance De Bar Colvig," Southern Oregon Historical Society 1980, page 4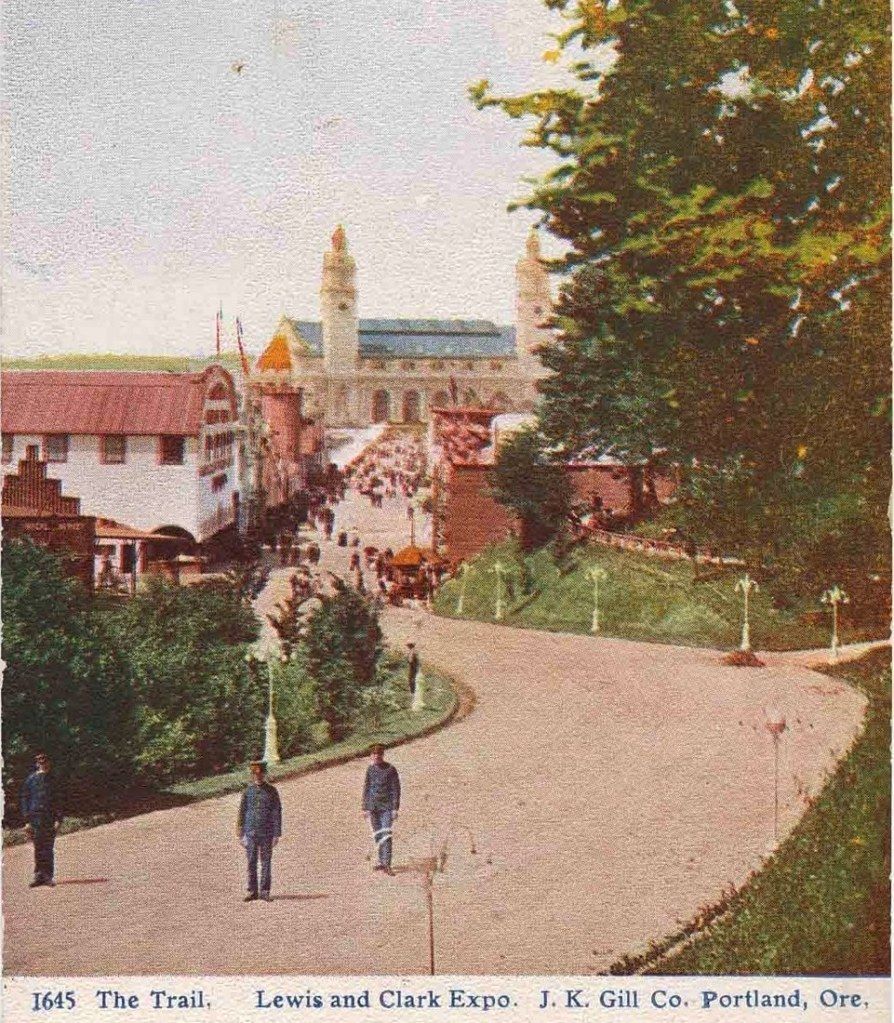 "When I was 13 years old, I had so many freckles that kids called me Pinto, the Human Leopard. I was an E-flat clarinet player, so I came up to Portland in 1905 to look at the Lewis and Clark Centennial Exposition.
"Portland used to have a well-known clown back in those days. His name was Habba Habba, and he had a ring in his nose like a cannibal. He used to say 'habba - habba - habba' while he was beating on a bass drum. He had a concession called the Crazy House.
"I went up to him and said I had a clarinet and when I hit the high notes I couldn't help looking crosseyed. He tried me out and everyone laughed. It brought a big crowd.
"He said, you should be a clown like I am. So he took me back and opened a trunk and the moths flew out. He put a big red nose and a white face on me and said, 'Now you are a bozo clown (with a small b).' A bozo clown is a tramp clown like Emmett Kelly.
"I got four bits a day and all the goop I could eat like popcorn and peanuts. I got free tickets to all the concessions up and down The Trail, and everyone knew me.
"Over in the Streets of Cairo I met an Egyptian who let people ride on his camels. He was in love with a carny gal named Corina, but he couldn't read or write.
"So he gave me his cigarettes to write his love letters for him. In Jayville if you weren't smoking by the age of seven, you weren't a man. Then she'd write letters back and he'd call, 'Hey, keed, I got a letter from Corina. You read.' Then I'd get more cigarettes and camel rides. I think she was after his money. That's how I became a clown."
Francis Murphy, "Behind the Mike,"
Oregonian
, Portland, September 18, 1961, page 37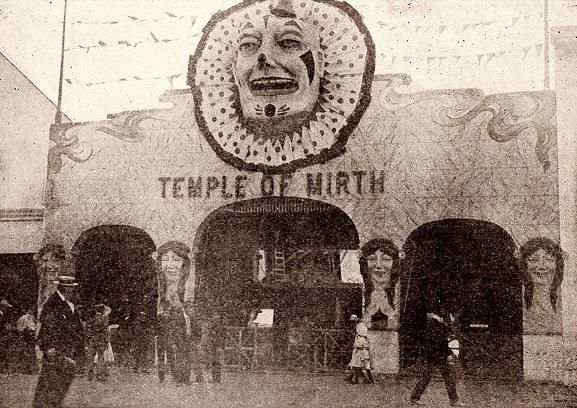 There was no concession at the exposition named the "Crazy House"; Pinto is apparently remembering the Temple of Mirth. Originally built (apparently) for the 1893 Chicago World's Fair, it also appeared in 1904 at the St. Louis world's fair, then in 1905 in Portland. It was moved to Venice, California in 1906.
For Examination Commencing May 14, 1908:
Vance Colvig--Fail
Civil Government: 26
English Grammar: 37
Geography: 78
U.S. History: 44
Orthography: 70
Physiology: 82
Reading: 85
Writing: 82
Arithmetic: 56¾
Register of Uniform Eighth Grade Examination, Jackson County, Oregon,
SOHS MS 912, page 5.
Scores listed are out of a possible 100. Pinto's name also appears among those taking (or planning to take) the test on June 11, but with no scores recorded.


Other evenings they were entertained by Pinto Colvig, son of Judge Wm. Colvig, who sat on the counter and
played tunes on the nail puller
.
"
Boom Day Clerk for Toggery Bill Tells About It
,"
Medford Mail Tribune,
August 15, 1930, page 4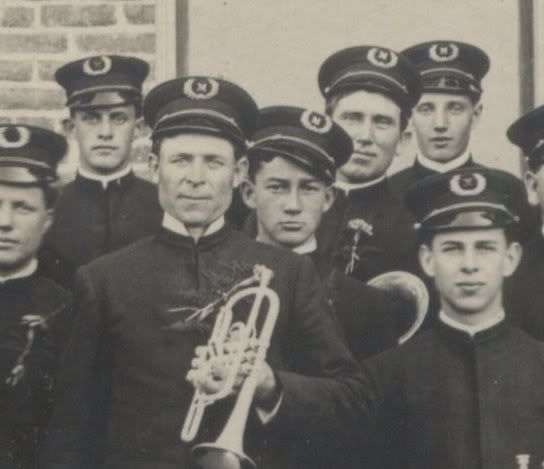 Pinto (center) in the Medford town band, 1908
Mrs. R. G. Gale entertained informally at dinner Friday at her attractive home on Mistletoe Street. Carnations and ferns were the decorations used, and the effect was most artistic. Those present were: Mrs. Edgar Hafer, Miss Nelson, Mr. Donald Colvig, Mr. Vance Colvig and Dr. and Mrs. Gale.
* * *
Messrs. Donald and Vance Colvig returned Friday from Portland, where they have been attending school. They will spend the Easter holidays with their parents.

"In Medford's Social Realm,"
Medford Mail Tribune,
March 28, 1910, page 9
VANCE COLVIG--CARTOONIST

Vance Colvig of this city has just grabbed his first laurels as a portrayer of the vanities and peculiarities of mankind, by winning the amateur prize offered by
Judge
each week with one of his cartoons. Vance is home from Portland on a short visit, accompanied by his brother Don, whose artistic temperament leans toward music.The boys are on a short business trip and will return to Portland Tuesday to continue their studies.
Vance for a number of months has been dabbling more or less with his pencil and recently went to Portland to take up the matter seriously. He now plans to put in several months of hard work and hopes to develop his talent to a point where it will be of some commercial value.
"I hope soon to be a member of a class
Homer Davenport
is thinking of taking in Portland," states Vance, "and make greater headway. I am number one on his list, and I hope he will decide to open a studio."
In regard to winning the amateur prize in
Judge
over several hundred competitors, Vance states that the suggestion came to him at the Orpheum while listening to a pair of comedians.
"'Tis the simplest thing in the world--just go and hear a good joke--then draw a picture to fit it."
In the meantime the young man's friends are constantly being regaled with clever caricatures of themselves.
Medford Mail Tribune,
March 28, 1910, page 4
8 Laurel Street, Medford, Oregon
William J. Warner, 26, postal clerk, born in Nebraska, head of household
Mary C. Warner, 23, born in Oregon, wife
William M. Colvig, 64, lawyer, born in Missouri, father-in-law
Addie Colvig, 53, born in Oregon, mother-in-law
Donald Colvig, 21, stenographer, born in Oregon, brother-in-law
Vance Colvig, 17, born in Oregon, brother-in-law
Ira J. Dodge, 29, real estate agent, born in Minnesota, boarder
Harry Houston, 29, real estate agent, born in Minnesota, boarder
U.S. Census, enumerated April 18-19, 1910

Mrs. F. D. Arrington of the Heinz Apartments gave an enjoyable party Wednesday evening, June 15, in honor of Miss Marie Dewey, of Nampa, Idaho. The guests were Misses Edna Brockwell, Paloma Blumenthal, Ruby McKinnon, Eva Dryfoos, Violet Jones, and Lester Seed, Eddie Blumenthal, Don Colvig, Vance Colvig, Walter Lambert, George Kizer.
"Social Events of the Past Week,"
Oregonian,
Portland, June 19, 1910, page 4
Mr. Don Colvig and Mr. Vance Colvig returned from Portland on Thursday for a short visit in Medford.
"In Medford's Social Realm,"
Medford Mail Tribune,
July 3, 1910, page 9
Vance Colvig is once more on his old job with the canal company.
Vance Colvig has returned from Portland to spend the summer with his parents here.
"Social and Personal,"
Medford Mail Tribune,
weekly edition, July 21, 1910, page 7
Vance Colvig has forsaken cartooning for a while and will take a position with the Southern Pacific in the local depot.
"Social and Personal,"
Medford Mail Tribune,
July 26, 1910, page 5
A most enjoyable progressive dinner was given Monday evening by some of the members of the younger set. The first course of the dinner was served at the home of Miss Hazel Davis, with Miss Ruth Merrick assisting the hostess. The dining room was prettily decorated in nasturtiums. The second course was served at the Deuel home, the Misses Kentner, Jeannette Osgood and the Misses Marshall acting as hostesses. The third course was served at the Hutchinson home, with Miss Fern Hutchinson and her guest, Miss Alice Wehring of Portland, as hostesses. Masses of sweet peas and black-eyed Susans were used in decorating the home. The last course was served on the lawn of the Worrell home, Miss Alice Street assisting Miss Helen Worrell, the lawn being lighted by Japanese lanterns. After the dinner the party drove to the Natatorium and finished the evening with a dance, where Mesdames Hutchinson, Vawter, Lumsden and George Davis acted as chaperones. The Hazelrigg orchestra furnished the music.
Those present were: Misses Alice Streets, Mamie Deuel, Jeannette Osgood, Lucile Marshall, Star Marshall, Ida Lee Kentner, Ruth Merrick, Bess Kentner, Hazel Davis, Fern Hutchinson, Alice Wehrung and Helen Worrell; Messrs. Herbert Kentner, Curtis Anderson, Albert Brown, Vance Colvig, Don Colvig, Lee Root, Alex. Budge, Weston Rider, Fletcher Fish, Bob Deuel, Treve Lumsden and Jack Switzer.
"In Medford's Social Realm,"
Medford Mail Tribune,
August 21, 1910, page 9
Colvig Joins York's Band.
Vance Colvig, Medford's rising young cartoonist, leaves Sunday evening for Portland, where he will join York's band in an extensive tour.
Medford Mail Tribune, September 16, 1910, page 1

Medford Mail Tribune,
September 19, 1910. Cartoon of
Judge Colvig
by Pinto Colvig.
The alumni office hadn't heard from a famous alumnus, Bozo the Clown, for some time and wondered what he was doing. Bozo (Pinto Colvig, '15) let us know right now that he's still clowning and just getting warmed up.

THE OREGON STATER
Hi, Neighbors!

After rambling all over the country as a hobo-newspaper cartoonist and writer--and E-flat clarinet squeaker; having finished a tour with York's concert band at the first Pendleton Roundup (1910), I hobo'd my way from Portland to Corvallis (on the old Westside steam railroad) and landed in Corvallis October 10, 1910 (10-10-'10), where I met a lot of my hometown Medford guys. I was on my way to San Francisco to join a band en route to Australia; but when Cap' Beard learned that I played E-flat clarinet, he encouraged me to sign up for a course in [the] art department so I could play in the band.
Farley Doty McLauf was art professor. I also took a little ancient history from dear old "Jackie" Horner; mainly because he was an interesting and likable character. On the other hand I majored in campustry and canoe-ology! OAC had a good band in those days. About 60 pieces. No girls! No slick chick drum majorettes! Dammit! But we had fun--especially on tours to Roseburg Strawberry Festival each spring. On weekends (weather permitting) I'd get the urge and take off on hobo trips; returning Monday a.m. in time for first period. Come early springtime, however, and the green grass, elephants and Call-of-the-Calliope would lure me back to the circus, where I clowned, played Big Top and often pinch-hit as "barker" when our big show announcer showed up too stewed to spiel!
Left college Spring of 1913 to do vaudeville stint on Pantages circuit. Later rejoined Al G. Barnes Big 4 (Yeah, I said FOUR) Ring Wild Animal Circus. Continued with them for two more seasons. My crazy activities from then 'til now you'll find in the enclosed biography printed by Capitol Records, from whom I've recorded the "BOZO, The Clown" albums.
Excerpt, "Incoming Mail,"
The Oregon Stater,
Oregon Agricultural College, February 1959, page 11
Mr. Vance Colvig returned from the O.A.C. last week and will spend the holidays with his parents.
"Society,"
Medford Mail Tribune,
December 25, 1910, page 8
Vance D. Colvig, of Corvallis, is registered at the Cornelius.
"Personal Mention,"
Oregonian,
January 30, 1911, page 9
Vance Colvig, who has been working in Corvallis, arrived today to visit his mother and father.
"Snapshots at Local News,"
Medford Mail Tribune,
March 30, 1911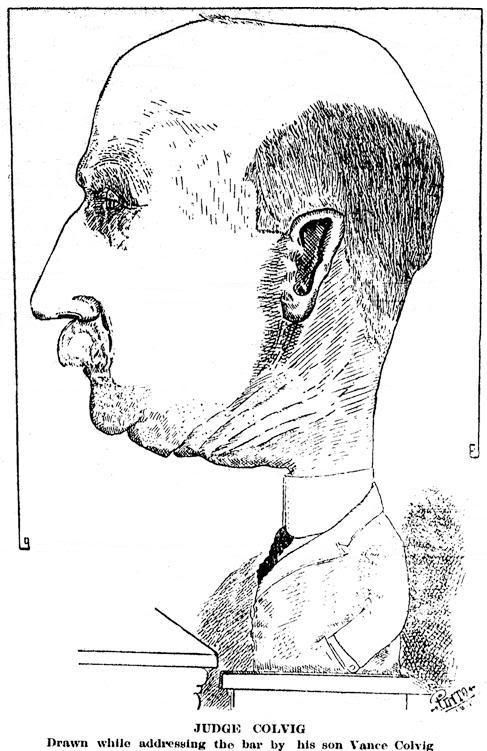 Medford Sun,
August 13, 1911
Colvig, Wm M (Colvig & Reames), h 8 S Laurel
1911 Polk's Jackson County Directory


Colvig, Vance D, student Medford Business Coll, bds 8 S Laurel
Colvig, Wm M, Pres-Sec-Mngr Medford Commercial Club, Lawyer, Medford National Bank Bldg., res 8 S Laurel
1912 Polk's Jackson County Directory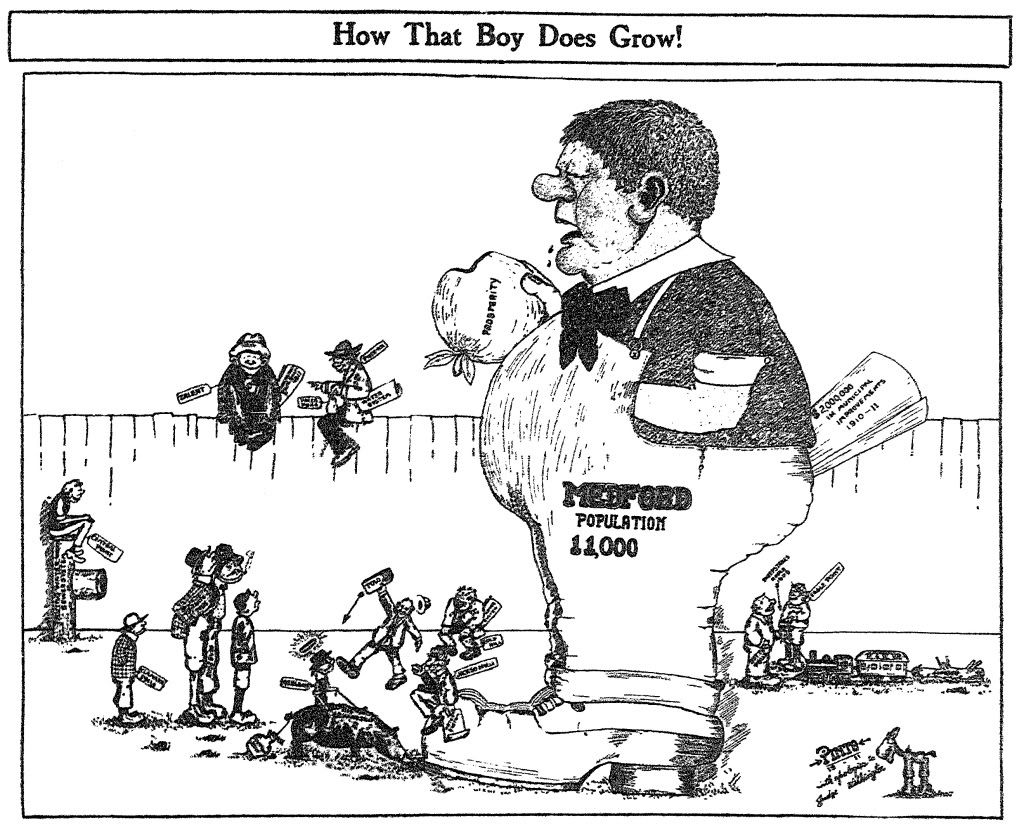 Pinto Colvig cartoon, January 1, 1912
Medford Mail Tribune
The marriage of Miss Star Marshall, daughter of Mr. and Mrs. G. E. Marshall, to Donald L. Colvig, son of Judge Wm. Colvig, was solemnized at the residence of the bride's parents on South Oakdale Avenue, May 8th, at sunset.
Just as the last rays of the setting sun streamed across their path, the bridal procession entered the room led by the two small ribbon bearers in white suits, Jack Marshall and Windsor Gale.
Following them came little Rowen Gale bearing the ring, and Miss Hope Marshall, the only attendant of the bride. These were dressed in white lingerie dresses, over yellow slips. After these came the bride. She was dressed in white hand-embroidered liberty satin, veiled in silk marquisette and wearing orange blossoms. She carried a bouquet of lilies of the valley.
The procession was met by the groom and the Rev. Mr. Boyle of the Christian Church under an immense floral arch of vines and white lilacs, and here in an enclosure of blossoms was pronounced the beautiful and impressive ceremony that united the young pair for life.
Prof. Talliendier played Lohengrin's wedding march at the entrance of the bridal party and several beautiful selections afterwards.
The guests were: Judge Wm. M. Colvig, Prof. Talliendier, Mr. and Mrs. C. L. Reames, Mrs. Helen Gale, Mr. and Mrs. W. L. Warner, Mr. and Mrs. Chas. Hansen, A. S. Rosenbaum, Miss Jennie Hansen, Miss Florence Marshall, Miss Lois Fancher, Wilson Waite, Vance Colvig, Mr. and Mrs. Albert Marshall and the immediate family of the bride.
"Society,"
Medford Mail Tribune,
May 9, 1912, page 2
Vance Colvig, who has been confined to his home by a severe illness during the past week, is again able to be about.
"Local and Personal,"
Medford Mail Tribune,
July 3, 1912, page 5
Vance Colvig is making arrangements to return to Corvallis to continue his studies there.
"Local and Personal,"
Medford Mail Tribune,
August 29, 1912, page 5
Mildred Antle, Cordelia Goffe, Fred and Virgil Strang, Vance Colvig, Mac McDonald, Bert Stull and Claire Taylor have gone to Corvallis to attend the O.A.C.
"Local and Personal,"
Medford Mail Tribune,
October 3, 1912, page 5
A specialty introduced "between halves" will be a "Pinto's Nightmare Stunt."
"O.A.C. Band Plans for Big Concert,"
East Oregonian,
Pendleton, December 4, 1912, page 2
Vance Colvig returns to Corvallis Tuesday after Thanksgiving at home.
"Local and Personal,"
Medford Mail Tribune,
December 5, 1912, page 5
See "Pinto" at the high school Friday night, Dec. 27.
Don't forget the O.A.C. band concert at the high school auditorium Friday night, Dec. 27.
Pinto, the "Nightmare of Caricature," with the O.A.C. band at the high school auditorium Friday night, Dec. 27.
Vance Colvig and Fred Strang arrived with the O.A.C. band today and spent the day visiting friends.
"Local and Personal,"
Medford Mail Tribune,
December 24, 1912, page 2
VANCE COLVIG ONE OF THE STARS WITH O.A.C. BAND

The Oregon Agricultural College band will appear next Friday evening, December 27, in the high school auditorium and will feature "Pinto, the Nightmare of Caricature." "Pinto" is Vance Colvig, well known in this city, where he was born and raised, and whose artistic abilities are well known. The organization is of unusual excellence and considered the best in the history of the school. The concert will commence at 8 o'clock, and tickets are now on sale at Haskins' drug store.
Medford Mail Tribune,
December 24, 1912, page 6
Pinto was born in Jacksonville, not Medford.
Pinto "Caricates."

Vance Colvig, billed as "Pinto, the Nightmare of Caricature," was a star of the first magnitude. With sticks of mustache blacking and graphite--so he said--he drew cartoons of various and sundry people, animals and "things," that kept the audience laughing and applauding throughout the fifteen or twenty minutes occupied. Colvig made a few scratches that formed nothing in particular, said a few magic words, made a few more scratches, and a fine likeness of Teddy, Dr. Bell, the Queen of Waldo Hall, the Rook, our old friends Mutt and Jeff, Irishmen galore, the "cultivated gentleman from New Orleans," and finally "Pinto, the Nightmare," an animal with many showy points. Nothing created more laughs than a cartoon developed from a bottle above a wine glass. A half-dozen strokes made this a long-nosed greenhorn "thuckin' thider through a thaw." Colvig is a hummer, with real ability, and his stunt will prove tremendously popular anywhere.
The Barometer, Oregon Agricultural College, unidentified clipping circa 1912, SOHS MS 9, folder 17

O.A.C. BOYS HERE FOR BAND CONCERT

The O.A.C. cadet band arrived in Medford at 8:45 this morning, and their private car is parked at the passenger station. The band rendered a concert at Grants Pass last night and will play this evening at the high school auditorium under the auspices of the Medford High School.
The band pleased greatly at Grants Pass last night; every number of the program was encored, and the audience was insistent on a third solo by Mr. H. L. Rees.
Two members of the band, Fred L. Strang and "Pinto" Vance D. Colvig, are eating their Christmas dinners at home today, they having been with the band at Cottage Grove on Christmas Day. Strang is the baritone player in the band and takes part in a quartette, "Forest Echoes," in which the echoes of the band are heard from a distance. "Pinto" with his "nightmare" caricature stunt is making a hit at all concerts, and much will be expected of him here tonight.
Medford Mail Tribune, December 27, 1912, page 3

Messrs. M. E. Woodcock of Corvallis, H. S. Walters of Pendleton, W. L. Lexton of Idaho Falls and I. C. Day of Portland, members of the Oregon Agricultural College band, were guests at the home of Mr. Vance Colvig during their stay in this city.
"Society,"
Medford Mail Tribune,
December 28, 1912, page 2
O.A.C. BAND IS GOOD ENTERTAINER
The band concert given by the Oregon Agricultural College cadet band at the high school Friday evening proved to be one of the most pleasing musical treats enjoyed in Medford in many days. The band is an excellent organization and deserves good patronage. Vance Colvig, a local boy, made a hit by a clever stunt with pictures during the course of the evening.
Every number was encored and re-demanded, Keisler's "Forest Echoes" and the "Anvil Chorus" from "Il Trovatore" receiving perhaps the heartiest approval.
A baritone, Mr. Rees, delivered a lecture on "Carmen," and then rendered the "Toreador Song" therefrom in Italian.
A lightning young caricaturist, under the pseudonym of "Pinto" (and let it be known that this quixotic young colt is none other than Vance Colvig of Medford), had the audience in an uproar for 15 minutes with his rapid and fantastic chalk sketches, and his humorous, conversational babbling. Master Colvig is a real comedian.
Medford Mail Tribune, December 28, 1912, page 8


For fifteen minutes "Pinto," known off the stage as V. D. Colvig, of Medford, kept the audience interested and in the best of humor with his caricatures and witty sallies. He is certainly gifted, both as a cartoonist and as a comedian.
"Concert Was a Fine One," Ashland Daily Tidings, December 30, 1912, page 1

CLARINETS
Corporal--V. D. Colvig, Special . . . . . . . . . Medford

Oregon Agricultural College Cadet Band roster 1912-13,
SOHS vertical file
"Special" is apparently short for "special student." Other band members were listed with their graduation date after their name.
Ray Reter until his recent death had been a friend of the author's family for some 58 years. He was a good storyteller, including this one. It seems that when he was in the Jacksonville grade school, in the sixth grade, he was running with classmates Don Russell and Vance DeBar Colvig, whose nickname was "Pinto." During that year they were expelled for too much hell raising. On Halloween night one of their stunts nearly resulted in the demise of the old miner, John O'Leary, who lived alone in a shack up on Jackson Creek. That evening after dark the boys slipped up there and tipped over John's privy into the creek. What they did not know was that John was sitting there asleep. They managed to fish him out still breathing, but the school principal and the town constable took a dim view of this caper.
The following year Pinto decided he had [had] enough of the school and took off for parts unknown, living in the railroad jungles with the tramps. [
page 186
]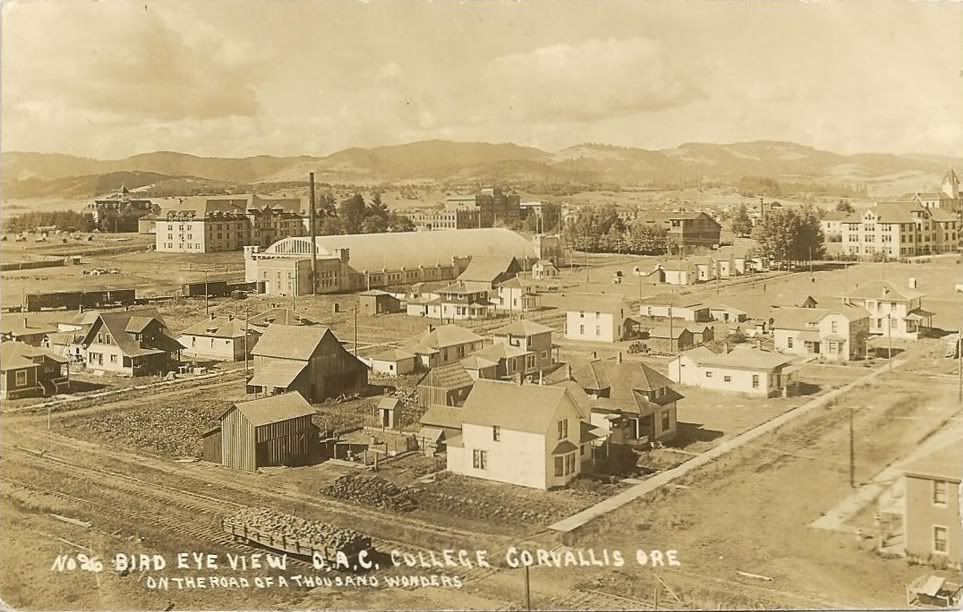 Oregon Agricultural College 1910

Vance DeBar "Pinto" Colvig decided that the sixth grade in the Jacksonville school was enough formal education for him. He liked the life of a "hobo," getting ideas for cartoons of tramps. His talent with an old E flat clarinet led eventually to a tryout with the Ringling Brothers big three-ring circus in Portland, and the band director Merle Evans hired him for one season, which was all he wanted. At the age of eighteen Pinto returned to the family hearth in Medford to reestablish the family relationship and to fatten up on his mother's good cooking. His older brother Don was then a student at the Oregon Agricultural College at Corvallis. Having no hankering for steady work, Pinto talked his parents into sending him along with his friends Wilson Wait and the two older Strang brothers, Fred and Virgil, to the same college in the autumn of 1911. Having no grade school diploma, and never having been inside a high school, Pinto was allowed to register as a special student, signing up for five hours per week in the art class, as his goal that year was to become a commercial cartoonist.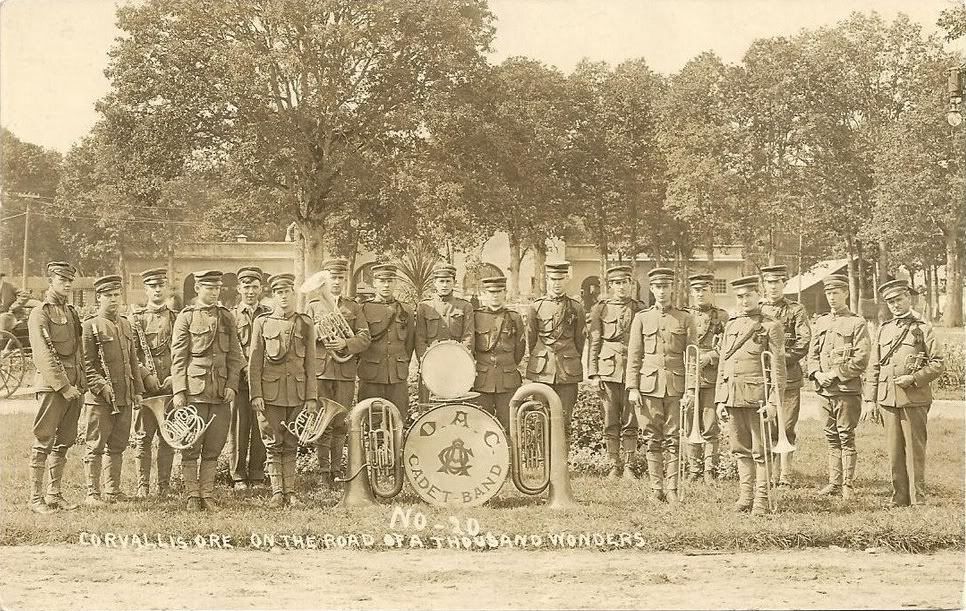 Oregon Agricultural College Band 1911. Pinto at far left.
Pinto had played the clarinet in the Medford town band, and he joined the college military department band under the leadership of old Captain Beard. By Christmas time he was off for sunny southern California, and when next heard from he was a member of the band of the Al G. Barnes Animal Circus.
In the summer of 1912 our dad [Joseph Stillwell Vilas] met Pinto on the Medford Main Street while the circus was making a one-night stand in Medford, and he convinced Dad that Ned and I should enroll with him at the Oregon Agricultural College. At that time the college freshman entrance requirement was only two years of high school. With Pinto and Paul MacDonald we rode the two trains into Corvallis in September, and all four moved into Mrs. Hardman's boarding house on 3rd Street, where Pinto had lived the year before.
Walking up the hill to the campus to register, Pinto met old Professor "Jackie" Horner, the history teacher, who insisted that being a Colvig he must sign up for his Ancient History class along with his five hours per week in the art class. Pinto did not have it in him to refuse the venerable prof, but rarely attended class. One day he did show up, and they were having a written examination. Pinto borrowed a blue book and, not knowing any of the answers, he spent the fifty minutes drawing cartoons of famous old Greeks and Romans and turned the book in.
Came the Sunday morning early in December following a night drinking party when Mrs. Hardman put all four of us out of our two rooms. In addition to the mess, she accused us of having enticed her housemaid to sleep in one of our beds. She was so furious there was no use arguing that point. Pinto quit school and secured work as a night watchman out at the sand and gravel plant. Paul and Ned and I moved into a fraternity house, and the men at the fire station gave Pinto a cot to sleep on in return for running errands for them.
Pinto went down to Portland and made the grade with a solo act on the Orpheum vaudeville circuit as a cartoonist. He told me years later in Hollywood that the day Ringling Bros. played Medford and he sat on an end seat on the top of the calliope in the morning parade down Main Street tooting his clarinet was the most thrilling event of his entire fantastic career.
His next steady job was in San Francisco employed by one of the leading daily newspapers as a cartoonist. His daily cartoon on the front page with his trademark, a pinto pony making comments, which amused the readers. It was during his San Francisco residence that his first two sons were born, and as I was working in the city at the time, we would get together frequently. Established as a first-rate cartoonist, he moved on to Hollywood and worked for the Disney firm for some forty years. He became a highly paid idea man, including the Donald Duck series. He was also a voice man, second only to Mel Blanc. He and his two oldest boys were three of the voices in the Seven Dwarfs pictures. Other studios borrowed him when directors were unhappy with certain voices.
While associated with Walt Disney, Pinto dreamed up the idea of making phonograph records for children, and sold Capitol Records the "Bozo the Clown" recordings. Now he was in the big time, with two substantial incomes. With his good wife Margaret a cripple in a wheelchair, he was financially able to put his five sons through the University of Southern California, after which they all became successful businessmen.
The Jacksonville, Oregon historical society made him an honorary officer, and for many years he led their annual parade dressed as "Bozo," and the many children were thrilled no end.
While in San Francisco in early October of 1967, attending the wedding of a grandson, this man of many talents suffered a heart attack, and the old reaper caught up with him. His funeral in Hollywood and burial in Forest Lawn Cemetery were attended by a crowd of celebrities. His lack of a formal education was no hindrance in his climb up the ladder of success. Perhaps his peculiar type of education was just what he needed in place of a college degree. [
pages 189-191
]
* * *
One day on Main Street in Medford in August of 1912, Dad met Vance DeBar (Pinto) Colvig, the youngest son of Judge Colvig. He had followed his brother Don, and in the autumn of 1911 had gone to Oregon Agricultural College at Corvallis for three months. Pinto talked Dad into sending Ned and me up there with Paul MacDonald and himself the next month. At that time the freshman entrance requirement was only two years of high school. Pinto wrote his former boarding house operator, Mrs. Hardman, and reserved two rooms for the four of us.
We enjoyed the football games and the dances and taking coeds for long walks on Sundays. The boarding house was downtown on Third Street, only two blocks from the pool room, and Pinto hobnobbing with the volunteer firemen in the fire hall would bring home free whiskey. This combination was not conducive to much studying, and to make college life more complicated, the Andrews and Kerr Cafe-Ice Cream Parlor in the next block and the clothing store gave us credit until the first of the next month. To our dismay, Dad showed up one evening and advised that he had heard from our creditors, as we were delinquent. As usual, Dad in a quiet voice merely gave us a serious talk and some money to square our accounts with our promise to slow down.
When a snowstorm hit in December, Mrs. Hardman threw all four of us out into the street for having a drinking party and raising hell in general. Pinto got a job as a night watchman out at the gravel pit and a free cot to sleep on in the fire hall. Paul, Ned and I moved into a fraternity house, and when the half-year term ended in January I was placed on probation with one more chance to make passing grades, and that was in the School of Commerce, the softest course available. [
pages 41-42
]
George W. Vilas,
Tales of a Rogue Valley Rogue,
1974.
Vilas' valuable memoir contains many inaccuracies about Pinto's history.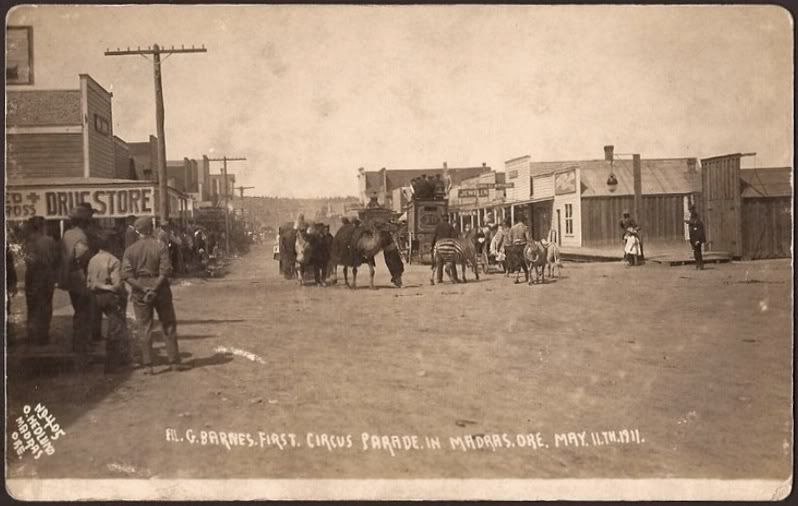 The Al G. Barnes Circus parade makes a U-turn in Madras, Oregon in 1911
In Pinto's case, even the term "student" was a magnificent overstatement. Except for the band, he really took none of his courses seriously. The records show him taking Drawing I, auditing it for one semester and getting a "C" in the second. In the year 1912-13 he signed up for 12 credits in history and art courses, but didn't finish any of them. His was a lighthearted approach. "Every spring--off to the circus or the vaudeville," he wrote.
"The Comic Genius of 'Pinto' Colvig,"
The Oregon Stater,
September 1955, page 18
Pinto Colvig cartoon, January 1, 1913
Medford Mail Tribune
PINTO COLVIG WILL "STAR" NOW
Will Take "Nightmare" on Another Little "Pleasure" Trip
Vance D. Colvig, better known to the "Aristocratic Knights of the Road" and other societies as "Pinto," "The Human Leopard," "Wandering Minstrel," "Society Tramp," "Brakebeam Tourist," "Boxcar Idol," "Nightmare of Caricature" and many other titles too numerous to mention, will leave shortly to accept an offer from the Pantages Vaudeville Circuit, whereupon he will deliver "15 minutes of fast and foolish pictorial ideas" for the public's approval.
"Pinto" has been at O.A.C. two years and has furnished illustrations for the
Orange
three consecutive years. He will not return to enter school again but will always try to be back for the big football games each year.
Wherever he and the "nightmare" may travel in years to come, they will always be proud to let people known that O.A.C. is the "one school of the West."
Daily Gazette Times,
Corvallis, April 1, 1913, page 2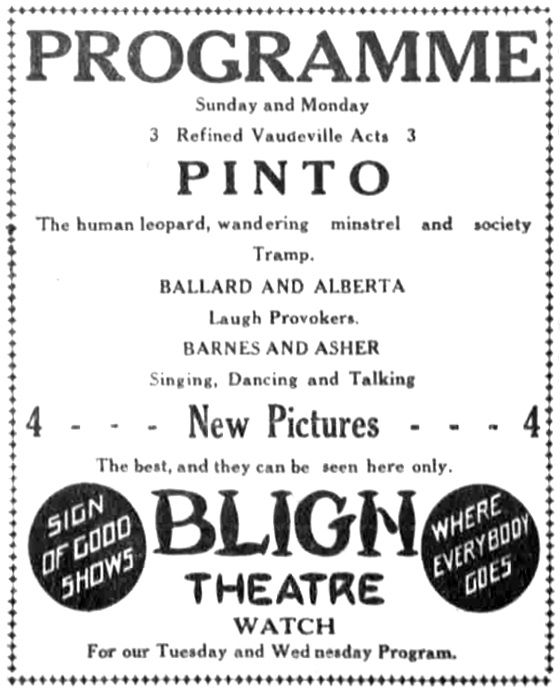 April 12, 1913
Salem Daily Capital Journal
An exhaustive search through the
Seattle Daily Times
from January 1, 1913 through May 10, 1913 (when the Al G. Barnes circus played Seattle) turns up almost no evidence of Pinto's career with Pantages (a stint Pinto barely mentions in any of his writings). During that time three chalk artists and cartoonists appeared at the Seattle Pantages under different names, all of whom had careers before and after 1913--ruling out the possibility of their being Pinto under a pseudonym.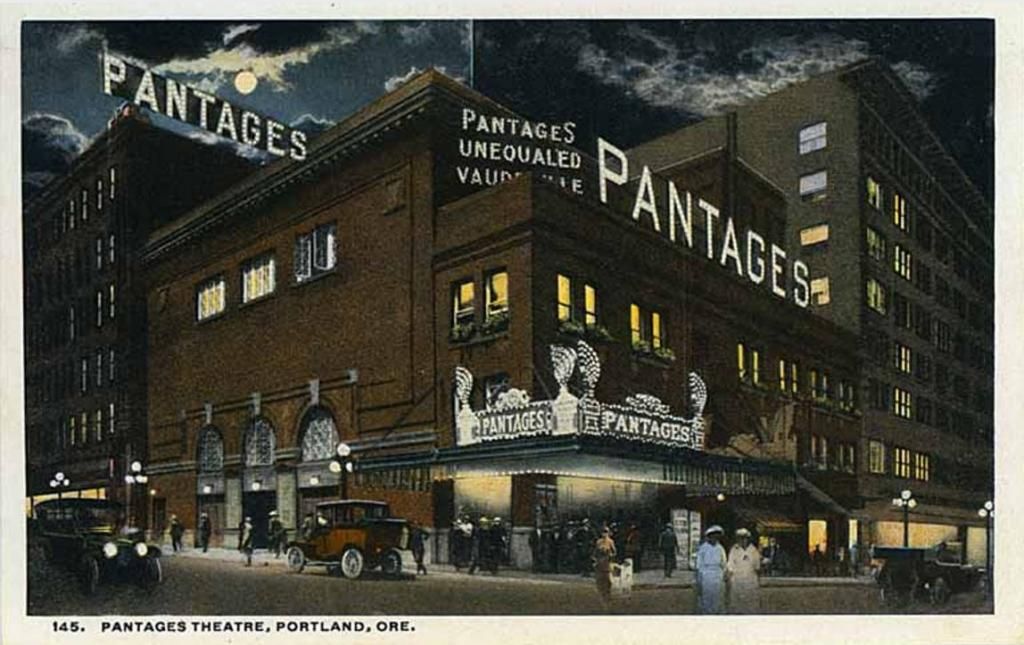 Pantages Theater, Portland, Oregon circa 1920
SPRING, 1913: Jumped from Pantages vaudeville circuit in Seattle and joined Al G. Barnes Big 4-Ring Wild Animal Circus.
Pinto Colvig,
Clowns Is People,
unpublished manuscript at SOHS, 1935, page 150
Before the end of 2nd term [at Oregon Agricultural College] springtime and show business beckoned again. Did a stint on Pantages vaudeville circuit. When playing in Seattle (May 1913) Al G. Barnes circus parade passed the theatre. I recognized some old friends on the clown bandwagon. I wanted to ramble. One-day stands. That day I signed with Barnes.
Pinto Colvig,
Clowns Is People,
unpublished manuscript at SOHS, 1935, page 152
CROWDS LINE STREETS TO SEE CIRCUS PARADE

Promptly at 10:30 o'clock this morning the deep notes of silver trombones smote upon the air of upper First Avenue. Simultaneously the heads of the members of a colored band perched high upon a bronzed and gilded wagon appeared above the snarl of traffic that eddies about First Avenue and Pike Street, and out of the maze of vehicles appeared the parade of the Al G. Barnes Wild Animal Circus.
At its head rode two mounted police. Behind them came a troop of graceful chargers so perfectly as to appear parts of the animals themselves. Then came the band, colored, tuneful and hard-working, which first announced the approach of the "greatest of all parades."
Behind came a cage of laughing hyenas whose cause for mirth was not apparent. The following cage was closed, locked and barred; First Avenue is still speculating as to its contents. There were some more bespangled ladies who lightly sat their graceful chargers, and then followed cages containing all the beasts of mountain and forest.
Fearless Animal Trainers.
Restless leopards paced back and forth in their narrow cells and lashed their tails against the iron bars that held them prisoners. Fearsome panthers and fearless women sat in the selfsame cages and gazed out on the busy thoroughfare.
One huge cage was filled with lions that licked their chops and gazed appraisingly at the faces that lined the curb. Children shivered apprehensively and hugged more tightly the garments of their fearless parents. Nor did they regain their normal spirits until the appearance of a wagonload of clowns, too funny for anything.
The clowns were followed by more cages of lions and baby lions that have spent all of their young lives in cages and appeared perfectly content as they basked in the sun, blinking at the crowd.
After the young lions came a cage of monkeys, which, whenever the procession halted, stretched out hairy paws and frisked the pockets of small boys for possible peanuts. After the monkeys came a troop of elephants that lumbered along, swinging their huge trunks to help them keep in step to all that music. A team of four camels followed, humping themselves to keep up with the procession. A calliope brought up the rear, playing steamfully all the latest airs.
Following down First Avenue to Yesler Way, the parade turned up Yesler Way into Second Avenue, thence northward to the show grounds at Fifth Avenue and Lenora Street, to be fed and groomed for the afternoon performance. [
The Seattle Pantages was on the corner of Second Avenue and Seneca Street.
]
Lured by the promise of a good show given by the morning parade, a crowd that completely filled the mammoth tent found its way to the show grounds this afternoon. There they found that the management had held out on them in the parade, for all kinds of performing animals, dogs, ponies and even sea lions were introduced for the first time.
The performances will be repeated tonight and twice daily Tuesday and Wednesday.
Seattle Daily Times,
May 5, 1913, page 9

Route Traveled While with Barnes' Circus
Season 1913

May 5-7--Seattle, Washington
8--Cle Elum
9--Ellensburg
10--North Yakima
11-12--Sunnyside
13--Toppenish
14--Pasco
15--Sprague
16-17--Spokane
18--"Sunday Travel"
19--Cranbrook, British Columbia, Canada
20--Fernie
21--McCloud, Alberta
22--Lethbridge
23--Clairsholm
24--High River
25-27--Calgary
28--Red Deer
29--Strathcona
30-31--Edmonton
June 1-2--Wetaskiwin
2--Lacombe
4--Olds
5--Gleichen
6--Medicine Hat
7--Maple Creek
8-9--Gull Lake, Saskatchewan
10--Swift Current
11--Moose Jaw
12--Regina
13--Weyburn (cyclone, Friday the thirteenth, '13)
14--Estevan
15-16--North Portal, North Dakota
17--Minot
18--Leeds
19--Carrington
20--Jamestown
21--Oakes
22-23--Clark, South Dakota
24--Brookings
25--Tracy, Minnesota
26--New Ulm
27--St. Peter
28--Winnebago
29-30--Madelia
July 1--Fairmont
2--Algona, Iowa
3--Humboldt
4--Webster City
5--Eldora
6-7--Mason City
8--Traer
9--Belle Plains
10--Cedar Rapids (quit th' show--total mileage 7,754)
Manuscript page from Pinto's scrapbooks, SOHS MS9 folder 18


Mrs. Charles Strang and her daughter have gone to Corvallis to attend the Oregon Agricultural school graduating exercises. Her son, Fred, is a member of the class.
Vilas brothers, who have been attending the O.A.C. at Corvallis, have returned for the summer vacation.
"Local and Personal,"
Medford Mail Tribune,
June 10, 1913, page 2
Vance Colvig, the cartoonist, has returned from a trip on the vaudeville circuit.
"Local and Personal,"
Medford Mail Tribune,
September 18, 1913, page 4
"PINTO" COLVIG GETS VAUDEVILLE OFFER

Vance D. Colvig, better known locally as "Pinto," will appear on the Pantages bill at the Page Theatre next Wednesday as an added attraction in his original caricature and cartoon stunt.
"Pinto" recently received a letter from Mr. Pantages of Seattle offering to book him over the entire circuit, but before considering the proposition he desires to present this act before "the folks at home," and if successful may accept Mr. Pantages' offer.
Medford Mail Tribune,
September 22, 1913, page 4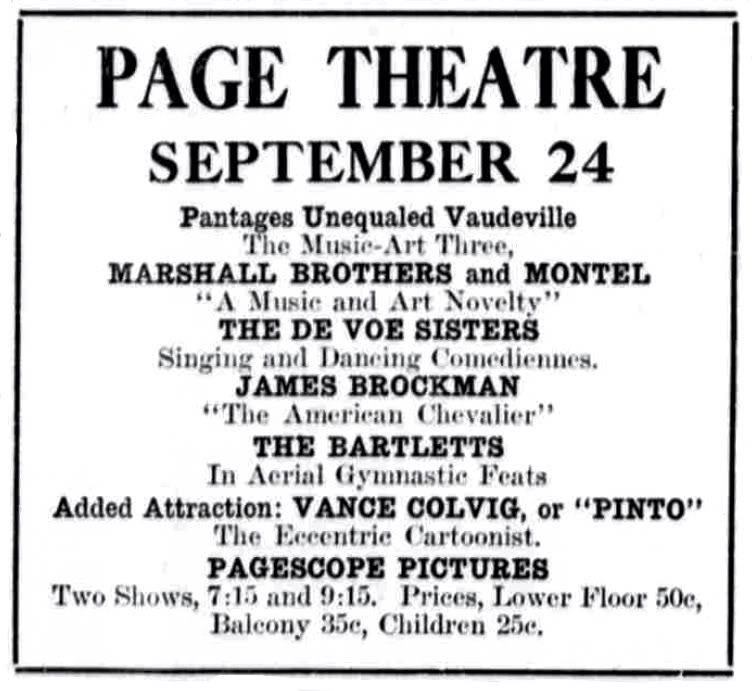 September 23, 1913
Medford Mail Tribune
PINTO COLVIG AT PAGE THEATRE WEDNESDAY

Something new in vaudeville will be offered by the Mus-Art Trio when the many excellent musical hits are illustrated by an artist in crayon. The Mus-Art Trio is composed of an instrumentalist, a singer and a crayon artist.
James Brockman is a singer of original numbers. Mr. Brockman will be heard in songs entirely new to the local public, and his personality is winning.
Sensational feats are said to be accomplished by the Bartletts, aerial stars.
The De Von Sisters are a pair of pretty girls who know how to sing and dance.
Vance Colvig, of Medford, better known as "Pinto," will appear in his original caricature and cartoon stunt.
Pagescope with usual strong feature film.
Medford Mail Tribune,
September 23, 1913, page 2
Vance D. Colvig, 8 S. Laurel
William M. Colvig, 8 S. Laurel
Don L. Colvig, 928 S. Holly
Star M. Colvig, 928 S. Holly
"List of Registered Voters,"
Medford Sun,
January 3, 1914, page 2
KIND WORDS BY "BO" TO "BO'S"
"Boxcar Cartoonist" Writes Quo Vadis Members from Oregon.

Since a story of the Quo Vadis Club appeared in a January issue of the
Literary Digest,
the club has been hearing from kindred spirits all over the land. The Quo Vadis Club originated and has its headquarters at the University of Missouri. To be eligible, one has to have a record of "bumming" at least 1000 miles and "panhandling" several meals.
The club has just received a skillfully and elaborately drawn cartoon letter from Medford, Oregon. It is signed "Pinto--The Boxcar Cartoonist," with several subtitles or degrees, such as "Boxcar Idol," and "Brakebeam Tourist." Pinto expresses great enthusiasm and the kindest feelings for the club and its members.
Pinto says: "Should any of you by chance come westward, remember the town, Medford, Oregon, where 'Highballs, Handouts and Tropical Skies are not a thing of the past.' I have a beautiful home in that town, just overlooking the stockyards--the bulldog is harmless! You will notice the familiar mark on the back door, meaning--'Kind Lady--No Dog.' There is always a pot of Onion Razzle-Dazzle on tap, and you are all welcome. Signed, Yours for Miles, 'Pinto'."
University Missourian,
Columbia, Missouri, February 11, 1914, page 4
Vance Colvig has returned from a trip to Northern California in the interests of the Korinek Veterinary Company.
"Local and Personal,"
Medford Mail Tribune,
March 23, 1914, page 2
Vance Colvig of "Pinto" cartoon fame was operated on at Sacred Heart Hospital this morning for appendicitis by Dr. E. B. Pickel.
"Local and Personal,"
Medford Mail Tribune,
March 31, 1914, page 2
Vance Colvig, who was operated upon the first of the week at Sacred Heart Hospital for appendicitis, is improving rapidly.
"Local and Personal,"
Medford Mail Tribune,
April 1, 1914, page 2
Vance Colvig, who was operated upon a week ago at Sacred Heart Hospital for appendicitis, is improving rapidly.
"Local and Personal,"
Medford Mail Tribune,
April 6, 1914, page 2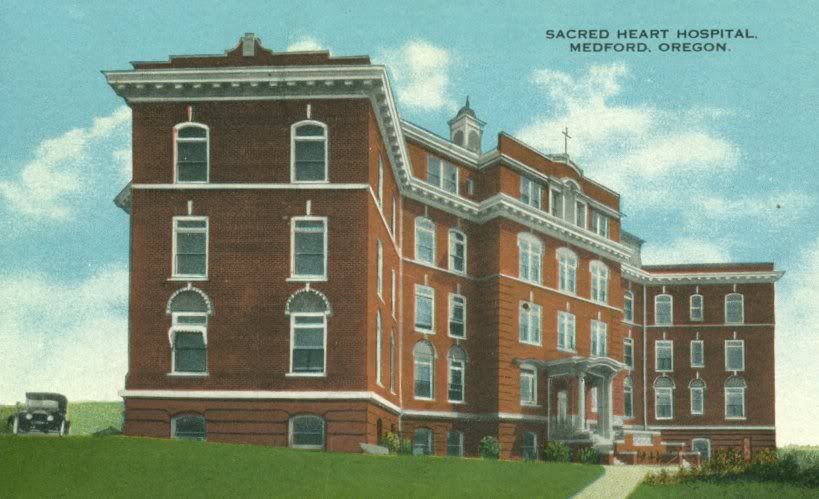 Should you happen to hear some weird sounds resounding through the corridors of Sacred Heart Hospital, don't be alarmed. It's probably the echoes from the wild wails I did there years ago following the gas pains I got when I had my appendix manicured. That was 44 years ago, 1914. In fact, it happened on April Fool's Day. No kiddin'! Ol'
Doc Pickel
done it. As I recall, I guess I must have raised hell while in there, and the Sisters, nurses and many of the patients were glad when I left. What I mean is, I had FUN. After they unstitched my incision I used to get into a wheelchair and gallivant up and down the halls. One day I locked wheels with another wheelchair . . . and Wow! Wow! Wow! In it was one of the most gorgeous, peachy-cream blondes you'd ever want to see. For the moment I forgot all about my missing appendix and said: "Where in hell did
YOU
come from?" Well, it turned out that she was the leading lady or saucy soubrette with a comic opera company that had played Medford the week before. She came down with an attack of appendicitis--they left her off in Medford--and she was operated on the same day I was.
From then on we ran wheelchair races up and down the hall. Then, at certain times, we'd stop in front of the door wherein different patients would be coming out from under ether. We enjoyed listening to them cuss. I remember one guy kept yelling: "Whoa . . . whoa . . . WHOA, you old ROAN son-of-a------!" Seems as though he had been in a runaway and had to have a few ribs mended. You guessed it. It certainly must have been a ROAN horse he'd been driving. I remember talking about it to Sister Superior. (The same Sister who sat bedside while I was coming out from effects of ether.) I said to Sister: "I didn't cuss, did I?" She said: "Oh--you swore something fearful." I said: "That's funny, I don't usually cuss." She said: "Well--maybe not . . . but one thing sure . .
you didn't learned how to cuss while you were asleep!
Incidentally, I might mention that my appendix is still somewhere there on the premises. This comic-op'ry chick and I had the nurse bring us our appendixes (which they kept for us in a jar of alcohol). Well, we tied 'em together in a cute bow knot--wheelchaired ourselves out on the sun-veranda--coasted down the ramp and buried them in an airtight jar of alcohol, beneath a rose bush. The patients sitting on the sun porch though we were crazy. They were right. But we had fun. We were decent, too. One can't do a hell of a lot of smoochin' an' neckin' when in a wheelchair and all taped up with adhesive--and with patients, nurses, doctors and Sisters looking on. Hem-m-m-m--I wonder what ever became of that gal. She left town and rejoined the show in San Francisco . . . and that was the last I ever heard of her.
Typescript letter on "Bozo" Capitol Records stationery to Tom Dunnington dated March 6, 1958, SOHS MS9, folder 1 Pinto's friend was most likely Margaret Randolph, touring with "The Tongues of Men," starring Henrietta Crosman.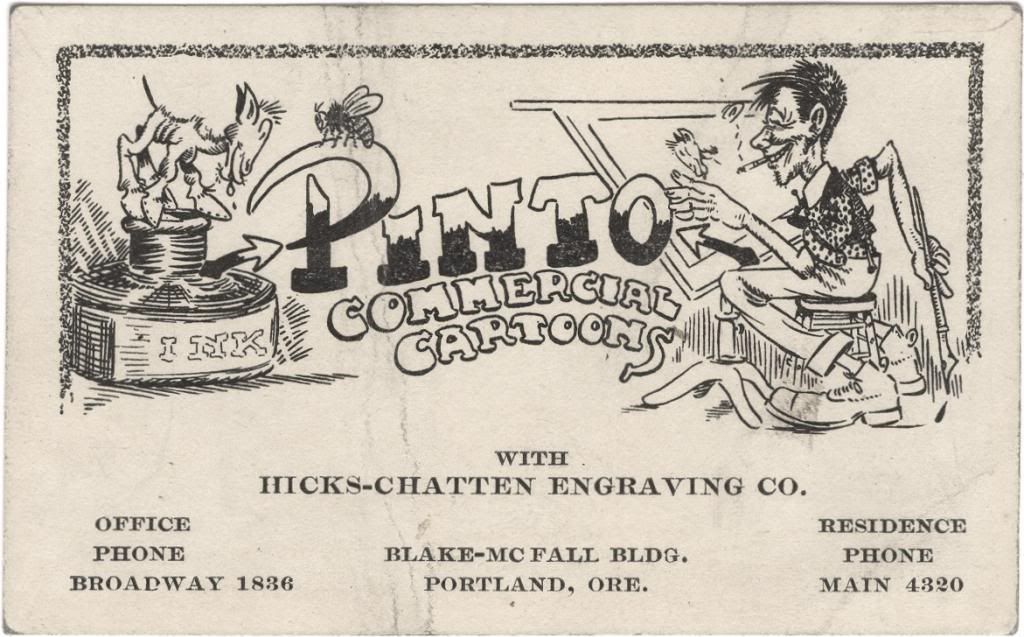 Circa 1912-14
LIFE IN CIRCUS AN EDUCATION
Such Is Opinion of Judge Colvig, Who Meets Son Who Tried Both in Eugene.
Vance DeBar Colvig, 22-year-old son of Judge William Colvig, tax and right-of-way agent for the Southern Pacific, learned more from a circus than he did from college, according to his father, and he has been with both. The judge met his son in Eugene today, and the two went to Goshen, where the right-of-way agent is interested in the purchase of a tract of land to be used in moving the county road a few feet farther away from the Southern Pacific station at that place.
Young Colvig ran away from college a year or so ago, and joined a circus with which he spent a year, and later he made good on the Pantages vaudeville circuit as a comedy sketch artist. The father is very proud of his son, in spite of the original way which the latter chose to obtain an education.
The two are planning to leave shortly on a trip to Alaska, where Judge Colvig expects to take his vacation, and where the son expects to join a railroad survey there.
The Daily Guard,
Eugene, Oregon, July 14, 1914, page 5
Pinto Colvig, Portland Ore.
"Hotel Golden Arrivals,"
Reno Gazette-Journal,
September 5, 1914, page 7
Pinto Is Here

Vance D. Colvig, better known to the aristocratic Knights of the Rail as "Pinto," the tramp cartoonist, boxcar idol, and circus bandwagon enthusiast, arrived Friday evening from Portland, Oregon for the interests of
The Rockroller,
in which he will depict the various faces of Nevada citizens in cartoon form.
"Pinto's" cartoons have appeared in many publications of the Pacific Coast and elsewhere for the past seven years.
In some spot of his cartoons you will notice a queer, non-corpulent little animal which resembles that of a horse, which is known as "Pinto's Nightmare," and it will be interesting to note just what this little creature will have to say from time to time.
However, "Pinto" is with us, and he says he's going to stay 'til the largest boulder looks like a grain of sand, and [he] is not afraid to wield his pen in any direction as long as he knows he is in the right.
The Nevada Rockroller,
September 5, 1914, page 1
September 13, 1914
Sunday Oregonian
VANCE COLVIG GETS FIRST CARTOON JOB

The Sunday
Oregonian
speaks of Vance Colvig as follows:
"Perhaps it is the climate, and then again, perhaps it is the illustrious example of the late Homer Davenport, but climate or whatever, the soil of Oregon seems to be prolific of cartoonists.
"Another young disciple of Nast, who has just launched forth with his first regular newspaper job, with visions of becoming as famous at least as Cooper of New York or Bowers of Indianapolis, both Oregon boys, is Vance Colvig, 23 years old, late of Medford, who left Portland September 1 for Reno, to take a position as cartoonist on the
Nevada Rock Roller,
a new freelance journal that is stirring up the animals in the political jungles of Nevada.
"Colonel Carl Young, editor of the
Rock Roller,
has been sending urgent telegrams to young Colvig, and when he finally sent a ticket the temptation was too strong. So the budding cartoonist--all cartoonists are budding until the
Review of Reviews
begins to copy their work--departed for the erstwhile divorce capital.
"Colvig is a native of southern Oregon and the son of Judge William M. Colvig, once a leading member of the Jackson County bar, and at present right of way agent and attorney for the Southern Pacific lines in Oregon, with headquarters in Portland. Mrs. C. L. Reames, wife of United States District Attorney Reames, is his sister. Colvig is using the name of Pinto in his work."
Medford Mail Tribune,
September 14, 1914, page 2
Vance Colvig, famed as "Pinto," writes that the career of the Reno Rock-Crusher, the political sheet on which he was employed, came to a sudden end when the publisher got the smallpox. Pinto is now cartoonist on the
Carson City News.
He says the people of Nevada are much interested in Eagle Point Eaglets and concludes with the following: "Tell Walter Mundy and Charley Palm not to work too hard."
Medford Mail Tribune,
unidentified clipping circa 1914
Vance Colvig, Assistant Musical Director
Al G. Barnes Circus list of staff and performers,
1915
Route Traveled En Route with Barnes' Circus
Season 1915

April 16--Carson City, Nevada
27--Reno
28--Fallon
29--Lovelock
30--Winnemucca
May 1--Elko
2--(En Route Sunday)
3--Salt Lake City, Utah
4--Ogden
5--Malad City, Idaho
6--Logan, Utah
7--Blackfoot, Idaho
8--St. Anthony
9-10--Idaho Falls
11--Pocatello
12--Twin Falls
13--Hailey
14--Mountain Home
15--Caldwell
16-17--Boise
18--Nampa
19--Emmett
20--Payette
21--Vale, Oregon
22--Weiser, Idaho
23-24--Baker City, Oregon
25--La Grande
26--Enterprise
27--Elgin
28--Pendleton
29--Walla Walla, Washington
30-31--Dayton
June 1--Pomeroy
2--Colfax
3--St. John
4--Wallace, Idaho
5--Spokane, Washington
6-7--Ritzville
8--Prosser
9--Sunnyside
10--Ellensburg
11--Toppenish
12--Pasco
13-14--Wilbur
15--Davenport
16--Cheney
17--Rosalia
18--Coeur d'Alene, Idaho
19--Sand Point
20-21--Missoula, Montana
22--Hamilton
23--Phillipsburg
24--Deer Lodge
25--Anaconda
26-27--Butte
28--Sheridan
29--Three Forks
30--Livingston
July 1--Bozeman
2--Helena
3-4--Great Falls
5--Lewiston
6--Stanford
7--Benton
8--Havre
9--Chester
10--Conrad
11-12--Kalispell
13--Eureka
14--Libby
15--Bonners Ferry, Idaho
16--Newport, Washington
17--Chewelah
18-19--Colville
20--Northport
21--Curlew
22--Oroville
23--Okanogan
24--Wenatchee
25-26--Waterville
27--Mansfield
28--Leavenworth
29--Monroe
30--Everett
31--Anacortes
August 1-2--Bellingham
3--Blaine
4--Sedro-Woolley
5--Mt. Vernon
Typescript page from Pinto's scrapbooks, SOHS MS9 folder 18
A CIRCUS BAND STORY
THERE IS MUCH CHARM TO THE ROVING LIFE.
Vance Colvig, Free-Footed Wanderer, Loves to Follow
the Big Red Wagons of the Circus.
The circus has gone. It took with it its outstanding feature, the band, an organization of first-class musicians who take up the free-footed life of the "high top" armies for the pure love of travel, and for the little adventure they can get from the daily grind of two shows, parades and practice. It is a restless, discontented group of amiable young fellows who seem to have the instinct of hoboism covered with the smooth veneer given by good family ties and education. A man must have some few of the finer sensibilities in his makeup to be a musician, and it is not so much to his discredit if he chooses the carefree, roving life of the modern troubadour. The circus bandmen are mostly in their twenties, most of them are educated either in high school or college, and many can trace their family connections creditably. There are a number of college graduates in this organization and as naturally accustomed to a dress suit as they are to the green uniform of the band. The leader, E. A. Woeckener, has collected and capably trained the band. He is careful in his selection of material, and when he finds a really good musician he can usually interest him in an Al. G. Barnes contract, no matter what his previous condition of servitude may have been nor what his vocation is.
One of these is "Pinto," known to his family and good friends as Vance DeBar Colvig, a roving youth of many talents, and known to thousands of people from end to end of the United States by his nickname, awarded in honor of his very freckled face. Studying himself "the boxcar idol, the brakebeam tourist and the society tramp," he has followed circus band life for many years and has been taken to practically every city in the United States and Canada. Occasionally "Pinto" forgoes the charms of the wandering musician's life and says he will settle down. When he settles he employs his talents as a cartoonist to bring him a living, and they can bring a good one. He is an artist compared to most cartoonists, and can almost command a position in that work. His own story of his last settlement is interesting. He was employed last year as cartoonist on the
Carson City
(Nev.)
News,
where his little horse, used as
Reynolds
uses his tiger, and called "Pinto's Nightmare," won him great popularity. Barnes' circus was billed to show in Carson City in the early spring of this year. He sat at his easel, immune to the call of the big tents and the pleas of his former colleagues. Along came Mr. Woeckener, who said: "Pinto, think of the life; think of the world you see." "Aw, shucks," says Pinto, "gimme a contract." That's the way it is with Pinto. His father is Judge Colvig, for eight years at Medford, and at present head of the tax and right-of-way department of the Southern Pacific, with offices at Portland. The judge is well-known in Dallas, where his legal work has brought him many times. He cannot influence his son to calm himself, but thinks, as does the young fellow himself, that he will finally end his roaming by the time he is thirty years old. Pinto allows himself that much time; he is twenty-five now, to adjust himself to normal conditions of existence. Pinto tried for a number of years to get a college education. As soon as the circus started out each spring, however, he would forsake his studies and climb on the band wagon. Some of those who knew him in college asked him on Tuesday what he thought he would do when he was too old to play the E-flat clarinet and too old to wield the pen and ink in his present masterful style. Colvig looked shocked at the question, and asked in retort: "What do you think they build poor houses for?" He attributes his loose-footedness to a peculiar disease, over which he has no power, and called the malady the "nigger's itch." Which it must be to make a talented youth, capable of earning better money at music or art, forsake a good home, pleasant surroundings and a chance in the world, for the charm of the big white canvassed arena and the joy of waking up, as Pinto put it, "in a new town every morning, with hundreds of strange faces in a sea about the cars seeking curiosity as I seek the life I love."
Polk County Observer,
Monmouth, Oregon, August 27, 1915, page 2
Vance "Pinto" Colvig, son of Judge William M. Colvig, and well known in this city, is one of the musicians with the
Al G. Barnes
wild animal show.
"Local and Personal,"
Medford Mail Tribune,
September 2, 1915, page 4
The Al G. Barnes wild animal show exhibited in this city Thursday without an untoward incident. A large crowd attended both performances. The animal acts were unusually good. A feature of the show is the band, which is probably the best circus band in the land. They gave a concert on Main Street Thursday evening.
"Local and Personal,"
Medford Mail Tribune,
September 3, 1915, page 2
Animated Advertising Co of Cal (Inc), Phelan Bldg
San Francisco City Directory, 1916
Vance Colvig visited Grants Pass Monday.
Judge Wm. M. Colvig, tax attorney of the Southern Pacific, was a visitor in Medford Tuesday. He reports the marriage of his son, Vance, popularly known as "Pinto," the cartoonist, to Miss Mary Slavin at Portland. The marriage was a surprise to the Colvig family, the first knowledge of it being a phone request asking the judge if he wanted to see his new daughter-in-law. Pinto has a position with the Hicks-Chatten Engraving Co.
"Local and Personal,"
Medford Mail Tribune,
March 21, 1916, page 2
The news of the marriage of Vance Colvig was received last week. Vance is better known as Pinto, the name he uses in his cartoon work, and he has a host of friends here who are interested in his welfare and happiness. In addition to being a good artist, he is an exceptionally good clarinetist and cannot resist the lure of the circus band when it comes to town.
"Social Items from the Capital City" [Carson City],
Nevada State Journal,
Reno, Nevada, April 16, 1916, page 7
Vance Colvig, well known throughout the Pacific coast as a cartoonist, is now working for a Portland engraving concern, and will shortly issue a book of drawings entitled "On Band Wagon and Box Car," depicting Vance's experiences with the Sells-Floto circus, and elsewhere in travels that have taken him over a large portion of the United States. He has discarded the piccolo [
sic
] for the artist's brush for good, Mr. Colvig states in letters to friends in this city.
"Local and Personal,"
Medford Sun,
September 26, 1916, page 2
Tirey L. Ford Host to Film Company Heads

Tirey L. Ford was host at a luncheon given yesterday at the Stewart Hotel to the Animated Cartoon Film Corporation, with covers laid for sixteen. Matters of interest to artists, cartoonists and photographers were discussed, and views exchanged. Among those present were Frederick Burgh, president of the corporation; Byington Ford, secretary and treasurer; C. E. Cleaveland, superintendent, and Seth Heney, manager.
San Francisco Chronicle,
October 22, 1916, page 30
Among the factories and new commercial concerns which have located in San Francisco during the year are many which already have largely increased their plants, according to statements made by leasing agents. A greatly variety of industries is represented in the following list of these new enterprises in the city:
Animated Cartoon Film Corporation. . . .
"Many Factories Enlarge Premises,"
San Francisco Chronicle,
December 23, 1916, page 9
Animated Advertising Co of Cal (Inc), Phelan Bldg
Animated Cartoon Film Corporation, 1501-1521 Hewes Bldg, Market 6th, tel Sutter 4757, advertising service, cartoon films, theatre advertising, motion pictures, cartoon comedies, "A real run for your money"
Colvig Vance, artist, ACF Corp r 600 Bush
San Francisco City Directory, 1917

ADVERTISING--FILM SERVICE
ANIMATED CARTOON FILM CORP., Byington Ford, Genl. Mgr., 1620 Hewes Bldg. Sutter 4757.
San Francisco Chronicle,
August 19 through December 16, 1917, page C7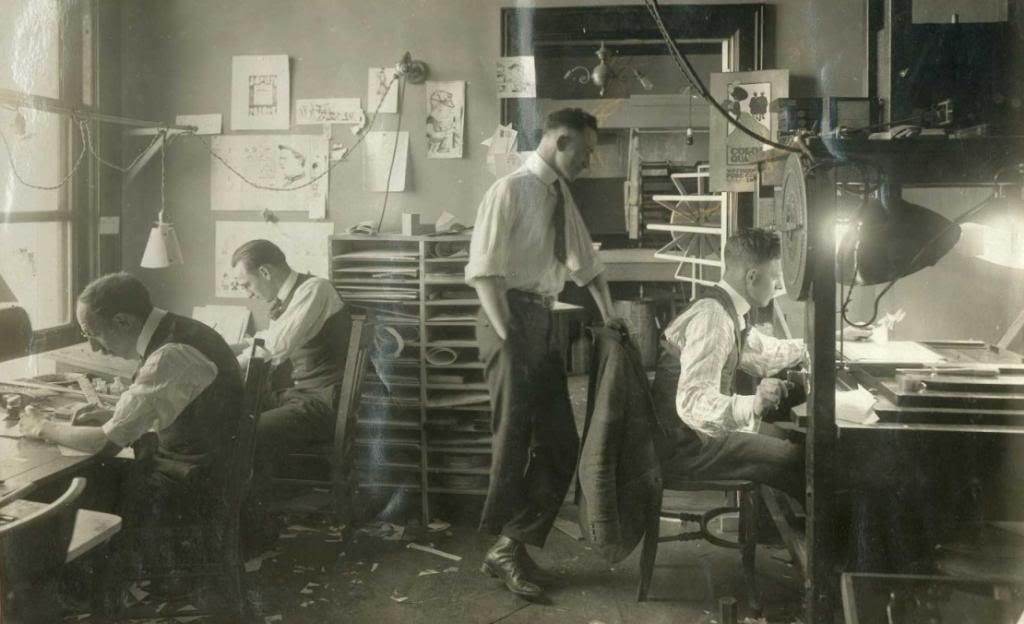 Animated Film Corporation, San Francisco, circa 1917.
From left: Angel Espoy, Tack Knight, Pinto Colvig, Byington Ford.

Animated Cartoon Film Corp, 995 Market
Colvig Vance B. (Margaret), cartoonist, r 235 Oak
San Francisco City Directory, 1918

April 27, 1918
Medford Mail Tribune
MEDFORD BOY'S PICTURES AT RIALTO

Men are rarely appreciated in their own communities, but Vance DeBar Colvig, known to the artistic world as "Pinto" the cartoonist, is at least an exception to this rule. His material, which will be shown at the Rialto Theater Monday and Tuesday, cannot fail to be favorably received by the Medford public.
"Pinto" is the creator of a new and novel style of motion picture animated cartoon. While his figures are as others in this line of work, the heads are of live human beings. In this his material is both original and unique.
"Pinto's" work has another element of distinction. His humorous titles convey a satire that carries a deep and philosophical meaning, and this enhances its value. Some of the patriotic suggestions conveyed in his cartoons are of great value in arousing patriotism. He is a distinct product of southern Oregon, and with the fame that is certain to come to him his life work will surely add to the reputation of the community. Here it was that he secured his early inspiration.
Medford Sun,
April 28, 1918, page 10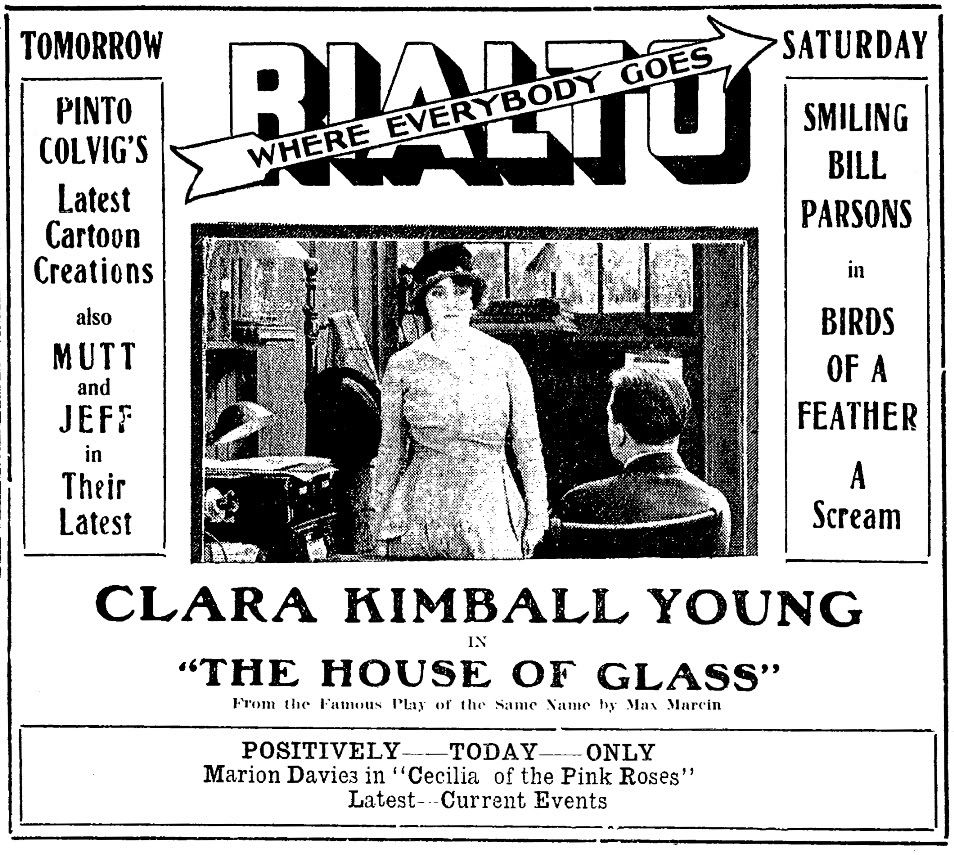 August 15, 1918
Medford Mail Tribune
Colvig Vance De B (Margaret), cartoonist, r 1230 Jackson
San Francisco City Directory, 1919


They had colored cartoons as early as January 1919. At that time Pinto Colvig, who is prominent in cartooning today, drew a series called "Pinto's Prizma Comedy Review." They were colored by the William V. D. Kelley Prizma color [process].
Earl Theisen, "Hollywood Note Book,"
International Photographer,
May 1934, page 3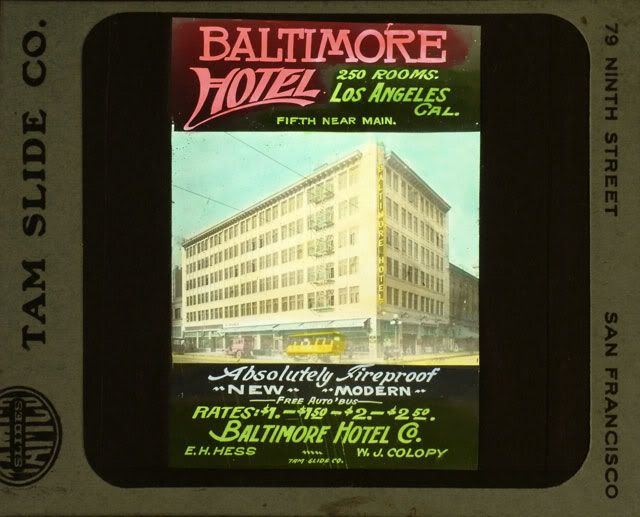 "Pinto" Colvig, cartoonist for the Tam Slide company, is the guest of Mrs. Nixon from San Francisco.
"Personals,"
Nevada State Journal,
Reno, February 24, 1919, page 4
As the patrons and 25 members of San Francisco's motion picture row, who are guests of Mrs. K. I. Nixon, passed out of the Majestic Theater, five motion picture cameras filmed the large crowd. . . . Film guests present were: . . . V. D. Colvig, Gaumont Weekly and Tam Films. . . .
"Majestic Patrons 'Shot' by Film Men,"
Nevada State Journal,
Reno, February 24, 1919, page 6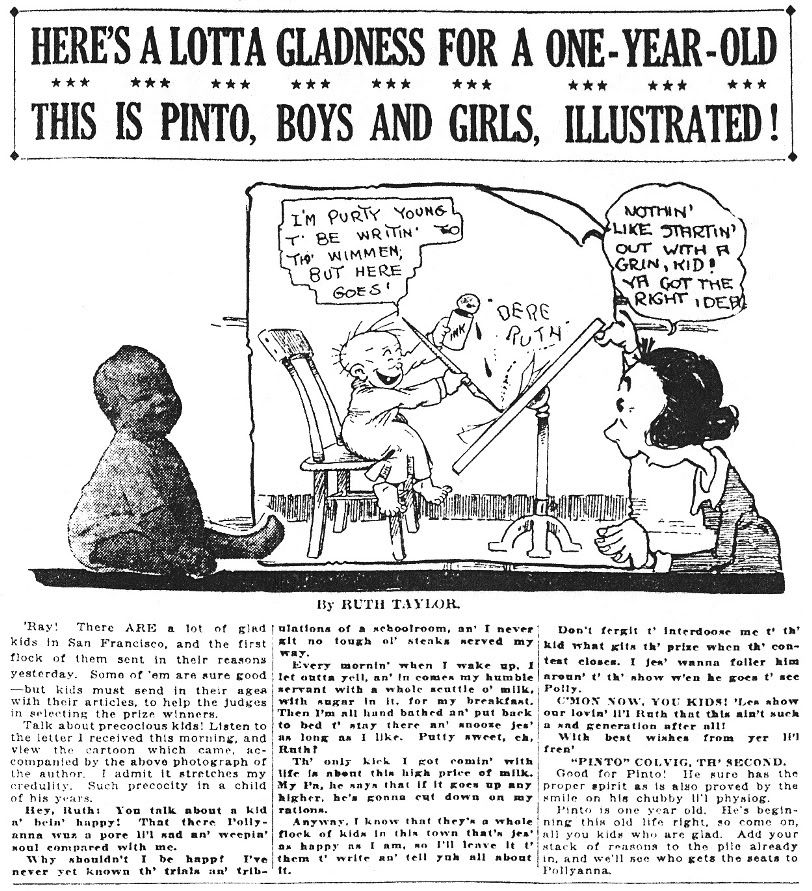 March 5, 1919
San Francisco Bulletin
NOT SO EASY AS IT SOUNDS
JUMPING INTO FILM STARDOM HAS ITS DRAWBACKS.
Even to Help the Red Cross, a San Francisco Woman Found the Experience
Sadly Lacking in Inspiration.

Ruth Taylor in the
San Francisco Bulletin.
If someday my name is blazoned forth in flickering lights in front of a "fillum" theater, and you go in and see me get dragged over a cliff by the head of my hair, to be rescued in the last act by a tall, dark, handsome man, and you say, "Why on earth doesn't that wonderful man pick a girl to play opposite him who wouldn't hurt your eyes to look at"--don't blame me for causing your agitation. It will be all the fault of one "Pinto" Colvig, who made a movie actress out of me the other day.
It was a drama for the Red Cross, so I let my patriotism get the better of my inherent modesty. And I hereby announce that there is nothing to compare with the sensation you have when the director yells, "Aw right! Begin to act. Register joy." And you feel like registering only a hasty exit.
This was a drama in which there was a weeping and destitute woman with a chee-ild, whose father was hunting Heinies in Hunland. And the lady wept upon a table on which were the empty milk bottle, the lone crust of bread, and the rent bill--widely known symbols of extreme poverty. And just when she sighed and set down the picture of her absent spouse, I had to knock at the door, enter like a Red Cross angel of mercy, press some cash into her trembling hand, caress the child and depart, leaving only gladness behind me.
Sounds simple, doesn't it? Well, that's as far as the simplicity goes--sounding.
In the first place, the poverty-stricken woman appeared in a dainty morning dress and a frilly boudoir cap that made her look like a million dollars. But I don't blame her. If I were as good-looking as she, I wouldn't waste my beauty in a ragged gown, either. But they finally fixed her up, and gave her the child and a husband, both of whom it was a bit hard to acquire and assimilate in such a brief moment.
I shan't dwell on my emotions as I attempted to register compassion, and I haven't decided yet whether I'll go in for a film career or stick to writing. I'll see this picture first, and if my face doesn't show TOO much in it I may be able to land a role as mummy in some movie, provided they keep the mummy in a sarcophagus.
Kansas City (Missouri) Star,
March 22, 1919, page 11
P-I-N-T-O
says:

That making an animated cartoon is the beginning of the answer of "Why Padded Cells Are Crowded."
"Before making an animated cartoon of the little California Theatre bears, I generally take a couple of cups of catnip tea, take a bath in a compound solution of ice cream soda and sassafras oil; then I recite all my prayers backwards and go to bed and sleep beneath a crazy quilt.
"The following morning when I go to the movie studio, all I have to do is draw about 500 little bears, cut 'em out like paper dolls, photograph 'em one by one with the movie camera, and after the motion picture film is thoroughly soaked in a barrel of puree of onions and garlic juice, it is then ready to bring to the California Theatre to either be rejected or paid for.
"After that it's done, all I gotta do is run over to
The Bulletin
and write a story and draw a picture to fit it.
"Pretty soft for some fellers, ain't it?"
California Theatre, San Francisco, program for "The Crimson Gardenia," June 15, 1919, SOHS MS9 folder 25
The surprise portion of the Tivoli's programme hereafter will be the Pinto Cartoon Review. A "surprise" because they are so unusually good even for cartoons and local talent. Each week he of Pinto fame will inject into the programme bright spots from the world of humor, editorials, kid stuff and woman's fashions from a mere man's viewpoint.

San Francisco Chronicle,
September 14, 1919, page 5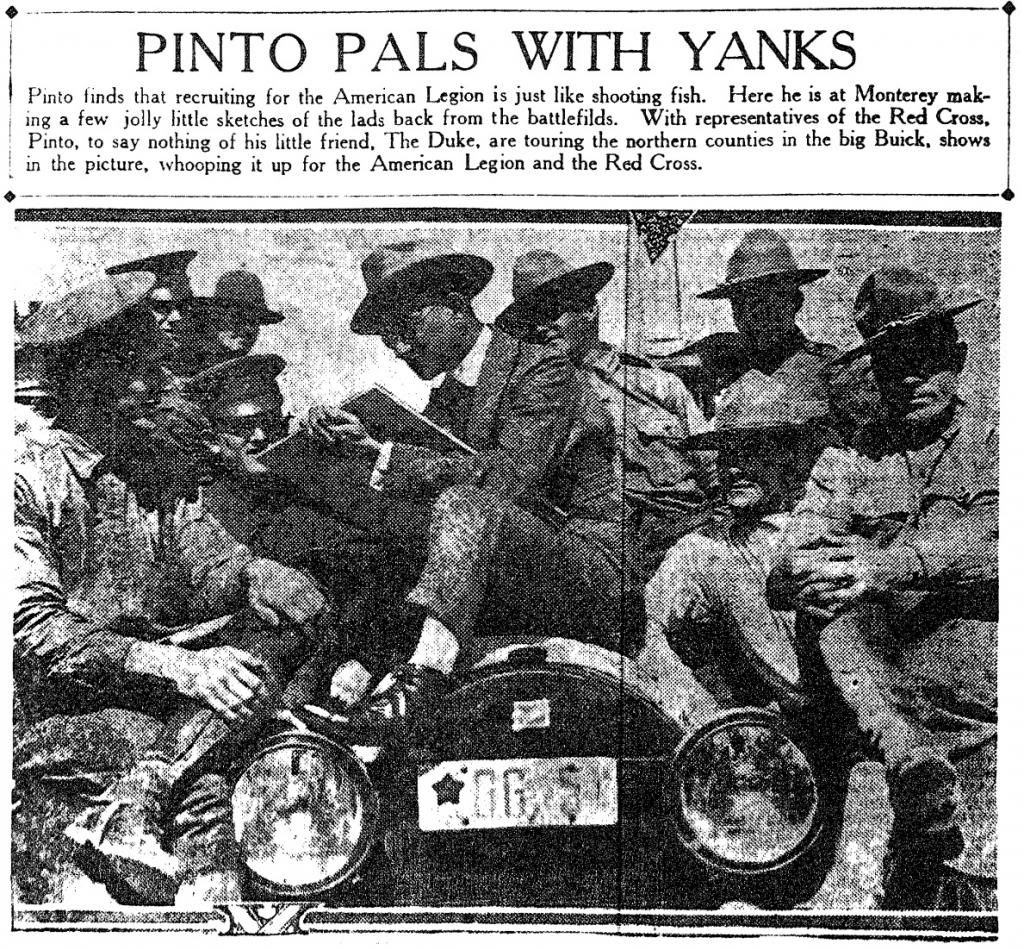 October 3, 1919
San Francisco Bulletin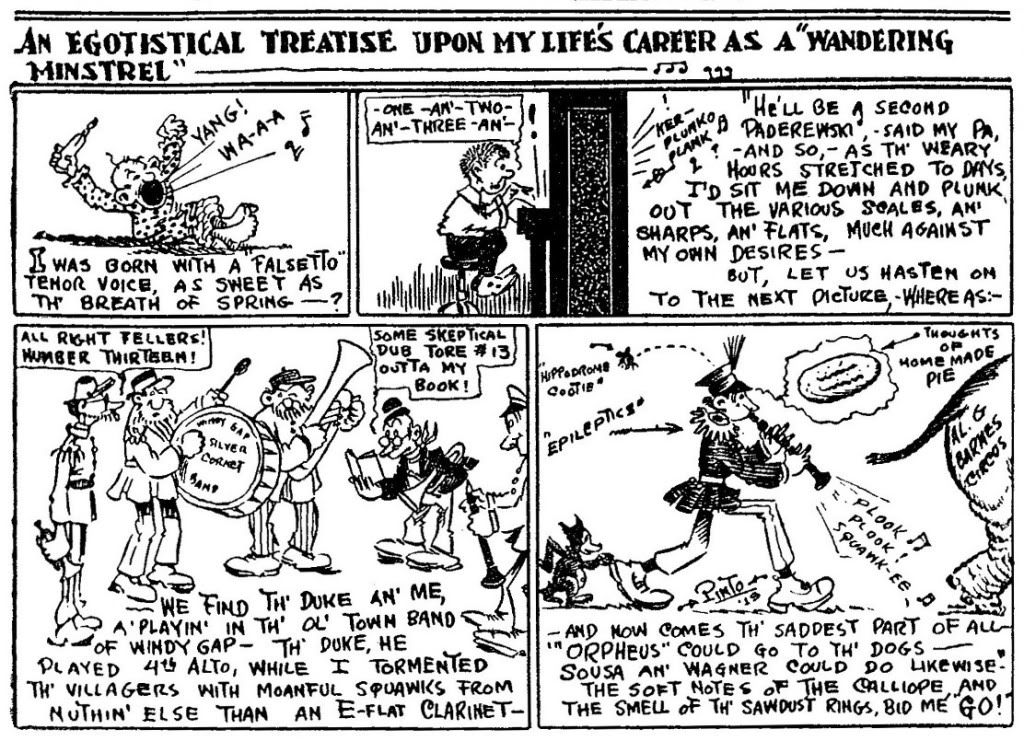 October 22, 1919
San Francisco Bulletin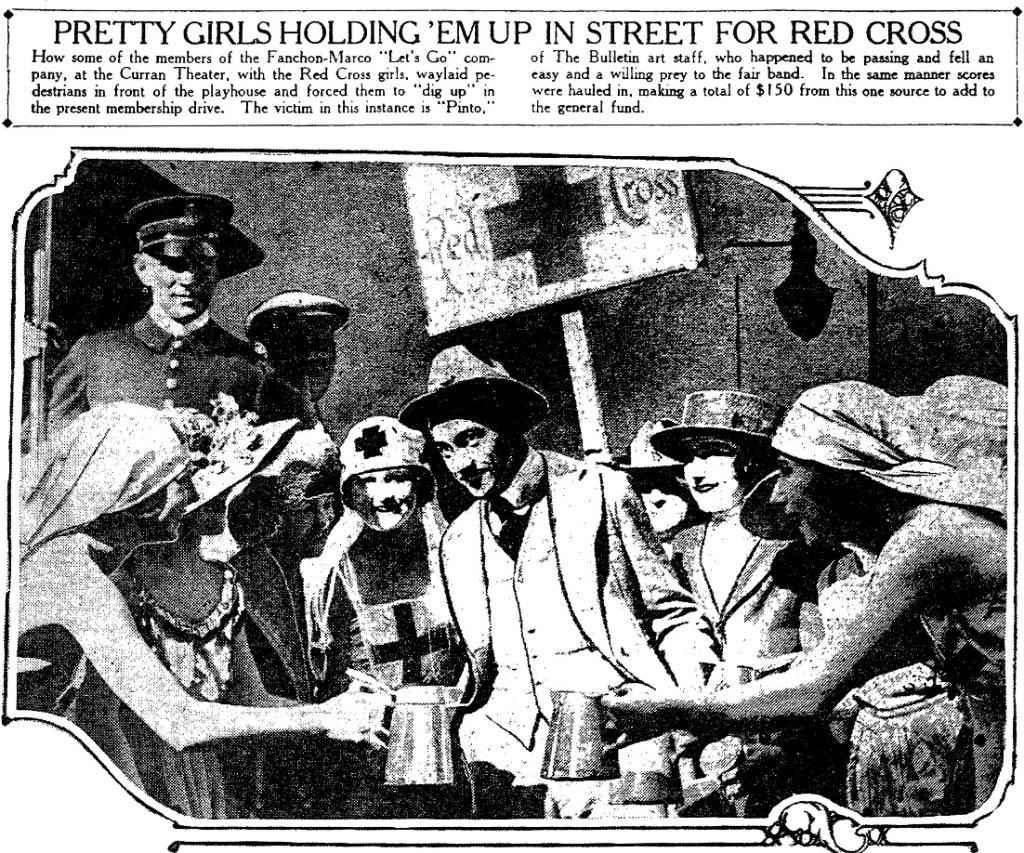 November 7, 1919
San Francisco Bulletin
December 18, 1919
San Francisco Bulletin
The California Theater has adopted a bear as its mascot, and for the last two years not a program has been presented at this house without being introduced by bruin in animated form on the screen. It has brought out the "Li'l Movie Bear" in plaster form and has sold many of these in the lobby of the house.
Mansfield F. House, "The Business Column,"
The Racine Journal-News,
Racine, Wisconsin, April 3, 1920, page 11
Mrs. [
sic
] Vance Colvig and two children of San Francisco are guests of their father and grandfather, Judge W. M. Colvig.
"Local Briefs,"
Medford Mail Tribune,
September 8, 1920, page 2
CARSON CITY, Oct. 13.--Vance Colvig, better known to this section as "Pinto," the cartoonist, is doing work for the screen now. "Art-I-Jokes" are a combination of the witticism of the day and the illustration of them in cartoons, the drawings being shown in the course of production.
"Carson City Briefs,"
Reno Evening Gazette,
October 12, 1920, page 9
"Pinto," with his nightmare safely caged, is revisiting the scenes of his youth--the days before he came to fame and acquired two little Pintos and a life mate. "Pinto" is Vance DeBar Colvig, son of Judge William M. Colvig of Medford, former head of the tax and right-of-way department of the Southern Pacific. The Portland visitor, who first gained fame as a cartoonist by his work in his college publication, has just returned from New York, where he contracted for a series of unusual film comics that may be coming this way before long. He has, since he quit the circus band wagons, aboard which he played an E-flat clarinet, been doing newspaper and sports cartooning in California.--
Portland Journal.

"Personals,"
Medford Mail Tribune,
October 22, 1920, page 5
Vance Colvig, well known to Medford as "Pinto" Colvig, is in the city a few days visiting his father, Judge Mr. Colvig. Mr. Colvig is a cartoonist of no mean ability and is now engaged in producing animated cartoons for the movies.
"Personal,"
Medford Sun,
October 31, 1920, page 5
"Art-I-Jokes" is the unique title of a screen novelty just announced by Educational Films for early release. They consist of paragraphs and illustrations from leading magazines and newspapers. In each case the original drawing is utilized, but the audience sees their recreation, with the interpretation of the designer and his pen comments added. They are the work of Vance DeBar Colvig, an artist who is well known on the Pacific coast under the pen name of "Pinto."
Moving Picture Stories,
November 12, 1920, page 27
Vance D. Colvig (Margaret), cartoons, 1112 Market r 1160 Clay
Pinto Cartoon Comedies, 1112 Market
San Francisco City Directory, 1921
During the concert of Al. G. Barnes' superb band, both afternoon and evening, they played "Pinto's Nightmare" in honor of Judge Wm. Colvig, father of Vance "Pinto" Colvig, and the number received loud applause. "Pinto" traveled with the Barnes circus band two or three years and had the honor of being leader on several occasions. It was a splendid compliment to both Judge Colvig and "Pinto," and a credit to the band.
"Local and Personal,"
Medford Mail Tribune,
May 5, 1921, page 2
May 26, 1921
San Francisco Chronicle
Vance "Pinto" Colvig left yesterday for San Francisco after spending a couple of days in the city. He is drawing animated cartoons for the moving pictures, which will be released in September.
"Local Briefs,"
Medford Mail Tribune,
July 20, 1921, page 3
"LI'L MOVIE BEAR" IS COMING BACK
TO BE MASCOT OF THEATER

"Li'l Movie Bear" needs no introduction to the San Francisco public. For more than four years he acted as "general mascot and chief title patroller" on the California Theater screen. A sassy, impudent little rascal who was ever on the job, but dear to the hearts of many--especially to the children.
"Pinto," his creator, will be remembered as "The Sagebrush Jollier," who, with "The Duke of Windy Gap," philosophized, both in cartoon and story, their contrasted views between "small-town stuff" and big city ideas on the pages of
The Bulletin
a year or so ago. "Pinto" now is making animated cartoons for national distribution at the Pintacko Studios.
"OH, WHERE, OH, WHERE, HAS THE MOVIE BEAR GONE?"
That's what the California's patrons have been wondering for the past few months. Here's the mystery solved:
Pinto made a clay model of "Li'l Bear," which was destined to run a neck-and-neck race on the market with the kewpies and other popular "mud characters." The original model was copyrighted in the archives of Washington, D.C., jointly by Pinto and Charlie Pincus, one of the managers of the California. A manufacturer was chosen to make up several thousand plaster casts of this model. When he delivered the first lot they were not as ordered. Pinto and Pincus, out of respect to their little mascot, refused the order, taking into consideration the fact that "Li'l Bear" should not be insulted or maltreated in such a manner. To place a muddy-looking grotesque of their happy little friend on the market would have been a gross insult to the character itself, they contended. Subsequently the manufacturer had his attorney herald Pinto, Pincus and "Li'l Movie Bear" into the courts on a suit to recover payment.
Why the case was filed in Oakland no one has ever yet found out. Pinto, Pincus and their attorney, nevertheless, were in the corridors of the Oakland courts early on the morning that the case was called.
BANG! sounds the judge's gavel. All was still in the courtroom. Pinto holds his freckled duke high toward the heavens and swears to tell "nuthin' but th' truth!" Attorney for the plaintiff cross-examines Pinto. Attorney for the plaintiff also relates to the good judge his facts of the case. It looked like "curtains" for "Li'l Movie Bear" until the defendants' attorney steps forth and tells the judge how dear to the hearts of the movie populace "Li'l Movie Bear" really is and how the manufacturers did him up in mud and made a joke of him.
After both sides put forth their arguments, the judge finally asks Pinto just what part of Oakland he lives in.
"Never lived in Oakland in my life," retorts Pinto. Attorney for the plaintiff looks surprised.
"Well, then," says the judge. "I presume, then, that the plaintiff lives in Oakland?"
"No, your honor," came a reply from the plaintiff's attorney; "he is a resident of San Francisco."
"Well, what THE SAM HILL IS THIS CASE DOING IN MY COURT OVER HERE," says the judge. "You fellows better go back to your home town and fight it out amongst yourselves!"
BANG! goes the judge's gavel! "Court's adjourned," . . . and thus ended a wild and checkered career for poor "Li'l Movie Bear."
So now he's going back to work on his old stamping ground, amid the bright lights. Back on the silver sheet at the California, where he'll be ever welcome by his friends of yesterday.
"Li'l Movie Bear" feels just as important to the silver screen as Herman Heller is to the orchestra. They both believe that "every li'l movement has a meaning all its own." "No more statue life for me," says "Li'l Movie Bear." "I crave ACTION, and, by golly, I'm gonna git it."
So there you are.
Beginning November 20, "Li'l Movie Bear" makes his second initial bow to the California's patrons, never to desert them again.
San Francisco Bulletin,
November 16, 1921
Colvig Vance D. (Margaret), cartoonist, 1112 Market r 2631 Anza
Pin-Tack-O animated cartoons, 1112 Market
San Francisco City Directory, 1922
Pinto, the well-known cartoonist who was formerly connected with newspapers both in Reno and Carson City, is now cartoonist on the San Francisco
Chronicle.
He has also gained considerable reputation in moving picture cartoons. Few know him by his real name of Vance Colvig.
"Carson City Briefs,"
Reno Evening Gazette,
March 31, 1922, page 2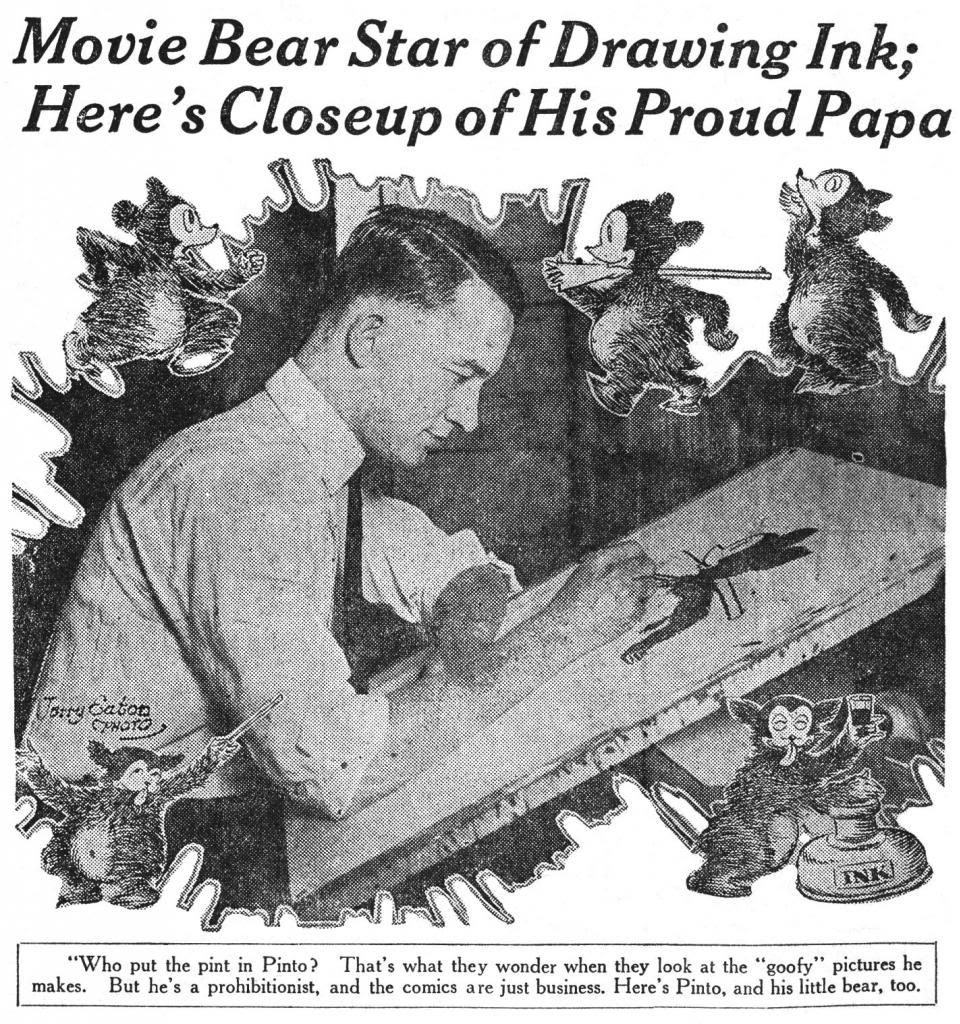 Pinto Tells How He Uses Ink
It's All a Question of Ideas, Artist Says, with Patience as First Aid

Everybody in San Francisco knows and loves "Li'l Movie Bear," who marches so proudly across the screen at the California Theater and then marches back, guarding the pictures, spreading laughs, bringing cheer and endearing himself to patrons of the house.
Once the managing directors thought the public had tired of his quaint antics, and he was banished from the program, but there was such a storm of protest, such a flood of letters asking for his return to guard duty, he was put back, and he is likely to stay put so long as the California houses pictures, which seems a long, long time.
He's a sassy little creature, this Li'l Movie Bear, in looks at least, with his sharp little nose and his round little paunch, and his sturdy little stride as he makes his way from one end of the screen to the other, turns with military precision and goes back the same road.
And then his big act, for he is versatile, when he juggles a bomb, which finally explodes in the air and fragments spread out into the caption "The California Theater Presents." How proudly he goes about that.
HE'S REALLY [A] TAME LITTLE QUADRUPED

The little fellow is docile. He does whatever he is told to do, or made to do, by his creator and the manager of the California. And he never talks back, and has only one vice. He drinks ink! Bottles of it, just like a baby drinks milk. He is cheerful, never sulks, nor plays truant, nor tires.
He might well do that, for in the five years, or nearly five years, he has been walking across the screen of the California, he has walked many weary miles, about 1826 of them in fact. He made his bow when the California Theater was opened, November 1, 1917, and except for the brief time when he was banished, he has been on duty day and night ever since.
He walks approximately one mile a day, 365 miles a day, and in five years, with the extra day in leap year, has walked 1826 miles.
Uncle Sam is his protector and friend, for he is copyrighted and registered in Washington, D.C., and nobody but his secretary and manager, Pinto, and the managers of the California Theater, can order him about.
Once they made a statuette of Li'l Movie Bear, and they went so fast the supply was sold in a few days.
For everybody loves him.
Maybe a word or two about Pinto might be interesting, for Pinto created Li'l Movie Bear.
HIS NAME ALMOST SPOILS THE ILLUSION
His real name isn't Pinto at all, but Vance De Bar Colvig, and in his time he has played many parts. He is a college graduate, has been a hobo, director of a circus band, and actor, writer, cartoonist. He says he has been everything but a dressmaker or a manicurist, and that the only things he has escaped are fortune and jail.
But he is young, and there is time for both.
He is married and has three children, and he loves Li'l Movie Bear as though he were one of his children, for he is such a lovable little fellow, always willing to work, whether it be in a newspaper cartoon, on the screen or wherever he is put.
Then he costs nothing to keep, except the ink and the drawing board, and he brings in a comfortable income to his creator, which is a thing many children do not do.
The film showing the bomb bursting is fifty feet long. It takes Pinto from four to six days to make it, and it runs off on the screen in less than one minute. Three hundred drawings are necessary for that one bit. Each drawing is photographed, one at a time, and according to mathematical arrangement, by a movie camera that is focused downward on the drawing board.
EVERY STEP MEANS HOURS OF LABOR
To make him take one step requires twelve separate drawings. The walk is a repetition of the step, so the twelve drawings are photographed over and over again until there are enough steps to cover the space on the screen.
"The artist who makes an animated cartoon," Pinto says, "has a sort of idea how the action will look, but he is sometimes surprised when he sees the fruits of his labor flashed on the screen. Often the action is better than he expects. Sometimes it is not."
And now you know something about Li'l Movie Bear's history, his habits, his mechanics and his creator.
San Francisco Chronicle,
September 3, 1922, page D6
February 16, 1924
Universal Weekly


Pinto, popular cartoonist of the United Feature Syndicate, and known from coast to coast, has been made "gagman" for Century Comedy productions.
"Comedy Clippings,"
Camera,
January 13, 1923
Continuity on the Buster Brown comedies is now being prepared. These will star Brownie, the dog, as "Tige." Pinto, cartoonist of United Features Syndicate, has been engaged as gag man.
"Century Cut-Backs,"
Motion Picture News,
January 20, 1923, page 373
Vance de Bar Colvig, or Pinto, as he is known by his work for the United Feature Syndicate, has been added to the Al Herman unit at Century as gag man.
"Coast Brevities,"
The Film Daily,
January 27, 1923, page 3
Stern Brothers Secure "Pinto" as Gag Writer

Vance de Bar Colvig, known as Pinto to the readers of newspapers supplied by the United Feature Syndicate, has been engaged as gag writer for Century Comedies by the Stern Brothers. Pinto, known throughout the United States as a cartoonist and caption writer of exceptionally subtle humor, was made gag man for the Al Herman Century Comedy unit.
The acquiring of Pinto stands behind the Stern Brothers' statement that no expense would be spared to make the 1923 crop of Century Comedies a record one.
Exhibitors Trade Review,
February 3, 1923, page 506
Cartoonist and Writer Gag Man for Century

Vance de Bar Colvig, better known as "Pinto" by over 7,000,000 readers of newspapers supplied by the United Feature Syndicate, has been engaged as gag writer for Century Comedies by the Stern Brothers. "Pinto," known through the United States as a cartoonist and caption writer of exceptionally subtle humor, was made gag man for the Al Herman Century Comedy unit. Clever men who create comedy situations--in the vernacular of the studio "gagmen"--are very scarce. The acquiring of "Pinto" stands behind the Stern Brothers' statement that no expense would be spared to make the 1923 crop of Century Comedies a record one. His first job was with Al Herman in his initial release for the new year.
Motion Picture News,
February 3, 1923, page 590
NEW "GAG-MAN"

In keeping with the high-class material used in Century comedies, Stern Brothers have signed a well-known cartoonist and caption writer who is known throughout the country for his work under the name of "Pinto," and his cartoons are widely syndicated in newspapers. He is already at work on his first production providing the "gags."
The Moving Picture World,
February 3, 1923, page 495
"Pinto," the famous cartoonist of the San Francisco
Call,
has been engaged by Educational-Cameo Comedies to write titles and supply comedy ideas for the future productions under the direction of Fred Hibbard.
"Studio Chatter,"
Mansfield News,
Ohio, February 19, 1923, page 3
"Cold Chills," a Jack White comedy, starring Louise Fazenda and written by "Pinto," is also on the program. . . .
"Jack London's 'Brute' Now at Granada,"
San Francisco Chronicle,
April 29, 1923, page 3
In the first of the [Mermaid Comedies] series, "High Life," which has been finished under the direction of Hugh Fay, [Lige] Conley is supported by Lillian Hackett, Otto Fries, Jack Lloyd, Sunshine Hart, Eva Thatcher, Gloria Gilmore and those two inimitable colored comics, "Moonlight," formerly known as Spencer Bell, and Henry Trask. . . .
The settings being used in the new series of Mermaid Comedies would do credit to some of the more elaborate dramatic feature productions. With the space and facilities of the entire Fine Arts studio at his disposal, [Jack] White is endowing the Mermaids with settings such as have never before been used in the production of pictures of this type.
The story has by no means been forgotten, either, for White is a firm believer in the necessity of a logical plot for a genuine comedy. To this end he is giving personal supervision to his own scenario department, with such clever "gag" writers as "Pinto," the cartoonist, Roy Myers and Joe LeBrandt working with him.
"Mermaid Favorites Retained,"
Motion Picture News,
August 25, 1923, page 911
"PINTO" WITH CENTURY

"Pinto," whose cartoon work is syndicated in a large number of newspapers, has been engaged by Century to pass on the scripts for all completed comedies in the capacity of gagman.

The Moving Picture World,
December 15, 1923, page 643
"Pinto" the Cartoonist Joins Century

Century Comedies will have "Pinto," a well-known western cartoonist, to work on all completed scripts in the capacity of "gagman." Each script will be built up carefully by directors, writers and gagmen and "Pinto" will be associated with several other men on this staff, among whom is Edward Luddy, Al Harman's personal gagman and scenario writer.
Motion Picture News,
December 15, 1923, page 2804
Colvig Vance D, title writer, h 1342 Myra av
Los Angeles City Directory, 1924
Editors of the Century Comedy studios are cutting and titling three of the newest pictures produced by this company. . . .
"Past and Present," which was made by Bob Kerr, features Jack Earle and Harry McCoy. Marjorie Marcel plays the leading ingenue role. Frank Alexander, a veteran of two-reel comedies, plays the prehistoric and present-day father. The story, written by Pinto, the famous cartoonist, deals with love and prize fighting in [the] B.C. period as well as the present finale hopper craze.
"Three New Centuries Being Cut,"
Exhibitors Trade Review,
January 26, 1924, page 31
Made Head of Century Script Building Department

News dispatches from Julius Stern, president of Century Comedies, who is now at his West Coast studios, report that the script building department, a new unit designed to aid directors, has been already formed, and Pinto, the famous cartoonist-gagman, will head it.
This new department, which should do much for the betterment of the Centuries in the way of stories and direction, will be headed by a man who is ably fitted for this work. Pinto, known by millions for his cartoons, has won recognition as a first-class gagman from his work with Al Herman, director-in-chief of Century Comedies. His work as head of the script building department will bring all original and purchased material under his jurisdiction, and before a script is turned over to the director for production it will undergo rigid alterations and building up. This will make every Century story holeproof and as near-perfect as possible. Gagging will play the biggest part in the "building up," since it is the intention of Julius and Abe Stern to make every sequence exceedingly humorous and lifelike, as well as original.
The advisory staff is headed by Julius Stern, and consists of Sig Neufeld, Bert Sternbach and Max Alexander.
Exhibitors Trade Review,
February 2, 1924, page 29
This press release also ran in the
Universal Weekly
of February 16, 1924, page 34.

New Century Scripts

Century reports the purchase of three new scripts which will be handled by the new script-building department, which Pinto has been selected to head. They are "The Stilts Man" for Jack Earle and Harry McCoy, "Pal's Clever" for Pal the dog and an unnamed story for the Century Follies girls.
Moving Picture World,
February 2, 1924, page 417
"Keep Going"--Century-Universal
Good Number of Its Type
Type of production 2-reel comedy
This is a more than usually entertaining Century comedy, featuring Jack Earle and Harry McCoy, and a cute little girl whose name is not mentioned. Jack Earle is the very tall man on the Century lot, and in this comedy his job is that of a traffic cop. He is the favored suitor of the girl who is also loved by Harry McCoy. There isn't much to the action, but the gags are funny, and the finish with the girl falling into the lake and the boys afraid to rescue her is lively. A particularly amusing bit is the sequence in which the cross-eyed taxi driver figures. His name isn't mentioned either, but it should be.
The Film Daily,
February 10, 1924, page 8
See the March 21, 1924 article below.
Announces Personnel

Julius Stern has selected the personnel of his recently inaugurated script-building department. Pinto, the well-known cartoonist, is the head, and associated with him are Tom O'Neil and Max Alexander of the technical department, Sig Neufeld and Bert Sternbach of the production staff, together with Edward Luddy and Ray Herman.
Moving Picture World,
February 23, 1924, page 673
March 21, 1924
Medford Mail Tribune
Pinto Colvig, a former Medford young man, will be seen in his first comedy, called "Keep Moving," at the Rialto today and tomorrow. The following is from one of the trade journals:
"A great character in this comedy is the cross-eyed, mute taxicab driver, played by Pinto Colvig. He certainly puts 100 percent in this part. He puts on one of the funniest portrayals ever seen on the screen. Ben Turpin may get an injunction out on this. He can borrow the one Lasky used on the prodigal son. Two very funny gags are used by this driver. He charges McCoy ten dollars for a ride. McCoy holds up a five. Well, the driver sees two fives and is satisfied. Again, a double exposure shows two winding roads that the driver is on at the same time."
"Pinto Colvig in Comedy at the Rialto,"
Medford Mail Tribune,
March 21, 1924, page B3
Pinto Colvig scored a big hit in his first comedy, "Keep Going," which had its premiere with May McAvoy in "Only 38" at the Rialto theatre yesterday. Pinto's impersonation of the world's greatest cross-eyed taxi driver was heartily enjoyed. It amply justifies all the praises bestowed upon it by the reviewers. The comedy has a lot of new tricks and stunts.
"Pinto Colvig Scores Big Hit,"
Medford Mail Tribune,
March 22, 1924, page 3
Century People Sign Cartoonist As Head Gag Man

"Pinto," known for his cartoon work for several well-known syndicates in New York and in the Northwest, has been engaged by Century Film Corporation to work on all completed scripts in the capacity of head gagman.
The appointment is not a recent one, for "Pinto" has been with Century for some weeks, but it was not until last week that Stern Brothers wired from their New York office to place "Pinto" in charge of script-building, as Century calls it. Each script will be built up carefully and painstakingly by directors, writers and gagmen.
Oakland Tribune,
March 23, 1924, page 42
Al Herman is directing "Some Pal" for Century Comedies with Pal the dog as star. Fred Spencer, Ernie Shields, Earl Marsh and Ted Ross are in the cast.
The story is from a series of cartoons penned by Pinto Colvig before he entered Stern Brothers' employ.
"Harry McCoy Stars in His Third Comedy,"
Motion Picture News,
March 29, 1924, page 1442
DOG IN TITLE ROLE

"Some Pal," with Pal the dog in the star and title role, has been placed in production by Julius Stern with Al Herman wielding the megaphone. This will be Pal's first Century Comedy since Lincoln's birthday, just passed.
An excellent supporting cast has been engaged to appear in this fun film, among whom are Fred Spencer, Ernie Shields, Earl Marsh and Tad Ross. The ingenue shall be either Bartine Burkett or Betty Young, although information concerning this has not yet been sent from the Century Hollywood studios.
The comedy is based on a series of cartoons which appeared in Northwest and Southern California papers, from the pen of Pinto Colvig. They have now been brought into screen form, and under Herman's direction it is expected that another "exceptional" comedy shall be made with Pal, the clever canine.
Exhibitors Trade Review,
April 5, 1924, page 29
Famous Cartoonist Has Entered Movies

"Pinto," famed for his cartoons in many newspapers of this country, has been engaged by a producer of two-reel comedy films to work on all completed pictures in the capacity of "gag man," or in plainer English, "joke writer." Noted for his brilliant humor and ready wit, "Pinto" should do a lot towards making comedies of the screen real digestion aiders.
The far-seeing company that signed this gentleman up is the Century Film Corporation, producers of "Century Comedies." It is interesting to note that this is the company with which Baby Peggy, now internationally known baby star of the screen, climbed to success.
Billings Gazette,
Montana, April 20, 1924, page B5
STERNS PROMOTE CHARLES LAMONT TO DIRECTORSHIP
Charles Lamont, who has been assisting Noel Smith in his directing of Century Comedies, has been assigned a complete producing unit by Julius and Abe Stern. This recognition comes to Lamont after faithful cooperation with several Century directors during the past months. Lamont came to Stern Brothers after producing several comedies for another company, but no units were free for him to direct. He assisted Herman for awhile. Later he co-directed with Smith.
His first subject for Century is temporarily known as "The Farmyard Flapper," and is Lamont's own story. Harry McCoy and Hilliard Karr will be Lamont's comedians, with Wanda Wiley appearing in the ingenue role. "Pinto" Colvig, famous cartoonist-gagman, has been turned over to Lamont, so that his first picture will be outstanding in every way. Lamont has been given a month in which to complete his first two-reel Century, and Stern Brothers anticipate an A-1 comedy.
The story deals with a farmyard Beau Brummel, his love for a city girl and the interference of the city slicker. The Century Follies Girls will be used for several sequences.
Universal Weekly,
May 10, 1924, page 39
"The Farmyard Flapper" was most likely released as "Her City Sport."
"Pinto" Colvig, noted newspaper cartoonist and writer, is another new member of the Century comedy circle. A college man and the son of Judge William Colvig, noted jurist of Oregon, the former newspaper man turned to screen comedies as a greater field for expression, and he has appeared in a number of Century fun films recently, including "After a Reputation."
"Century Sticks to Two Reelers,"
Exhibitors Trade Review,
May 23, 1925, page 39
"Hay Fever" in New York

W. Ray Johnston, President of Rayart Pictures Corporation, announces that the print of "Hay Fever Time," the fourth of the Butterfly comedy series, starring Gloria Joy, has been received in New York, and that the fifth of the series, "The Merry Widower," has just been put into production.
In addition to Miss Joy, the cast of "The Merry Widower" includes Conrad Hipp, Joe Bonner, Blanche Payson, Tiny Sandford and Pinto Colvig.
Exhibitors Trade Review,
June 13, 1925, page 56
In "After a Reputation," Miss [Edna] Marian was given unusual opportunity to display her ability to draw laughs. It is a hilarious takeoff on the adventures of a hometown girl who has stage aspirations. It contains some jazzy backstage chorus scenes and also is notable by the appearance of Pinto Colvig, the man with the funny face.
"Four Comedy Two-Reelers from Century this Month,"
Moving Picture World,
August 8, 1925, page
The titles are by Pinto Colvig and help things along materially.
"Peggy's Heroes,"
Exhibitors Trade Review,
September 21, 1925, page 45
A McKnight-Womack production. Story by King Benedict. Titles by Pinto Colvig.
Summary--
A fairy entertaining two-reeler with a number of funny gags which should cause laughs in houses where physical mishaps to the players get a mirthful response from the audience. The titles are fair, and it has been given a good production. The action moves at a fast pace.
"Peggy's Heroes,"
Motion Picture News,
October 10, 1925, page 1716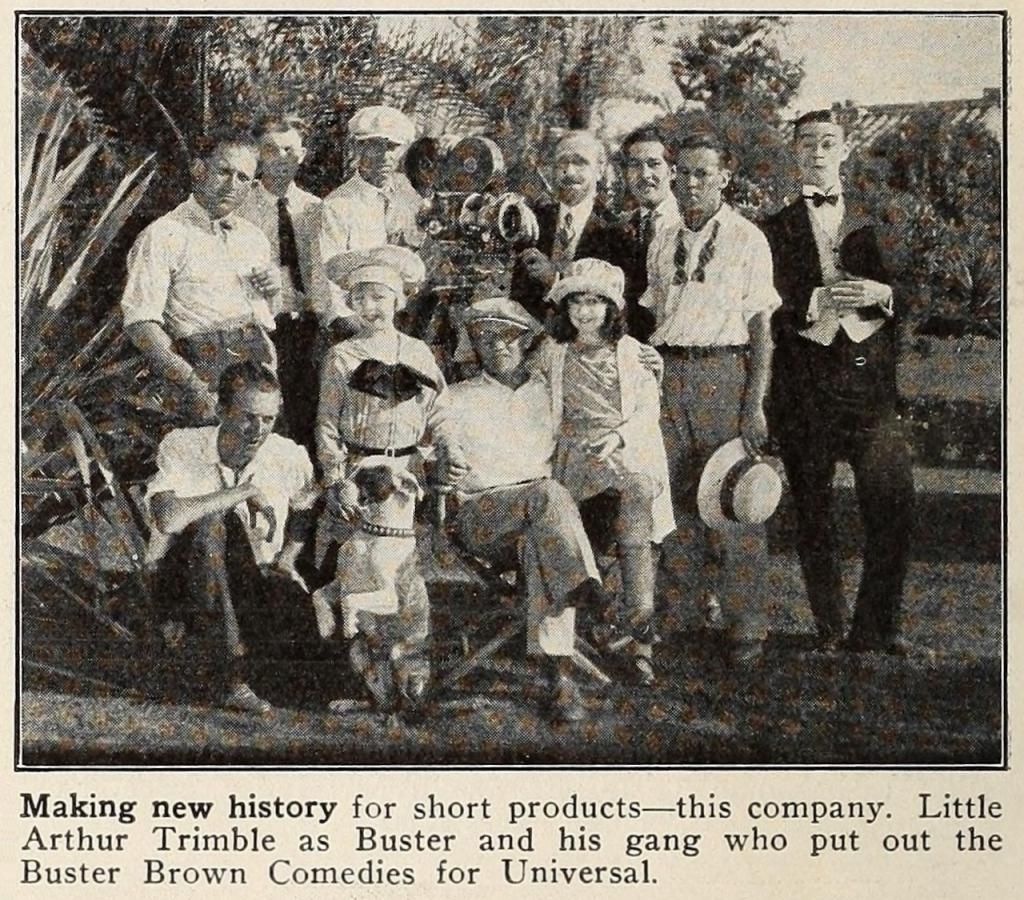 Pinto and the cast of "Oh, Buster," November 21, 1925
Exhibitors Trade Review,
page 24
The last Century release of the month, on November 25th, will be "Oh, Buster," the third of the Buster Brown comedy series, and said to be far better to the first two, which now are establishing new records for Century Comedies. "Oh, Buster" was directed by Gus Meins, a newcomer to the Century lot. He has obtained the maximum comedy out of the ability of Pete the dog-comedian, and has made Tige a very laughable and important figure in the picture. These comedies are adapted from the famous R. F. Outcault newspaper cartoons, but are played by real people. Buster is played by little Arthur Trimble, Mary Jane by Doreen Turner, and the butler by Pinto Colvig.
"Big Month for Universal,"
Exhibitors Trade Review,
November 7, 1925, page 40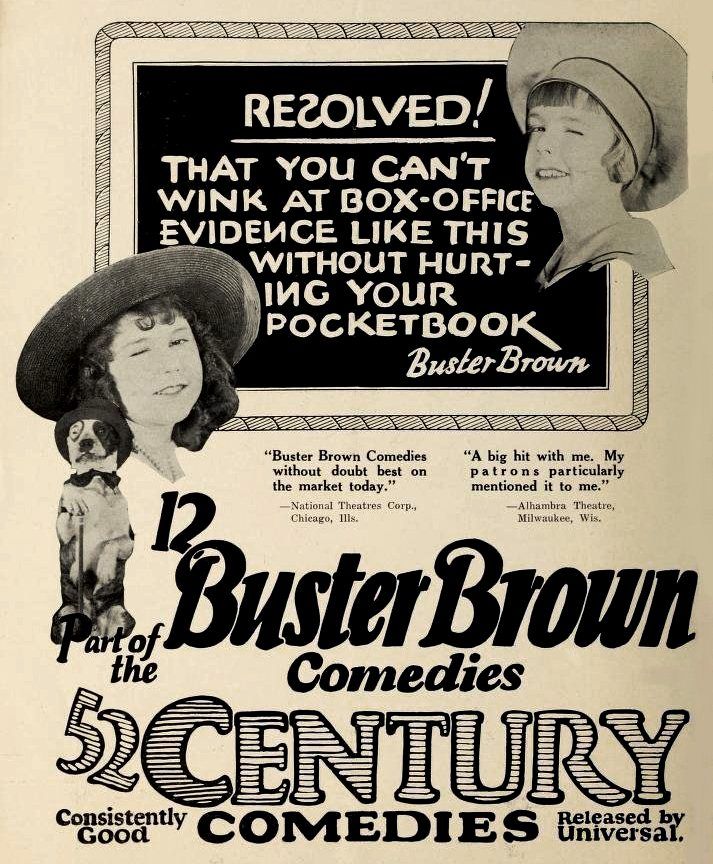 November 13, 1925
Film Daily
The last Century release of the month, on November 25th, will be "Oh, Buster," the third of the Buster Brown comedy series, and said to be far superior to the first two which are now establishing new records for Century Comedies. "Oh, Buster" was directed by Gus Meins, a newcomer to the Century lot. He has obtained the maximum comedy out of the ability of Pete the dog comedian, and has made Tige a very laughable and important figure in the picture. These comedies are adapted from the famous R. F. Outcault newspaper cartoons, but are played by real people. Buster is played by little Arthur Trimble, Mary Jane by Doreen Turner and the butler by Pinto Colvig.
"Two Special Comedies Listed by Century for November,"
The Moving Picture World,
November 14, 1925, page 149
The same principals are being used throughout the Buster Brown Comedy series. In addition to Arthur Trimble, Doreen Turner and Pete the dog, in "Oh! Buster," the cast also includes Pinto Colvig, a character comedian recently seen as the cross-eyed taxi drier with Edna Marian in "After a Reputation."
"Century Studio Starts Work on Third Buster Brown Film,"
Moving Picture World,
October 17, 1925, page 572
The last Century release for the month, on November 25th, will be "Oh, Buster," the third of the Buster Brown comedy series, and said to be far better than the first two which now are establishing new records for Century Comedies. "Oh, Buster," was directed by Gus Meins, a newcomer to the Century lot. He has obtained the maximum comedy out of the ability of Pete the dog-comedian, and has made Tige a very laughable and important figure in the picture. These comedies are adapted from the famous R. F. Outcault newspaper cartoons, but are played by real people. Buster is played by little Arthur Trimble, Mary Jane by Doreen Turner and the butler by Pinto Colvig.
"Exceptional Releases for November Announced by Century Comedies,"
Universal Weekly,
November 14, 1925, page 25
"Buster's Nightmare" was directed by Gus Meins, with Arthur Trimble as Buster, Doreen Turner as Mary Jane, Pete the dog comedian as Tige, and Pinto Colvig as the Brown butler.
"Big List of Century Comedies Scheduled for Holidays and National 'Laugh Month',"
Moving Picture World,
December 19, 1925, page 683
We have just initiated an animation department at the Fox West Coast Studios to handle some comedy novelties which are in preparation. It is our intention to offer four or five novelty Imperials during the season. Pinto Colvig is in charge of the technical and animation department.
"The Comedy Angle of Fox Films,"
Moving Picture World,
January 9, 1926, page 169
Dear Mr. Colvig:
We hereby employ you as a Cartoonist, Scenario and Title Writer, for a period of three (3) months, commencing May 17, 1926, at a salary of One Hundred and Fifty ($150.00) Dollars per week, payable weekly, with the understanding that you grant us an option on your services for an additional three (3) months, commencing August 17, 1926, under the same terms and conditions.
Excerpt, contract with Mack Sennett Comedies, photocopy, SOHS vertical files Further options allowed the contract to be extended to May 17, 1928

Adventurous Career Is Lot of "Pinto" Colvig
Son of Pioneer in Hollywood Doing Movie Publicity After Varied Life at Many Different Games.
By JEUNESSE BUTLER

One day last week, a young, slender, dark-complexioned man, with cap pulled down far over his eyes, walked into the Jackson County Bank, up to a window, wrote out a check for an amount covered by six figures, and pushed it across to Vernon Vawter.
The size of the check almost took the cashier's breath away, before he looked up to see what a millionaire was like. The check was a joke, but the chap who wrote it wasn't. "Why, hello there, Pinto, when did you come into town?" asked Vernon of his old friend, Vance "Pinto" Colvig, who had arrived in Medford from Hollywood, Calif. that morning to help his dad, Judge Wm. Colvig, celebrate his 82nd birthday.
Invented Game

Not so many years ago, "Pinto" was a little freckle-faced youngster going to school in Jacksonville. Wearied by the monotony of the picturesque little village, he invented a game to while away the hours that should have been (according to the school teacher) spent at his lessons.
Little Vance would open his geography to a map of the United States, shut his eyes, take a pin and stick it at random into the map. "I wish I was right here," he would say to himself, and open his eyes. Afterward, when he had left the old home town to become a wandering musician in a circus band, he would think of that old game, especially when waking up in Peru, Ind., White River Junction, Ohio, or some other place where he had been in imagination only, years ago.
Had Wanderlust

"I think I had an ancestor who was a pirate on the Mediterranean, or else the narrow confines of Jacksonville just naturally caused a wanderlust. Or maybe it was only the usual schoolboy dreams, actuated by the circus bandmaster's gorgeous uniform, and the promise "join a circus and see the world--on pay."
That is how "Pinto" Colvig, circus musician, cartoonist, newspaperman, movie actor, "gag" man, scenario and title writer, once of Jacksonville, now of Hollywood, tries to explain his varied and extremely interesting experiences and present occupation.
Liked Shows

"I used to take care of the dogs in 'Uncle Tom's Cabin,' when the show came to the old Jacksonville opry house," he said. "Used to supe, too, every chance I got. I had ambitions in those days, all right. I wanted to be somebody, and have some distinction besides that of belonging to the fire department or the silver cornet band."
When he was 18 years old, and going to college at Corvallis, he took his clarinet under his arm and joined a circus. This landed him eventually in Reno, and soon after on a job as a cartoonist on the
Carson City News.
He had been there a year or two when Al Barnes and his aggregation came to town.
"The city editor of the
News
heard about it," relates Colvig, "and came over to my desk and put out his hand. 'Well, goodbye Pinto, I know this is where I lose a good cartoonist.' He was right. The appeal was too strong. I heard the call of the sawdust and answered.
"A little later, Romance, with the biggest R I'd ever met, came along, and in Portland, Ore. I met again and married one of my old girls. You can't be with your wife and have a home and travel around, so I decided to settle down. I got a job as a writer and cartoonist on the
Bulletin
at San Francisco, where they called me the
Bulletin
Boob. I originated the "California Bear," syndicated a comic strip, "Life on the Radio Wave," and began writing interviews with the famous stars of the cinema."
He used to take the movie actors out to lunch, and in writing up their life histories got to know them pretty well. They began to ask, "Why don't you come down to Los Angeles with the rest of the nuts," and they said it so often that the idea began to get inside his skin.
"Hollywood," declares Colvig, "is no place for the poor, unknown man or girl. Producers and casting directors don't mean to be brutal, but they're just too busy to bother. Letters of introduction get you a hearing, but that's about all. I was mighty glad I had a check coming in from the syndicate every week during my first few months at the movie capital, I can tell you, with a wife and four sons to support.
"With my acquaintance with a number of the important members of the movie colony, and after trying for six weeks, I finally got an interview with Jack White, of the Jack White comedies.
"That was the beginning, and since that time I have written scenarios, titles, subtitles, acted some, seriously and in comedies, doped gags, devised all sorts of funny pieces of screen business, created sets for 25 weeks for Fox, and now have a two-year contract with Mack Sennett.
"They call me the man with a million faces, and often call up and say, 'Come out to location and bring face No. 256.' Mack Sennett is a wonder. Sometimes you hate him and sometimes you think he's great, but at all times he brings out the best you have in you.
"Beauty isn't enough for success in pictures. There must be a sense of artistry as well. Also photographic value, something many pretty girls lack. Good looks necessary for men? Not so much. For instance, I know 200 men that make a scrumptious living off their whiskers.
"Charles Chaplin is the artist of them all. Serious, earnest and modest, he is one of the finest chaps I ever knew. I saw Chaplin at a circus one day, watching the ancient stunts and listening to the threadbare jokes of the clowns. And say, Chaplin was their best audience there. He laughed and clapped, and had a darn good time.
"Ben Turpin is a fine little fellow, too. I never knew anyone as devoted as he was to his first wife, a cripple. He's independent, though. Walks right off the set at 4:30 in the afternoon, no matter what's happening. Won't do a bit of work after 4:30, 'cause that's in his contract.
"Movie vamps? Thought you'd get around to that before long. Someone asked my wife the other day: 'Aren't you afraid, Margaret, that some of these screen vampires will get your Pinto?' 'No, I'm not,' she said. 'When Pinto goes on the set, the vamps all chorus, 'Hello, Pinto, how are all the children this morning?' They know I'm only a married man with four children, and there ain't no use exercising their wiles on me."
Jeunesse Butler,
Jackson County News,
September 10, 1926, page 9
OREGON YOUTH HAS REAL SERIOUS JOB
AS MOVIE GAG MAN
Vance Colvig, Former O.A.C. Student, Band Wagon Enthusiast and Boxcar Idol,
Tells the

Journal

Some of the Highlights in Checkered Career
Since He Came into the World at Jacksonville--Has Four Boys.

Because he was the "freckledest" kid in Jacksonville, Or., Vance De Bar Colvig became "Pinto" to the youngsters of the "bailiwick" the year he started to school. And "Pinto" he has remained to this day, sawdust trails and celluloid routes to fame, fortune and family notwithstanding.
"Pinto" came to claim the attention of Judge and Mrs. William M. Colvig at Jacksonville "in the fall of '92," and while the good judge was advancing politically and otherwise his youngest gave much evidence of the quality of genius that has now brought him to the fore in motion picture work. Both father and son are well known in Portland and the state. The former became head of the tax and right-of-way department of the Southern Pacific, and "Pinto," by way of the circus bandwagon, the cartoonist's easel and matrimony, became a "gag" man and a sometimes comedian in pictures.
The Jackson County youth someday will write it all under the head of "From Sawdust to Celluloid, via the Wedding Route." In the meantime his press agent supplies some vital information for those who know him and those who ought to.
Vance Colvig received his first recognition as a cartoonist at nine years of age when his teacher called upon him to explain his weird caricature of the prominent features of C. C. Beekman, honored Jacksonville banker. "Since then," the artist confesses, "I have avoided being offensive, for memories of that teacher's practical application of a vigorous lesson about respecting dignity remain very fresh."
It was about the same time that the wanderlust seized "Pinto," and found its only rebuffs in the fact that freight trains and hoboes were at Medford, a whole five miles away. Hence he contented himself playing in a small-town band, witnessing crucial horseshoe pitching contests and being a regular boy generally.
Three or four times a year the Quaker Doctors, the Georgia Harper Stock Company and the like would appear. Those were happy days! As a showman "Pinto" was a huge success carrying banners or holding music for the colored trombonist, or "suping" for Georgia Harper. When he was 13 the family moved to Medford--a metropolis of freight cars, twice-a-year circuses and consequent opportunity to defy paternal regulation. Going to school, he avers, was much like taking poison, especially when spring burst upon the orchard lands.
"I thought it would be mighty nice to find myself on the twenty-fifth floor of the New York
Times
building wearing an artist's purple smock, my studio laden with Persian rugs, with Venus and Dante in statue and incense burners in every corner, while I turned out a "Homer Davenport" daily and received a weekly check that made the telephone number blush," Colvig recalls. "Never having been in a big newspaper office, that was my idea of its class. Imagine my chagrin when I did invade the artist's stuffy corner when they had to hang the inkwell from the ceiling for want of room.
"I had visualized a book I would write. 'Around the World on Thirty Cents,' bound in bright yellow, after I had beaten my way around the world. It would be 'By Pinto, Tramp Cartoonist.' But I'm glad now that I never wrote that book.
"My future was a serious matter with Dad. He wanted me to become a great lawyer or a great baseball player, but after mature deliberation he got me a job in the freight department of the Medford depot. One of my daily duties was to check up every car on the side tracks and enter it in a big book. One evening, with time to waste, I made the entry by drawing a picture of the car, putting a hobo on top of it with a brakeman kicking him off. A week or so later the efficiency expert sweetly informed me that I was working for a railroad, not a comic supplement in a newspaper. I objected to the way he 'ran down' my art and I quit.
"Next day I was en route to Portland to take a job with a traveling band. The band breathed its last a few days later in Pendleton, and I was put to it to move around on the under or top side of freight cars. The following fall I became an earnest student at the Oregon Agricultural College. I learned how to paddle a canoe and roll Bull Durham with one hand before I broke loose as a vaudeville chalk talker and wound up in Seattle. There a circus bandwagon claimed me and my E-flat clarinet. I quit the show in Cedar Rapids, Iowa [
July 10, 1913--see above
], and with another ne'er-do-well with a millionaire father somewhere in Kentucky, I did some tall traveling. In one town I hocked the clarinet for a meal ticket and sought a job. My partner landed one at $2 a day, and with his first wages we reclaimed the music maker. The restaurant man hired my friend as a waiter. At meal times I would come in, order T-bone with trimmings, and my waiter would slip me a bill for 'coffee and toast, 15 cents,' and hand me the dime to pay it.
"But another winter was in the offing, and I drifted westward to Denver. An old-time circus bandsman with whom I had traveled enlisted me in a carnival circus band working west. It featured a Roman circus, and our uniforms had Julius Caesars looking to their laurels. We opened in Cheyenne and went broke three weeks later in Colorado Springs. [
The Consolidated Roman Carnival Company opened in Cheyenne August 19, 1913.
]
"Back home again and then for a brief stab at college. But I didn't hit the stride and soon went to Nevada to work on a Reno paper, the
Nevada Rock Roller,
a yellow political sheet. The editor was sent to the pest house with smallpox, and I landed in Carson City as a cartoonist for the
News
during a legislative session.
"And then came another spring. 'Twas circus time. I was off. I finished the season atop the bandwagon and sailed from Los Angeles to Portland.
"We moved to San Francisco, where I made animated film cartoons for a couple of years. Worked a year as a feature writer and cartoonist for the
Bulletin,
where I was known as 'the boob reporter.' I quit that to make the first colored animated cartoons for Prizma, Inc. Then I made a strip for the
Chronicle,
which was syndicated through the country. My newspaper interviews put me in touch with movie people, who encouraged me, and I kicked over the traces and came to Los Angeles. I worked as 'gag' man on a picture for Century Comedies and then was called by Jack White, where I am doing gags, titling and acting when I feel like it in Mermaid Comedies. Jack White, only 24 years of age, 12 different minds where only one ought to be, is a great fellow to work for. Yet I seem to work with--not for--him. There you are. The whole truth, but not all of it."
"Pinto" now gets his kick out of taking his four fine boys to the circus and making himself one of the "hicks" with a bag of peanuts, balloons and all. It's better than trouping under the big tops, he says. But hoboing, circus days and Jacksonville nativity have given this "boxcar idol" and "circus bandwagon enthusiast" a great grasp of details and human nature, and he's capitalizing [on] these in films.
Undated
Oregon Journal
article circa 1926, SOHS MS9, folder 30
COLVIG'S MOVIE OUTFIT DEPARTS FOR PROSPECT

Vance "Pinto" Colvig, former local resident, representing the E.F.R. [
sic
] movie company of Los Angeles, and a crew of seven, left this morning for Prospect, where they will establish camp for the taking of Crater Lake movies, also snow and timber scenes, for use in forthcoming productions. Upon the return of the party movies will be taken of scenes in this city, and also views of Jacksonville, for use in "Days of '49" pictures. In the shooting of Crater Lake, it is planned to use an airplane.
"We will take about four sets of pictures here," said Colvig, "and will use some of them in productions to appear in the fall, and others will be scenically descriptive views. I want to get some pictures of Jacksonville and adjacent country, for use in mining pictures."
Mr. Colvig said that pictures of Medford and surrounding territory would be taken from the air at a later date this summer.
"Pinto" is a part owner in the film company now here, and is the son of Judge W. M. Colvig. He will direct the taking of the local pictures. "Pinto" is well known locally. He used to play the flute, cornet and bass horn in the Medford band. He is also a cartoonist, and has won considerable fame as a maker of animated film comics, cartoons and pictures.
Medford Mail Tribune,
June 3, 1927, page 7
"Pinto" Colvig made a few witty remarks regarding life in Hollywood among the movie folks [at the Kiwanis meeting today].
Mr. Colvig said the company in which he is interested has just finished spending several days shooting pictures of Crater Lake and the surrounding scenery, that two of its men went by planes to shoot Crater and Diamond lakes from the air and that they would be in this vicinity for several days not securing pictures around Prospect, Table Rock and other places. He was born in Jacksonville 34 years ago, and last week was the first time he had seen Crater Lake.
"Airplanes Are Shooting Local Lakes Today,"
Medford Mail Tribune,
June 13, 1927, page 8
MOVIE ACTORS RETURN AFTER DEATH SLIDE
E.R.L. Company Back from Crater Lake--Emlay Had Close Call--
Camera Is Saved--To Shoot More Scenes.

With his head still bandaged from the effects of a fall down a steep embankment last Tuesday evening a short distance above the Anna Spring camp in the Crater Lake National Park,
Earle Emlay
, director of the E.R.L. Productions company, which has been in southern Oregon for a number of weeks, was in Medford for a short time this forenoon with his entire company preparatory to taking a number of mountain scenic pictures this afternoon.
As a result of the fall of 50 or more feet down a rocky, snow-covered bank, Mr. Emlay was rendered unconscious for two hours, striking his head on a rock.
Paul Power
, who fell with him when a hollow snowbank collapsed, was bruised but not severely injured.
At the time of the accident, attempts were being made to film a sunset, with the camera, an expensive machine, set on a snowbank, which was believed to be solid. Without warning, the snow caved in, causing Emlay and Power, who has been playing the lead in the moving picture scenics which have been taken here, to fall and slide to the bottom of the bank, with the camera and equipment tumbling after them. Emlay was rushed to the home of Colonel C. C. Thomson at the Anna Springs camp, where first aid was rendered. The camera, while considerably damaged from the fall, was not ruined as previously reported.
While searching for pieces of equipment the next day, it was discovered that all the snow on the bank was hollow, having melted several feet above the ground, leaving it an unsafe hollow shell. The pictures not being completed, Emlay plans to return to the same spot next week or later to take several hundred feet of film, showing the beauties of a mountain sunset.
The E.R.L. company plans to spend another three weeks in Southern Oregon before returning to headquarters in Southern California, and during that time expect to film approximately 10,000 more feet of local scenery, in addition to the 10,000 feet which has already been taken. Selecting the better views, in the neighborhood of one-half of the footage will be prepared for theater exhibition in all parts of the United States as well as foreign countries. A number of thrilling "shots" are to be taken next week, but due to the fact that spectators are not wanted, the locations have not been made public.
Medford Mail Tribune,
July 1, 1927, page 1
The full story of the E.R.L. company's visit to the Rogue Valley is told here.

FILM SCENES ON ROGUE TODAY

On location along the Rogue, the E.R.L. Production Company, of which "Pinto" Colvig, a local boy, is a member, shot several hundred feet of film yesterday. A group of Medford people, including representatives of the press, were the guests of the company for the day and watched the company in action.
Moods of the Rogue were caught as the camera followed the famous river down the valley, and scenes of southern Oregon beauty were cataloged in filmdom before the eyes of an approving Medford audience.
The company expects to remain near Medford during the greater part of the summer.
Medford Mail Tribune,
July 5, 1927, page 8
Several publicity photos of the filming are preserved in the archives of the Southern Oregon Historical Society.


Dear Mr. Colvig:
We hereby employ you as a Cartoonist, Illustrator, Scenario Writer, Gagman, Animator and Designer, for a period of three (3) months, commencing July 18, 1927, at a salary of One Hundred Twenty-Five Dollars ($125.00) per week, payable weekly, with the understanding that you grant us the following future options on your services.
Excerpt, contract with Mack Sennett Comedies, photocopy, SOHS vertical files Further options extended to July 18, 1928

'Pinto' Colvig Wracks Brain for Way To Draw
Limburger Smell on Celluloid

"Back again in the tropical south with only dim memories of The Snow That Was. Will say that I enjoyed my visit with the home folks, scenery, etc.," writes Pinto Colvig from Mack Sennett's studios, Edendale, Cal.
He continues, "Mack Sennett's buzzed my phone for two weeks, and the day after I got here he signed me on a year's contract, same work as last year, trick-cartoon gags and titles. The first crack they handed me was working on the big half-million-dollar war romance comedy, featuring Johnny Burke and the Sennett beauties. [
Probably "The Good-Bye Kiss."
]
"I have had all kinds of goofy and unusual ideas for me to create along the trick-cartoon process, but when Sennett asked me yesterday if I could draw the smell of Limburger cheese and show it on the screen, it made me think twice. However, I'm doing it."
He explains, "The gag shows where a piece of the cheese falls in the bellows of a small organ the comedian is playing, and upon that scene and film I've got to show the smell coming out. I hope they don't expect me to actually make it smell, although the gaff might be so terrible it might do that anyhow."
Medford people will recall that Mr. Colvig was the first to bring the E.R.L. Productions company to Medford and interest them in this section.
Medford Daily News,
July 29, 1927, page 1
Signs Colvig Scenarist

"Pinto" Colvig, formerly with Mack Sennett, has been added to the Darmour-FBO Scenario Staff.
The Film Daily, January 29, 1928, page 11
PINTO COLVIG BUSY ON SHORT SUBJECTS

Pinto Colvig, of the Darmour-F.B.O. Comedies, is not only busy as a scenarist in the short subject field of this organization, but is exhibiting notable cleverness in what he calls the Pinto process of animation. These are trick shots which set many fans to wondering how they are produced. Here is another example of his versatility. In "Restless Bachelors," the recent Al Cooke picture for Darmour Productions, Colvig not only played a prominent role, but collaborated on the story and titles and did all the cartoon work in the picture.
Unidentified clipping, Pinto Colvig papers, SOHS MS9,F26
Pinto Colvig of the Larry Darmour forces is now known as a "cinematoonist." Pinto has had a varied career, his experiences including a year as a musician with a circus. Pinto enjoys telling the story concerning a young circus musician, who believed musicians had to wash circus tents.
Ralph Wilk, "A Little from 'Lots'," The Film Daily, May 13, 1928, page 9
Pinto Colvig Puts His Creations on Movietone Pictures

"Pinto" Colvig, former cartoonist and comedy writer, has created "Bolivar," the talking ostrich, which will be shown as a series of short subjects on the screen, says Hollywood Filmograph, the publication devoted to motion pictures, vaudeville and theatrical productions. The productions will be made with sound and talking sequences, with Walter [Lantz.] Lantz, originator of "Colonel Heeza Liar" and "Dinky Doodle" cartoons, and former supervisor for Bray animated cartoons, is associated with the firm, known as Bolivar Productions.
Charles Diltz, well-known comedy director, will direct the series. Diltz has a reputation for producing surefire comedies and, with the combined experience of these three pioneers in their line, the theater-going public will be given many laughs via seeing Bolivar and "Pinto" perform on the screen.
"Pinto" as Vance DeBar Colvig, son of Judge Colvig of this city and a former Medford High School student, is well known here, where he often visits his father and other relatives.
Medford News,
December 28, 1928, page 2
PROGRAM OF SHORTS BY R-K-O ALL TO BE IN SOUND

RKO's short product program for 1929-30 comprises two series of Larry Darmour comedies from Standard Cinema Corp.n one called "The Record Breaker Series" from H. C. Witwer stories; and another the "Mickey McGuire" comedies based on the cartoons of Fontaine Fox; and Walter Futter's "Curiosities," presented by the Amedee Van Beuren Corp. All will be in sound.
"The Record Breaker Series" will have a theatrical background similar to that in "The Racing Blood Series," a 1928-29 release, while the plots will be concerned with airplane stunts, auto races, motorcycle races and motor boat contests. "The Mickey McGuire Series" will be two reelers with Mickey McGuire, as well as the Scorpions Club, Tomboy Taylor, Hambone Johnson, Stinky Davis and his gang .
Script writers and gagmen include: E. V. Durling, Ben White, H. A. Woodmansee, Joseph Basil, Pinto Colvig, C. M. Kerr. The directors will be Albert Herman, Ralph Ceder, Slim Summerville, St. Elmo Boyce.
"Curiosities," hitherto silent, will have sound for the '29-30 program. Monologue spoken from the sidelines and prepared by humorists on the subjects presented will be one of the dialogue features. The latest sound "Curiosities" release is "Follies of Fashion" and deals with fashions worn 25 years ago and the styles of today. "The Mysteries of Pearl Growing" and "The Spooks of Winchester House" are two recently completed pictures of this series.
The Film Daily,
March 31, 1929, page 26
TWO SERIES OF "MUSICAL TABS" FROM DARMOUR

Two series of "musical tabs" are planned by Larry Darmour in the 26 talking and singing shorts he will make for RKO release next season. They are to be "The Record Breakers" by H. C. Witwer and the Mickey (Himself) McGuire series, based on the cartoons by Fontaine Fox.
Alberta Vaughn has been signed to a starring contract for "The Record Breakers," with Al Cooke playing the male lead, supported by Lew Sargent and George Gray.
Script writers and gagmen for Larry Darmour productions are E. V. Durling, Ben White, H. A. Woodmansee, Joseph Basil, Pinto Colvig and C. M. Kerr, while directors include Albert Herman, Ralph Ceder, Slim Summerville and St Elmo Boyce.
Release dates on these two series are as follows: Witwer, "Record Breaker Musical Tabs" series; one every two weeks beginning about August 18th, "Mickey (himself) McGuire Musical Tabs" one every month beginning about September 8th.
The Film Daily,
July 2, 1929, page 4
JUDGE COLVIG HOME FROM HOLLYWOOD

Judge W. M. Colvig, who has been visiting in Hollywood for the past month, returned to Medford last night, bringing with him his grandson, Byington Colvig, who will remain in this city until next fall.
Byington is the eight-year-old son of "Pinto" Colvig, who is now under contract with Universal Pictures, doing fake and trick photography and writing titles. The latter is well known in Medford, where he made his home for many years.
Medford Mail Tribune,
March 15, 1930, page 8
Colvig Completes Pen-and-Ink Talkie
"Pinto" Colvig, film cartoonist, sometime staff artist on a San Francisco newspaper, has completed another pen-and-ink talkie, "The Detective." Here
Oswald, the lucky rabbit
, having been accused of the murder of Cock Robin, becomes involved in one of the most exciting courtroom scenes ever to grace the screen.
In his newspaper days in San Francisco Colvig's chum was none other than Willard Huntington Wright, who has taken to detective fiction himself in the interim, with distinguished success under the name of Philo Vance.
San Francisco Chronicle,
November 23, 1930, page 39
Screen's Comic Rabbit to Give Radio 'Concert'

Oswald, the Rabbit, Universals cartoon comic, is to entertain youthful radio listeners-in Christmas Eve by presenting a musical program over the Columbia broadcasting chain. Walter Lantz, Bill Nolan, Pinto Colvig and others who add their wit and artistry to little Oswald's screen ramblings will assist in this novel presentation.
Oswald's most recent cartoon travels have carried him from Arizona to Alaska--a long trip even for a pen and ink rabbit.
San Diego Union,
December 21, 1930, page 47
HOLLYWOOD, Nov. 14.--"Believe it or not, Bob, my 'Three Little Pigs' have ended the Depression," Walt Disney confided to me yesterday. . . . "The biggest hit of any cartoon comedy ever made . . . if the fact that the picture has cleaned a cool million means anything . . . and it's good for a half million more."
Disney submitted the idea to his staff three times before they fell for it. . . . It went through the inking department in ten days . . . a record in animating when you consider it runs around 750 feet and takes eight minutes to screen. . . . A trio . . . the Rhythmettes . . . did the three little pigs . . . and a member of Disney's staff was "the big bad wolf."
Pinto Colvig . . . former newspaper man and a member of Disney's staff . . . suggested the bad wolf line . . . and Frank Churchill wrote the music . . . the "tra la la la la" last line was given to the flute and violin when the author couldn't make a line fit. . . . And only four characters appear in it.
Publishers Syndicate,
San Antonio Express,
November 14, 1933, page 7
Stars in Films

Vance DeBar Colvig, of Hollywood, Calif., a cousin of Mrs. L. G. Patty, is the "pig" that plays the fife in the musical numbers in "Three Little Pigs," which is at the Earle Theater today and tomorrow. Mr. Colvig, who also plays the part of Noah in "Noah's Ark," which Don J. Smith has booked to play at Carroll soon, is the creator of "Lucky Rabbit." His pen name is "Pinto."
Carroll Daily Herald,
Iowa, November 27, 1933, page 1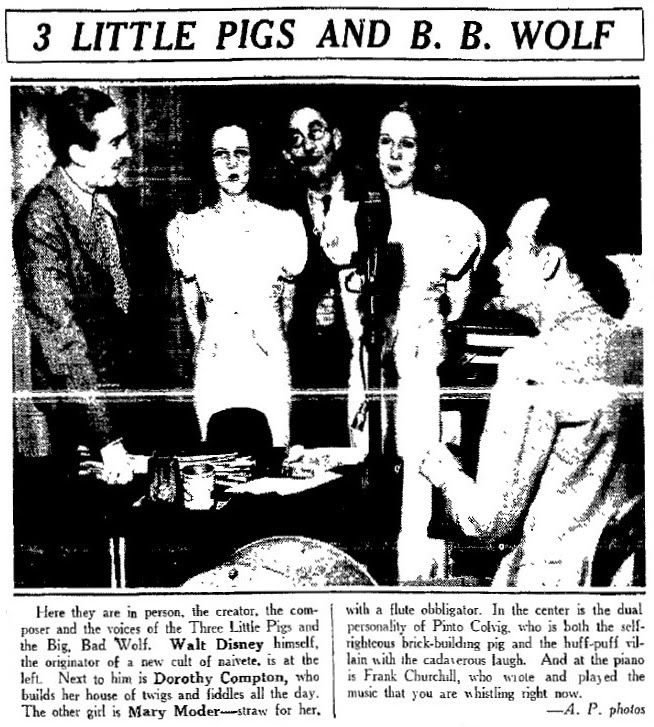 December 19, 1933
Oakland Tribune
COLVIG PICTURED IN LITTLE PIG FEATURE
An interesting photograph in the Los Angeles newspaper reveals the voices of "The Three Little Pigs," popular Walt Disney film. They are Pinto Colvig, formerly of this city, who sang the tunes of the industrious third pig; Dorothy Compton, impersonator of the pig who built his house of twigs, and Mary Noder, who played the part of the first little pig, who built his house of straw.
Colvig also talks the role of Pluto, the pup, in the Mickey Mouse comedies.
Medford Mail Tribune,
December 31, 1933, page 7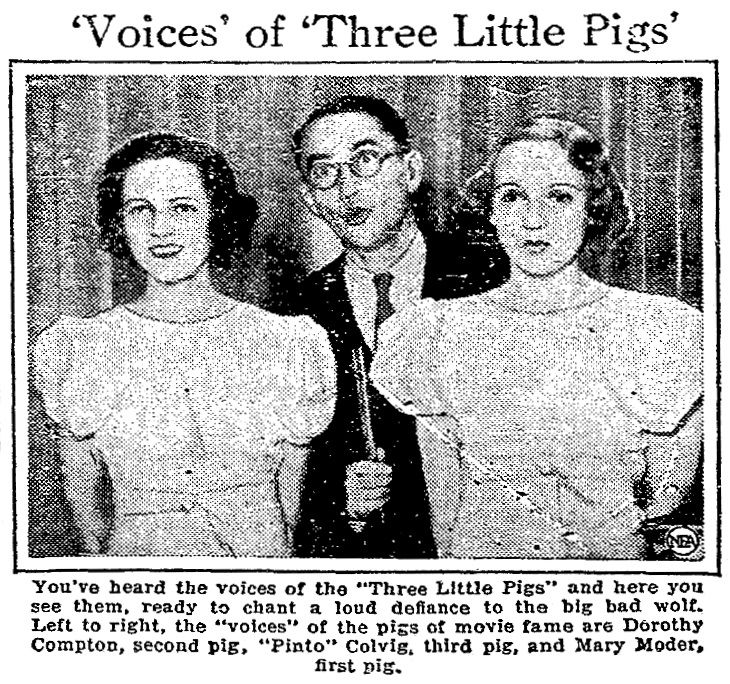 January 10, 1934
Baton Rouge State Times Advocate
WALT DISNEY PRODUCTIONS Ltd.
MICKEY MOUSE
SOUND CARTOONS
2719 HYPERION
HOLLYWOOD
March 5 1934
Mrs Ford Cline
1214 Seventh St
Huntington W Va
Dear Mrs Cline:
Your letter received. According to my grand old Dad (Judge Wm. M. Colvig of Medford Oregon), ALL Colvigs are related. My father, who is nearly 90 years old, but still of good health and intellect, will be very glad to get your letter, which I am forwarding to him today. Up thru the years he has compiled quite a complete "family tree" of "from whence we came", dating 'way back to France when one of our forefather's sailed to this country with Jerome Bonaparte. They remained in this country, fought in the Revolutionary War, and it was he who changed the original name of Colvigne (Col-vin-yay) to Colvig. I understand the "Col" meant WITH and the "vigne" meant WINE, in an old south-of-France language, now extinct. So, therefore, it means: "with wine".
I will not go on here with the Colvig lineage, because I know Dad will send you the "whole works".
My real name is Vance De Bar Colvig, but professionally I am known as "Pinto", a nickname I picked up when I was a kid, owing to the many big freckles which adorned my face - resembling a spotted pinto pony. I have had quite a wild and checkered career during my 41 years on earth. Born in Jacksonville Oregon - almost finished high school - 3 years in Oregon State College - 3 summers playing in a circus band - a season in vaudeville - primarily I am a newspaper cartoonist and comic writer, having worked mostly on San Francisco papers. Have been in "the movies" for 12 years, as a comedian & scenario writer. 2½ years here with Mickey Mouse as scenario writer . . and barking for Pluto, Mickey's pup - singing for the 3rd Pig and several other characters you see in the Mickey Mouse's and Silly Symphonies. Lately I have been singing over the radio (Columbia Broadcasting System) particularly, KHJ Station here in Los Angeles.
I, too, am married (18 years) and we have 5 boys - ranging from 3 to 16 years.
Good luck to you and yours,

Sincerely,

The air premiere of a new Walt Disney melody, "The Farmer in the Dell," which was written specially for Pinto Colvig, the Disney sound effect man, will be featured on the "Treasures of Time" program tonight. (KFRC, 8-8:30 p.m.)
Pinto himself will sing the number while Raymond Paige's orchestra furnishes the accompaniment.
"New Disney Tune to Be Heard Tonight,"
San Francisco Chronicle,
August 8, 1934, page 10
"California Melodies," directed by Raymond Paige and originating in the CBS Studios at Los Angeles, will have a most unusual feature tonight at 8 . . . a musical and dramatic portrait of the late John Philip Sousa, the great composer of band music and a musician of no mean ability . . . and another highlight of this thirty minutes will be "The Bingville Band," a new composition, presented by Pinto Colvig . . . who, if you have forgotten, is a sound effects man for Walt Disney's animated cartoons. . . .
"Radio Flashes,"
Harrisburg Telegraph,
Pennsylvania, August 10, 1934, page 13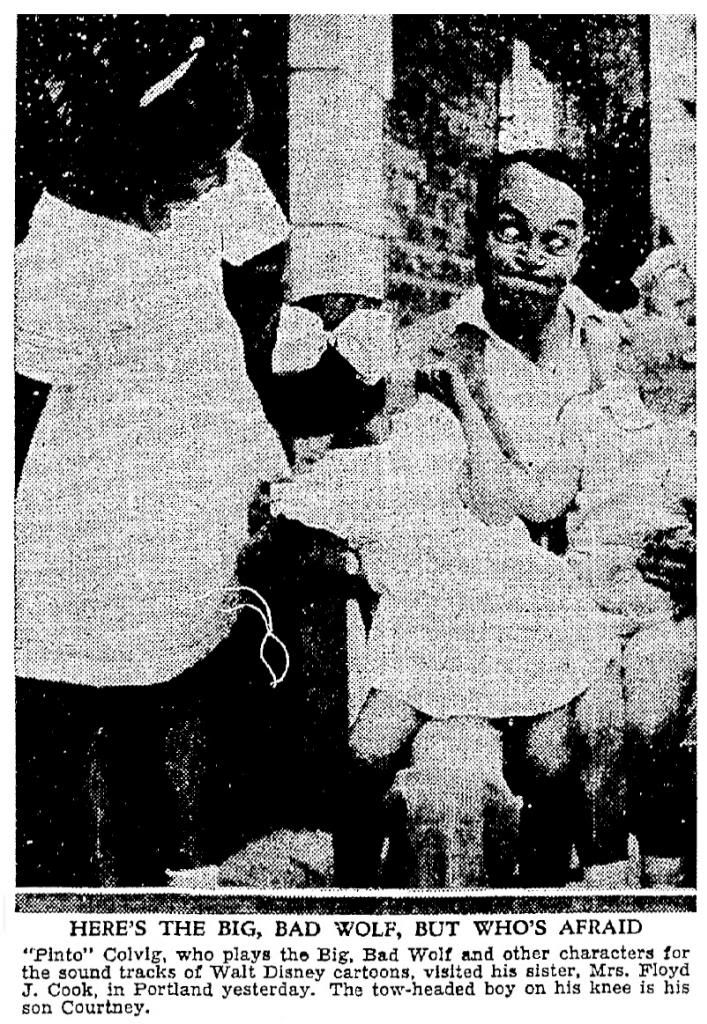 With son Courtney, August 26, 1934
Oregonian


"BIG BAD WOLF" ON VISIT HERE: NATIVE OF OREGON
"Pinto" Colvig, Versatile Member of Disney Organization,
Says Popularity of Song Still Mystery.
BY FRED M. WHITE
Drama Editor,
The Oregonian.
The Big Bad Wolf is the brother of Mrs. Floyd J. Cook of Portland, and a new popular song to the contrary notwithstanding, he is not dead. His off-screen name is "Pinto" Colvig, and he was a Portland visitor yesterday at the home of his sister, Mrs. Cook. When a cameraman and reporter from
The Oregonian
arrived at the Cook home in the afternoon, Mr. Colvig, surrounded by 40 or 50 neighborhood children and a few of their parents and grandparents for good measure, was staging an impromptu entertainment.
It really is unfair to Mr. Colvig to refer to him as the Big Bad Wolf, because the B.B.W. is a villainous character who richly deserves the unpopped popcorn and other punishments meted out to him on the screen. Mr. Colvig, on the other hand, is as merry as Old King Cole and likes to spend his vacation making little children laugh--an endeavor at which he is a big success.
The Grasshopper and the Ants, 1934
Moreover, in the picture "Three Little Pigs," in which he played the Big Bad Wolf, he also was the industrious, bricklaying pig, and he played both parts again in "The Big Bad Wolf." He also was the grasshopper in "The Grasshopper and the Ants," and he often barks for Pluto the dog in the Mickey Mouse films, and takes other parts as occasion may require. While not performing for the recording microphone,