Medford Pioneers: C. E. "Pop" Gates

WASHINGTON, July 22.--The attorney general has ordered dissolution of what is commonly known as the Bath Tub Company, which is a combination backed by $100,000,000, and whose actions are felt in almost every home in the United States.
One of the companies made defendant as a component of the trust is the Union Sanitary Manufacturing Company, which has a large plant at Noblesville, superintended by C. E. Gates.
"Bath Tub Trust to Be Smashed by Federal Act,"
Indianapolis Sun,
July 22, 1910, page 1
MANAGER C. E. GATES SAYS IT'S NO TRUST
Declares Plan of Organization of Bath Tub Manufacturers Is No Secret.
(Special to the

Sun.

)

NOBLESVILLE, Ind., July 22.--C. E. Gates, general manager of the Union Sanitary Manufacturing Company, said Friday morning there was no secret about the plan of organizing the bath tub manufacturers' organization.
"In one sense of the word," he said, "we are in a trust, and in another we are not. I would rather call it an association. It was organized about two months ago and includes all of the leading bath tub manufacturers in the country. We are operating under a government license, and the plan of our organization is no secret. In my judgment whatever action the government may take will not affect the Noblesville factory."
Indianapolis Sun,
July 22, 1910, page 1
FOR SALE--Fine location for country home; thirty-six acres; only four blocks from courthouse, steam and interurban roads, Noblesville, Ind.; overlooking town and White River; fine cottage, extra-large barn, wind pumps and good fences; all improvements the very best; five acres fine woods; also contains baseball grounds and best half-mile race track in state; price, $300 per acre. Address owner, C. E. GATES, Noblesville, Ind.
Indianapolis Star,
December 23, 1910, page 14
Medford Mail Tribune,
February 24, 1912
HOW TO BUY AN AUTOMOBILE
Is Easy Matter for a Man to Check Up the Agents by Referring
to a Catalogue--Freight Plus Factory Cost Is All.

The automobile has come to stay. The demand for it has proven that it is not a fad that will die in time, as it is well known that when a man has once owned a machine, he will never do without one. The time has come when every man in moderate circumstances or with a fair salary wants one and when sold at a legitimate profit can own one. The time is drawing near when fancy prices cannot be asked for a car.
The average man knows when he is getting value received, and he does not have to refer back many years to remember the prices on bicycles, etc., and to know that he can get as good a bicycle today for $40 as he had to pay $150 for a few years ago. There are as yet too many agents who expect to make a year's salary on the sale of from three to five machines. If you are expecting to buy a car, ask the agent for a catalogue, all manufacturers issue them, and see the price at which they are quoted at the factory, add to that the freight which can be had from the railroad company, and the value of the additional equipment you are to receive, and you can easily find out whether or not you are buying the car at the right price. In buying a car the purchaser should inquire as to the guarantee and satisfy himself as to whether the promised guarantee would hold good. A man selling automobiles should have an established place of business to enable him to back up his guarantee by taking care of his customers and looking after the machines he has sold, as it is an everyday testimonial as to the quality of the car and his word he has given the purchaser as to its durability and efficiency. A satisfied customer is the best asset a dealer can have.
I am selling cars with a year's guarantee, and when I say this I mean it in every sense of the word. When a man buys a car from me I want him to feel at liberty at any time to drive into my place and have his car adjusted, should it need it, without any cost to him. And should any part break through any defect whatever I will replace it without any cost to him. It has been the general custom that as soon as you sell a man a car, you have no further interest in him and the less you see of him the better, but my idea is to keep in touch with every Overland car, whether I sold it or not. If it is running good I want to know it, and if it is running bad I want to know it. Also if it is running good tell the other fellow, and if it is running bad tell me. I want every man to feel that he is getting his money's worth. When a man feels that he is getting just treatment he will certainly be glad to recommend the seller to his friends. Don't buy a car on the spur of the moment; think it over, investigate for yourself the merits of the different cars, and after you have satisfied yourself as to which is the one to buy, then buy it and not before.
C. E. GATES
Medford Mail Tribune,
February 24, 1912, page 12
HOOSIERS ORGANIZE; 250 MEMBERS LISTED

Recounting reminiscences of pioneer and modern life of Indiana, 125 members of the Rogue River Valley Hoosier Club met Wednesday night at the I.O.O.F. Hall and enjoyed a most pleasant evening, which included a banquet and an excellent program.
The club is one of the largest state organizations in the city and has an enrollment of 250 members. Many delightful gatherings have been given in the past, and more are planned for the future. Chief among these is a picnic to be given on August 9 in honor of ex-President Benjamin Harrison, the only Indiana President.
The meeting Wednesday night was called to order by president M. A. Rader. The program follows:
Invocation, D. F. Wilson; "Reminiscences Around Noblesville," C. E. Gates; "Blossoms from Bloomfield," H. B. Graham; "Adrift in Logansport," Professor Stine; "Medford vs. Peru," Mr. Butler; "Spitzenburgs in Indianapolis," W. A. Jones; "Skinny Horse Race," August D. Singler.
Following the program the following offers were elected: C. E. Gates, president; August D. Singler, vice-president; S. B. Graham, secretary and treasurer.
Medford Mail Tribune,
April 18, 1912, page 4
THREE OVERLANDS SOLD SATURDAY

C. E. Gates, the Overland man, Saturday sold three automobiles to residents of the valley. E. G. Brown of Medford bought a 40-horsepower torpedo body touring car, J. L. Wilson of Griffin Creek purchased a 30-horsepower touring car, and M. M. Root, a newcomer to the valley, also purchased a 30-horsepower car.
Medford Mail Tribune,
August 26, 1912, page 3
PEOPLE CONFUSE C. E. GATES WITH FORMER HOUSEBUILDER

C. E. Gates, candidate for mayor, wishes to announce that he is in no way connected with H. E. Gates, who recently erected a number of houses on Rose Avenue and later left the city. Mr. Gates in making this announcement states that a large number of people have him confused with H. E. Gates and that he believes this impression should be corrected.
Medford Mail Tribune,
November 23, 1912, page 4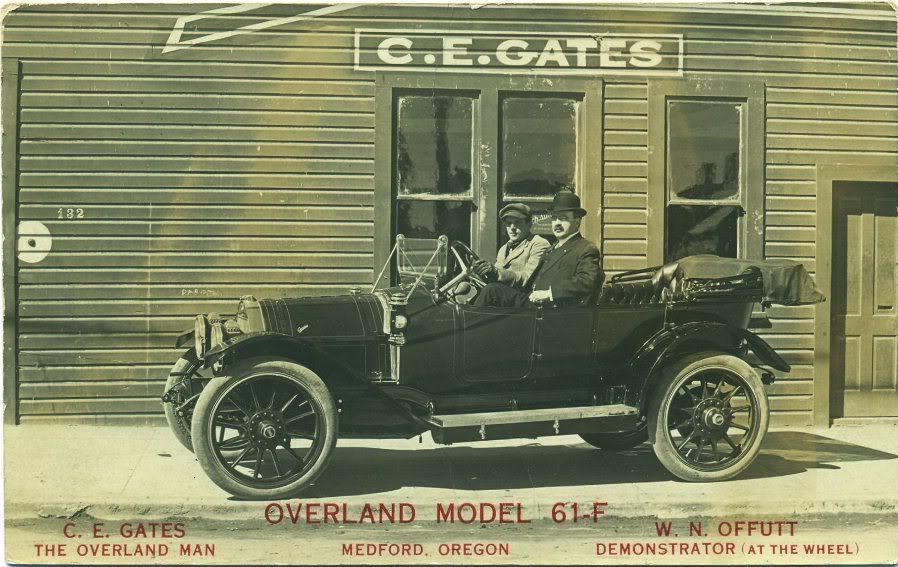 Pop Gates behind the wheel of a 1912 Overland.
COMMUNICATION.
Mr. Gates Replies.

To the Editor:
Replying to Mr. Drumhill's article concerning my platform, I am pleased to know that, so far as it goes, it meets with his approval. His article has some very good suggestions, but there are others that would admit of considerable argument. Taking his suggestions in the order named: First, Salaries. It is generally conceded throughout this great land of ours that every man's time should be worth something, and there are very few, if any, places in this country where he devotes his time to any cause without some remuneration. Nevertheless I have not entered in this race with any idea of remuneration, and if at the next election the people deem it proper to vote to abolish all salaries of public officials, it will be perfectly satisfactory to me.
Regarding saloons closing at 8 o'clock, we must endeavor to be just and equitable to all. The one clause in my platform, equal rights to all, special privileges to none, would cover this. We should be careful to not be overzealous in such matters and thoughtlessly persecute instead of prosecute. The government, state and city license them, and they pay more for the privilege of doing business than any other line of business. Eight o'clock in the evening is the time when everyone usually begins to enjoy themselves after their daily toil, and there should be no particular cause for crime this early in the evening.
If I am not misinformed, there are no chairs and tables in the saloons at the present time. If the saloons live up to the laws as they are on statute books at the present time, they should be well regulated and orderly.
If I were mayor, and your city charter would permit it, I would be more than pleased to have the justice of the peace act as police judge. I believe the mayor should feel that he is the servant of the people and, if he does not fulfill the oath of office, is subject to their criticism.
Respectfully,
C. E. GATES.
Medford Mail Tribune,
November 25, 1912, page 4
C. E. Gates

During the last ten days a number of citizens have called upon me, requesting me to become a candidate for mayor of the city of Medford. After due consideration and consultation with citizens in all lines of business, I have decided to announce myself as a candidate for said office. I therefore present to the voters of Medford, for their consideration, my platform, which is as follows:
An honest, open and above-board, clean-cut business administration.
A fair and square deal at all times.
Equal rights to all. Special privileges to none.
A genuine people's public market.
Regarding the liquor question. Personally I do not drink, never have, but as long as the government, state and city license saloons, and under strict regulation they obey the law, they are entitled to protection. Should they persist in disobeying the law, their license should be revoked.
A careful accounting of all finances.
All disbursements subject to public inspection and open for publication by the city press.
Due consideration of all petitions for and against public improvements.
A rigid practice of economy, except when such economy has a tendency to retard progress.
I will further all progressive matters of general improvement for the city, but such must come within the scope of good business.
I shall endeavor to use my best efforts for the keeping of the city in a sanitary conditions at all times.
Whereas, after years of struggle, the women have been given the privilege of exercising their rights of citizenship, due consideration will be given them on all matters of public importance. Should I be elected, I assure the people that I will be mayor in fact as well as name. I will not be the tool of any clique, and will be influenced only by what I believe to be right and equitable. If the above platform meets with your approval and you believe I am capable of filling the office, I will appreciate your support.
C. E. GATES.
(Paid Advt.)
Medford Mail Tribune,
December 7, 1912, page 5
C. E. Gates is a live wire. He sizzles and snaps. When he starts to do anything he does it. Although he has been in Medford a short time, he is well known and has made a splendid impression as a capable and enterprising business man.
Here is his biography in a few words:
C. E. Gates was born in Monticello, Ind., December 24, 1871. He has had a long and successful career in the line of large enterprises. Early in life he was statistician for the Columbus Construction Company of Chicago, Ill., and later accountant for the Chicago Economic Fuel gas company.
In 1900 he became receiver's manager for the McElwaine-Richards Company of Noblesville, Ind., a large bathtub factory. He successfully managed this institution, placed it on its feet, reorganized it as the Union Sanitary Manufacturing Company and became its vice-president and general manager.
For the last ten years his business has been that of taking crippled manufacturing institutions and placing them on their feet. The president of the Indiana State Board of Health states:
"We know him as a doctor of crippled and embarrassed businesses."
During his career as a manufacturer Mr. Gates was for several years president of the Enameled Ware Manufacturers Association and vice-president and chairman of the organization committee of the Soil Pipe Manufacturing Association of the United States. He was also president of the school board of Noblesville, Ind.
Mr. Gates is a member of the Presbyterian Church, an Elk, K. of P., thirty-second degree Mason and a Shriner.
Medford Sun,
December 15, 1912, page 1
You can talk about automobiles, but when you are through talking and begin to investigate the qualities and the service, you will finally settle on
THE OVERLAND.
Do not believe all you hear but investigate for yourself--go to the different repair shops and see if you see anyone spending any money on an Overland. I have sold over fifty Overlands during the fourteen months I have been in business in Medford, and not a single one has had a replacement of any of the working parts of the car--neither has the owner spent a single dollar for repairs. This is an absolute fact and can be proven by investigation.
This is an absolute fact and can be proven by investigation.
This is an unequaled record for the Rogue River Valley and surely is worth something to the man buying a car. If you want to buy a car with all the modern equipment, I have them also and it is an Overland. Any mechanic, after investigating, will tell you that we have the best self-starter on the market anywhere. Investigate the car, investigate the man selling them, investigate my methods of selling and the service I give to owners of cars; then inquire of owners of other cars as to how they have been taken care of and I will abide by your decision.
If there were better cars made for the money, I would be selling them, for I have been offered the agency for nearly every car on the market.
C. E. GATES
132 SOUTH RIVERSIDE THE OVERLAND MAN
Advertisement,
Medford Mail Tribune,
April 30, 1913, page 3

SPARTA BUILDING LEASED BY GATES AUTO SHOW ROOM

C. E. Gates, the Overland man, has leased the lower floor of the Sparta building, corner Main and Riverside, for a period of three years. This will give him the finest automobile show room and garage in Southern Oregon--one of the finest in the state.
The Sparta building was built in [1911] by John M. Root and is one of the best built and most artistic structures in the city. Its exterior is glazed white brick. The lower floor is surrounded by plate glass windows and mirrors.
The front room will be used as an automobile show room by Mr. Gates, with the rear room as repair shop. An extensive line of auto supplies of all kinds will be carried and everything used in automobiling provided.
Medford Mail Tribune,
August 29, 1913, page 6
GRAND OPENING OF GATES' AUTO STORE
C. E. Gates, "the Overland man," announces a grand opening of his new sales and showroom in the Sparta Building Thursday evening. An orchestra will play during the evening, and the public is cordially invited to inspect the finest auto headquarters in Oregon, outside of Portland.
Medford Mail Tribune,
September 10, 1913, page 2
RECORD CROWD AT GATES' OPENING
The new quarters of the Overland automobile in the Sparta Building, Manager C. E. Gates acting as host to the public. The Hazelrigg orchestra furnished music and dancing was followed until eleven o'clock. [omission] largest crowd that ever attended a business house opening in this city filled the store from 7:30 till 1 o'clock. The room was tastefully decorated.
Medford Mail Tribune,
September 12, 1913, page 2
GATES' SUPPORTERS THREATEN
TO CALL BIG MASS MEETING
Who will be the mayor of Medford?
The answer is still unknown to the general public--and the members of the council are not talking.
Supporters of C. E. Gates, who filed a petition of several hundred names requesting Gates' appointment, are indignant over the refusal of the council to even consider the petition and talk of calling a mass meeting of citizens to act on the matter.
Mr. Gates says: "I have not sought the appointment, have not asked anyone to sign a petition, and have taken no part in the efforts made by any friends. I do not expect the appointment--but I cannot understand why the councilmen refuse even to discuss my appointment or to pay any attention to the petition filed in my behalf. At least, they might show the courtesy of a reason for ignoring the petition."
Only one of the six councilmen is known to be favorable to Gates.
Medford Mail Tribune,
September 19, 1913, page 4
GATES SECURES AGENCY FOR FORDS AND COLE SIXES

C. E. Gates has secured the agency of the Ford automobile and also the Cole standardized six-cylinder car. He still retains the agency for the Overlands. This will give him three grades of cars: low-priced, medium- and higher-priced, and the finest auto show room in the state.
Mr. Gates has just returned from Portland, where he placed an order for eighty Ford cars, which he expects to sell during the coming year. The Ford ranks as the best cheap car on the market, the virtues of the Overland are testified to by the fact that it was the best seller in the local market this season. The Cole ranks among the best of its kind.
Medford Mail Tribune,
October 10, 1913, page 5
Medford Man to Handle Cole.

"Cap" Gray, of the Northwest Auto Company, wore a smile the other day that wouldn't come off. It seems that he had just signed up for a good contract a man known all over the Willamette Valley for his shrewdness in buying and selling automobiles. This is C. E. Gates, of Medford, who had been looking for a new agency but had hesitated for a long time as to what cars he should handle. The contract was closed only after a big Cole Six had been driven down from town to Medford and had been given a grueling and exhaustive trial by Gates himself around the city of Medford.
Sunday Oregonian,
Portland, October 26, 1913, page 50
Earl Fisher of the Gates garage has instituted a new Ford service whereby an auto is rented out by the hour the same as a horse and buggy. The owner furnishes everything but a driver. By this means people with auto driving inclinations but with no machine can be accommodated.
"Local and Personal,"
Medford Mail Tribune,
March 30, 1915, page 2
C. E. Gates Thursday received a carload shipment of eight Fords. Eleven people were waiting for them. Some were so anxious for the machines that they assembled the parts themselves.
"Local and Personal,"
Medford Mail Tribune,
July 9, 1915, page 2
GATES MEDFORD'S CHARLIE CHAPLIN

Hundreds of people Friday saw their friends and neighbors in action in the first moving picture comedy ever acted in Medford. C. E. Gates, Lowe Zundel and Carl Tengwald in the leading parts elicited favorable comments.
Many clever situations were evolved. The trick camera work was used to good advantage, the scaling of fences, high barns, auto garages, and the shoot-the-chutes were applauded. One scene in particular is worth mention, when a tramp is seen sitting upon the trolley tracks eating his pie when a car approaches and runs into him, picking him up on the fender and carrying him out of the scene.
In the shooting scene on Main Street Chief of Police Hittson took six shots at the fleeing tramp, but the tramp was later seen running down South Oakdale Street. The arrival of the tramp in a side door Pullman and his subsequent chase through the railroad yards precedes the showing of a picnic scene on the library lawn. Before discovering the picnic the tramp (Pop Gates), however, makes an unsuccessful attempt to secure a handout at the homes of Mrs. J. C. Mann and Mrs. Katie Emig, the latter turning the hose upon him.
Arriving at the library, the tramp makes off with a pie. This is what starts the trouble. After this, things move rapidly until he is placed under arrest. Twenty well-known ladies are featured in the picture, as well as hundreds of others who were in the picnic scene.
Medford Mail Tribune,
June 19, 1916, page 3
MAYOR'S SON ILL IN PARIS HOSPITAL AND SHY OF COIN

Because the Jackson County members of Battery E, 65th artillery, have four months pay coming and are broke, Mayor Gates several days ago wired United States Senator Chamberlain at Washington asking how money could be sent to the boys in France. The answer just received is not comforting. The senator wires that the way to send money is through a money order addressed to some point in England, where it would be forwarded to France.
If this procedure is followed it would be months before money would reach the recipient, and in the meantime the boys would probably have been paid off. Hence the Medford and Jackson County boys in the battery will probably be without any spending money for some time to come.
Mayor Gates' special anxiety over this broken condition of the boys, according to recent letters received by their relatives, is the fact that his son, Sergeant George Gates, is sick in a military hospital in Paris with only 50 cents in his pockets. The mayor is anxious to hurl a big wad of money George's way.
The Gates family is greatly worried about George. The first known of his illness was last Saturday when a letter arrived from him, dated May 27, saying he was still in the hospital, had been for three weeks and would be there three weeks longer, as the surgeons were trying out a new kind of vaccination on him. He did not state what disease he was ill with and wrote as though his folks knew all about his being in the hospital. His previous letter evidently never reached them.
How would you like to be in a hospital in a strange country four or five thousand miles from home with only 50 cents in your pocket? was the plaintive comment written by George in his last letter. He also wrote that for two weeks there was no one in the hospital he could talk to, as the nurses and attendants were all French. "But the other morning," he continued, "an Irish Red Cross nurse blew into the hospital and now mebby we didn't have a good time talking."
Medford Mail Tribune,
June 19, 1918, page 2
C. E. GATES BUYS OUT INTEREST OF WILLIAM A. GATES

It was with surprise that business circles in the city learned today that William A. Gates has sold out his minority holdings to the C. E. Gates Auto Company to C. E. Gates and George Gates, who hold the remainder of the company's stock, and is no longer connected with that concern.
Mr. Gates, who has been a resident of Medford for the past five or six years, during which time he was connected with the Gates auto concern in which he became a minority stockholder when it was incorporated in March 1917, will after a few weeks' rest with his wife and adopted daughter visit for a month at their old home in the East, after which he will return and look over the Pacific Coast with a view to entering business again.
Medford Mail Tribune,
May 13, 1920, page 3
Charles Edwin Gates is a splendid example of sheer pluck and natural ability and a striking figure of a self-made American. He is now serving as mayor of Medford, and his capability and worth in office are widely acknowledged. He was born in the little town of Monticello, Indiana, in December, 1871, his parents being Jacob and Mary (Hastings) Gates, both of whom were representatives of old pioneer families. His father was engaged in the railroad business and spent thirty-three years of his life in transportation service. When Charles E. Gates was but a youth of tender years, the family removed to Pulaski County, Indiana, and there he obtained a common school education. When but fifteen years of age he taught in a small country school in order to enable him to secure a commercial training in the Hall Business College at Logansport, Indiana. It was not his educational qualifications that secured him the teacher's job at that early age but the recognition on the part of the school directors of the fact that the boy possessed rare executive ability and much self-reliance, and as the school had been changing teachers quite often they gave Mr. Gates the chance to see it he could instill into the pupils some degree of obedience to rules. This he emphatically did, at once giving the pupils to understand who was master in the room.
Following his graduation from the business college Mr. Gates decided to become a court reporter and for a brief period was in a law office, but that line of activity failed to appeal to him and he secured employment with the Columbus Construction Company, which at that time was engaged in building a pipeline for natural gas from Greentown to Chicago. Entering the company's office as a clerk Mr. Gates in less than four months had so impressed the managers with his natural ability that he was appointed statistician of the entire line. He remained with the company for eight years, a portion of which time was spent as chief accountant in the Chicago office. For several years afterward he was connected with the Economic Fuel Gas Company and in 1897 became associated with the McIlwaine Richards Gas Well & Supply Company, with which he continued in various capacities until 1901, when he was made general manager of the company's plant at Noblesville, Indiana, and held such responsible posts as president of the Bath Tub Manufacturers Association of the United States, vice president and chairman of the organization committee of the Soil Pipe Manufacturers Association and other kindred and mammoth business enterprises. The twelve years which Mr. Gates put in as an active worker in this field so undermined his health as to force his retirement from strenuous duty and in 1912 he came to Oregon seeking rest and health. Visiting Medford, Mr. Gates concluded he could find no better place on the coast and, sending for his family, at once established his home in this city. For a man of his energy and determination something must be doing all the time, so he turned his attention to the automobile business, becoming agent for the Overland cars. Something of his business ability may be seen in the fact that in the first season he sold seventy-seven cars and more than a hundred in the second season. In 1914 he accepted the agency of the Ford Company and since that period has handled only the Ford cars and Fordson tractors. On a prominent corner of the city he has erected a handsome garage and service station of one hundred and forty by one hundred and twenty feet, which is modern in every particular and detail and includes a large display room, accessories store, women's rest room which is fitted up to be of real service to his patrons, one of its many features being cribs for tired infants, repair shop and service station. Nothing has been omitted in the construction of this model garage. Twenty-six persons are employed in the plant, eleven of whom are expert mechanics. While he has developed an important enterprise in this connection Mr. Gates is also the vice president of the Farmers & Fruit Growers Bank of Medford, and in all things he displays sound business judgment as well as unfaltering enterprise.
Mr. Gates was united in marriage to Miss Leah A. Farnsley, of a well-known pioneer family of Kentucky, and they have become the parents of three children: Eltha Marie, now the wife of J. Wesley Judge of Medford; Laura, the wife of James E. Kerr of Medford; and George E., who is associated with his father in business, the firm name being the C. E. Gates Automobile Company. George E. Gates has a notable war record, having enlisted in 1917. He was sent to Fort Columbia and later to Camp Lewis and in March, 1918, went overseas as a member of Battery E, Sixty-Fifth Regiment. He served with that command throughout the period of active duty in France, the close of the war finding him in an officer's training camp in that country. George E. Gates is a Mason, also a Knight of Pythias and an Elk. He was married and has an infant son, George E., Jr., the mother having passed away.
The Masonic fraternity has long enjoyed the stalwart and loyal support of Charles E. Gates, who has attained the thirty-second degree of the Scottish Rite and is a member of the Mystic Shrine. While in Noblesville, Indiana, he occupied the post of exalted ruler of the Elks lodge and since coming to Medford was made chairman of the Elks building committee, which erected the handsome Elks Club building and is now chairman of its board of trustees. He was chairman of the Red Cross, also chairman of the Council of Defense and chairman of the Liberty Loan drives during the World war. For two terms he has been the president of the Medford Chamber of Commerce and he is now serving for the third term as mayor of Medford, his administration being characterized by a most businesslike and progressive spirit, productive of splendid results. His religious faith is that of the Presbyterian Church and for the past seven years he has been on the church board at Medford. In a word his activities have had to do with all that tends to advance the material, intellectual, social, political and moral welfare of the city. His efforts have been a most potent force in producing results highly gratifying, and Medford places him among her most valued residents and names him as a splendid example of American manhood and chivalry.
Charles Henry Carey,
History of Oregon,
1922, page 378
GEORGE GATES TRIES POLE VAULT AND BREAKS ARM
George Gates of the C. E. Gates Auto Co. is in the Sacred Heart Hospital with a badly fractured left arm suffered yesterday afternoon in a peculiar accident at the dual track meet between Medford High and Central Point High at the Holly Street public schools athletic park in this city.
Mr. Gates, who in former years was an athlete, especially distinguished in pole vaulting, and who is still of an athletic turn of mind, or was until the accident happened, was the official starter of the meet. While waiting for the meet to begin he could not resist taking part in the pole vault practice being indulged in on the field by some of the school athletes. In making a high vault he, in landing in the hole for that purpose, slipped on the edge and broke his arm in two places. The member was broken square in two in one place.
Saying nothing to anyone about the accident he walked away to his auto, in which his wife was waiting, drove away fast for Dr. Conroy's office and en route tersely told her that his arm was broken. First aid was administered by the doctor, and then the injured man was hurriedly taken to the hospital, where the fracture was set and his left side from hip to shoulder was encased in plaster. He will be laid up for weeks.
This accident to Mr. Gates comes at a very inopportune time, as he is chairman of the committee in charge of the big automobile and motorcycle meet to be held here June 15, 16 next. His place, it is presumed, will be taken by Seely Hall, the vice-president of the committee.
Medford Mail Tribune,
May 17, 1923, page 5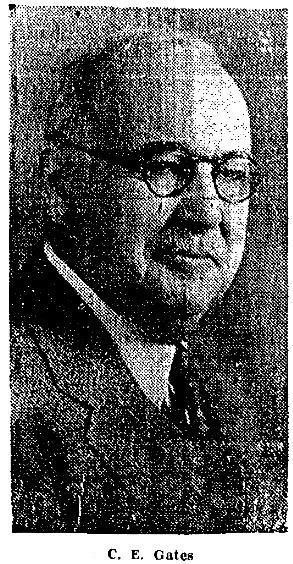 C. E. GATES
Lincoln, Ford and Fordson

Located in Medford at Riverside and Sixth is the distributor for the Lincoln, Ford and Fordson, and also carry [
sic
] a complete line of accessories, attachments and implements. They are one of the most metropolitan motor companies in this section.
Few cities of a like size in the nation can boast of such modern and up-to-date Ford Service. Not only because they are [an] authorized sales and service station for the Ford and Fordson, but because they render a most efficient service, this well-known automobile company has become known as the home of the Ford and Fordson in this section.
When the firm started in business as the sales and service agents for the Ford, by careful management and good salesmanship, its business grew to large proportions, and foreseeing the future of the automobile business, it is able to offer the best of service for their line.
That the Ford is universally recognized as the greatest motor value of the age is the opinion of the experts as well as the casual buyer. For service and reasonableness of price the Ford reigns supreme.
The Ford commercial truck has come to be recognized as one of the indispensable features of the latter-day business equipment and has proven worthy, both in endurance and speed of the name it bears. It has become the popular truck for both the business man and the farmer and has greatly increased the progress and prosperity of both.
When it comes to Ford parts, the firm is headquarters in this section. There are few establishments in the larger cities that carry a more complete stock of parts. This is a very important feature, as it saves the public much time when delay would be costly.
The Fordson tractors stand without a peer, for never have these values been duplicated. They have the latest improvements, and it takes something besides engineering to furnish a tractor like the Fordson, for it cuts farm costs in half. Whenever power farming is being done Fordson is showing superior service.
The managers are courteous and accommodating and will be pleased to show you the advantages of having this wonderful car. We are pleased to compliment the firm on the efficiency of their service, and the wonderful value of the car they have chosen to offer the public of this section.
Central Point American,
May 6, 1926, page 5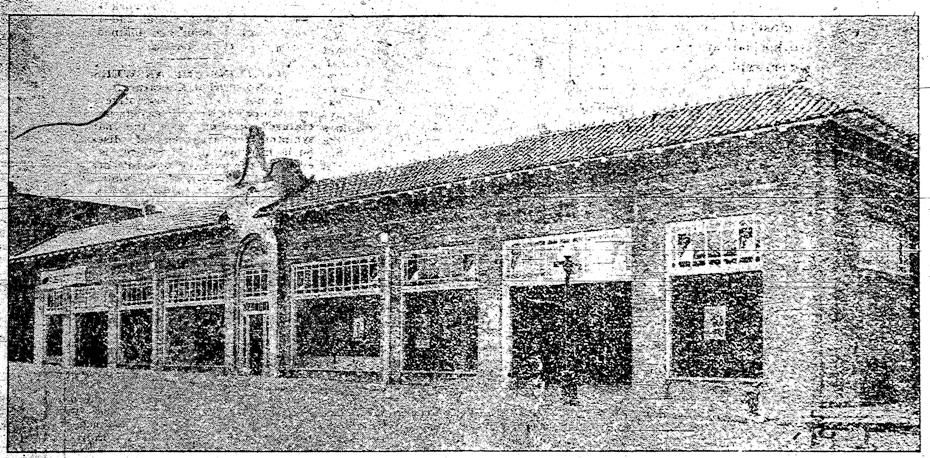 Gates Motor Co., southwest corner of Sixth and Riverside.
Medford Mail Tribune,
January 2, 1926
The Gates Auto Company has moved its office to the center front room of their building and has installed the latest steel furniture, including filing cases, desks and counters, and have put in a new safe to match. This change was made to keep in touch with increasing business and for convenience and economy.
"Personals,"
Medford Mail Tribune,
July 9, 1926, page 3
The C. E. Gates Auto Company have started the erection of a second story to their present building at Sixth and Riverside to better accommodate its fast increasing business. This big improvement is expected to be completed by January 1st, the cost being $15,000.
Bliss Heine, "Medford,"

Central Point American,

November 5, 1926, page 5


C. E. GATES ON HIGHWAY COMMISSION

Ex-mayor of Medford Gates, "Pop" Gates, C. E. Gates, everybody in southern Oregon (especially Ford owners) knows Mr. Gates personally, and practically everyone in the state knows that Mr. Gates is a member of the state highway commission appointed by Governor Patterson this week. Southern Oregon is deserving of representation on this important commission, and southern Oregon, in the person of C. E. Gates, has furnished a member one hundred percent true blue and loyal to Oregon. Mr. Gates is a worker and has never been found wanting when there were any public duties to perform. Southern Oregon will benefit by the presence of C. E. Gates on the highway commission.
Ashland American,
April 8, 1927, page 2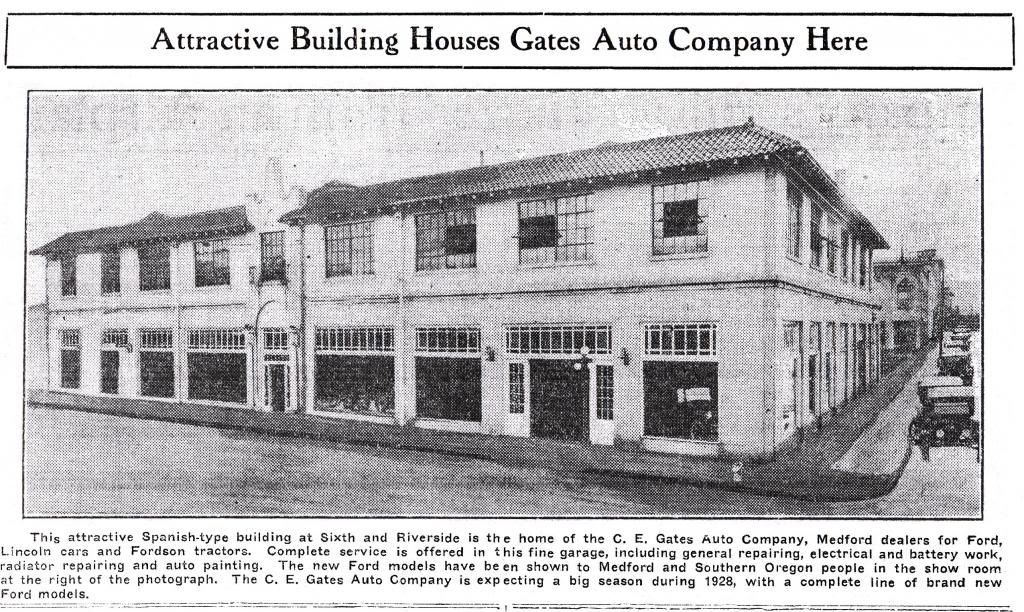 January 1, 1928
Medford Mail Tribune
EXPECT POP GATES TO RETURN SUNDAY

There will be little rest for C. E. Gates for some time after his arrival home from Miami, Fla., where he attended the Shrine convention as a delegate from Hillah Temple, and various stops in Indiana and Illinois, and at Los Angeles, while en route home. He left on the eastern trip about the 10th of last month.
Hardly will Pop have time to say "howdy-do" to his folks, and look over his place of business to see if it is still there, consult a moment with George to see how business has been going, and reune with grandson George for an hour or so, than he will be besieged by state and local importuners about Pacific Highway and county fair matters, and the like, as much has been awaiting his coming.
He is now pegging towards home as fast as the trains will carry him, barring a day or so stop at Los Angeles on business, where he now is, and is expected to arrive home Saturday night or Sunday.
Medford Mail Tribune,
May 15, 1928, page 2
POP GATES OUSTED BY GOV. MEIER
Chas. K. Spaulding, Salem Sawmill Operator, Named to Highway Commission
--'It's All Right with Me' Is Comment of Gates.

SALEM, Ore., March. 11.--(AP)--Governor Julius L. Meier today appointed Charles K. Spaulding, Salem senator, lumberman and capitalist, as a member of the state highway commission, succeeding C. E. (Pop) Gates of Medford.
The governor said the appointment was effective immediately.
Spaulding was appointed to the state senate from Marion County by Governor Meier at the opening of the last legislative session to succeed Lloyd T. Reynolds, deceased.
----
The removal of the southern Oregon member of the state highway commission has been expected by those on the "inside" and occasioned little surprise. The announcement has been expected for a week when upstate political conditions began shaping toward that end.
"It's all right with me," said Mr. Gates this afternoon. "Julius will get more kick out of that than I do. Now I can stay home and earn a living."
Medford Mail Tribune,
March 11, 1931, page 1
CROAKERS CAUSE POP GATES PAIN
C. E. (Pop) Gates, ex-member of the state highway commission, is telling this one: "These people who croak about depression make me sick. It's just like what Jonah told the whale. The whale had swallowed him and then got sick. Said Jonah to the whale, 'You old fool, if you'd had sense enough to keep your mouth shut this wouldn't have happened.' If more people would keep their mouths shut and tend to business, this depression would be over before we realized." Mr. Gates was in Portland for the dinner tendered his former colleague on the highway commission, H. B. VanDuzer. He reports that conditions are good in Medford and that the pear growers are getting good prices for their fruit. The community chest campaign is about to start in the southern Oregon city. Mr. Gates was at the Imperial Hotel.--Oregonian.
Medford Mail Tribune, November 4, 1931, page 4

'Pop' Gates States His Platform

C. E. "Pop" Gates filed his petition for County Judge [
Commissioner
] last Friday afternoon. Mr. Gates, who is a well-known resident of the county, has been urged by several of his friends to make the race as an independent candidate in hopes to defeat Earl H. Fehl, who won the Republican nomination in the primary. It is felt by many that Mr. Gates' record as a progressive business man and long the mayor of Medford would enable him to carry the field against Fehl.
The candidates now in the field are Earl H. Fehl, Republican; Wm. E. Phipps, Democrat; Pipes, independent and Gates, independent.
Mr. Gates has issued the following statement regarding his candidacy:
To the People of Jackson County

After due consideration of the many requests of the people of this county, I have decided to enter the race for the office of County Judge at the coming election.
In doing so I realize the grave responsibilities connected with the office and the feeling of unrest of the people at this time, on account of the depression and the overburden of taxation that is confronting them.
I have lived in this county for nearly twenty-one years and have traveled over the entire county many times and am personally acquainted with most of its citizens, and firmly believe that I am familiar with their needs. Our system of taxation must be revised to prevent the loss of homes and farms. In meeting our budget for taxation, our expenses should be reduced, instead of finding more ways of raising taxes. If I should be elected to this office, I will endeavor at all times to give to that office a clean-cut business administration, with economy that is consistent with good business, with the thought of the taxpayers' problems always in mind.
For our county to be successful we must have harmony at all times. We are now torn by dissension, and this alone has affected the value of our real estate to a great extent. I shall if elected do everything in my power to correct this, and by working with the people and for the county as a whole, I firmly believe this condition can and will be corrected. Everything I own is subject to taxation and your interest in this matter is my interest, for the only way that you and I can survive is by a reduction in taxation and a revision of the present system. I hope during the month of October to visit the people of every community of this county and discuss with them our mutual needs and remedies for our present deplorable condition.
Sincerely,
C. E. GATES.
Central Point American,
September 29, 1932, page 1
GATES CELEBRATES 22D ANNIVERSARY
IN SELLING FORDS

Twenty-two years ago today C. E. ("Pop") Gates sold his first Ford car in Medford. He started his business in the Rogue River Valley soon after coming to Oregon from Noblesville, Ind., with hopes of improving his health. Fruitful orchards and other signs of a bright future for this territory encouraged Mr. Gates in his new venture.
Each year as the once "rattling good car" is improved upon and Henry Ford presents the motoring public with a better-looking and noiseless model, "Pop's" pride in his Fords increases. He has made a success of himself and his business in Medford, a long list of activities testifying to his popularity and capability as one of the real fighters for Medford's interests.
Mr. Gates has driven his Model T's to the state capital as member of the state highway commission four years, and as chairman of the state fair board for two seasons. In 1916 he was elected mayor of Medford. For six years he served in that capacity, seeing the town through good times and bad, and refusing to accept payment for his time and expenses.
His friendly smile and genial personality have won for "Pop" hosts of admirers throughout the state, and at times his political activities have been met with opposition and always with a great deal of publicity.
"Pop" Gates now shares his position as one of Medford's leading automotive dealers with his son, George. Their very modern two-story sales and service building is located at the corner of East Sixth Street and North Riverside.
Medford Mail Tribune,
February 2, 1934, page 9

'POP' GATES ROUNDS OUT 24 YEARS IN ROGUE VALLEY

It was just 24 years ago Sunday that C. E. (Pop) Gates came to Medford with two carloads of Overland cars, to start the automobile business here and later became the "man who put Ford in Medford."
Gates came from Noblesville, Indiana, where he was a manufacturer of enamel bathtubs, to Medford in February of 1912. He has never been sorry that he came.
"There were only two Overland cars in the county when I came here," Gates said yesterday, "and they were old planetary-type cars, one owned by Colonel E. E. Kelly, and the other owned by Colonel Washburn. I sold 77 of the Overlands my first year, and by August, 1913, I had sold 172.
"When I took over the Ford agency, there was only 12 Fords in the county. I took the agency in July, 1913, and was in the old building that Tobe Osenbrugge is in now. [
Gates, and later Osenbrugge, were located at 132 S. Riverside.
] In the fall of 1913 I moved into the Sparta Building, and later built the building that the Medford Domestic Laundry is in now. We used that for a showroom and storeroom. In June, 1920, we moved into the building we're still in. We are planning some improvements in this building that will make them sit up and take notice, just as soon as things get a little better.
"The automobile business is coming back fast," Gates said. "In 1932, for instance, we sold only 54 cars. Last year we sold 210. That's new cars. We're going to beat that this year."
During Gates' career in Medford he has not only been one of the city's civic leaders, but has gained a prominent place in state affairs. His Fords have been owned in every nook and cranny of the county, hardly a family but what has, at some time or another, owned a Ford.
Medford News,
February 5, 1936, page 1
Receives Congratulations

C. E. "Pop" Gates, the "grand old man" of Medford automotive circles, has received a personal telegram of congratulation from J. R. Davis, general sales manager for the Ford Motor Company, upon the occasion of his completion of a quarter-century as Ford dealer here. Mr. Davis' congratulatory telegram reads as follows:
"Please accept my congratulations upon the completion of your 25th year as a Ford dealer. We hope this connection with the Ford Motor Company has been pleasant and profitable to you and that you may have many more years of success in selling Ford products."
This quarter-century of service as Ford dealer does not accurately measure "Pop" Gates' experience in the automobile business in Medford. For a year and one-half, he handled the then-popular Overland car, with showrooms at Main Street and Riverside Avenue in the Sparta building. Actually, Mr. Gates has had approximately 27 years of service, entitling him to the undisputed rank of "dean" of Medford automobile dealers.
During this long period, C. E. "Pop" Gates has devoted many years to faithful public service. For six years he served as mayor of Medford, for three and a half years on the Jackson County fair board and four years on the Oregon state Highway Commission.
During the world war Mr. Gates devoted his efforts to heading Liberty Loan drives and to the chairmanship of the wartime Red Cross here. His war period service also included many public addresses as one of the "Four-Minute Men."
During the span of 27 years, many changes and developments have been made in the automobile industry, and Mr. Gates and his company, the C. E. Gates Auto Company, have kept pace with progress through periodical expansion of buildings and facilities. In recent years, the Lincoln and Lincoln-Zephyr lines have been added, both handled here by the Gates Auto Company. George Gates is associated with his father in the management of the present company.
Medford Mail Tribune,
October 13, 1938, page 5
C. E. Gates, Dean of Medford Auto Row, Retiring from Business
LAPHAM MOTORS WILL TAKE OVER FORD CO. AGENCY
"Pop" Gates to Enjoy Year of Rest After 28 Years in Auto Business Here.

Announcement was made yesterday of the retirement of C. E. "Pop" Gates, head of the automobile company bearing his name and dean of Medford car dealers.
"I'm not going to do anything but rest for a year and thoroughly enjoy living in this truly wonderful Rogue River Valley," Mr. Gates declared.
The business has been acquired by C. A. Winetrout of Grants Pass and his associate, S. C. Lapham of Roseburg, who will take charge on February 10. The business will be conducted under the name of Lapham Motors, Inc., with Mr. Lapham, who will move to Medford, in direct charge as company head. The new corporation will lease the building and plant, situated at Riverside Avenue and Sixth Street.
The C. E. Gates Auto Company will be kept intact as a corporate entity for some time to liquidate the stock of used cars on hand and to wind up other phases of the business with which Lapham Motors. Inc. is not concerned.
"Pop," as Mr. Gates is affectionately known, is one of the oldest Ford dealers on the west coast, oldest in Oregon in point of service. He is in his 27th year as Ford dealer here. He has seen the Ford product develop from the sturdy and versatile "Tin Lizzie" Model T to the present line of luxury vehicles.
Last Friday marked the 28th anniversary of "Pop's" entrance in the automobile entrance here. Before becoming a Ford dealer he handled the Overland, with showrooms in the Sparta Building at Riverside Avenue and Main Street.
"The Ford Motor Company sincerely regrets losing 'Pop' as its dealer in Medford," said S. Y. Armit, the company's direct representative in this district. "The Ford company has never had a dealer who has been more cooperative than Mr. Gates, and we're going to miss him greatly."
Though he has put in 28 busy years of automobile business. Mr. Gates has found time for public service to his community, state and country.
For six years Mr. Gates served as mayor of Medford, for more than three years was a member of the Jackson County Fair board, and for four years was a state highway commissioner. He is a director and vice-president of the Oregon State Motor Association, an affiliate of the American Automobile Association.
During the World War, Mr. Gates devoted his efforts to heading Liberty Loan drives and to the chairmanship of the county Red Cross chapter, then engaged in war relief work. He also served as one of Medford's "Four-Minute Men."
In many similar ways, "Pop" has been at the service of the public throughout the years of his long residence here, and civic leaders with whom he has worked were unanimous in their declaration that he has well earned the rest that he now seeks.
During the long span of years he has been in business here, Mr. Gates has seen many changes and developments take place in the automobile industry. His company has kept pace with the ever-improving and ever-growing industry by the periodic expansion of buildings and facilities. In recent years the Lincoln, Lincoln-Zephyr and Mercury cars have been added to the Ford line handled by the C. E. Gates Auto Company.
Mr. Winetrout has been a Ford dealer for almost 21 years and is widely known throughout southern Oregon. He is retaining his other Ford dealer interests, including his business in Grants Pass.
Mr. Lapham has had 14 years of Ford experience. He has operated Lapham Motors in Roseburg for the past two and a half years. Prior to his going to Roseburg he conducted the Ford agency in Lakeview for two years. Before coming to Oregon he spent years with the Ford factories in Detroit and San Francisco. He has sold his Roseburg interests to an associate.
There will be no changes for the present in the plant setup here, and practically all of the personnel will be retained, Mr. Lapham said.
Medford Mail Tribune,
February 4, 1940, page 10
C. E. (POP) GATES QUITS AFTER YEARS OF SELLING CARS

After nearly thirty years as Ford dealer in Medford, the C. E. Gates Auto Company has retired from the game. This week came the announcement that the company has sold its interests to the Lapham Motor Co. of Roseburg, which had taken possession. Mr. Gates and his son, George, who has been associated with his father since the World War, will continue to handle the used car department until the present stock of cars has been liquidated.
Mr. Gates is one of the oldest Ford dealers on the coast and the oldest in Oregon in point of service. Last Friday marked the 28th anniversary of his entrance in the automobile business in Medford. Before becoming a Ford dealer he handled the Overland, with headquarters in the Sparta Building.
During these 28 busy years, Mr. Gates has found time to take an active part in civic affairs. For six years he served as Mayor of Medford. For more than three years he was a member of the State Highway Commission. He is a member of the board of directors of the Oregon State Motor Association and of the Farmers & Fruitgrowers Bank, besides taking part in many other civic activities.
Mr. Gates says he has no special plans for the future, except that he is going to rest for the next year.
Central Point American,
February 8, 1940, page 1
Two Elected as Life Members of C. of C.

C. E. "Pop" Gates and Wm. F. "Bill" Isaacs were elected life members of the Jackson County Chamber of Commerce by the board of directors at their regular meeting July 14. The two have retired from active business.
"During their active business life, they were strong supporters of Chamber of Commerce activities and held many important offices and participated in all of the projects undertaken by the organization," the committee report said. "In recognition of these services for which the community is very grateful, the membership committee recommends the election of Messrs. Gates and Isaacs as life members." The board of directors unanimously approved the recommendation of the membership committee, of which Joe Early is chairman.
Central Point American,
July 20, 1944, page 3
C. E. (Pop) Gates, Civic Leader Here, Taken by Death
Served as Highway Commissioner, Mayor

Charles E. (Pop) Gates, 80, longtime automobile dealer here and former mayor of Medford, died last night at Salem. He had been in poor health for some time.
Mr. Gates, who had resided here for about 41 years, operated the Gates Auto Company, a Ford dealership, retiring from the business at the outset of World War II. From 1919 through 1922 he served as mayor, taking the lead in straightening out city finances during his term.
His public life included service as a member of the State Highway Commission. Mr. Gates also had held the office of vice-president of the Oregon State Motor Association. He was a past exalted ruler of the Elks Lodge here, a 32nd degree Mason and a Shriner.
Born in Indiana
He was born in 1871 at Burnetsville, Ind., and came to Medford from Noblesville, Ind., where he had been vice-president of the Standard Manufacturing Company, maker of plumbing appliances.
The family home here is at 513 West Second Street.
Survivors are his widow Leah; a son, George, Medford; two daughters, Mrs. Laura Dean, Medford, and Mrs. Marie Judy, Bend; a brother, William A. Gates, Medford; five grandchildren and several great-grandchildren.
Perl Funeral Home has charge of funeral arrangements.
Medford Mail Tribune,
March 26, 1952, page 1
"Pop" Gates

Civic and public service hold few rewards. Usually the personal satisfaction in earnest effort to get things done for the common good, to be of help to one's fellow men, is about all that can be toted up on the credit side when life's ledger is closed.
There was more than that, however, for Charles E. Gates when there came the final balancing of the book. For Pop, as he was known from one end of Oregon to the other, left not only a long and impressive record of endeavor on behalf of his city and state but tangible evidence of accomplishment as well.
It was during his time as mayor of Medford that the city put into use a new water supply, substituting the pure and cold flow from Big Butte Springs which gushes forth at the foot of Mt. McLoughlin, for the contaminated and insufficient water from Fish Lake.
This major project sounds easy of accomplishment as it is told now, but there was a long and bitter legal battle for the right to use of the springs, there was the campaign for sale of $1,000,000 in bonds to finance the pipeline, and there were other vexing matters which required vision and leadership to finally resolve. Pop Gates worked hard for this project, and Medford's present unsurpassed water system is one of the things for which our residents will always revere his memory.
The work of straightening out the city's depression-snarled finances was another major accomplishment recorded during his administration as mayor.
His efforts on behalf of good roads brought appointment as a state highway commissioner and as a director of the Oregon State Motor Association, in which capacities he was able to render service to the entire state.
Pop's ability and capacity for leadership were also recognized by his election to highest office in the civic and fraternal organizations with which he affiliated.
With his passing Medford loses a link with one of the most trouble-beset yet most progressive and interesting periods in its history.--E. C. Ferguson
Medford Mail Tribune,
March 28, 1952, page 10
Funeral Services Are Scheduled for George E. Gates

George E. Gates, 61, of 235 South Oakdale Ave., well-known Medford resident, died Thursday afternoon in a local hospital.
Funeral services will be held at the First Presbyterian Church at 10:30 a.m. Saturday. The Rev. D. Kirkland West will officiate assisted by members of Medford lodge 103 AF&AM. Private committal will be in Siskiyou Memorial Park. Mr. Gates will lie in state at Conger-Morris Funeral Home Friday evening.
Mr. Gates was born Jan. 15, 1896, in Chicago, Ill. He came to the valley in 1912 with his parents, Charles E. and Leah A. Gates.
He graduated from Medford High School and entered the University of Oregon. He was a veteran of World War I, entering the service April 6, 1917 at Medford and receiving his discharge as sergeant February 28, 1919 at Ft. Lewis, Wash.
In Auto Firm
He was married Sept. 1, 1922 in Grants Pass to Dora Rose Herman, who survives. From 1919 to 1940 he was associated with his father in the C. E. Gates Auto Company. Since 1940, he and Mrs. Gates have owned and operated the Gates Furniture store of Medford.
He was a member of the First Presbyterian Church; Elks Lodge 1168; Medford Lodge 103, AF&AM; Medford Scottish Rite; Hillah Temple, AAONMS, Ashland; Medford Rotary Club; Sigma Nu fraternity, and Medford Post 15, American Legion.
He was a member of the Oregon State Furniture and Bedding advisory council appointed by Gov. Douglas McKay on July 25, 1952, and a member of the Civil Service Commission of Medford.
Survivors, besides his wife, include two sons, George E. Gates Jr., Grants Pass, and Philip E. Gates, Ashland; his mother, Mrs. C. E. Gates, Medford; two sisters, Mrs. A. Z. Dean, Medford, and Mrs. Roy Thielman, Bend, and four grandchildren.
Medford Mail Tribune,
June 14, 1957, page 1
Last revised February 10, 2015