HOME
Seely Hall


Born, April 2, 1893, to Mr. and Mrs. J. C. Hall, a son. Court feels as big as he looks these days.
"Central Point,"

Medford Mail,

April 7, 1893, page 2


Mrs. J. C. Hall and Master Seely were at Gold Hill this week upon a visit to "Court."
"Purely Personal,"

Medford Mail,

March 16, 1900, page 6




CUDIHY TRIAL IS ON TODAY
Professor J. P. Cudihy, of the Commercial Class of the Medford High School,
Being Tried on Assault Charge Before Justice Dox.


The trial of Professor Cudihy of the Medford High School, who is charged by Court Hall with having assaulted Seely Hall, his son, in the corridor of the school building here last Thursday, was commenced before Justice of the Peace Henry G. Dox in Jacksonville this morning.
Up to noon, when a recess was taken for luncheon, only four of the state's witnesses had been on the witness stand, and their testimony tended to show that Professor Cudihy was the aggressor in the fist fight, which took place between him and young Hall. Seely Hall was the first witness called by District Attorney B. F. Mulkey, and he was followed on the witness stand by Superintendent of Schools U. S. Collins, Mrs. Canfield, a teacher in the high school, and Miss Alice Forbes, a pupil. When court reconvened after the luncheon period, the prosecution resumed their case.
Professor Cudihy is represented at the hearing by attorney F. J. Newman. The defense's case will begin some time this afternoon, and a number of witnesses will be called in an endeavor to show provocation and that Seely Hall was the aggressor.
The fistic encounter was precipitated by an argument between the two, when Professor Cudihy rebuked Hall for making a noise when entering the classroom after the session had begun. Hall made a retort which angered Cudihy so that he ordered the boy from the room. Another remark followed, with the result that Cudihy followed the boy from the room into the corridor, where the fight occurred.


Medford Mail Tribune,

March 7, 1911, page 4




PROFESSOR CUDIHY FOUND GUILTY OF

ASSAULTING SEELY HALL

Jury is Out but Twenty Minutes--Testimony Is All in Boy's Favor--

Defendant Alone in Story

The jury in the case of the state versus Professor J. P. Cudihy for the assault on Seely Hall, March 2, was out twenty minutes last night and brought in the verdict of guilty. The judge will pronounce sentence today. The case was called at 10:45 yesterday at Jacksonville, and the following jurors were accepted: John Dunnington, E. A. Thompson, John Beavenue, Alex Norris, Charles Bayse and F. M. Tungate.

District Attorney B. F. Mulkey stated that the prosecution would prove that Cudihy not only struck the first blow and followed it up, but also that Hall had not created any serious disturbance and had merited no rebuke.

Attorney F. J. Newman for the defense stated that he would prove that the boy, Seely Hall, had acted disrespectfully and had refused to leave the room when ordered to go; that when he left Mr. Cudihy had followed with an intent to give a lecture and not to chastise; that he only struck Hall after the boy had hit him and then in self-defense.

Seely Hall was the first witness called, and he gave a statement that other witnesses substantiated. He said that he had made no great noise when entering and that Mr. Cudihy asked him to leave the room, and he asked if he had done anything to merit it. Hall stated that he was struck first and then he hit Cudihy, Cudihy doing all the punishing thereafter; that as he went into Superintendent U. S. Collins' room, Cudihy struck him at the base of the ear, hurling him across the room.

Mrs. L. B. Canfield testified that Cudihy struck the boy as he entered Mr. Collins' office; that Cudihy was enraged and attempted to strike again; that he looked positively vicious and cruel.

Alice Forbes testified that she saw Cudihy striking a blow.

Superintendent Collins told of the condition of Hall and that he saw Hall propelled into the room from a shove; that he did not see a blow struck. He said orders had been given to teachers not to chastise but to send pupils to the principal, who would either adjust matters or send them to the superintendent for expulsion; that this order was given after the Mino Davis case. He characterized Mr. Cudihy's action with Seely Hall in the office as a "rough demonstration."

Miss Jessie Purdy testified to Cudihy striking Hall and telling Miss Mears.

Miss Irene Smith told of Cudihy taking Hall by the collar, bumping his head and striking the boy in a scuffle. When asked by attorney Newman what was the difference between fighting and scuffling, she said:

"When both are exchanging blows and each hitting the other it's a fight. When one does it all and the other cannot protect himself it's a scuffle."

This produced a laugh.

Dolph Phipps and Ned Vilas testified that Seely Hall made no unnecessary noise on entering the room; that the boy took a chair from under the table, which caused a scraping sound; that Hall was not "sassy."

Cudihy, taking the stand, stated that he had asked Hall to leave several times; that the boy had made a great disturbance; that he was not angry nor had lost his head, and that when he had followed Hall into the hallway and attempted to lift his head so the boy would look at him, Hall struck him over the eye. He said he then sallied in to defend himself. He said Hall had ducked and dodged and attempted to "lick" him, and it looked for a time as though he would. He said Collins had told him to run the roost and he had.

Dee Wallace testified that Hall had made some noise on entering, but that he was lame and that caused the heavy walk. He said the chair incident was not extraordinary.

Miss Alice Woodford testified that she had heard Hall say, referring to the Mino Davis case, "I would not take such treatment." She knew of nothing regarding the Hall case.

Miss McDermott, teacher of domestic science, and Mrs. Frost, teacher of manual training, testified to Cudihy's even temper and cool-headedness.

The jury went out at 6 o'clock.

Medford Sun,

March 8, 1911, page 6
July 13, 1913
Sunday Oregonian
BEND TO MEDFORD IN FOURTEEN HOURS
Seely Hall, in his 1913 Cadillac Six, made a record run from Bend, Or., to Medford, covering the distance of 215 miles in fourteen hours, leaving Bend at 1:30 a.m. Saturday and arriving in Medford at 3:30 p.m. In all this distance the engine was not stopped once or water put in the radiator.
Medford Mail Tribune,
October 6, 1913, page 6
November 3, 1913
Medford Mail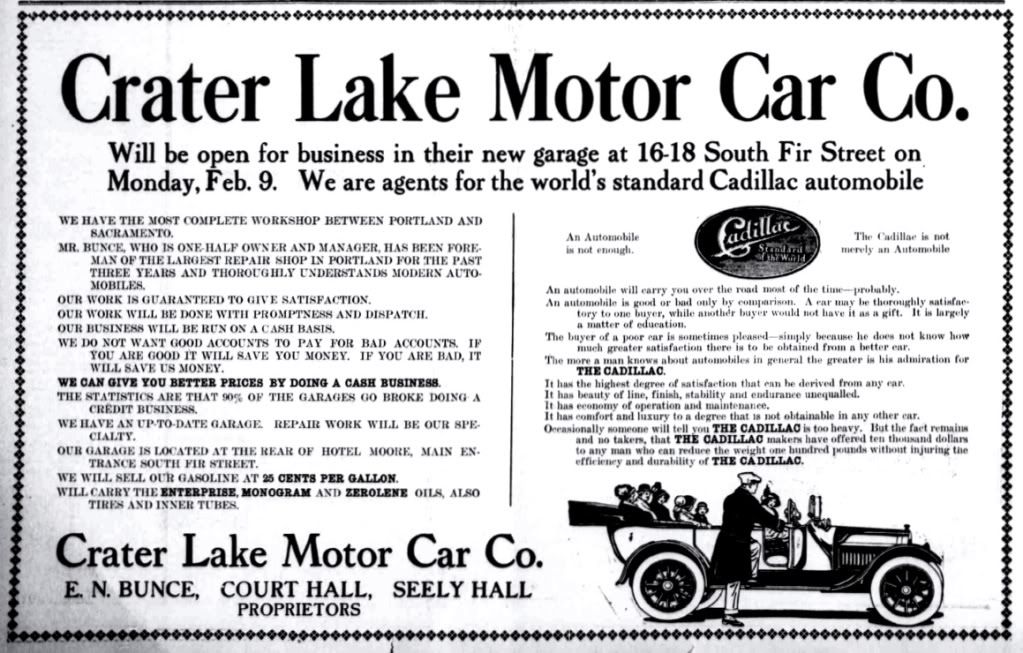 February 7, 1914
Medford Mail Tribune
MEDFORD HAS TEMPERATURE OF 92
AND 35 MILES AWAY SNOW IS DEEP
Motor Party Beats All Records, Reaching Crater Lake Nearly 30 Days Earlier Than Ever Before--Result of Army Engineers' Work Particularly Noticeable on Corkscrew Curve,
Where Grade Is Cut to 10 Percent.

MEDFORD, Or., June 6.--(Special.)--While the thermometer was at 92 on May 27, breaking all records for the month in Medford, the first motor party to Crater Lake for the 1914 season was shoveling its way through snow drifts 20 feet deep. This climatic contrast within a radius of 35 miles indicates what advantages this unique natural wonder has as a summer resort.
The motor party made the rim of the lake nearly a month earlier than it has ever before been accomplished. The car invaded the Crater Lake Forest Reserve also, thus making a record as the first motor car to cross the line before June 15.
Seely Hall, generally recognized as the most capable mountain auto driver in Southern Oregon, made the trip with his Hupmobile accompanied by Ed Weston, photographer of the Medford Commercial Club, and Homer Rothermel, a newspaper man. The party left Medford at 2 p.m. Tuesday, May 20, and reached Prospect, 47 miles distant, at 5:45. Through the yellow pine forests, beyond Prospect, the Hup made a fast run on excellent roads until the winter weather was reached. Snow drifts were encountered from five to 20 feet deep, soft underneath, but they were all negotiated until within a few miles of White Horse Creek. Here the road became impassable, and it was necessary to detour through the forest, Rothermel going ahead with an ax to clear a right-of-way. The car traveled over half a mile, coming back to the road only 200 feet nearer the lake.
At White Horse Creek, however, the car had to be abandoned, and the party walked on to Arant's Camp, where they passed Wednesday night and walked to the rim of the lake Thursday.
For over a year Army engineers have been extending new roads within the park, while Superintendent Steel has had a force of men improving the present roads leading to the rim. Instead of a 33-percent grade up Corkscrew Curve, for example, the maximum has been cut to 10 percent, allowing all cars to make the hotel and lodge. Local automobile men declared the running time from Medford will be reduced to an average of six hours, with the return easily made in five hours.
The auto stage will run from Medford this year three times a week, and arrangements have been made to carry mail, which will reduce the time for first-class mail between Crater Lake and Portland three days. Formerly the mail was carried via Klamath Falls.
The fishing in Crater Lake is now as fine as anywhere in the state of Oregon, trout being plentiful. Work on the Crater Lake Hotel and Lodge is progressing rapidly. Everything points to a record-breaking season at the lake in 1914.
Sunday Oregonian,
Portland, June 17, 1914, page 50
September 5, 1914
Medford Mail Tribune

Crater Lake Special Trips.

Parties wishing to go to Crater Lake during the fine weather can make special arrangements with the Hall Taxi Company. Seven passengers, round trip, $10 each; six passengers, round trip, $11 each; five passengers, round trip, $12; four passengers, round trip, $13.50.
For particulars phone Seely Hall, manager Hall Taxi Company.
Medford Mail Tribune,
September 28, 1914, page 2
Seely Hall, photographer
J. B. Palmer
and a representative of the
Mail Tribune
will leave tomorrow in a Cadillac auto in a test trip to Crater Lake, the first of the season. Photographs will be taken for use in publicity work. The party expects to make the lower camp by Saturday night, and spend Sunday at the lake. The auto will be driven as far as possible in an effort to make a record.
"Local and Personal,"
Medford Mail Tribune,
June 11, 1915, page 2
Charles Young and Seely Hall have formed a partnership to enter the automobile business the first of the year. A garage will be built by remodeling some of the Front Street property soon to be vacated. The agency for the Chevrolet car--which is described as the "automobile sensation of the year"--has been secured.
"Local and Personal,"
Medford Mail Tribune,
December 23, 1915, page 2
FROM MEDFORD TO CRATER LAKE REGION
Not until the beginning of next month, if the records of previous years are duplicated, will the road from Medford, Oregon, to Crater Lake be in proper trim for motorists, yet Seely Hall, of the aforementioned town, set out to make this trip early last April. It appears the same spirit that urged Steve Brodie to jump off Brooklyn Bridge prompted Seely to make this attempt; he wanted to show that it could be done. He did not do it, however, but he had lots of fun trying, and incidentally demonstrated to his own complete satisfaction that Zerolene is
the
motor oil for the Chevrolet, which make of car Hall sells at Medford. Accompanying him on this dash into the wildwoods was S. S. Chadderton, a Standard Oil automobile engineer. In the interests of proper motor car lubrication Chadderton has seen some strenuous going during the past three years, and he states that this trip made much of his previous experience seem like the sheltered life sort. Here's his log of the adventure:
"We left Medford at 1:40 p.m., Sunday the 7th of April, arriving at Prospect, a small village in the mountains, 45 miles from Medford, at 4:45 p.m. The road between Medford and Prospect consists of some very steep grades with treacherous turns, and owing to the recent rains it was very soft, slippery and muddy. Several times the little car buried herself clear to the hubs in mud, but with chains on she managed to pull through it, never missing a shot, and only on one occasion did we drop down to second speed; this was owing to a deep ditch that had been formed across the road with the rush of water down from the mountain. We put up at Prospect for the night. Next morning we left Prospect equipped with shovels, axes and all necessary camp equipment. We struck our first snow about one mile from Union Creek, which I should judge is about 10 miles from Prospect. We plunged through this first drift, which was about 15 inches deep and about one-half mile long. We then continued for about three or four miles on the road, when we struck another drift of snow four feet deep and 400 yards long. There was no way to go around it, so we shoveled our way through, first bucking it with the car, then shoveling off the top snow, then bucking it some more. It took us two hours to get through this drift. Proceeding about another four miles, alternately shoveling and bucking the snow with the radiator, we came to five large trees lying across the road, the smallest being 3½ feet in diameter and about 100 to 250 feet apart. On the other side of these trees was a very large drift of snow, so we decided to leave the road entirely and make our way through the timber.
"You cannot imagine the test on the car here unless you happen to have been in a similar position yourself. We cut down trees, we climbed over fallen logs which were too big to cut, sunk ankle deep in the soft loamy soil, bucked through saplings and shrubbery till you would have thought that there would be no car left. On striking the road again, we were confronted by more snow, so that it was a constant repetition of bucking the snow, climbing over logs, or plunging through the jungle. We camped in the snow on Monday and Tuesday nights and on Wednesday morning about 10 o'clock we found ourselves on Whiskey Creek with snow all around us, in some places 14 feet deep. Seeing that it was utterly impossible to get a car any farther, and as it was continually snowing and the snow under foot very soft, we decided to return to Medford."
The trip was altogether a splendid test of the car and the automobile products used--Red Crown gasoline and Zerolene. Chadderton is most enthusiastic over the scenery of Southern Oregon, and Hall is just as enthusiastic over Red Crown and Zerolene. He says: "The little Chevrolet never missed an explosion from the time we left the agency until we returned. I am well satisfied with the way Zerolene works, and unhesitatingly recommend it for the cars I sell."
Standard Oil Bulletin,
June 1916, page 4
The most picturesque branch of the army, the aviation section, has drawn a number of Medford youths to enlist. Some have taken their examinations, and others will take them Saturday, the group planning to leave for San Francisco, where heart and nerve tests are made, on Sunday.
Among those who have either definitely decided to leave or will probably do so are Tom Scantlin, Mutt Williamson, Delbert Jones, Seely Hall, George Holmes, Kenneth Baker and Merle Kellogg. All will go to the aviation section except Holmes, who goes into the quartermaster department.
"Medford Boys Enlist in Army Aviation Corps,"
Medford Mail Tribune,
March 15, 1917, page 2
VALLEY'S AVIATION CORPS OFF TO FLY FOR UNCLE SAM

Two hundred people gathered at the S.P. station Sunday night to give a sendoff to fourteen of Medford's young men who left for Portland, where they will take examinations preliminary to entering the aviation section of the army.
At Vancouver barracks the men will take heart and lung tests, and those successful in passing these tests will be sent to the Presidio at San Francisco, where more strict heart and nerve tests will be taken. If this last test is successfully passed the men will be sent on to the aviation barracks at San Diego, which are considered to be the best equipped in the West.
The men have enlisted for a period of seven years, the first three in the active service and the following four years in reserve. However, if any complete the course in one year with a sufficiently high standing they will then be transferred to the reserve list for the last six years.
Those leaving last night were: Frank McKee, Merle Kellogg, Seely Hall, Lloyd Williamson, Delbert Jones, Huston Ling, Earl Ling, Jay Olmstead, Dan Watson, Newell Barber, Tommy Scantlin, G. H. Morehouse, Russell Semon and Kenneth Baker.
Stewart Torney and Mark Leonard expect to follow Tuesday night.

Medford Mail Tribune,
March 19, 1917, page 8
MEDFORD YOUTH NOW OVERHAULING ARMY AEROPLANES
Seely Hall, who enlisted in the aviation corps of the United States army, writes as follows to his father, Court Hall, from the United States aviation school, North Island, San Diego, California:
"I am still in the machine shops. I don't know what they are going to make out of me. But as I keep going up, I feel that I am making good.
"I have now been in the machine shop six weeks. I first started in the valve and cylinder department. Am now in the motor department. Have overhauled my first aeroplane motor. It certainly made me feel happy to be able to do this work. In fact I think I am the happiest boy in the world.
"They have some of the best motor men in the world here, and they are very nice to me. I consider myself very fortunate in being able to work with such high-class mechanics.
"Everything has its own separate adjustments here. The motors are taken down by one set of men and put up by another set. The same way with the bearings, cylinders, etc. It is the little things that the average mechanic overlooks that really hurt a motor. There are so many small things that one can do to make a motor run like new. Airplane motors are overhauled after every fifty hours flight, and we set everything by a thousandth of an inch.
"The pistons are weighed every time a motor is taken down to see if they are at the same weight. They must weigh within an ounce of each other or it would cause vibration. The bearings must have two-thousandths of an inch play, yet still be able to spin the motor without the least friction. We set the motor five-sixteenth of an inch advanced on the pistons, and it makes all the difference in the world with a motor.
"I intend to learn everything possible in the mechanical line before I fly. That is if they leave me here.
"I had to buy some aviation and motor books. They cost me $4.25 each. We also furnish our own work clothes. I get up at 6:15, have breakfast at 6:30, go to work at 7 and work until 11:30, have luncheon and return to work at 12:30 and work until 3:30. Have dinner at 4:30. After dinner we can go over to San Diego and stay until 12 at night, if we want to.
"We have went over to Ocean Beach to see a bathing suit parade. Believe me, it was some parade. I thought at first some of them had forgotten to even wear their bathing suits.
Medford Boys in Company A.
"If you see anything in the papers about U.S. Aviation Signal Corps, Company A, that will be the Medford boys.
"They give us a great lot of clothes and a trunk, enough clothes to last us two years. Delbert Jones has made his first flight. An airplane was disabled up the coast 60 miles and one our aviators took Delbert along with him to guard the broken airplane.
"All the boys are getting more interested in their work and are feeling fine. We often think of the big reception that Medford gave us as we passed through from Vancouver.
"Every one of us wants to make the dear old town of Medford, Jackson County and the state of Oregon proud of us. Remember me to all inquiring friends and Elks."
Medford Mail Tribune,
June 30, 1917, page 6
Seely Hall, the well-known young Medford man serving in the aviation corps at the San Diego training camp, has sent a fine photograph of himself in uniform to the Elks club, which has attracted much favorable attention. He seems to have greatly changed in appearance and is growing fleshier.
"Local and Personal,"
Medford Mail Tribune,
July 10, 1917, page 4
Seely Hall, who is home on a 10-days furlough from the aviation camp near San Diego, will report back to the camp for duty on August 24, when he will be sent to another aviation post somewhere in the East, probably near Detroit. He is detailed to the other post probably because of the skill and proficiency he has shown in the aviation camp shops. Mr. Hall regrets exceedingly having to part with the other Medford boys, with whom he has been in training for the past five months.
"Local and Personal,"
Medford Mail Tribune,
August 18, 1917, page 2
Seely Hall, who has been enjoying a short furlough, which he spent on a visit with his parents, left yesterday on the return trip to the aviation training camp on North Island near San Diego to resume his army service. He has been notified that shortly after his return he will be transferred to duty in one of the larger aviation training camps in the East.
"Local and Personal,"
Medford Mail Tribune,
August 24, 1917, page 2
SEELY HALL IS AGENT FOR NEW CHANDLER
The new Chandler will be handled in Jackson and Josephine counties by Seely V. Hall. Mr. Hall has looked over the different makes of automobiles very carefully and considers the Chandler in a class by itself. Mr. Hall's ability and judgment on the different makes of motors is unquestioned. The Chandler is not only endurable but is one of the most beautiful cars built, having all the mechanical perfection and beauty of design of much higher priced cars.
Mr. Hall considers that the Chandler is just the car that is needed in southern Oregon to stand up over our mountain roads. The Chandler weighs less than 3000 pounds, with just enough weight for endurance, flexibility and easy riding. The leather upholstering is deep and heavy. On account of the great demand for the Chandler, Mr. Hall is only able to get 10 cars for this season. Advance orders are now being taken.
Medford Mail Tribune,
May 31, 1919, page 3
An effort is being made to form a stock company in Medford for the establishment of a commercial airplane here in the spring, summer and fall to give local people air rides at so much per ride. The promoters, Seely Hall, Frank Farrell and Floyd Hart, argue that such a company with one or more passenger planes would do a land office business here among the city and valley people who have a longing to get up higher before they die. In the wintertime the company would move its flying outfit to northern California and reap a financial harvest there. Messrs. Hall, Farrell and Hart were conspicuous in the airplane service during the war, Hart being a crack flier with a Bosche plane to his credit.
"Local Briefs,"
Medford Mail Tribune,
July 10, 1919, page 2
For the rest of the "Old Sturdy" story, click here.

Medford Aircraft Corporation ticket, 1919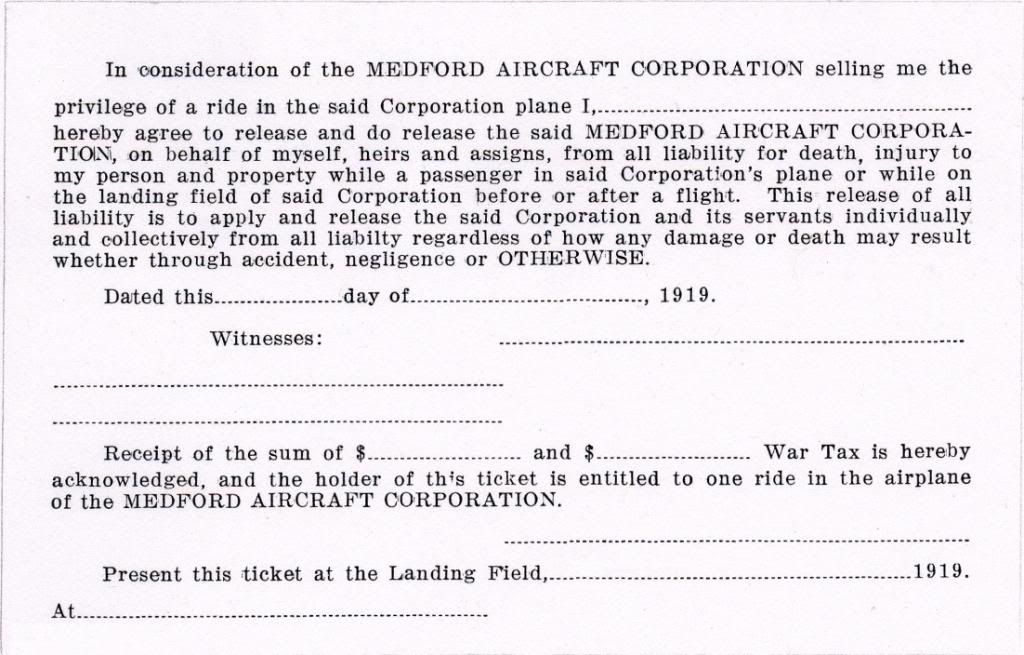 Seely V. Hall, sergeant, first-class, 18th Aero Squadron, in charge of motor blocks, Rockwell Field.
"Medford Record in Aviation Is a Splendid One,"
Medford Mail Tribune,
October 13, 1919, page B7
We have moved from 36 North Central to 18 North Grape Street (the old Auto Exchange). Seely V. Hall Motor Co., Chandler and Cleveland cars.
"Local Briefs,"
Medford Mail Tribune,
August 5, 1920, page 2
Mr. and Mrs. Seely Hall will leave about the middle of October to spend six months on Mr. Hall's homestead in the Butte Falls section. The work of putting the roof on the cabin was completed last Sunday, and the well-known young people will lead the life of hillbillies for half a year to receive 160 acres of land from Uncle Sam.
Seely V. Hall spent Sunday in the Butte Falls district, attending to work around his homestead.
"Local Briefs,"
Medford Mail Tribune,
September 21, 1920, page 2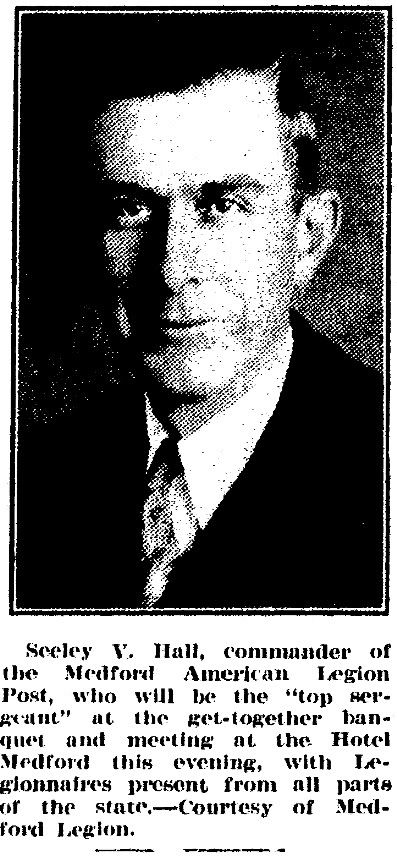 June 25, 1927
Medford Mail Tribune
The matter of entering into a four-year contract, without recompense, with the Pacific Air Transport company for the use of the landing field inside of the fairgrounds race track enclosure by the latter was also brought up [at the city council meeting], and referred to City Attorney John H. Carkin for examination as to its legality, and to see whether the proper clauses protecting the city from all liability damage were in the contract.
"Talk Details of City Hall Construction,"
Medford Mail Tribune,
July 6, 1927, page 8
SEELY HALL GETS AIR RECOGNITION
The appointment of Seely Hall to the board of directors of the National Aeronautical Chamber of Commerce of America, and as secretary of the Pacific Northwest District, is regarded as a big honor for Mr. Hall and a credit to Medford and Southern Oregon. Only three men on the Pacific Coast are members of the board. The appointment was announced today. It pertains to the executive committee of the airport section of the chamber.
Mr. Hall is also a member of the board of directors of the National Aeronautics Association. He has been active in aviation for a number of years and headed the airport committee of the Medford Chamber of Commerce, instrumental in the construction of the new municipal airport. He is the superintendent of the Medford airport and is known along the entire coast for his aviation activities.
Medford Mail Tribune,
April 19, 1930, page 2
Mr. and Mrs. Hall Leave Soon for Burbank Duties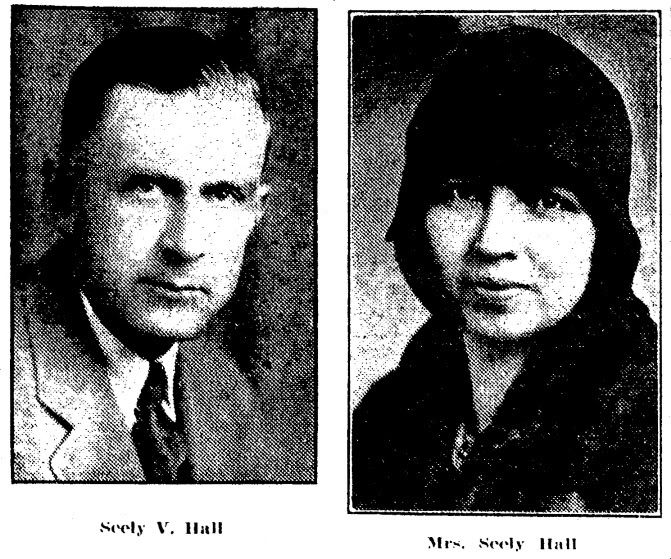 Seely Hall, local manager for the Pacific Air Transport company since it was established in 1926 and superintendent of the new Medford airport since it was completed a year ago, will leave next Saturday with Mrs. Hall and sons for Oakland, Calif. preparatory to taking up permanent residence in Burbank, Calif., where he will act as division superintendent for the Pacific Air Transport lines between Fresno and San Diego.
Phil Sharp, for some time past manager of the Portland stop for the company, will succeed Mr. Hall in Medford, but information was unavailable today whether the new man would also be field superintendent.
Mr. Hall, who has resided in Medford and vicinity most of his life, is one of the local aviation pioneers, and with Floyd Hart was the first man to bring an airplane to Medford to fly for commercial purposes. Four years ago he became connected with the newly established coast air mail line and was one of the local citizens most active in encouraging the construction of Medford's new airport north of the city, providing this section with one of the finest airports in the state.
Mr. and Mrs. Hall have two sons, both of whom were born in Medford. Mrs. Hall has resided here for some time, but originally came from Michigan. They have been both active in American Legion and auxiliary circles as well as in church and all civic affairs.
Medford Mail Tribune,
February 18, 1931, page 3
Hall in Medford--
Seely V. Hall of Seattle, who was formerly superintendent of the Medford municipal airport, is a visitor in Medford. Mr. Hall is with the United Air Lines in Seattle.
"Local and Personal,"
Medford Mail Tribune,
December 27, 1933, page 7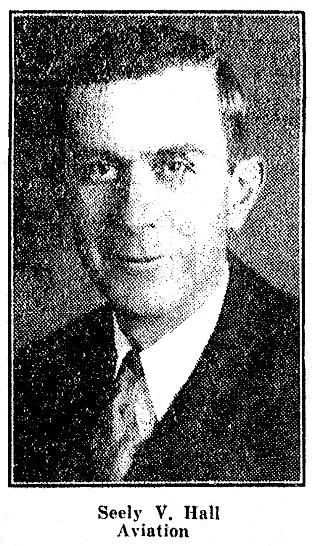 SEELY HALL NOW CALLED VETERAN OF COAST AIRWAY

Under the caption "Introducing," the
United Air Lines News,
in its last issue, prints the following praise of Seely V. Hall, valley-born and raised, and son of Mr. and Mrs. J. Court Hall.
"An 'old timer' on the Pacific Coast route of the United Air Lines is a fellow who can recall the days when just about any cleared space was an intermediate landing field, when farmers, drug store clerks and hotel proprietors were 'airway meteorologists,' and when open-cockpit two-seater airplanes made up the line's modern fleet.
"Seely Hall is an old timer.
"Now field manager for United's Pacific Air Transport division at Seattle, Seely can tell you how he once rode up and down the proposed air route in a rattling old Lizzie, picking out likely-looking landing spots and appointing weather observers. An observer then was anybody who could tell you whether it was raining, sunshining or snowing, and who could inform you as to whether he could see Si Perkins' barn, the lonesome pine or some other object a quarter to a half-mile away.
"Hall was born at Central Point, Ore., in 1893, the son of pioneers. He went to school in Medford, drove stages to Crater Lake National Park and, after that, took over an automobile agency. Came the war and Seely enlisted in the Signal Corps branch of the air service. At San Diego he was with Hebe Miller in the motor repair shops of the First Aero Squadron. Russ Cunningham was there, too, as a flying cadet.
"After the war, Seely bought a Jenny and formed the
Medford Aircraft Company.
Actually, about 25 people owned the plane, since Seely raised money for its purchase by promising a ride to everyone who bought a $100 share, and there were many responses. With his ship he barnstormed through Oregon and eastern Washington. His plane, incidentally, was the first of the civilian type to fly over the Siskiyou Mountains and to go up the Columbia River Gorge.
"Wedding bells sounded, and Seely sold the Jenny to pursue various activities until 1925, when he became interested in Vern C. Gorst's plan to start a Pacific Coast airmail line. Selling stock and helping to lay out the route, he became associated with this project.
"Seely had charge of the Medford station for Pacific Air Transport for four years, then went to Los Angeles as division superintendent. Later he became field manager at San Diego and in September of last year was transferred to Seattle. With Mrs. Hall and their two youngsters, he now is getting accustomed to Washington 'mist.'"
Medford Mail Tribune,
January 25, 1934, page 2
Heads United's Western Division

Seely V. Hall has been appointed Manager of Operations for United Air Lines' Western Division between Denver and the Pacific Coast. Hall began his aviation career in the Air Corps during the war, was one of the organizers of Pacific Air Transport, the original airline on the Pacific coast, which is now part of United Air Lines. Since then he has served in various operations supervisory capacities for United. Now he is in charge of flight operations of United's entire system west of Denver.
Medford Mail Tribune,
October 14, 1938, page 1
Hall Reminiscences About Aviation's Early Days in America

"The people of Medford never made a better investment than when on April 2, 1929, they voted by a margin of more than 12 to 1 to invest $120,000 in an airport."
This observation was made by Seely V. Hall, pioneer in development of aviation here, in an address Tuesday before the Medford Rotary Club.
Speaking at a luncheon meeting at the Rogue Valley Country Club, Hall urged additional expansion of Medford's 35-year-old airport. The main runway, he said, should be extended to 7,000 feet to accommodate large jet aircraft.
"A new cycle has come in the age of commercial aviation," the speaker reminded his audience. "Medford airport, now 640 acres in size and worth about $7 million, is not adequate to meet the fast-growing population of the Southern Oregon-Northern California area. When the major airlines have recently spent more than $3.7 billion in new equipment and facilities. Medford must keep in step with the growth of air travel. It will affect the economy of every person here.
Seely Hall, considered the "father of aviation" in Jackson County, recalled how Charley Young and Court Hall, Seely's father, arranged for the first airplane to be brought to Medford back in 1908. Eugene Ely, the pilot of that plane, which landed in a stubble field west of Medford, became the first aviator to land a plane on a battleship.
Seely Hall, with World War I flying hero Floyd Hart and the late Frank Farrell, naval flyer, invested $3,800 in a Curtiss Jenny and launched a
barnstorming venture
through Oregon and Washington. The field at the south end of Grape Street was the only landing place. Soon a small airport was built at the Medford fairgrounds and dedicated as Newell Barber Field, in honor of a young Medford man killed in France.
Hall told of the first forest fire patrol based at this airport in 1922, with pilots flying the old wartime DeHavilland planes. Vern Gorst, with an important assist from Hall, Paul B. McKee and other air-minded Medford men, won a first air mail contract for Pacific Air Transport, later to become United Air Lines.
Weather conditions along the coast, before modern airports and weather stations had been established, were checked by calling farmers in remote mountain areas, Hall recalled. Those were the days when pilots really flew their old-fashioned planes "by the seat of their pants," with few instruments to guide them.
Seely Hall retired from United Air Lines in 1958 after serving as vice president in charge of all ground operations.
He was introduced at the luncheon by Morris B. Leonard.
Medford Mail Tribune,
November 3, 1965, page 8
Airmail Flight Observance Set

Forty years ago tomorrow the first direct commercial airline service landed in Medford. Ceremonies recognizing that flight, which put Medford on the air map of the world, will be held at the Medford-Jackson County Airport at 10:30 a.m. Thursday.
Three of the men who put the U.S. mail bags from the Medford Post Office on that initial flight will participate in the observance, D. L. Ferguson, airport manager, announced today.
They are former postmaster William Warner; Seely Hall, retired United Air Lines executive, who was then with Pacific Air Transport, United's predecessor; and William (Bill) Rosenbaum Sr., who serviced the planes.
The service, pioneered by Pacific Air Transport, linked Medford with six other cities on the Pacific coast from Seattle to Los Angeles.
The historic flight was flown by former pilot Vern Bookwalter in an open-cockpit, single-engined 90-mile-an-hour Ryan plane. A large crowd of local citizens gathered at the old fairgrounds for dedication ceremonies. The pouch containing the first airmail from Medford weighed 155¾ pounds.
The public is invited to the ceremonies to be held tomorrow, Ferguson reported.
Medford Mail Tribune,
September 14, 1966, page 1
West Coast Aviation, Airmail Pioneer Seely Hall

MEDFORD, Ore.--Seely Hall, 91, a pioneer in airmail delivery on the West Coast, United Airlines executive and a founder of Pacific Air Transport, died Monday.
The cause of death was not released, said Mel Friend of Perl Funeral Home.
Born in Central Point in 1893, Mr. Hall took his first flight when he was 12--a balloon ride at the Lewis and Clark Exposition in Portland.
He learned to fly planes during World War I, when he served in the Aerial Squadron of the Signal Corps.
The Medford Aircraft Corporation's
Curtiss JN-4
"Jenny" on July 13, 1919 near Klamath Falls.
In 1919, he joined with Frank Farrell and Floyd Hart in buying a 90-horsepower Curtiss Jenny that became the
first airplane
owned in Medford.
Vern C. Gorst
, who had carried mail during the Alaska gold rush, asked Mr. Hall to help form an airmail service in 1925.
The airline they formed was called Pacific Air Transport. It won a four-year contract to carry mail from Seattle to Los Angeles on a $64,000 bid and the condition that it only be paid if it beat the trains.
The only stop on the 1,000-mile flight was in Medford, which had Oregon's only
airport
at the time.
The late Medford postmaster, William J. Warner, once said Mr. Hall had more to do with establishing airmail service on the coast than anyone else.
Pacific Air Transport merged with United Airlines in the 1930s. Mr. Hall served as an executive for United until his retirement in 1958.
Orange County Register,
Santa Ana, California, November 24, 1984, page 161
Last revised June 30, 2017