Battery-Operated Talking Toy Repair Kit
Includes Suzy Smart and hundreds of other talking dolls, toys, robots and novelties (see partial list below). If it has a battery and record, this is the kit.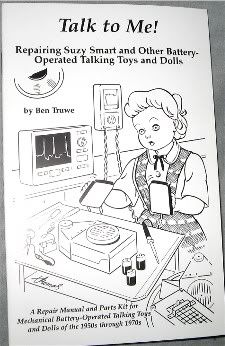 A complete repair manual--twenty-eight pages of professionally written, professionally typeset text covering complete repair procedures, illustrated with eight photos and patent illustrations.
Parts: Two sizes of silicone tubing for friction drive talkers (to replace the original latex that self-destructed), two belts in the most common sizes for belt-drive talkers--enough parts for six talkers
The manual takes you step by step through the repair process. No previous repair experience is necessary--it tells you which tools to use, and how to use them. It tells you how to avoid mistakes, and how to fix any errors you do make. Just a few of the topics covered are:
How to do a complete overhaul--OR just get your talker talking again
How to solder electrical parts, without melting the plastic parts they're riveted to
Troubleshooting section
How to bring "dead" motors back to life--or rewind them if necessary
Where to get more parts
Information you won't find anywhere else includes:
The best tools for talker repair--and how to use them
Which chemicals to use--and which to avoid
How to repair scratched records
Why using ordinary grease to lubricate talkers can be disastrous
Here's a partial list of the hundreds of different battery-op talkers made in the 1960s through 1980s:
"Answer Me" Talking Phone
Baby Babbles
Baby Talk
Bozo Talking Telephone
Chatterbox
Crying Jag Bag
Dial Talkie Phone
Disneyland Talking Telephone
Gund Bag Full of Laughs
Gund Bag of Bull
Gund Barrel Full of Laughs
Gund Cry'n Bag
Gund Just "Fore" Laughs
Gund Manic Panic
Gund "Nifty Thrifty" with a Laugh
Gund Talking Donald Duck
Gund Talking Goofy
Gund Talking Mickey Mouse
Gund Talking Popeye
Gund Talking Santa Claus
Jill
Jukepet
Laughing Bag
Magic Mike II
Marx Laugh Machine
Marx Talking Phone
Mascon "Talk-N-Tell" Talking Telephon
Melodie
Mickey Mouse Talking Phone
Mighty Tiny
Nancy Nurse
Noma
Patty Cake Sings
Push Button Talkie Phone
Remco Mimi
Remco Talk 'n Play Bathinette
Remco Talk 'n Play Feeding Chair
Remco Talk 'n Play Rocker
Roberta
Romper Room Talking Telephone
De Luxe Reading Sally Says
Serenella
Suzy Smart
Talkie Phone
Talking Alf
Talking Croupier Roulette
Talking Refrigerator
Talking Switchboard
Talking Toilet
Talking Wonder Horse
Terry Talker
De Luxe Reading Tickles
Toby the Robot
Toilet Ashtray
Topo Gigio




© Talky Tina Press, Medford, Oregon