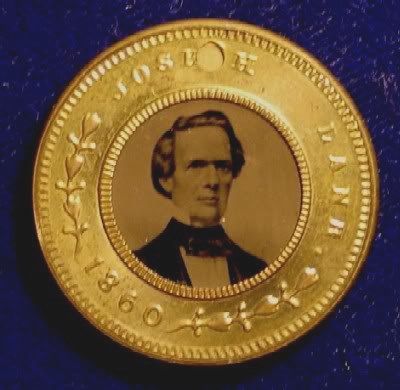 Joseph Lane campaign ferrotype, 1860
Never having seen
Gen. Lane
, my curiosity prompted me to visit his camp day before yesterday. Having seen generals in the States togged out in epaulets, gold lace, cocked hats and long, shining swords, I expected to find something of the kind at "headquarters." But fancy my surprise on being introduced to a robust, good-looking middle-aged man, with his right arm in a sling, the shirt sleeve slit open and dangling bloody from his shoulder, his nether extremities cased in an old pair of grey breeches that looked as though they were the identical ones worn by Gen. Scott when he was "exposed to the fire in the rear." One end of them was supported by a buckskin strap in the place of a suspender, while one of the legs rested upon the top of the remains of an old boot. His hair so twisted, tangled and matted that it would have frightened the teeth out of a currycomb, and set all tonsorial expectations at defiance, was surmounted by the remains of an old forage cap, which, judging from its appearance, might have been worn at Braddock's defeat. This composed the uniform of the old hero who never surrendered.
The "quarters" were in keeping with the garb of the occupant, it being a rough log cabin about 16 feet square with a hole in one side, called a door, and destitute of floor or chimney. In one corner lay a pile of sacks filled with provisions for the troops, in another a stack of guns of all sizes, sorts and caliber, from the old French musket down to the fancy silver-mounted sporting rifle, while in the third sat an old camp kettle, a frying pan, a coffee pot minus a spout, four pack saddles, a dirty shirt, one old shoe, and a moccasin. The fourth corner occupied by a pair of blankets said to be the Genl.'s bed, and on a projecting puncheon just over it lay some articles said to be ammunition for the stomach in the shape of a chunk of raw beef and a wad of dirty dough. In the center of the "quarters" was a space about four feet square for the accommodation of guests. Such being the luxuries of a general's quarters, you may judge something how
privates
have fared in the war.
"SOCKS."

Oregon Statesman,
Salem, September 27, 1853, page 2
Last revised July 14, 2017