HOME
Jimmy Twogood and the Brand of Cain

Extracts
relating to his years in Southern Oregon, 1851-circa 1865,
from
James Henry Twogood'
s writings
. In vaguely chronological order of events: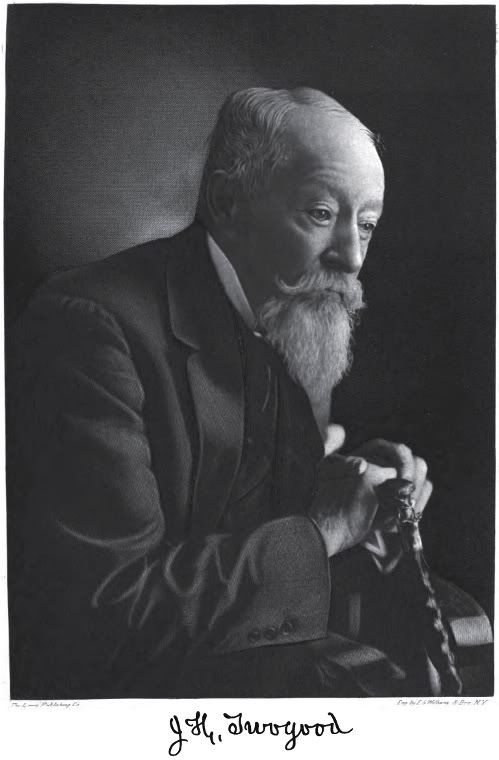 JAMES H. TWOGOOD. Boise, the state of Idaho and the entire Northwest mourned the passing of James H. Twogood, January 25, 1913. Here was a life remarkable in many ways. A simple, kindly, lovable old man, he was to the modern generation as a patriarch of biblical history, possessed of the stored-up wisdom and experience of almost three generations of human existence. More than three score years ago he had been as one among a small multitude of the bold, self-reliant, adventure-seeking, and hardy pathfinders and fortune hunters and home-makers of the Northwest. He carried his prospector's kit into nearly every promising field of southern Oregon, endured the toil and privation which were the lot of every successful miner of his time, fought Indians and learned to accept as commonplace accidents and incidents which now give a thrill of fear to the readers of his experiences who have long been "versed in ways of peace." For more than forty years Boise was his home, and the city which he saw grow from a village to the capital of a great state honored his rugged yet kindly nature as few citizens have been honored. His life record, though written as an outline and only suggesting the highlight of its adventure, is a chapter of Idaho history which will obtain an increasing significance and interest as the passing years throw into higher perspective the fundamental greatness of the pioneer.
James H. Twogood, known to hundreds of admiring citizens of Boise and elsewhere as "Uncle Jimmy Twogood," was a native of New York, born near Troy, July 12, 1826.
The eight children of William Twogood and wife are named as follows: Orestes B., who was a soldier in the First Wisconsin Infantry, became captain of his company, and after the battle of Stone River, where he had suffered much from exposure, was taken sick and died at his home, December 17, 1863; Helen, who died in infancy; Emily, who is still living and the wife of the late Merritt L. Satterlee, of Chicago; James H.; Elizabeth, still living, wife of the late [Stoughton] P. Jones of Jacksonville, Oregon; Sarah, also living, the wife of the late Colonel Alfred Chapin of Rockford, Illinois. Colonel Chapin having been a prominent soldier of the Civil War; Belle, who is the wife of the late J. F. Hervey, of Chicago; and William L., now of Los Angeles.
The late James H. Twogood was eleven years of age when the family came west to Illinois, and with the exception of such education as he obtained in the primitive district schools of his locality he was chiefly educated in the city of Chicago during the five years' residence of his parents in that city. He also learned the harness maker's trade there and followed that as an occupation for a number of years. During the middle forties he was a member of the volunteer fire department of Chicago, and was active and well known in the citizenship of Chicago when the population comprised only a few thousand people.
He was a young man of twenty-four when the lure of the West seized him and he came out into the then little known regions of Oregon. His introduction to this country may be described in his own words, as follows: "A younger brother and I crossed the plains in 1851 with a good four-horse rig of our own, landing in Oregon City August 20, but in trying to assist some of our more unfortunate friends, lost wagon, harness, all our clothing and a kit of saddler's tools. This changed the whole course of my life; could not go to work at my trade as I expected to do, so went to the mines in southern Oregon." In the records of the War Department at Washington might be found a detailed account of his many adventures, hairbreadth escapes and losses incident to the Oregon Indian wars that devastated that country up to 1855. That phase of his life, however interesting in itself, must be only alluded to here. He was an enlisted volunteer, and took an active part in some of the fierce battles in which the Indians were put to rout, and after which they gave the early settlers but little trouble. He was a prospector and settler in the Grave Creek region of Oregon, and the Grave Creek Indians were considered the most hostile tribe in the entire country, and a large part of the war centered over that section.
Shortly after the close of the Indian wars, Mr. Twogood returned to Rockford, Illinois, where he remained a few years. He then came again to the West and in 1870 located in Boise, from that time forward making this city his home. He saw Boise grow from a village of a few hundred people to the city of its present proportions. He took great pride in Boise, and this civic pride increased with his declining years.
The late Mr. Twogood married Miss Permelia Custer of Pennsylvania. Mrs. Twogood died on January 2, 1911, and it was this break in their long and happy companionship which hastened the decline of Mr. Twogood. The two surviving children of their marriage are Merritt L. Twogood, and Mrs. Robert Loring, of Boise, formerly Miss Carrie T. Twogood.
Excerpted from Hiram T. French,
History of Idaho: A Narrative Account of Its Historical Progress,
1914, page 770.
The full text of Twogood's biography is on Google Books.
- - - - - - - - - - - - - - - - - - - - - - - - - - - - - - - - - - - - - - - - - - - - -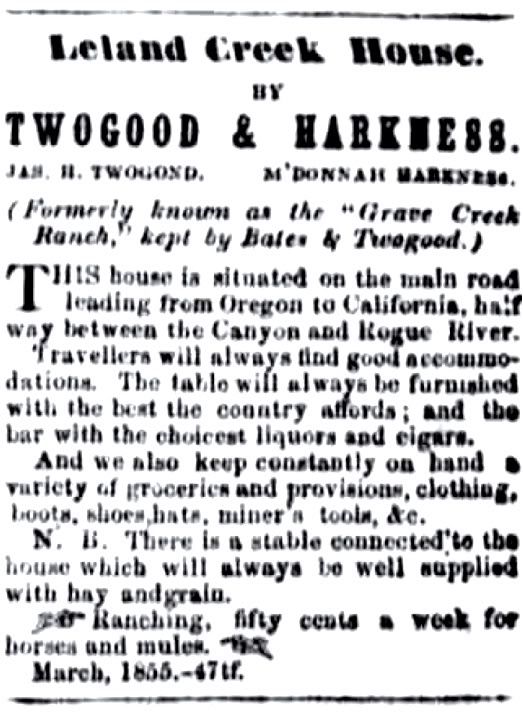 Twogood & Harkness ad, May 12, 1855 Umpqua Weekly Gazette
I called on Charley Wilson [publisher of the
Chicago Daily Journal
] April 9, 1851. The next day my brother, O. B. [Orestes Badger Twogood], and I started out west to find sunset and gold. I told Charley that I would let him hear from us en route, and the following is a copy of the first letter, which was reprinted in a home paper. Who of you readers can produce a clipping from a newspaper that you wrote nearly 57 years ago--more than the average man's lifetime? There are but few of the early timers of 1837 left in Chicago.
The following is the clipping referred to, exactly as it appeared in the paper to which I sent it:
Correspondence of the
Chicago Journal
From an Oregon-Bound Emigrant.

Iowa City, April 21st, 1851.
Friend Wilson:--We arrived safe in this great metropolis today en route for Oregon. We came via Rockford and thence down Rock River on the east side. We found good roads and as good a farming country as need be, all the way down to its mouth. We crossed the Mississippi at Rock Island, and stopped at Davenport. It is quite a stirring little place and built up mostly of brick, as is also Stevenson on the opposite side of the river. We have met with but one Oregon team on the way, and that was an ox team in a miserable condition. There is but few teams on the road, and those are mostly cattle. We have four good horses, a light wagon, and our baggage does not exceed ten hundred. We have no difficulty in driving 30 or 40 miles per day. We have been one week on the road and think in one more we will be able to make the bluffs, although we have a good many rivers and small streams to cross, but so far they have all been good bridges or ferries. There is some 30 or 40 Californians encamped just below here, from Wisconsin. This being the last point on the settlements, I shall not have another chance to write until we reach the Bluffs, when I will write you again.
Yours &c., J. H. T.
James H. Twogood, "Tells of Early Days in Chicago,"
Evening Capital News,
Boise, Idaho,
March 7, 1908, page 16
The complete article was reprinted in the
Jacksonville Post,
March 21, 1908, page 3


I crossed the plains in 1851 and landed at Portland, where there was a wharf and a dozen log cabins. I was entitled to a quarter section of land from the government, but there was nothing there. I could not wait, but Judge Denny, captain of our company, could, and a few years later located a half section, of what is now Seattle.
J. H. Twogood, "First Ball Given by Fire Department of Boise in 1876,"
Evening Capital News,
Boise, Idaho,
February 25, 1908, page 8
From Cow Creek the road is dry, but mountainous and rugged, to Grave Creek, eight miles, which has a valley sufficient for one or two claims, and a log hut is erected, but not occupied at present. This creek has its name from the circumstance of a woman, from an emigrant company, having been buried here a few years ago. Its Indian name is Ah-pel-pah.
N. Coe, "Umpqua and Rogue River Valleys,"
Weekly Oregonian,
Portland, July 3, 1852, page 2
Extermination of the Grave Creek Indians.
Messrs. Adams and McCormick, who arrived here a day or two since, give us the following information relative to the Grave Creek Indians. They state that two weeks last Wednesday [
on August 17
] four Indians were got into Mr. Bates' house, but as yet the women and three others had not come in. The whites waited till the rest of the Indians came up. Mr. Owens was there with a guard to protect the U.S. mail. When the other Indians came in Mr. J. H. McCormick was ordered to take charge of the armed white men, four in number, outside. It was ordered that no firing be done till near enough to make sure shots. The chief and three others were in Bates' house, in charge of Mr. Charles Adams. Mr. McCormick's attack was to be the signal for Adams inside. When the outside signal was given Adams shot a noted Indian named John. Mr. Thomas Frizzell shot at the chief, wounding him. The chief sprang at him with a shovel, aiming at his head, but was warded off, giving a dangerous wound in the hand. The chief then gathered in and threw him, when Adams put two balls through him and he expired. Capt. Owens came in, when an Indian sprang upon and threw him. While down Mr. Adams put two balls through him and he expired. In the melee Owens received two balls through his hat.
The question then arose whether the squaws and children should be put to death. Through Messrs. Adams and McCormick's exertions they were unharmed. The only one left of the male race of this tribe is a young lad some eight or ten years old, a very bright and intelligent boy, whom they brought to this place with them.
Oregon Weekly Times,
Portland, September 10, 1853, page 2
Capt. Owen, with a company, succeeded in decoying five Indians into Bates' house, on Grave Creek, under the pretense of having a talk, and, after disarming and tying, shot them. This act, together with the killing of a defenseless Indian at the "rancherie" on Grave Creek, are believed to be all accomplished by that company during the war.
"Affairs in the South,"
Oregon Statesman,
Oregon City, September 27, 1853, page 2
Mongo, a half-breed, and Thos. Prewell, were killed and a third man wounded by the Indians near Long's ferry, on Rogue River, on Sunday last, while upon the same day the house of Mr. Raymond, near Jumpoff Joe, was burnt to the ground, consuming with it a great quantity of flour and groceries. Two other houses in the same neighborhood were also burnt.
These outrages were in retaliation for the killing of seven Indians in the house of Mr. Bates, on Grave Creek.
Letter from Camp Alden dated September 2,
Oregon Statesman,
Oregon City, September 27, 1853, page 2
At Grave Creek [in September 1853] I stopped to feed my horse and get something to eat. There was a house there, called the "Bates House," after the man who kept it. It was a rough wooden structure without a floor, and had an immense clapboard funnel at one end, which served as a chimney. There was no house or settlement within ten or twelve miles or more of it.
There I found Captain J. K. Lamerick, in command of a company of volunteers. It seems he had been sent there by General Lane after the fight at Battle Creek, on account of the murder of some Indians there, of which he and others gave me the following account:
Bates and some others had induced a small party of peaceable Indians, who belonged in that vicinity, to enter into an engagement to remain at peace with the whites during the war which was going on at some distance from them, and by way of ratification of this treaty, invited them to partake of a feast in an unoccupied log house just across the road from the "Bates House," and while they were partaking, unarmed, of this proffered hospitality, the door was suddenly fastened upon them, and they were deliberately shot down through the cracks between the logs by their treacherous hosts.
Nearby, and probably a quarter of a mile this side of the creek, I was shown a large round hole into which the bodies of these murdered Indians had been unceremoniously tumbled. I did not see them, for they were covered with fresh earth. Doubtless this is the grave which Col. Nesmith saw as he came along some days later with his company on the way south, and which I think he mistook for the old grave of Miss Crowley. At least this is how these Indians came to their death. There was no fight there, or thereabout, with any Indians, and never had been. Fitzgerald and his dragoons were not there; and he did not even come to this country until the summer of 1855.
About this same time, these same parties by some device captured an Indian chief and his boy, and agreed with the boy that if he would go into the mountains and hunt down an Indian chief who had refused to come in and treat with them, and bring in his head, they would liberate his father, otherwise they said they would kill him. The filial young savage, for his father's sake, undertook the task, and taking his rifle went alone upon the trail of the old chief, and in due time returned with his head a la Judith, which Bates hung by the hair to the roof-tree of his house, as an Indian trophy, where I saw it with my own eyes. But this was not all. Instead of liberating the captive, they killed both him and his son. Bates left the country soon after, and went, as I understood, to South America. The place passed into the hands of Mr. James Twogood, who afterward in partnership with Mr. Harkness made it a famous resting place for man and beast.
Matthew P. Deady,
Transactions of the Oregon Pioneer Association,
1883, "Southern Oregon Names and Events," pages 23 and 24
Grave Creek House
Early Settlement of Southern Oregon

In the early 'fifties James H. Twogood kept a tavern or travelers' eating and lodging house on Cow Creek, Jump-Off Joe, or somewhere on the Oregon and California trail in Southern Oregon. His place and the one at Dutchtown, now Aurora, near Oregon City, were considered the best eating places between Portland and Sacramento. But "Jimmy" got tired of running a hotel and went east more than 40 years ago and was living in Illinois in 1868 when we attended the Republican National Convention at Chicago. He was then lamenting because he had left "God's Country" for cold, hot, too-wet and too-dry Illinois and had got so poor that he could not go back to Oregon. We as a member of the Oregon delegation got him a seat in the convention. Since then he has come back as far as Idaho, where he now resides and has for some years. Some time ago he sent some writings of his in the
Boise Evening News
of nearly a year ago, and also a communication concerning Southern Oregon, to a friend in Eugene, Harry Huff, and requested that the papers and the communication be handed to me, which has been done after [a] long delay. But as the communication does not relate to recent news and is historical we print it below as a contribution to early history:
I clip the above from the Medford, Oregon
Tribune.
Mr. Parker has written me since and wants to know if I know anything about Josephine Leland. My reply is, most emphatically, NO. And furthermore, there never was a person in existence by that name in Southern Oregon. Now, as I blazed the first tree for a settlement on Grave Creek in '51 and lived [there] until September '66, went through the Indian war there in 1853, another in 1855-6, I think I ought to know.
And it's possible that I am the last one left of the '51 settlers. Crossed the plains after leaving Chicago, April 10, traveled days through Iowa without seeing a log cabin, got to Kanesville May 10, bought supplies, crossed the Missouri River, drove out 5 miles to camp, expecting to meet the Hadleys. They were gone. We started early next morning and drove 25 miles in 6 hours. My brother and I had [a] good rig. Wagon made by Peter Schutler, who belonged to my fire company [in Chicago. We had] two engines in 1845; here at Loop Fork [of the Platte River] we organized. Judge Denny, founder of Seattle, was made captain; H. G. Hadley and Aaron Rose, lieutenants, O. B. [Twogood], secretary. Thirty horse teams in train, no sickness in train of course; had to stand guard every night. Only one man shot by Indians, Mell Hadley, at Salmon Falls, Snake River. Bullet went in just below right nipple and came out close to his backbone. We laid by five days for him to die. Wouldn't die, so we took him through, landing at Oregon City, August 20. This was then the principal business center of Oregon Territory. Nothing at Portland but a wharf and a few log cabins. Brother and I lost everything by trying to help others through; wagon, harness, three years' clothing and my kit of harness tools, so I could not get a job. Sam Hadley and I rigged up with a tent and two months' provisions and started for mines that we heard of in Southern Oregon. We wended our way up through the Willamette Valley, which was very sparsely settled, via Salem, Albany, Maresville (now Corvallis) and up the Long Tom to Richardson's place; then to Eugene Skinner's place, where we found he had located section land, gift from Uncle Sam. Had log house and barn. Today it is Eugene. A few miles farther on we found where H. G. Hadley had located a half-section. We camped here three days; went to a log house, thence on over the [Calapooia] mountain, crossing the North Umpqua at Winchester. Five miles farther on we found Aaron Rose and family, our friends we left in Grand Ronde Valley. Ten miles farther on we found Jesse Roberts' place; thence on up to Myrtle Creek; crossed South Umpqua and up to north end of big canyon. Here we found Joseph Knott and family had located ranch in August. Then there was hardly a passable pack trail, worse than the Ohio Maumee Swamp we drove through in September 1836; 12 miles took two days.
Knott's place was the last settlement. We got through [the] big canyon some way and camped down on Cow Creek; thence over mountains to Wolf Creek and over steep hills to Grave Creek. Here we nooned. Found beautiful little valley, good grass right beside the road, good mountain stream, pure water; this from the fact people dare not camp there for fear of Indians. We crossed over next divide and were in the Rogue River Valley. Crossing Jump-Off Joe and Louse Creek, [after] 20 miles we came to Ben Halstead's ferry, crossed and on down the south side of the Rogue River 7 miles. We found where James N. Vannoy, Jim Tuft & Co. had located a ferry. Tuft, in after years [a] banker at Grants Pass, now across the river, which reminds me that I must be the last one left of the old times of 1851. Traveling up Applegate, we crossed over into the Illinois Valley and up that stream until we came to Sam Frye's horse corral. This place must have been a little north of a place that was located in after years called Kerbyville. Here we met Hardy Elliff and Judge Mofford. The judge was killed here in Boise about 1864-5. It would seem there was a company of prospectors from Eureka [that] got over the Siskiyou Mountains some way in August 1851. We came by good places; went on west 40 miles and found gold in two creeks. Josephine Rollins was with the company. One they called Canyon and the other Josephine Creek. And this is where the Josephine corner [of the "Josephine Leland" name] is. Next morning we packed our two horses and led them over the mountain to Josephine. We found miners there who showed us a good place to camp among the fragrant firs. We unpacked our horses, put everything on them we did not want and turned them loose; of course they went back to camp. The horse is a very intelligent animal--next to man. And there are dogs that seem to possess almost human intelligence. Hadley and I pitched our tent on Josephine [Creek]; mined ten days, found we were not onto our job, got tired, sold our provender for $80 in gold dust and retraced our tracks via Vannoy's Ferry to [the] canyon. Here Hadley and I split the blanket, he taking the tent his wife made for us in Portland, going down the South Umpqua five or six miles below Myrtle Creek and took up a ranch. I stopped at Canyon, afterwards named [Canyon] Ville. Levy Knott had located a ranch at the south end of [the] canyon. I went to work for him and helped to build the first log cabin south of Canyon until you got to Rogue River. Halstead's and Vannoy's were the only cabins in Rogue River Valley at that time. We got the house up, and I hired out for cook at $50 per month. As a chef [I] was not much of a success, but could "bile" water without scorching it; also fry bacon and venison; make good salt-rising biscuit, bake it in [a] frying pan, make good coffee. No vegetables then except chili beans. $1 per meal. Travelers only too glad to get it, no kick coming; especially travelers that were out all day in heavy rain and wanted to get in the dry before a big blazing fire in a fireplace, 6 foot wide; get good toddy under their jacket of good old bourbon that had been shipped around the Horn, then packed 150 miles until it was well shook up and all the headache extracted. As everybody had to pack their blankets those days, we did not charge for lodging. After getting thawed out and imbibing of a few [decanters] of the elixir of life they would get congenial and tell of their trips in crossing the plains, the happiest days of their lives. In November Sam Huch (from Chicago) and I leased the house. It was here that I met Barney E. Simmons. Barney was a Yorker but moved to Michigan when a baby. He enlisted in 1897 for the Mexican War under Zack Taylor; went to California in '49 and drifted up into Oregon. Barney and I went out and located Grave Creek Ranch, and as I blazed the first tree for a settler and made it my home for 16 years I think, Mr. Parker, [I] am [a] pretty reliable authority about the first settlers, and would seriously object to having any monument there, as Josephine Leland, as Leland [
i.e., Martha Leland Crowley
] died before Josephine [Rollins] saw that country. The above statement, Mr. Parker, is in the main correct. But the hanging of 3 to 6 Indians on the limbs of the old oak tree is quite erroneous, as there never was a person hung on Grave Creek to my certain knowledge.
J. H. TWOGOOD.
P.S. Josephine County was taken off Jackson County by act of Legislature in the winter of 1854. Bill drawn up by Major Lupton, who was shot by an Indian arrow at Table Rock, first outbreak of Indians Sunday morning, Oct. 9, 1855. He lived but a few hours. Major Lupton's bill not only created Josephine County, but changed the name of Grave Creek to Leland, in honor of [Martha] Leland Crowley and Josephine for Josephine Rollins, so you see Josephine Leland, as the Johnny-came-latelies have it, would hardly go down with an old mossback.
Undated circa 1908
Oregon State Journal
clipping, W. W. Fidler scrapbook, MS208 box 2 SOHS
Early Days in Southern Oregon
By James H. Twogood

When my brother, O.B., and I crossed the plains in 1851 there was no settlement west of the Missouri River until we reached the great Columbia River, where Dr. Whitman and family had started a mission to try to civilize the treacherous red man, as early as 1836. We had a rough trip over the Cascades, arriving in Oregon City August 20, 1851, and losing everything we had trying to help others. At this time Oregon City was the commercial center from whence all goods went south to the Willamette and Umpqua valleys. Losing my tools, I could get no work, and times were dull and money scarce. There was no Portland then, only one paper. There was nothing doing anywhere in the Northwest.
We heard of real gold mines at Yreka and in southern Oregon. Sam Hadley and I had a slight attack of the yellow fever. We rigged up a tent, and with two pack and two saddle horses started south to the new Eldorado. Traveling up the valley we found it very sparsely settled. Many sections of good land could be taken up by immigrants, lived on five years and it was a donation from our dear old Uncle Sam. In the valley we came to Eugene Skinner's place, where he had taken up a section of land. He had a log house and barn, and part of his yard was fenced, where he raised garden truck. Today Eugene is a big city with an opera house.
We then traveled south over the the Calapooia Mountains, up the creek to the North Umpqua. Here we ferried to Winchester, which was then the county seat of Douglas County, a town of one log house. The county reached from the Siskiyou Mountains on the south to Calapooia on the north, 300 miles, and from the Pacific Ocean on the west to the Rocky Mountains on the east, enough territory to form 15 or 20 states like New "Jersey." Five miles farther south we found Deer Creek, likewise Aaron Rose and family, who were our traveling companions when we crossed the plains. Rose had located a half-section donation claim, which today is the present site of the town of Roseburg, the county seat of Douglas County, but the same territory is now carved up into a dozen counties.
Traveling up the South Umpqua River 28 miles we came to the mouth of the big canyon, over a horrible road of 12 miles on the old immigrant trail. I do not see how it was possible for people to go over those roads with wagons. In 1852 I saw a man start over that road through the canyon with two yoke of oxen and a good wagon, and at the end of two days he got through with only the front wheels. Here we found Mr. and Mrs. Joseph Knott, who crossed the plains in 1850 from Ottumwa, Ia., and had located a ranch, built a log tavern, and called it Canyonville. They had three grown children, Levi, Jack and Libby, whom Vince Davis called "Sis." She married Bob Ladd, a very wealthy banker in Portland. The rest of them crossed the great divide years ago, and I am the only one left.
After getting through the canyon we traveled down Cow Creek seven miles, then crossed over the mountains and on to Grave Creek, where we found a beautiful little valley with a gigantic oak tree and a grave right beside the road. Clover grew to the height of six inches, and it was an ideal camping ground. Did we camp there? I should say not. No one would dare to camp there on account of the Indians. It was considered the most dangerous point on the road. On south seven miles we crossed Jump-off Joe and Louse creeks and came to the Rogue River. Here we found Ben Halstead had established the first ferry on the trail between Oregon and California. We crossed here and went down seven miles and found James N. Vannoy, Jim Tuft & Co. had taken up a splendid ranch and put in a ferry. Both were as good men in principle as ever lived, and both are now dead. From here we traveled up the Applegate into the Illinois Valley, which we followed up to a point where Kerbyville now stands. We struck off north [
sic
] and found Sam Fry, who was running a horse corral.
It seems as though a small company of California miners, during the month of August 1851, left Yreka and traveled north in search of gold. They traveled on the old Hudson Bay trapper trail over the Siskiyou, down Bear Creek, and right by Jackson Creek, where there were good diggings, and on to the Illinois Valley. Here they went north over pretty steep mountains and found gold in two different creeks. One they named Canyon Creek and the other Josephine, in honor of a young lady who was a member of the party. This was the first gold found in Oregon. Afterwards Sailor Diggings,
Althouse
and many other good diggings were struck. I was with the Joe Knott party in February 1852, and we were the first white men to ever make the trip up Galice Creek, where we found good diggings.
Halstead and Vannoy had the only two log cabins in the Rogue River Valley in 1851. It seems to me like a fairy tale when I read about a fruit ranch being sold there for $168,000, and land near Medford producing $500 worth of fruit per acre.
Early Settlement in Southern Oregon.
It was in the fall of 1851 or early spring of 1852 that gold was first discovered in the Rogue River Valley. It was found on a little creek in paying quantities by a man named Jackson, who called it Jackson Creek, close to where Jacksonville, the seat of Jackson County, is located today. [
Today the discovery of gold is credited to Clugage and Poole, following the directions of a man in the employ of Alonzo Skinner. The Jackson name was taken in honor of Andrew Jackson.
] Sterling Creek was located by Mr. Sterling later. That proved rich and built up Jacksonville.
In 1851 there was no sickness on the plains, but in 1852 there was a big immigration, and people died by the hundreds of cholera, all owing to the fact of their not taking the precaution of providing themselves with a bottle of Perry Davis' painkiller. In Chicago during the summer of 1849, when the epidemic was raging, there were 30 deaths in one day. I was taken with the cramps one day; I took a big jolt of Perry Davis' painkiller, laid down on a lounge and went to sleep and waked up in the evening feeling as frisky as a young colt.
In the spring of 1852 a big immigration from the Willamette Valley went out to what is today called Josephine County. There was no county then, no sheriff or tax collectors, but a happy, happy people. The valley and villages settled up very rapidly, many coming up from around Portland and that section--Dave Birdseye, Colonel
W. G. T'Vault
,
Captain Angel
, the Millers and many whose names I have forgotten.
C. C. Beekman
is the only one left whom I know of from Yreka. My dear, good friend, a banker today, rode the first pony express from Yreka to Jacksonville. [
Note that Beekman's express predated, and was unrelated to, the famous 1860-61 Pony Express that terminated in Sacramento.
]
It was about 1859 that another great mining excitement broke out, away up north in the Frazer River country. It fairly set people crazy. They flocked up there by thousands, by steamer from 'Frisco, and by the California and Oregon state route. The stages were loaded to the guards every trip. At Grave Creek house, a dinner station 40 miles north of Jacksonville, we used to cater to 10 or 12 passengers every day.
Alex Rossi, a pioneer of Boise, came to California in the early days. He was a natural-born mechanic and good surveyor. He drifted north in 1853, crossing over the Siskiyou Mountains. At the foot of the mountain he found a town called Ashland. It was here, I think, that a Mr. Thomas, a big, jolly, 200-pound German, built the first flouring mill in Rogue River Valley. He was an old friend of John Krall, a well-known pioneer of Boise. Mr. Rossi went to work for Mr. Thomas and stayed until October 1, 1855. Then he again drifted north and came down to the Grave Creek house, stayed all night with us and started for Salem.
In the meantime the Indians in the Rogue River Valley, under Chiefs Joe and Sam, had been committing depredations, robbing and killing white men. About October 8 the citizens of Jacksonville commenced to talk of the matter of retaliation. About October 8 they raised a company of volunteers and started for the Indian headquarters at Table Rock, near Fort Lane, which was established by General Joe Lane during the Indian war of 1853. This volunteer company was under command of my good friend Major Lupton. They attacked the Indians Sunday morning, October 9. Quite a number of the whites were wounded, and Major Lupton was shot through with an arrow that proved fatal. Hon. John Hailey, one of our most honored pioneers of this city [
i.e., Boise, Idaho
], helped extract the arrow. That fight gave the Indians a start, and the whole tribe came rushing down Rogue River, killing and burning everything before them. They caught me with a pack train down at Galice Creek, and I did not get home for three days, but that is another long story for the future. Suffice to say, this precipitated the biggest Indian war ever known on the Pacific coast, reaching from California on the south to British possessions on the north and where Idaho now stands on the east. When Mr. Rossi reached Salem we had a full-fledged Indian war on our hands. Here he met Governor George L. curry, who insisted upon mustering him into the service. As war had been declared, he was assigned to the quartermaster's department as clerk and remained in the office until the close of the war in June 1856, when all the Rogue River and Umpqua Indians were gathered up and transported to the Siletz Indian Reservation in the Willamette Valley, where they were placed under command of Lieutenant U.S. Grant.
My thinker is getting decidedly defective, but I want to live long enough to write up the big Indian war of 1855-56 from its beginning on October 9, 1855 to its close in June 1856. It was the biggest war on the Pacific coast, and incidentally, about that time I had a thrilling ride for life. There were several hundred white men killed and wounded and quite a number of women. I guess I am the only one left who can write up his war from the southern part, as our place at that time was in the center, and was headquarters for the southern battalion and was known as Fort Leland.
My thinker is beginning to desert me at the age of 84, but if the lamp holds out I will write up one more piece, "A Ride for Life," which I will illustrate with cuts of my penknife, as illustrations are a fad and no newspaper or magazine article is complete without them.
It was in the summer of 1850 that James A. Pinney, in company with his father, left Iowa and crossed the plains to California. Later Mr. Pinney drifted up into southern Oregon, Jacksonville, just as the Rogue River country began to settle up. He ran a pack train to Crescent City, on the coast, for some time.
In the summer of 1854 he joined a volunteer company of 90 men and 50 packs under the command of Captain Jesse Walker, B. F. Dowell and others, to go out on the plains to escort in emigrants. They started out east via Klamath and Goose lakes and through the Modoc country, were out all summer and helped many people who were short on rations, and saved many a family from [being] massacred by the treacherous redskins. Jackson sent out a second train with provisions, the most humane expedition ever gotten up by the good people of southern Oregon. For his summer's work Mr. Pinney received the munificent sum of $50 from the territory.
In the early spring of 1863 J. A. Pinney, Uncle Dick Tregaskus and Ruf Johnson left Jackson for the north with three pack trains of 20 mules each--60 mules and a bell horse. As this was the biggest train ever on the road, it created quite an excitement through the Umpqua and Willamette valleys. Arriving at Portland, they all shipped on the steamer for the upper country. At Umatilla they loaded with general merchandise for the basin country. Mr. Pinney stopped at Idaho City, started building stores, of which he built three, and sent his train back after more goods.
Abridged from
The Jacksonville Post,
serialized beginning November 19, 1910, page 1
A shorter version was printed in the
Medford Mail Tribune
on November 20, 1910, but it was indifferently edited, and contains numerous small differences. It also appeared in the
Rogue River Courier
of November 18.


HOW JOSEPHINE RECEIVED ITS NAME
To the
Tribune
: I recently saw an item in the
Tribune,
a narrative telling how Josephine County and Leland derived their names. It is quite amusing to me how people get mixed up that were not johnny on the spot.
With them it is only hearsay. I think I am absolutely the only living man that can give anything like a true version of the affair.
George H. Parker of Grants Pass, Or. writes me that they want to place a monument over the old grave to preserve its history.
We crossed the plains, my brother, O. B. Twogood, and myself, in 1851, with 30 teams. Judge Denny, who located Seattle, was captain. We crossed the Missouri May 10, landed at Oregon City August 20. We lost everything we had in trying to help others. Not finding work, Sam Hadley and I rigged up and started for the mines that we heard had been struck in southwest Oregon. We traveled through the Willamette that was very sparsely settled and went 250 miles or as far as Deer Creek. There we found Aaron Rose and family of our county. We purchased a squatter right and little shack, 10x12. This is now the city of Roseburg.
From there we went south five miles, where we found Jesse Roberts, thence to the mouth of the big canyon, Joe Knott's place, the last house on the road. We went on to Grave Creek 30 miles farther and found a nice little valley and good grass. Going 20 miles further south, we found Ben Halstead's log cabin and ferry boat. We crossed and went down the south side of Rogue River seven miles to Vannoy's ferry. J. W. Vannoy and James Tuft had located a ranch there. They were the only two cabins in the Rogue River Valley.
Passing up Applegate we passed over the divide and into the Illinois Valley, some 20 or 30 miles. Here on the north side we found a camp. Sam Frey was there with a horse corral, where he herded miners' horses. There we first met Hardy Elliff, Mrs. J. E. Enyart's father. We also met Judge Morford and partner with a pack train. The judge was killed in Boise, Idaho in 1864.
The next day we passed over the mountain to some creeks, where gold was found. Hadley and I struck camp, pitched our tent and worked ten days, when we concluded we were not cut out for miners. We retraced our steps to Canyonville.
Hadley went ten miles down the South Umpqua and took up a ranch. Leroy Knott helped him build the first real log cabin south of Canyonville. It was then I met Barney Simmons. He and I went 17 miles south and located the Grave Creek Ranch. I blazed the first tree for settlement there. A company of prospectors came over the Siskiyou Mountains in August of 1851. They went down Rogue River and into the Illinois Valley, then over a mountain, where they found two creeks with gold in them. There was a Miss Josephine Rollins in the party, so they named one creek Josephine, the other Canyon. I have been told [erroneously] since that the young lady was Miss Leland Crowley and was with Jesse Applegate's train in '45 or '46, the first wagon train that ever came into Oregon from the south. They did not make more than five miles a day.
During the Rogue River Indian War of 1853, commonly known as General Joe Lane's war, my partner, Gale, and a Spaniard from Spain were shot in bed one night and the house burned at Cow Creek; afterwards six out of ten Grave Creek Indians were massacred in the Grave Creek House by Captain Owens' company of volunteers of Jacksonville. Indians were planted in the same graves they helped to open. They remained "good Indians" after that.
During the war of February '56, my partner, M. D. Harkness, went to carry a message to General
[John] K. Lamerick
30 miles down the Meadows. The Indians waylaid him, shot him in the groin and he fell from his horse. The Indians came up, stripped off every rag of clothing, scalped and cut him up in pieces, while yet alive.
Whigs Win First Election.
It was in 1854, the month of June, I think, when the first election was held in Jackson County. The Whigs carried it. M. Lupton and John T. Miller were elected to the legislature. Lupton introduced the bill creating Josephine County and changed the name of Grave Creek to Leland. So you see, Mr. Parker, the name of Josephine Leland would not look well in history, as Leland Crowley was dead before Josephine Rollins was in that part of the country.
J. H. TWOGOOD.

Medford Daily Tribune,
December 18, 1908, page 4
UNCLE JIMMIE TWOGOOD WRITES
Tells of Pioneer Friends in Rogue River Valley,
Recalled by the Death of Mrs. Kenney, nee T'Vault.

BOISE, Idaho, Nov. 26, 1911.--To the Editor: I was very much surprised awhile back to notice the death of my dear old friend Mrs. Kenney (nee Lib T'Vault). It was in the month of August 1851 that I first met Col. T'Vault in Oregon City. At that time General Joe Lane, Delezen Smith, J. M. Shepard, and his brother-in-law were called the "wheel horses of the Democrat Party" and ran things to suit themselves, but it didn't last.
It was the spring of 1852 that Col. T'Vault moved out south to the Rogue River Valley and took up a ranch 10 miles north of Jacksonville and called the place where they had the post office Dardanelles. Gold was struck there afterward by Ish, Johnny MacLothlin, Henry Klippel, August Brown and others. In the Indian war of 1853, Doc Rose and John R. Hardin were waylaid and killed near there. Hardin had married Amanda Gall of Galls Creek; [his] widow married Hawkins Shelton of Roseburg, lived neighbors to me here many years. Both are gone now.
Of my dear old friends the T'Vaults, the old gentleman and his wife, Lizy, Sainty and George are all gone now, as are Col. John E. Ross, whom I knew in Chicago in the '40s; Mike Hanley, Wagoner, Foudray and hundreds of others. Dave Linn and John Hailey of Boise, Joe Pinkham and James H. Pinney are all that are left. At the rate the pioneers are passing away, I soon will be all alone. I am approaching my 86th birthday. My oldest sister, Mrs. M. L. Satterlee, of 2704 Michigan Avenue, had 150 guests at her 91st birthday party, which was on October 16.
Joe Pinkham is manager of the Boise assay office. John Hailey and wife, nee Miss Burrel Griffin, and Jim Griffin that ran the pack train to Crescent City and who is now proprietor of the Pinney theater, which cost $100,000, are all 10 years younger than myself, and are all in good health and vigorous.
The weather in Boise is ideal; warm, clear, sunshiny days, no storms or wind yet. It is next to Rogue River Valley, which has the best climate on the coast.--J. H. Twogood.
Medford Mail Tribune,
December 5, 1911, page 2
At Grave Creek [in 1852] we found a yet-unfinished log house, and several lion-hearted, iron-handed, hawk-eyed backwoods chevaliers, who boastfully defied all the Indians in Southern Oregon, not one of whom should ever again walk over that spot of ground in any other than a friendly manner. Well was the promise kept. A few years later, when the savages murdered the settlers, and burned their homes in all the country round, Grave Creek station stood intact, defiant, safe. In after years when the Oregon and California stage line was established, Grave Creek was made a station and rose to greater celebrity than any other stopping place on the route. The
esprit de corps
of the establishment--if the application may be made--was one of the proprietors, Jimmy Twogood, a man anxious to make money out of the establishment--knowing how to do it and doing it. He was much respected by those who knew him, and many of his odd, though seldom senseless, expressions may still be remembered by those who fortune it was to seek food and shelter at his Grave Creek hotel. Before placing the stage teams upon the route a man was sent along the line to designate the stations and prepare quarters and food for teams and passengers. The Grave Creek house was a candidate for one of the stations. The agent noted the apparent sterility of the surrounding country and did not think it a proper site, because he thought that feed for the teams could not be raised in the vicinity, and the cost of hauling from other sections would be considerable. But Jimmy was tenacious, and held that his place was better adapted for a way station than any other place within twenty-five miles of it. He was a great stutterer, and when talking it was his invariable rule to raise his right foot upon the toes and perform a perpendicular vibration with the heel, at the same time rapidly slapping his right thigh with the open hand.
"You can't raise anything here, Mr. Twogood," said the agent. "This land in sight around here is too dry and gravelly. I must find a place where they can raise something." To which Jimmy, with his usual accompaniment, replied, "W-w-we c-c-c-can r-r-r-raise s-s-s-some-th-th-th-ing h-h-hh-ere t-t-t-too!"
"That is all very well, Mr. Twogood, but I'd like to know what it is that you can raise here."
"W-w-w-we c-c-c-can r-r-r-raise h-h-h-hell!"
The loud and prolonged run of laughter by the assembled guests which greeted this unexpected finale decided the contest in Jimmy's favor. He got the station.
"Thirty-Four Years Ago,"
Sunday Oregonian,
January 10, 1886, page 3
I knew James Twogood when he was learning to stutter. If he happened to be coming down [the] street with a package under his right arm and met someone he wanted to talk with, he would change the package to his left so he could pat his leg with his right hand while he talked.
M. E. Payne, "Boise Valley in the Days of Old,"
Idaho Statesman,
February 19, 1911, page B8
In the [legislative] session of 1853-4 there was a regular mania for changing names, some of which stuck and some did not. Marysville became Corvallis; the name Chemeketa was substituted for Salem in a bill that passed the house but failed to pass by one vote in the council. So Salem missed an infliction, for it takes several weeks' practice to break a newcomer's tongue to utter in euphonious accents the sounds of "Chemeketa." Albany escaped being exchanged for a soft-vowelled Calapooia word, the name of a neighboring creek, simply because no one has ever paid any attention to the law. Grave Creek was changed to Leland Creek, Rogue River to Gold River. There were other changes made that never took effect. Jimmy Twogood was mad at the name Leland being given to Grave Creek, and sarcastically asked why they didn't change the name of "Jump-off Joe." He said they might have called it "Come-Back-Stephen." As he was apt to stutter when excited, he made quite a name of it.
O.W.O., "Our State Capital,"
Sunday Oregonian,
September 30, 1888, page 1
SOME INCIDENTS IN THE NORTHWEST
OF HALF A CENTURY AGO
By James H. Twogood
One of the most interesting events in the history of the great Northwest, which will be well remembered by many of the pioneers, was the Rogue River Indian War, which occurred in Oregon in 1853, and resulted in the massacre of the Grave Creek Indians. This was commonly known as General Jo Lane's war, a man with whom I was well acquainted, and can well term one of God's noblemen. I can well remember when he and his bosom friend, Delizon Smith, controlled the political complexion of Oregon. At that time the general owned a fine ranch near Winchester on the North Umpqua River. He was one of the early governors of Oregon and in 1861 represented that state in congress, under that president who was minus a backbone, James Buchanan.
When the war of 1861 broke out General Lane, a born Democrat, of the state of Indiana, stood with his party, and his sympathies were with the South. Although he stood aloof, it was then and there that he made the mistake of his life. In later years he moved up on Deer Creek, where he led a hermit life until the summons came and he was called across the Great Divide. May peace follow him, as a better-hearted, nobler man never lived.
* * *

At Rogue River there was no settlement in the spring of '51, but soon after[wards] placer mines were discovered and people came pouring in by the hundreds. In the spring of 1853 Jacksonville had become quite a thrifty town. It was here that Ned Sterling found a bonanza and named it Sterling Creek. There are some good mines in that locality today.
Early in the month of June the Siwash Indians at Jacksonville became troublesome, plundering and killing. For three years they had been somewhat upon the war path and had killed a number of settlers. A company of volunteers was organized and started after the Indians. General Jo Lane, Indian agent at Umpqua, also came up with a small company, also Captain J. W. Nesmith, from the Willamette Valley. I well remember Captain Nesmith, then a vigorous young man, who wore a flannel shirt and had his pants inside of his boots. He stuck me for 50 lbs. of bacon to be charged to the government. There was no butter in those days, and we only had a little bacon and needed that to fry venison in and to feed our neighbors, and Captain Owens and his company of volunteers, who were patrolling the road between Canyonville and Jacksonville, which was 40 miles south. Capt. A. Noon had 40 men in his company, and of course we could not afford to feed them when we were obliged to keep men on the trail who were serving us for nothing. They managed to get to Grave Creek and there had 120 meals which cost them $11 each. As there was not an Indian in sight at Grave Creek from June until September, my partner, A. S. Bates, took $50 of the company's money and went out to assist General Lane. He soon came home broke. We were out over $1,200 for meals, and never were paid a cent.
During that summer there were quite a number of whites killed, but a still larger number of Indians, until after General Lane was wounded in the fleshy part of his arm. He finally succeeded in negotiating a treaty with the Indians while still carrying his arm in a sling.
In the month of August, 1851, a wharf was built at Portland and ships came up from San Francisco with cargoes of supplies. They came around the Horn, and it took them 160 days to make the trip. It was here that I first met Captain [Martin] Angel. He was running the little tug boat
Black Hawk,
which carried most of the supplies up the Willamette River to Oregon City, a commercial center 12 miles above Portland, which was then a mere stopping place.
Captain Angel came out in the year of '52 and located on a ranch near Jacksonville. During the war of '53 he was waylaid and killed. Colonel W. G. T'Vault, whom I knew in Oregon City in '51, came out the next year and located a ranch 10 miles north of Jacksonville, which he called Dardanelles. Doc. Rose and John R. Hardin, the latter an ex-member of the Oregon legislature, came out and settled on Galls Creek and married. Amanda Gall settled in the Boise Valley in the '60s. Rose and Hardin were guarding the road between Dardanelles and Jacksonville, and were both killed by the Indians. After Rose was killed, Mrs. Rose and her brother-in-law, Pete Miller, vacated their home and stopped at the Grave [Creek House.]
During the summer of '52 there was a big immigration, and those who came to the Willamette Valley could not find work. Times were hard, and there was no money. Hundreds of the newcomers camped out and flocked to southern Oregon to work in the mines. They were driven back to the valley by a heavy snow, and we had to feed them whether they had money or not, and the majority of them were broke. The result was that we were soon eaten out of house and home and all the supplies we had laid in during the fall were exhausted. Flour went up to $1.25 per pound, but could not be bought at any price, as there was not a pound to be had. For a month we lived on venison and salmon straight, without even salt to flavor it.
During that time a tramp named Wesley Gale came in from California. His stock in trade consisted of a pair of blankets and a fiddle. He was lame, but he seemed a jovial sort of a fellow, and Barney and I invited him to share our hospitality of salmon and venison straight, which he readily accepted. James A. Pinney and Gale were friends in 1850, and he certainly proved himself to be a noble, good man. In the spring of '53 we got him to go 10 miles north and take up a ranch at the crossing of Cow Creek. He hired an ox team to haul logs to build him a cabin and was obliged to pay $10 per day for his dray animals. We furnished him with considerable provisions and he was to open a bakery, which would have paid well. While he was there a Spaniard came along, and being lonesome Gale invited him to stay with him. In the month of June during the Indian war the Umpqua and Grave Creek Indians stole into their place and killed both of them, and then burned their house.
The post officer a few miles above called the place where the cabin stood Galesville, and that name is the only thing left by which the memory of Wesley Gale is kept fresh in the memory, as his story is well known and the place is often visited.
After Gale was killed there was not an Indian to be seen. In July a pack train went from there to Scottsburg for supplies. An Indian we called Thick-Lipped Jim was hired to ride the bell horse and help pack. He certainly was a noble specimen of humanity. He stood six feet in his bare feet, weighed 170 pounds and was a fine athlete. I was informed that he was the Indian who in April '51 stole into a white man's camp while he was asleep, and stealing his gun which lay beside him, shot and killed him. Doc. Revis and Bill Ganey, the other members of the party, escaped and returned to Wolf Creek, from whence they started and took up a ranch. Shortly after this Jim visited Wolf Creek and Bill Ganey and others took him prisoner, lashed him to a horse and took him to the Grave Creek House, where they insisted on hanging [him] to a big oak tree beneath which [Martha] Leland Crowley was buried. After the crowd had taken a drink at my expense, I informed them that there would be no necktie party there while I was in command, so after some talk they started back to Wolf Creek, where poor Jim was court-martialed. The verdict was that Gale had been killed and there must be a hanging. Poor Jim was given a glass of firewater, placed on a white horse, which was led out under a tree. A rope was thrown over a limb and one end adjusted around his neck. Ganey said: "Jim ka-nika bits mika to kum Ancota." Jim said: "Halo nika six bits, spose nika is kum, mika potlach." The horse was led from under him and his body left dangling there for several days. Ever after Ganey's dunning Jim for six bits the place was known from one end of the road to the other as the Six-Bits House.
It was about the first of September when we thought the war was over that Barney Simmons and I rode up the creek to look after the stock. Just one mile above the house in the valley we spied three Indians with guns. We stopped and turned back when they sang out: "Chocco six pemica tickey florh wawa." We told them that if they would lay down their arms we would consider the proposition. They hesitated a few minutes, saying that they were good friends, had good hearts and were not mad at the whites. We told them about Gale being killed, but they claimed to know nothing about it and said it must have been whites or Cow Creek Indians. We told them Jo Lane had made the treaty with the Rogue River Indians and that war was over. They said they wanted to come down to the house and trade with us, as they wanted flour, and wanted to know if it would be safe. We assured them that it was, always having made it a point never to lie to an Indian, and we did not know at that time that we were leading them into a death trap the next day.
Captain Owens was still patrolling the road, and had gone below a few days before. The next morning the whole tribe of Grave Creek Indians came down to the house, squaws, papooses and all. It seemed quite natural to have them back after they had been absent three months. They seemed highly pleased to get back to the old place once more. After a short visit three of the bucks went down the creek to the old hunting grounds after a deer. We were all chatting away, having a regular picnic and as happy as innocent clams, when Captain Owens and his company of volunteers rode up. Seeing the Indians, he immediately gave orders to surround the house. The bucks were driven into the store room and tied with ropes to the logs. The squaws and papooses were placed in a little log cabin we had built outside for a bake oven. Six bucks were in the store room and six volunteers with revolvers stood guard over them. Owens placed guards outside to watch for the three bucks coming in from the creek.
There was a big pine tree 50 feet north of the house. It was four feet through and 100 feet high. At the base was a hollow, which was a desirable place for campers to build fires on a rainy night. The tree was half burned down and not safe to be left standing, so we chopped it down and the trunk was still there. Mrs. Dr. Rose and I were sitting on that log talking, when things got busy. We had supposed that when the three bucks came in from the creek they would be taken into the camp, and Captain Owens would have manhood enough about him to give them a fair trial, but it seems when at Canyonville a few tenderfeet, who had just crossed the plains, had been added to his company, and were en route for the mines. These pilgrims from the East were secreted behind the house with strict orders to take the bucks prisoners.
In a short time the bucks came back up the creek, each one carrying a deer on his shoulders. The tenderfeet from the East, instead of hiding their guns and greeting the bucks in a friendly manner and then capturing them, rushed from the hiding place, guns in hand, and charged down on the bucks. The squaws, seeing the men, called to the Indians, who dropped their loads and started down the trail on the run. They had not gone 100 yards when the guards began shooting, but having muzzle-loading rifles and pistols, did not make any fatal shots, only hitting one Indian in the calf of the leg. He dug the bullet out and showed it to me afterwards.
When the shooting began outside, I heard the old chief inside, whose hands were tied behind him, and who was bound to the logs on [
sic
] the cabin, shout to his people to get away or they would all be killed. Struggling frantically himself, he succeeded in freeing his hands and grabbing a shovel which was standing close by; he struck Tom Frizzell, who was standing guard over him, a blow on the hand which knocked the pistol from his hand. Both he and the chief grabbed at it and both succeed in grabbing the gun, Tom getting it by the butt and the chief by the muzzle. A struggle took place and Tom being hard pressed pushed the muzzle to the chief's body and fired, killing the old chief almost instantly. When I heard the shooting inside the house I jumped up and ran to the place, pulled aside the blanket used for a door, but could see nothing through the dense smoke which filled the room. As soon as the smoke had cleared away I ventured in the building, but there was not an Indian left to tell the tale. In their number was Tipsien Bill, an Indian who did not know what fear meant. Give him a knife and he would tackle a grizzly bear at any time, but his life went out while tied to the wall in that small cabin.
Mrs. Leland Crowley, who crossed the plains in the early '40s with Jesse Applegate, and who drove the first train into Oregon from the south, died of consumption at Graves Creek. Knowing that the Indians would dig up [her] body and rob it of all clothing, the members of the party dug a grave 10 feet in diameter and four feet deep. During the night they corralled the cattle on her grave, thinking to obliterate all trace of the burying place, but they were hardly out of sight next morning when the Indians pounced down upon the grave, dug up the body and stole all the clothing. Little did these Indians think at the time that they were digging their own graves; it crops out those we killed at the house we afterwards learned were the same band that robbed the body--planted them in the same hole.
At the time I felt very badly over the affair, which I regarded as cold-blooded butchery, but in after years when the Indians again broke out and began their work of slaying and stealing, I was glad of it, for I knew it had saved the lives of many white men.
Since then I have come to the conclusion that the only way to make an Indian good is to bury him beneath four feet of ground.
Evening Capital News,
Boise, Idaho, April 10, 1909, page B6
O. B. TWOGOOD.
(Late Backus & Twogood.)

WOULD inform the public that he has now on hand a superior lot of
COOKING
and
PARLOR
stoves, together with a good assortment of Tin, Japanned, Sheet-Iron and Holloware which is offered at rates that will not fail to suit the purchaser.
The public are invited to call and be convinced, at the old stand, Main St.
Oregon City, Feb. 11, 1854.
Oregon Spectator,
Oregon City, January 27, 1855, page 4
I will cite two cases in southern Oregon which happened in the '50s. In those times everybody "packed" a gun who was able to own one. I plead guilty to the charge myself. I was strapped to a young Colt, and nights I slept with it under my head. That was from 1851 to 1856, during the Rogue River Indian War.
Simeon Oldham, a sporting man from Rock Creek, Mo., crossed the plains in the early times and settled in the Willamette Valley. He went out to Yreka, Cal., in the summer of '52, with a little sorrel racehorse that he called the "Gold Digger." It was truly named, for he could dig out more gold in a quarter-mile dash in 20 seconds than most men did all summer. On his return trip the horse got lame, and he left him with me at Goose [
Grave?
] Creek. It was there that I first got acquainted with Oldham; as fine a man as one would wish to meet.
In after years, when southern Oregon got more thickly settled, they had a race course near Jacksonville. It was here, on this track, one spring in the '50s, that Mr. Oldham got into an altercation with Dr. Alexander, a noble, good man. Everybody was his friend. Mr. Oldham must have been under the influence of liquor, but that is no excuse. He pulled his gun and shot the doctor dead. He was tried and acquitted by a "lower court," but the brand of Cain was placed upon his brow, and, like others, he became a wanderer upon the face of the earth, and never knew what "peace on earth, good will to men" was, ever afterwards. He wandered up here to Boise in the early '60s, and then drifted over to Silver City, where a young man shot him.
Simeon was a brother of J. B. Oldham, ex-sheriff of Ada County, whom all the oldtimers knew and respected as a man, although a gambler. He was as true as steel and "on the square," ever ready to extend the glad hand and share his purse with his fellow man. They don't make any kinder-hearted men than J. B., but he has gone to his long home.
There was a Captain Abel George, captain of a volunteer company during the Rogue River Indian War of 1855-56. He was a fine-looking man, with a nice family, and was a neighbor of ours, living 13 miles south of us. Some time after the war he went out to Jacksonville and got full of booze, and went to Cluggage & Drum's livery stable, where a colored man was getting onto his horse. George jumped on behind, in his wild, crazy fit; they both fell off, and the colored man was dead. George was tried and acquitted by a "lower court," but his life was wrecked.
And there was "Ace" Abbott. In the early '50s, when I first knew him, he was a good man, but something of a bluffer. He lived south of us, in the same county, near Kerbyville. He, too, had to get his man with a gun--I think he was a colored man. Abbott was tried and turned loose by a "lower court," but his life was wrecked.
Billy Abbott carried the mail on horseback, and stopped with us in the fall of '55, during the war. They all came up here [
i.e., the Boise area
] in '63 and settled in Garden Valley. At Placerville, one day, "Ace" got into a shooting scrape with others. When the smoke cleared away it was found that he had killed his brother, Billy. Abbott was again tried by the "lower court" and swung clear. He sent for me to come up and buy his ranch, in the winter of 1870. I went up and found two feet of snow and did not purchase it. Abbott sold it in 1871 or '72, left the country and went to Texas, where he could get rid of his troubles, as he thought, but alas! the poor deluded man found a judgment hanging over him from a higher court, that said: "Thou shalt not kill." It set him crazy--conscience would not down, so he passed in his checks, going via the double-barreled shotgun route. Oh! if men would only stop to think!
JAMES H. TWOGOOD.
Boise, December 6, 1907.
"Thou Shalt Not Kill,"
Evening Capital News,
Boise, Idaho,
December 7, 1907, page 10
Leland Creek House.
BY
TWOGOOD & HARKNESS.
JAS. H. TWOGOOD. M'DONNAH HARKNESS.
(Formerly known as the "Grave Creek
Ranch," kept by Bates & Twogood.)
THIS house is situated on the main road leading from Oregon to California, half way between the Canyon and Rogue River.
Travelers will always find good accommodations. The table will always be furnished with the best the country affords; and the bar with the choicest liquors and cigars.
And we also keep constantly on hand a variety of groceries and provisions, clothing, boots, shoes, hats, miner's tools, &c.
N.B. There is a stable connected with the house which will always be well supplied with hay and grain.
Ranching, fifty cents a week for horses and mules.
March, 1855.
Umpqua Weekly Gazette,
Scottsburg, July 7, 1855, page 4; also
Table Rock Sentinel,
Jacksonville, January 5, 1856, page 3
[In the fall of 1855] James Twogood and ----- Harkness were keeping the Grave Creek house and had enclosed it with a structure of palisades. Harkness was afterwards killed by the Indians while carrying dispatches for Gen. Lamerick.
Francis M. Tibbetts, "An Indian Outbreak,"
Morning Oregonian,
May 30, 1886, page 2
I, James H. Twogood, make oath that my post office address is Boise City, Territory of Idaho, and that I am a citizen of the United States, that I was born in Rensselaer County, 10 miles east of Troy, New York, July 12th 1824, and am now nearly 62 years of age, that I emigrated to Oregon in 1851. I helped build the first house on Cow Creek, at [the] south end of [the]
Canyon
, for Joseph Knott, then leased it for 6 months. (The ranch was afterwards sold to Hardy Elliff.) In the month of Dec. 1851 Barney E. Simmons & myself took up & located what was known as the Grave Creek Ranch, under the donation act. This tract of land was not on any Indian reservation and was subject to occupation and settlement under the act of Congress of the 27th of September 1850 at the time I settled on my donation claim. This place was situated midway between the Umpqua and Rogue River valleys, on the main trail (for there was no wagon road there then) leading from Oregon to California.
The Indians there were all hostile in 1850 and persons were killed in April 1851. A man was killed at Grave Creek. A party traveling to the mines camped there for the night. Umpqua Jim slipped up to his tent, stole his gun & shot him dead. This was told me by both whites and Indians; [his] grave was fresh when we settled there. Very few people would ever camp there after that. An emigrant girl, Miss "Leland" Crowley died there in [1846]. A large round grave was dug for her remains; the wagons were formed in a hollow square around the grave and the stock corralled therein overnight & every vestige of a grave was obliterated, but in a day or two the body was taken up, stripped of its raiment and left on top of the grave. Gen.
Jos. Lane
was there a few days afterwards and had the remains reinterred, and thus the name
Grave Creek.
We had a scare again in '52, but it did not extend to Grave Creek. The summer of '53 there was more trouble. By keeping a public house & trading post I had become acquainted with nearly every Indian in the country, learned their nature and spoke some of their language & they were very friendly with me always, because they thought that I, being timid, was afraid of them. They were right, I was, & this was what saved my scalp on many occasions. Whenever we could see the Indians we did not feel afraid, but whenever they disappeared we knew it meant mischief. The summer of 1853 not an Indian was to be seen for nearly 2 months. There were quite a number of people killed in the Rogue River Valley that year, 20 miles south. I had built a log house at the crossing of Cow Creek, 10 miles north, for a bakery & saloon purposes. W. H. Gale was my partner. The Indians raided the place, killed Mr. Gale & a Spaniard & burned their bodies in the house. Asa Sumner Bates was my partner at that time on Grave Creek. There was several volunteer cos. raised among the miners. In scouring the country in pursuit of hostile Indians they always stopped at our house. They risked their lives & gave their time. We had to furnish rations, some 500 meals that summer when meals were one dollar, for which we never recd. any equivalent whatever except protection for our scalps. The Indians always got worsted in all their raids, and the year of 1854 they had become quite docile and friendly. We never dreamed of having any more trouble with them. They lived & dressed better than ever before that summer and had
no excuse whatever
for going on the war path, but they did all the same, and during that war of 1855 & '6 there was full as many if not more whites than Indians killed, but that ended it. The Indians were finally corralled somewhere down Rogue River & taken out of the country. The spring of [1855] Mr. Bates sold out and then McDonough Harkness was my partner the forepart of Oct. that year. I went to Roseburg for supplies for the Grave Creek House with the pack train of 12 animals. An Indian called Grave Creek Jack rode the bell horse for the train. Himself & sister Lucy had lived at our house nearly all summer. They were well treated, Lucy & Sophia
Harris
that was there then becoming bosom friends. (This same Indian Jack is the one that shortly afterwards shot Sophia & her father George W. Harris.)
Shortly after arriving home Mr. Harkness thought we could dispose of a small cargo of groceries & provisions at Galice Creek, 20 miles distant on Rogue River. Jack for some cause would not go with us. We started, arrived there all right on
Saturday.
This, according to the best of my recollection was the
8th
day of October A.D.
1855.
Found ready sale for most of the goods and balance left to be sold & sent the train home Sunday 9th, while their Chief Limpy wanted a sack of flour and pay me
next
time I came in. I told him all right, "Nika hyas kumtux mika klosh tum tum hie." [
"I well understand your good heart trade."
]
This pleased him & was the
best sale
I made on the creek. Sunday evening I was standing outside the saloon, 5 or 6 feet from Jack Lowry & Charley Beckett, a Cherokee half-breed. They were both intoxicated and having an altercation about some trivial matter. Being a friend to them both [I] tried to pacify them, but no, Jack pulled his shirt and went for him. Charley, being a powerful man, would not strike him but nearly caught him by [the] top of his head, held him at arm's length. But Jack, being crazed with liquor, whisked out a sheath knife & plunged it to the hilt in Charley's bowels, who instantly shoved Jack over & said he was stabbed. Although within 4 or 5 feet of them, it was all done so quick that I did not see the knife. Jack sobered instantly, put on his shirt and went off up the creek. I knew it was fatal for Charley, but next day at noon when I got ready to start home he begged of me to go via Love's ranch, which was 2 miles out of my way & send down Dr. Paxton. I kept a big dun Spanish mule out of the train to ride home. Left the creek and went up 2 miles, forded Rogue River about 2 o'clock
Oct. 10th
1855. I had a good Oregon-made saddle, with holsters, between 4 & 5 hundred dollars in one side & a Colt's revolver on the other. Shortly after crossing the river my mule became frantic from some cause unknown to me at the time, but easily explained afterwards. The trail was narrow and up & down steep places & through thick brush. Although I had a good Spanish bit on the mule, he charged up & down & through the gulches like a shot out of a gun, and I had as much difficulty in trying to keep my seat as
Horace Greeley
in the stagecoach with
Hank Monk
.
After about 6 miles at a cyclone gait [I] arrived at the mouth of Jumpoff Joe [Creek] and passed up into a more open country, the lower end of R. R. Valley. By this time I was nearly exhausted. The mule was white with lather & foam, the water dripping from him and the blood streaming from his mouth, the effects of a Spanish bit & my muscle. At this point I left our trail, turned to the right and proceed up the valley and soon arrived at the residence of George Miller [and] rode up to the door to inquire for Doc. Paxton. The door was open but no person there. Looked in, saw the straw tick had just been emptied, and nearly everything taken from the house. This explained what was the matter with the mule, for I knew on sight that it was the work of Indians. So I passed on up the valley in quest of Doc Paxton & to find out what was the matter. The valley here is about ¾ of a mile wide, a smooth, nice prairie land; to the left is a rise of 10 or 15 feet, and the land is heavily timbered & covered with a thick growth of underbrush. I rode on for half a mile and thought I saw someone up on the bench or side hill. I put spurs to the mule and rode directly up there and was somewhat taken aback to find a woman & 2 children. The woman I discovered was a Yankee & she had a dirk stuck in her belt and a double-barreled shotgun in her hands and a pr. of blankets the children was sitting upon.
She looked and acted brave--poor, frail woman, she did not realize that herself & children's lives were spared simply because she lived in Timoleon Love's house. Of course I inquired for Paxton and asked for an explanation, when she made the following statement. She said Umpqua Joe (a Cherokee that came out with Fremont [and] was killed near there a year or two ago by his son-in-law) had come down from Jacksonville about 2 hours before in hot haste & reported to them that the Indians had broke out that morning in the Upper Rogue River Valley, and that they were massacring all the whites and burning everything before them, and told Doc Paxton who was there at the house to take her & the children up to Vannoy's and that he, Joe, had a canoe down at the river; [he] would get in that, make a run down to Galice Creek in one hour (river very rapid) and would tell Capt. Belknap, her husband & his partner Mr. White to come right up that night, that Mr. Paxton had taken her & the children & cached them out in the brush and for her to stay there while he went down to the other house and got his horses. This was several hours before, and she was there waiting for him. Poor, frightened man, he never came back. I then told her it was no place for her out there; she must go to the house and that being personally acquainted as I was with nearly every Indian in that part of the country, I did not place much confidence in Joe's report, thought it was only a tease, that our folks would expect me home that night, but under the circumstances I would not desert her till someone came, so we all went to the house. Mr. Love's pack train she said would be in that night. I picketed out my mule; we got supper; waited till 10 o'clock. No one came and so we lay down with our clothes on ready for any emergency. It was a long night. The house was of hewn logs, but not chinked--all open. Daylight came at last; [we] got up and went out but not a living thing was to be seen except my mule. Stayed there all that day, all the second night, but not a soul came to our relief. What did it mean? This was Wednesday morning and I began to get fidgety and nervous, till about 10 a.m. I heard a rumbling noise, looked up the valley, saw bright flashes up & down, and thought it must be Indians coming on horseback. We all got inside; I barricaded the door with sacks of flour and then took a look at them through the sights of a gun. They came swooping down upon us in a dead run. Soon I discovered it to be a party of six white men & I breathed easier. We opened the door. They seemed much surprised to find us living and especially me, for Harkness told them that I was to be home Monday, but that Doc Paxton had come in through the mountains, got to the Grave Creek House about 12 o'clock that night and reported that he
barely escaped with his life,
that everybody had been murdered, and of course I had been waylaid & killed, that they had just been sent down from Vannoy's to look for the Belknaps, that the Indians, without a moment's notice had begun to shoot the settlers & burn their homes. They named the Jones family, the Wagoners, the Harrises as all killed and the Haines family not heard from. This recital raised my hair, and the boys said I turned white as a sheet. There was no time to be wasted at that stage of the game. I saddled my mule; we packed Mrs. B. & her 2 children onto two of the men's horses with a few articles of clothing. The men leading the horses, they started for Vannoy's 7 or 8 miles up the river. 4 of the men & myself concluded we would go over and look for the Haines family, a distance of 4 miles. Mr. Haines had only settled there that spring, had a house, 2 or 3 yoke of large oxen, wagon, wife & 4 children. The 2 younger ones died during the summer. I having a fresh animal took the lead, found the trail through thick brush & heavy timber. We went single file on a run. Each man had a gun or revolver in hand. We made the run of 4 miles in less than 30 minutes, arrived there safely, found the house still standing. I rode up first, saw blood & brains on corner of house but no living thing around. The door was open. I stepped inside & was horrified at the sight. There was not Indians enough in the country to frighten me then. There lay the boy with the whole top of his head taken off. Mr. Haines was lying with his feet toward the fireplace on his back with a pillow under his head; his shirt was open and I saw a bullet hole square in the center of his breast, looked as though he had died a lingering death. We had not been there more than 20 minutes, were counciling what disposition to make of the bodies. The mother & daughter we knew well enough were captives. About this time we heard a tornado, though of course it was the whole tribe of Indians coming on horseback, for they made a terrible noise. We all got inside the house, our guns ready to give them a warm reception. In a few minutes, however, we were greatly relieved by discovering it to be a cavalry co. of U.S. troops under command of Capt. A. J. Smith [
it was Brevet Major Edward H. Fitzgerald
] from Fort Lane and a volunteer co. of some 50 men from Jacksonville, all coming as fast as horses could run. We left them to care for the dead & started up the road for home. Soon as we got into the road it was quite dusty & we could plainly see the footprints of a large body of Indians, and bringing up the rear was plain to be seen the footsteps of Mrs. Haines & daughter. We followed on over a mile to [the] crossing of Jumpoff Joe; here they turned square to the left and struck off northwest. We followed on for over a mile when we came to a very thick growth of underbrush and discovered smoke from a dozen or more camp fires. Thought we had found them sure. 2 of us started around on one side & 3 on the other to close in on them, empty our guns and retreat toward the troops. But when we came together we only found camp fires & the remains of 3 or 4 large oxen. Nothing left but the head, hide & bones. We felt sadly disappointed, for we were in want of Indian scalps & meant
business.
Then we started for home, arrived safely & found them entrenched in a stockade composed of rails set up on end. And the people there looked upon me as one [risen from the grave.]
Silas J. Day Papers, Lilly Library, Indiana University
Uncle Jimmy Twogood
Tells of the Early Days in Southern Oregon
It was the fall of 1855 that we went to Scottsburg, Oreg., on the Umpqua River, about 80 miles from the coast. Goods were shipped in there from San Francisco for the Umpqua Valley and southern Oregon. We purchased an $800 cargo from Merritt, Oppenheimer & Thompson, partly for the Grave Creek house and the mines. It arrived O.K. at home December 6. The next day we rearranged the cargo of groceries for the mines at Galice Creek. Right here I will say that in February '52 Joseph Knott, the proprietor of the town of Canyonville, on the South Umpqua, started out and went on a prospecting tour down Graves Creek. Here we joined them, there being eight men in the company. Down the creek we found Indians, likewise gold, but not in paying quantities. Here the Indians told us about a place over on Rogue River canyon. One of them tendered his services as a guide, and we followed him through the mountains and struck "Lobe Liber," (Rogue River) at the mouth of Jumpoff Joe Creek, the most beautiful little valley in the world, a mile wide and three miles long.
From here we followed a narrow trail, down Rogue River, for eight or ten miles, when the Indians furnished us with a canoe.
For two days we stayed on a creek that had no name, but was rich in gold. Then we returned to the first house, 33 miles north, over the Oregon and California pack trail, through the south end of the canyon. At this place I answered to the name of "mine host," and kept some good old Kentucky bourbon, which had been shipped around the Horn, then packed 75 miles and shaken up till it was good and mellow, oily and ropy, with all the headache extracted. We took a hot whiskey, with condiments, etc., and soon, after our lying out nights sleeping on the ground, felt better. Then followed some very interesting yarns of a trip across the plains. We did not go back to the nameless creek, but in May '52 a party of French Canadians and half-breeds came out south prospecting and camped at the mouth of the canyon. Joseph Knott told them about the creek and said they had better go down there, and they did so. They sent animals back for supplies and struck camp.
Lowey Galonis, being the "head push," called the creek Galonis Creek, and now it is known as Galice Creek. The men stayed there, worked there all summer, took out lots of gold and very foolishly concluded they would winter there, not dreaming that the worst snowstorm ever known was coming on (two feet deep all over the country) and flour and everything was $1 a pound, and not a pound to be had. This was the winter Barney Simmons and I were forced to remain at Grave Creek house and could not get away. We could get no sugar, pepper or salt, and all we had was just venison and salmon. The next march, when the snow went off, high waters came in the night and the party of miners were all swept off into the river, so the Indians said, but it was a dead giveaway, for in April the Indians displayed sacks of fine gold dust taken, no doubt, from the miners. There was no one in authority to inquire where they got the dust, but it was a free and happy country.
On Friday, October 8, we rearranged our cargo and took it down Galice Creek 20 miles. Next morning, Sunday, October 9, we sent a pack train home by Jim Johnson, while I stayed to sell the goods. At that time we had no Sunday law to contend with. People were freeborn and white, and not the kind we have nowadays. Sunday was the only day of rest we had then, and the only day that people had to put out their washings and go to town and do their trading. There was more trading down right here in Boise on Sunday up to 1876 than during all the rest of the week.
Yes, it was Sunday, October 9, 1855. I sold two-thirds of my cargo as the miners came in that day to do their trading, meet old acquaintances and swap lies about what they had struck on the creek. But little did we poor mortals know what that Sunday, that should have been a day of rest, was going to bring forth. The country was quite new--only four years old, and none of these newfangled telephones were in existence for many years after. If there had been, many lives would have been saved. Oh, that memorable Sunday! Will I ever forget it?
The boys were gathered around the stove, having a good time. I stood with my back to the log cabin, talking to Charley Beckett, a Comanche half-breed. He was a splendid young fellow, who came across the plains in the '40s with Col. John C. Fremont. Had he been spared he would have been of great help to the settlers during the Rogue River Indian War of 1855-56. Well, I stood talking to Charley when Jack Lowry came up. He was as splendid and free-hearted a fellow as ever lived. He was a member of the Tyee Bar company [
i.e., the group of men mining the Tyee gravel bar on the Rogue River, near Galice
]. I knew him well. Jack was not a drinking man, and I never saw him under the influence of liquor before, but he had come to town where each miner vied with the other to see who should spend the most money over the bar. Well, Jack, not being used to strong drink, "got full"--in other words crazy drunk. He and Charley were the very best of friends and like brothers. It must be remembered that all miners carried sheath knives, to eat with, cut their bacon or skin a deer. Jack, in his crazy fit, stepped up to Charley, who stood six feet and weighed 180 pounds--an athlete--while Jack was little, weighing 140 pounds. Jack told Charley that he was going to "whoop" him, and Charley said: "No, me no fight you." At that, Jack made a rush, but Charley merely caught him by the hair of the head and held him off, although he could have struck him and knocked him senseless, which he should have done. But he would not hurt Jack, as he was his best friend. It was getting dark. I could just see the flash of a sheath knife, and Charley Beckett was forever done for.
He was laid on a couch by tender hands, and the wound was sewed up the best we could, but there was no medical aid at hand. He suffered terrible pain, poor man. Every person in camp was his friend. Although half Indian, he was as true as steel. But poor Jack; nothing in this world would have tempted him to have done this fearful deed. He realized in a moment what he had done. He turned around, picked up his blue flannel shirt, put it on and was as sober as he ever was, and with a livid white face, said: "Boys, I am going home." He went to camp and next day left all he had in the world and struck out through the mountains, a fugitive from justice, with the brand of Cain stamped upon his brow. I never heard from him afterwards.
Next day at 10 o'clock in the forenoon I got ready to start home. Charley begged of me as a dying request to go by Doc Paxton's place, one mile out of my way, and send the doctor down. I said I surely would. I had a big Spanish mule with a Spanish bit, and had my holsters, one side loaded with mountain howitzers, loaded with a tint of the best, and the other side held $500 in clean gold dust and a young Colt repeater.
I went up the river a mile, forded it, started up over a narrow trail through underbrush, up and down through gullies. I had gone a mile and had reached the top of a little ridge when this mule gave a snort which you could have heard a mile off, and away he started with me! Off he went, rattle-de-bang through the brush--me with both feet braced in the stirrups, pulling for dear life. I might as well have tried to stop a cyclone! And such snorts! I thought the mule had seen a grizzly bear. We got to the top of the mountain, and the water was dropping off that mule and the blood and froth streaming from his mouth.
I rode up to Miller's cabin and found it had been plundered, and that everything portable was gone. And then I began to realize what the matter was with the mule--Indians. A little farther up the valley I found a woman and two children cached out in the brush, and did not get home for three days. Later I found that the Indians had broken loose up on Table Rock Sunday morning. Hon. John Halley and ex-Mayor Pinney of Boise were in the skirmish.
Joseph Pinkham, assayer at Boise, saw the fatal shot that killed Dr. Alexander at Jacksonville.
JAMES H. TWOGOOD.
Boise, December 27, 1907.
Evening Capital News,
Boise, Idaho,
December 28, 1907, page 12
It is a pleasure for us to plead for . . . James Twogood, who dwelt in the wilderness, on the highway between Umpqua and Rogue River, from whose houses no destitute traveler ever went away hungry, and who lodged and fed the widows and orphans in the winter of 1855-6, whose houses and provisions had been consumed by the torch in the hands of the bloodthirsty savages.
Benjamin Franklin Dowell,
The Heirs of George W. Harris and Mary A. Harris, Indian Depredation Claimants vs. the Rogue River Indians, Cow Creek Indians, and the United States,
1888, page 52
After a long and wearied ride [south from Canyonville in early 1856] we reached Harkness' and Twogood's cabin on Grave Creek, near where the present town of Leland is located, at about two o'clock the next morning without meeting or seeing any indications of Indians. In a large room, whose floor was nearly covered with sleeping volunteers, Father and Mother found space in a corner to catch a few hours' sleep, while we boys lay down nearby. The morning light found a room whose only occupants were Major Hoxie and wife and two mischievous boys from the Bay State, a consideration of the soldiers for a woman's position. From Grave Creek to where is now located Grants Pass there were but few houses, and what had been happy homes where childhood's smiles and youth's ringing laughter blended with love's stronger expression of mature years, was but blackened debris, the work of the Rogue River Indians.
SOME INCIDENTS OF EARLY DAYS
BOISE, Idaho, Dec. 1, 1901.
EDITOR MEDFORD
MAIL
:--I was very much surprised to receive a copy of your paper from Jacksonville a few days ago containing a
tribute
to the memory of my old friend, Henry Klippel. This admonishes me that many of the oldtimers, and those younger than I, too, are passing away.
Your article is well written and brings to mind many of the tragedies enacted in Southern Oregon from '51 to '66. It's a wonder I now retain any hair on top of my head, as it was at the disposal of the Umpqua, Grave Creek and Rogue River Indians at any and all times. I think they had more chances to have made me bald-headed than any other person in Southern Oregon.
Barney E. Simmons and I located the Grave Creek Ranch in December '51, being the first to make a mark of civilization there. It was considered the worst point on the then mere trail between Oregon and California. In 1853 I stopped there by myself, when others traveling through could not be induced to camp for the night. A grave was made there for Miss Leland Crowley, an emigrant girl from Missouri, who died from consumption and was interred there in 1850. During the war of '55-56 Grave Creek was made the headquarters of Southern Battalion and called Fort Leland.
You say Mr. Klippel participated in the battle of Hungry Hill October 30th. I had forgotten the exact date, but thought it was the forepart of November, for I well remember it was a pretty cold, frosty night when all the different companies left our place to tramp down the creek single file in the dark. I had been to Roseburg after supper and got back just in time to see them start. There must have been three companies of volunteers from Jackson County, two from Douglas County, three or four from the Willamette and Capt. A. J. Smith's company of regulars from Fort Lane. There were perhaps eighty or ninety armed bucks. They had taken a snap shot at us a few days before on Cow Creek, while we were on the wing. The bullets came whistling by and made beautiful music, only it was pitched on such a blood-curdling, hair-raising key that none of us seemed to enjoy it except Barney Simmons. He was footing it away back in the rear. I sung out to him--"You'll have to hurry, Barney, or get left." He said, "No, d---- if any Injun could run him." About that time a bullet went--zip--through his shirt and burned his shoulder. He hunched, shrugged his shoulders, looked back to see where it came from and consented to take a dogtrot into camp. Well, the night the boys left our place all so cheery, they little knew what they would run into. I had quite a talk with one of Capt. Smith's lieutenants before they started, and he gave me their plans. He said scouts had been out and had located the Siwash camp. They were on an oak flat about eight miles down the creek. They were to start after dark so as not to raise the suspicion of the natives; would time themselves to reach the camp before daylight and surround them, and on first move of a redskin commence the slaughter. "Why," said I, "you won't kill squaws and all?" "Oh, yes, we will; don't propose to leave anything to breed." I had to smile. I had made "Injun" a special study and knew them as well as they knew themselves, and there was not an Indian on lower Rogue River, Grave Creek, Cow Creek or South Umpqua but what knew me, and I knew a number of them that did not know what fear was. They would face anything that wore hair. The Southern Battalion started down the creek that cold, frosty, moonlight night. It was a weird scene. All were on foot and each man had a pair of blankets, a pone of bread, a slice of bacon and a gun, all muzzle-loaders, of course. Result--They surrounded the camp all O.K., but as they closed in on it they found only the embers of thirty or forty campfires, and not a living thing. They then took the trail which led them directly into a death trap. The Indians had passed over the ridge and gone down into a deep canyon in a dense forest of fir trees and underbrush. They fought them there all day, slept on their arms that night, and were to charge them at the crack of day. There were about thirty killed and wounded. The Indians, however, changed their program and the next morning at daybreak came to the top of the ridge, charged the whites and run them back to Fort Leland, the most dejected lot of men you ever saw. I asked the lieutenant for a scalp. He seemed well satisfied at saving his own.
I presume to have known Henry Klippel longer than any person in Jackson County. He came across the plains in 1851 with an ox train. They must have started about the first of April from the Missouri. We, brother O.B. and I, left Chicago on the 10th of April, crossed the Missouri May 10th, and started with a horse train of thirty wagons, with Judge Denny of Seattle, as captain; Henry G. Hadley of Eugene, 1st Lieut.; Aaron Rose, 2d Lieut.; O. B. Twogood, secretary. We had a good trip, no sickness. All went well until we reached Salmon Falls on Snake River. Here Mell Hadley was shot twelve miles from camp by an Indian that had stolen a horse. The bullet struck him just below the right nipple and came out close to his backbone. We laid by there five days for him to die, but he got through all right. We had to leave our light sutler wagon and harness at Grand Ronde Valley to help a family through. (Never saw them again.) We, to accommodate, had to ride our horses through on blankets. We came to the Cascade Mountains on the Barlow Road. At the east end it was swampy, with big mudholes, and here we came across a stripling of a boy who had been left behind by an ox train. It seems that he was left behind to drive a big ox through that had given out. He had a sack behind his shoulder containing a loaf of bread and a slice of fat pork, and seemed quite happy. Shortly after passing him we heard the report of a pistol, and we knew the ox had mired down and could not get out and that this ended his misery. The boy came on and camped with us that night. We made him a cup of coffee, loaned him a blanket, and he started on the next morning all right--and this was Henry Klippel--born in 1833, while I date back to '26.
J. H. TWOGOOD.
Medford Mail,
December 13, 1901, page 5
Canyonville Oct. 29th 1855

Orderly Sergeant Patton
Dear Sir
An express arrived here from Major Fitzgerald to the effect that he has the Indians
corralled
six miles from the ranch of Harkness & Twogood and has also sent to the comd. officer at Fort Lane for reinforcement & still holding his own with them & wants all the help he can get. Twogood is here & says that there is no provisions for men & wants his train escorted through the Canyon to the ranch. Now all I have to say is send all the boys along on that are armed & equipped and make a requisition upon the commissary for about 10 good horses & for them to lose no time. We are in anticipation of some fun. The boys are all in fine spirits and swear that they will follow me and are ready at any time.
Yours in haste
S. Gordon
Capt. Douglas County volunteers

If there is another company at Deer Creek send them on. News has just arrived here that there are three hundred Indians and any amount of stock, horses, cattle & mules and that a train of mules with 12 men have all been captured and their fate supposed. You can say to the Adjt. General who is supposed is at Deer Creek by this time that so soon as we get back we wish to be received & until we are mustered in that he will make arrangements for our comfort.
Yours Gordon

Our company is fast filling up.
Oregon State Archives, Yakima and Rogue River War, Document File B, Reel 2, attachment to Document 526.
A copy--
Ft. Leland, O.T.
March 12th 1856

Dr. Barkwell
Surg. Genl.
Dear Sir
Accompanying this I forward to you an inventory of the groceries, crockery, kitchen furniture, bedding &c. that Messrs. Harkness & Twogood have furnished with their house for government use. Among them you will notice many articles unfit for hospital service but wanted for army purposes. Those will be transferred to the Quartermaster Department and the few that remain are of such little value that I thought it unnecessary to refuse to take them. I have made an arrangement with Mr. Harkness to act as steward temporarily. And Mr. Huelat has placed his cook in the kitchen until his own building is finished. As it would be almost
impossible
to prevent (at first) travelers from stopping here until further arrangements are made by you I have allowed John McCassy to take the bar & room at its side for their accommodation under these conditions that he shall keep both in good order & prevent any disturbance, attending to the fire &c. The wood to be hauled on requisition given as wanted by the steward to the Quartermaster Department, by which arrangement we are saved another hand.
I expect myself to leave for Canyonville today, as there is immediate prospect of a battle, and settle up my accounts & hope soon to return.
Respectfully yours
E. R. Fisk

P.S. I have also given a list of the stock, chickens, cattle & pigs connected with the establishment together with the same, tools, window glass &c. that will be serviceable at headquarters.
Oregon State Archives, Yakima and Rogue River War, Document File B, Reel 2, Document 671.
FROM JACKSONVILLE.--Through the politeness of T. R. Lawson, Esq., we are put in possession of the
Table Rock Sentinel.
From it we clip the following items:
On the 22nd ult., an express arrived at Grave Creek with a letter from Gen. Lamerick. Mr. Harkness and Mr. Wagoner volunteered to carry the letter to the General, then at the Meadows. They proceeded on until within about two miles of the army near the Meadows, where they were fired upon by the Indians, and Mr. Harkness killed by the first fire. Mr. Wagoner made his escape but had several ball holes shot through his clothes. He retreated, and when near the mouth of Whiskey Creek discovered Col. Chapman's command crossing the river and reached them in safety.
Mr. Harkness was a respectable, enterprising citizen, and we regret much to have to record the news of his death; and still more, that he should have been cut off in the prime of life by those savage barbarians, who mutilated his body in a shocking manner.
We are not informed who the letter was from that he was carrying to Gen. Lamerick. It was marked on the back, "Information on the whereabouts of the Indians." The Indians got the letter when they killed Mr. Harkness.
Crescent City Herald,
May 21, 1856, page 2
On April 25, 1856, McDonough Harkness and another man, whose name is forgotten, left Fort Leland for the Meadows. When but a few miles from our camp they were shot at from ambush and Harkness was killed, the other man escaping. The most horrible sight we witnessed during the entire campaign was when his body, stark naked and mutilated in the most shocking manner, was brought into camp on a pack mule in charge of Captain Crouch's company.
Samuel Handsaker, "Indian War of 1855-56,"
Oregonian,
Portland, November 5, 1899, page 9
On the 26th ult., Mr. McDonough Harkness, of Grave Creek, and Mr. Wagoner, while riding an express from Fort Leland to Gen. Lamerick, were attacked near Whisky Creek by the Indians. Mr. Wagoner escaped, but received several shots in his clothes. Mr. Harkness was killed, his body cut to pieces, his breastbone was removed, his heart was taken out, and numerous acts of brutality committed upon his body too horrible to enumerate. His remains were found and brought to Grave Creek and buried. He was from Ohio, and has been a resident at Grave Creek for a year or two; he was much respected for the good character which he maintained wherever known.
Letter dated May 7,
Oregon Statesman,
Salem, May 13, 1856, page 2
After satisfying a prodigious appetite, the writer in wandering around camp until the headquarters tent was reached learned that on that day at about the time the first boatload of men crossed the river they were met on the bank by a man named Wagner, who had started the day before from Grave Creek accompanied by a Mr. Harkness, intending to go to Col. Kelsey's camp at Little Meadows. While moving along the trail about six miles below Whiskey Creek they were fired upon by the Indians, and Harkness fell from his horse shot dead. Wagner received a slight wound but, turning back, succeeded in reaching a point in the trail on the ridge above the creek where he was gratified to see Chapman's command marching down the hill to the crossing of the river. Hiding himself so that he might not be observed by any of the numerous parties of Indians that were known to be traversing the country, he awaited the crossing of the first load of men and then came out and made himself known.
The next morning the command was in motion at an early hour, but with such a large following of pack trains and beef cattle it was ten o'clock before the last man left camp. A few miles from camp the vanguard came upon the body of Harkness lying on the side of the trail. A light snow had fallen and covered it with a shroud of purest white. The Indians had not only scalped the head but had perpetrated the most horrid butchery that one could conceive of. Their fiendish work was horrible to contemplate. The body had been cut and slashed in every part, as though the devilish savages could not satisfy their vengeance and hate with torturing the clay while the spirit remained. Carefully the mutilated form was taken up and carried upon a mule to the Little Meadows, where it was buried with military honors. After the grave had been filled a large log heap was made upon it and burned to ashes, as though a camp fire had been made on the spot, that the Indians might not suspect it was a grave and dig up the body, as was their usual custom.
"Scraps of Southern Oregon History,"
Ashland Tidings,
September 12 and 19, 1879, page 3
Headquarters Southern Army
Fort Leland June 20th 56

Hon. Gen. Joseph Lane
Dr Sir
I have read with great pleasure your speech in Congress praying for an appropriation of three hundred thousand dollars for the suppression of Indian hostilities in Oregon, and I very much regret that you are not in possession of some of the real truths in regard to the origin of this present Indian war. There appears to be a great many sympathizers in the eastern states for the poor Indian. If those persons spoke from experience and actually
knew
the real situation of things here they would talk very differently. It seems strange to me that correspondents of public journals that live hundreds of miles away should know more of the real character and movements of the natives than we do that have spent years here in the mountains. I have been a resident of this section of country as you are aware ever since the fall of 1851 and am personally acquainted with almost every Indian in the Rogue River and Umpqua valleys, and as there has been so many false statements in regard to this matter, I consider it my duty to make a few statements in regard to the real truths of the present Indian hostilities, and such as came under my own immediate observation. The origin of this war can be all traced back to a "Shasta Chief" called "Old John." He is the beginning, and until he is captured there will be no end to Indian hostilities in Southern Oregon. The general massacre that occurred in this valley on the 9th day of October 1855 was not as many suppose the impulse of the moment, but the continuation of a long-concocted and deep-laid plot. The spring of 1855 in the month of May, I think, the Indians had a general meeting at J. B. Wagoner's ranch on Inapoo [
Louse
] Creek. The tribes of Old Sam, George, Limpy, John and lower Rogue Rivers, Grave Creeks, Cow Creeks and in fact all the Indians in the whole surrounding country met there, as they said, to have a great gambling spin, when in fact the real object of the meeting was to lay plans and schemes for a general outbreak, as soon as they could agree on the time of commencement. They remained in council for several days, made great war speeches, but were careful not to let any of the women but a few old heads into the secret. The Grave Creeks were over for the purpose of gaming, they said, but seemed to be in bad luck, as they lost, they said, several horses, and even went so far as to get my partner to appeal to the Indian agent in their behalf, when in reality it was all a feint to lull suspicion of the real object of the meeting. In the month of June 1855 Grave Creek George was to work for us. One evening just at dark there was a number of horsemen came riding up on the jump. They halted and proved to be Indians. Ten of them was Cow Creeks headed by "Old Jack," and three of [
sic
] four Klickitats with their chief "Paul." They inquired for George and appeared quite warlike, said something about stealing horses, and they were going to kill him. I was aware that George and Jack were not on very good terms, and as George had no tillicums and [was] as it were alone in the world, I thought it my duty to warn him of his danger. I went to his camp and told him what was up. He appeared very much excited and slipped out in the brush and sent word that he would meet them at our house in the morning. And the strangers went down the creek and spent the night at the rancherie. In the morning George came up armed with a pistol and knife. Soon after came the others, and the scene of hostilities commenced. At it they come and in two hours the wind work [
i.e., empty show
] of a great battle was completed. Knives were drawn but no blood shed. About noon here comes "Tyee" George from Rogue River with several of his warriors. This meeting was purely accidental or at least they succeeded in making us think at the time (but since we have come to the conclusion that we were sold). The
heads
went out and had a long conference by themselves. The Klickitats were running heavy on trade of "Siwash Chickamin" [
Indian money
] for skins. All this looked quite reasonable at the time. Shortly after this Old Jack left Cow Creek and took up his abode with George. I could cite you to a hundred such instances that transpired in 1855. What I have special reference to in regard to false statements is in the correspondence of Gen. Wool with Gov. Stevens. Gen. Wool appears to establish as a basis to his argument a letter read by him from Capt. Judah, in which the latter advises him that the war was rather waged upon the Indians or something to that effect.
And the general massacre that occurred on the 9th of October was only in retaliation for the wrongs committed on their people by a party of citizens led on by Maj. Lupton on the 8th.
Now, sir, I beg leave to differ with Capt. Judah or any other man on that respect for I say and without deviating from the truth that the Indians were only anticipated. But do not think by this that I wish to cast any odium on Capt. Judah, for I believe him to be a gentleman, and he has the general reputation of being a good soldier. And at the time he wrote that I do believe he wrote what he thought strictly true according to the best information that he could get. But he had only seen one side of the picture. He was
not
aware that the day of the general massacre was all set, and that was on
Monday morning, at daylight the 8th of October.
But on Sunday evening the Indians stole a keg of whisky from a pack train near Wagoner's place, and had a glorious jollification. This frustrated things and only delayed their putting into execution their
hellish
schemes for one day. The Indians killed by Maj. Lupton and party was of another and distant tribe. Capt. Judah I think at the time of the breakout was stationed at Fort Jones, Cal., and knew noting of what was going on in this valley daily, only as reported to him by others. He was not aware that travelers were stopped on the road and compelled to take that from an Indian that no white man dare offer [
i.e., death
]. At that time, sir, the settlers of this valley done everything in their power to keep the Indians peaceable, for the country was very dry, and the people knew that the Indians had us in their power, and were anxious to keep them down until the wet season set in and then we thought the storm would blow over. And, sir, I do believe that if any man had dared to kill an Indian at that time, even in self-defense without the best proof, he would have been swung to the first limb without time to say his prayers. Such was the general feeling of the settlers of this valley at that time. But a war was inevitable, and it had to come, although it could all have been prevented in time by taking out Old John and five or six of his men and hanging them. But no, the poor Indian must not suffer in that way, before him and his followers had taken the lives of two or three hundred whites. I do not think that the tribes of Rogue River and Cow Creek wished for war, but were rather forced into it by Old John. All of the different tribes were afraid of him as they were of the
devil
himself. And then he pictured to them in such glowing colors the result of such a glorious campaign, such fine times as they would have killing the "Bostons." Then they would take possession of the country. And even went so far as to make a calculation on the net proceeds of the spoils and the manner of distributing them. At the time of the breakout Old George and his tillicums were camped at Wagoner's place. Some of Old John's band commenced the thing early on the morning of the 9th October, sweeping everything before them until they came to Wagoner's place. Here Old George and his men joined them, and the thing spread like wildfire, with death and destruction to everything that came in their range. There appears to be from all accounts some few Indian sympathizers here among us, but they keep themselves rather shady. And not a few in the States who advocate the cause of the "poor Indian" very ardently. Treat an Indian well and he will treat you well
"in a hour.'
For example, I will relate to you a short biography of one of the
good Indians.
Umpqua Jack or Riddle's Jack, as he is better known, was a brother of "Tipsy Bill." (This name was given him because he had a heavy mustache and goatee. The reason the natives assigned for this was in former days he had a white woman for a wife on the headwaters of Rogue River, and she caused him to shave. In proof of this there is a little girl belonging to him about twelve years old, and as white as any person exposed to the weather would be. And hair quite light.) Tipsy Bill was an accomplice of the old Chief Taylor, who committed the massacre on Galice Creek the winter of '52. This was as I presume you recollect seven men murdered in their beds and thrown in the river. Shortly after the waters were very high, and it was reported by the natives that the whites were at work on an island and that the river rose so high and so fast that they were swept off and drowned before they could help them. But "murder will out," and the Indians had any quantity of gold dust to
prove
their
innocence
. About the first of June '53 the thing leaked out in some way and a small company, headed by A. S. Baers, they soon succeeded in taking the chief Taylor prisoner. He had a fair trial and acknowledged himself guilty and gave the names of some that were implicated with him. Taylor and one or two others were stretched up right there. And
then
commenced Indian hostilities for 1853. We partly escaped for our natural enemy had not got a
good
[
omission
]
ready
. The chief Taylor implicated
Tipsy Bill
in the affair, and he was supposed to be among the Grave Creeks but could not be found in their ranch, nor would they give any information of his whereabouts. The whole band then were taken prisoners and marched in to this place. The chief was placed under guard and the consoling information given him that he had to have "Tipsy Bill" brought into camp that day or hang by the neck until he was dead-dead-dead. He immediately dispatched two of his warriors in search of him. About night they returned and said that they could find nothing of him.
(Guess they thought the Bostons joking.)
The awful sentence was then repeated in plain, clear language and a short respite granted. They were told they
must
produce Bill or his head by daylight or their chief must hang. The two warriors again sallied forth as if they meant something; this was legible in their countenances. At midnight they returned and reported they had found him, but he was not willing to come in, and they produced his
head
and a splendid rifle. Thus endeth a brief history of one of the bravest
red devils
in the country and a natural lover of the white man's blood. But I have rambled from my story, for which I ask pardon and will now proceed with my history of Jack. The spring of '53 he lived with Mr. Rice. A party of men were raised in Rogue River Valley to come over and clean out the Grave Creeks provided they would not come to terms. They took Jack along for a pilot, as he knew where they were camped. When they found the camp Jack was sent in to get some of the natives out to talk, but he never returned. There was a great bustle in camp, and the natives sang out to the Bostons that they were ready to receive them, and if they wanted to fight to pitch in. They were in a dense forest and in large numbers. There were but few whites, and they concluded it was no good thing and returned. Shortly after Jack made his appearance in Umpqua Valley on Cow Creek. Here he took up his residence with Mr. Riddle and family. He was a very intelligent Indian. The summer of 1856 Mr. R. sent him to Portland with his teams. He saw the whole Willamette Valley, spoke very good English and people thought him quite civilized and never suspicioned anything wrong from him. The spring of 1855 he made his appearance out here with a
character
[reference] from Mr. Riddle as being a
good Indian.
He took up his abode among the Grave Creeks for a season, said he had come over to see his tillicums and seek him a wife. Mr. Harris and family were living here at the time; he tended to visit us here at the house almost every day, said that he had lived with the Bostons so long that he did not like "Siwash muckamuck" [
Indian food
]. And Mrs. Harris used to give him something to eat every time he came in. Mr. Harris and family left about this time and took up their abode 9 miles south of this place upon their farm. About this time or before, Jack left this section and went to the Rogue Rivers near Mr. Wagoner's place and accompanied his wife. He used to visit Mr. Harris' family very frequently. He was always well treated as if he had always been white, and when he asked for anything to eat it was freely given. But the ungrateful wretch instead of receiving his gratitude and friendship it only seemed to have a tendency to make him more saucy and impudent. On the morning of the general massacre he called around to see the family accompanied by his wife and several Indians. Mr. Harris was a short distance from the house. Jack came up, appeared friendly as usual, passed the time of day and started to go to the house, for Mr. Harris thought the natives looked somehow wrong. When they got to the house Jack noticed the timidity of Mr. Harris and asked him what he was afraid of in a laughing manner. Mr. Harris slipped inside of the door and was going to close it. At that instant Jack turned round and fired his rifle. The awful report was with a wild scream and instantly followed that hideous war whoop, and the whole surrounding country appeared to be literally alive with the
red demons.
At the crack of the rifle Mr. Harris and his daughter were both shot, he mortally in the breast and his daughter [
illegible
] in the arm. Mrs. Harris caught her husband in her arms and drew him in the house and shut the door in the face of the Indians. In the meantime their little son David was gone to the neighbors, and they were fully aware of the horrible fate that awaited him on his return. What this mother and daughter suffered until a company of volunteers came up and relieved them the next day my feeble pen is incapable of expressing. These are a few brief outlines of the history of one of our
good Indians
upon whom no pains had been spared to instruct in the arts of civilized life. And, sir, I do believe in
nine cases out of ten
it is this
good Indians, these pets,
that have learned the manners and customs of the whites and have always been well treated, it is these
very pets,
sir, that are the ringleaders of these marauding parties. And then they have [a] peculiar way of expressing their
thanks
to their benefactors by shooting them down without a moment's warning. If the people in the States were really aware what
grateful beings
our
good Indians
are I don't think they would be quite
so free
in expressing their sympathies in behalf of the
poor Indian.
Meanwhile, believe me
Your most obedient servant
Jas. H. Twogood
Fort Leland
O. Ty.
Hon. Joseph Lane
Washington City
Reminiscences of a Pioneer.

The Mail
is in receipt of an interesting letter from Jas. H. Twogood, an old resident of Jackson County, but now residing at Boise, Idaho, which we publish in full:
EDITOR MAIL:--I have just received a marked copy of your paper of the 14th, announcing the death of my old friend and neighbor, Jas. McDonough. We were pretty close together--he being born in Tennessee June 8, 1826, and I in New York July 12, 1826. He came to Oregon in '52, while I arrived in '51, and took up the Grave Creek ranch the same year. At that time it was situated in Douglas County, which then joined California in the south, and someplace on the north, reaching from the Pacific Ocean to Utah on the east--a pretty good-sized county. Mr. McDonough was a splendid good man. They don't make any better. I think when I left Oregon in '66 he and Tom Tyle were then living on the Louse Creek ranch, twelve miles south of me, where Mrs. Wagoner and her twelve-year-old daughter were burned alive by friendly (?) Indians Oct. 10, 1855. These same friendly (?) Indians the next morning shot and killed George W.
Harris
and wounded his daughter and made away with their little boy, David. These same Indians in February '56 waylaid and killed my partner, McDonough Harkness, thirty miles down Rogue River. They shot him in the groins. When he fell from his horse they stripped all his clothing from his person and then proceeded to scalp and carve him up while yet alive.
During the 'fifties I was personally acquainted with nearly all the people between Scottsburg and Yreka. I presume there are but few left--have all crossed the river, and many of them are not as old as the subscriber. Fred Floed, of Roseburg, now with a Boise paper, gave me a copy of the Roseburg
Plaindealer
containing a notice of the death of Col. Bill Martin, as he was familiarly called. I first met him at Winchester, where he was running a ferry on the North Umpqua in October 1851. During the Rogue River war of '55 and '56 he was at our place, Fort Leland, a great deal of the time. He was an oldtimer of 1843. In the same paper was a notice of the death of Crawford Gaddis, another old acquaintance, and also an article about Jas. G. Clark. Uncle Jimmy and Aunt Rachel used to keep a roadside inn, just below the canyon. We always stopped there and were always quite at home. They were good people. Aaron Rose, the founder of Roseburg, and his family we first met in Iowa, who traveled all the way to Oregon with us. Our company consisted of thirty teams. John Halley, J. A. Finney and Joe Pinkham, oldtimers of Jacksonville, are here. Henry Klippel and myself were pilgrims together in the Cascade Mountains, August '51.
JAMES H. TWOGOOD.
Medford Mail,
June 28, 1901, page 2
Harkness & Twogood are reported on the 16th April [1856], for one stable, $500; one building for storehouse, $700, and two corrals, $350; total, $1,550. The quartermaster erected two new buildings, at an expense of about $1,500. At the sale in August it appears that Mr. Twogood, one of the firm, bought four buildings (being no doubt the two old ones and the two new ones) for $231, and also the two corrals for $20, making $251 only for the old buildings and corrals, for which he claimed $1,550, and also the two new buildings, costing nearly as much more. I allowed them for the use of the buildings and corral, $245.
House of Representatives 36th Congress, 1st Session, Ex. Doc. No. 11
,
Government Printing Office 1860, page 43.
Leland,
Josephine,
Oregon . . . . . . . . . . . . . . . James H. Twogood
Daniel D. Tompkins Leech,
List of Post Offices in the United States, with the Names of Postmasters, on the 13th of July, 1857,
page 78
Through the ugly canyon the next morning [in 1858] we all had a rough time of it from the swelling creek and turbulent water, but we refreshed at Hardy Elliff's and pushed on past John Redfield's, through the Cow Creek country and the scene of the Indian massacre of the Baily company, and at noon reached Jimmy Twogood's at Grave Creek, where the five Indian murderers taken during the Rogue River War were planted as "good Indians" forevermore. Jimmy was a noted character of the route, and kept a famous house--host, postmaster, humorist and brave withal, between his exploits and his queer stutter, requiring the rubbing of his right leg with his right palm to unloosen his tongue, and the coincident shuffling of his left foot to enable the utterance of his emphatic speech. Twogood was curious to observe and entertaining to the listener. He never stuttered as he swore; his oaths had free exit, and they came with droll volubility and vigor.
James O'Meara, "Our Pioneer History,"
Oregonian,
Portland, November 9, 1890, page 16
BACK AGAIN.--We had the pleasure this week of shaking hands with our friends Mr. James Twogood, of Leland. He had just returned from a visit to his friends in Chicago and Michigan, and, sensible to the last, brought with him a lady as partner of his joys. He seems greatly pleased to be back again, and says he has lived too long in this "land of cloudless skies and sunny climes" to appreciate the beauties of a life in the northwestern states. Last winter, for once, he indulged in their most exhilarating amusement, sleigh-riding. He says if he ever imagines he wants another sleigh ride, he will hitch his horse to a buggy, wrap himself in buffalo robes, get into the buggy, place his bare feet on a cake of ice imported for the occasion, and drive around until sufficiently exhilarated. To a man of vivid imagination the effect would be about the same.
Oregon Sentinel,
Jacksonville, August 26, 1863, page 2
Messrs. Harkness & Twogood, of Leland, in the fullness of their generous hearts, carefully packed and sent to us by stage a large box of the largest and finest of eating apples. May their tribe increase and their crops never fail. By the way, our new "devil" is exceedingly fond of apples, as we would infer from a remark he made with head half-hid behind one of the largest in the box--"These apples are
too good
to last long in a printing office!" He still lives, but the apples have disappeared.
Oregon Sentinel,
Jacksonville, December 12, 1863, page 2
JOAQUIN MILLER AND XMAS OF '63 IN JACKSONVILLE
Old timers In Southern Oregon still tell of the Christmas of 1863, when Joaquin Miller, then a familiar figure at Jacksonville, disarmed a "bad man" and chased him out of camp. James H. Twogood drove the stage into Jacksonville In those days and is now a resident of Boise, Idaho.
A Christmas story? Let me see;
It must ha' been in 'sixty-three
When Jimmy Twogood came to town--
He drove the stage from Roseburg down
To Jacksonville--a nervy cuss,
Who never hunted up a fuss,
He wouldn't tote a big six gun;
It wasn't Jimmy's style of fun.
Says Jimmy: "Always stop and think
Before you shoot, then take a drink."
I think it was in 'sixty-three
On Christmas eve, it seems to me,
When Black Jack Wilson, awful drunk,
Came into town without his trunk
Or anything but just a load
Of whisky straight. We might ha' knowed
There'd be a row when he came in,
For everybody felt like sin,
Because, you see, 'twas Christmas time
An' out there in that lonely clime
Was many men who thought of home
Who'd left their families just to roam.
And so when Wilson looked around
No friendly faces could be found,
Except Jim Twogood sitting there,
Who smiled, for he had drawed two pair.
Somehow that smile made Wilson mad,
(Jim's smile would make most people glad),
An' when he pulled his gun an' shot
The biggest light out on the spot
We all jumped up an' tried to hide,
Except Jim Twogood. Jimmy tried
To reason with the angry fool,
Who busted up our poker school;
But 'twan't no use to argufy--
The rest of us began to fly
Out every door and winder, too--
The bullets kinda helped us through.
An' so when Jimmy tried to go
The bad man stopped him with a blow
Upon the head, which knocked him down,
A breathin' hard; the bad man swore
A bitter oath, then shot at Jim;
We thought he'd surely murdered him.
At last somebody said out loud,
"Well, this is sure a nervy crowd
To let a man, a drunken lout,
Run all of you 'brave' miners out
An' 'buse a man like Jim Twogood."
Says he, "I've allus understood
That miners were considered brave,
And feared no thing this side of the grave."
"Look here," says he, "give me a gun."
An' then he started on a run;
Up to the Helms saloon he went--
His chances wasn't wuth a cent.
In 'bout a minute and a half--
It was enough to make you laugh
For down the street the bad man flew,
An' in his hand he had a shoe;
He'd lost his coat an' vest an' hat,
He had one shoe and carried that,
An' close behind him, breathin' quick,
Was Jimmy givin' him a kick,
While up the street, to help the fun,
The other fellow with a gun
Was shootin' up the atmosphere
An fillin' Watson full of fear.
When Jim got tired he moseyed back,
He wasn't hurt except a crack
About an inch wide on his head--
'Twas far better much than bein' dead.
The bad man left the town for good;
Hung him? I should say we would.
An' Jimmy was all right next day,
An' just before he drove away,
He hurt our feelings quite a bit--
You couldn't blame the man for it--
He said: "I owe you all a lot
For runnin' when the bad man shot."
Coos Bay Times,
January 29, 1910, page 3
LELAND.--Postmaster, James H. Twogood; 40 miles northeast of Kerbyville.
William Henry Knight,
Bancroft's Hand-Book Almanac for the Pacific States,
1864, page 332
PICTURES.--We are indebted to our friend, Mr. Jas. Twogood, of Leland, for a collection of war pictures, in colors, and also what we take to be a genuine photograph likeness of a
nereid.
The present was very acceptable.
Oregon Sentinel,
Jacksonville, February 6, 1864, page 2
THAT BOX.--We received by express, on last Wednesday evening, a box of magnificent apples and pears from our old friend, Jimmy Twogood. For particulars, see his letter in another place. Suffice it to say that it was the finest fruit of the season, for which the generous donor has our thanks.
Oregon Sentinel,
Jacksonville, October 22, 1864, page 2
GRAVE CREEK, Josephine Co., Ogn.,
Oct. 18th, 1864.

Ed. Sentinel:
--By the way you blow about big apples through the
Sentinel,
one would imagine there was no valley but that of Rogue River in Southern Oregon. The little valley of Grave Creek is completely ignored, and "left out in the cold." Now, sir, we can beat your mammoth apple, for we have one--raised on this ranch--that measures 15¾ inches. This puts me in mind of a little incident: A darkey had caught a fine basket of trout, and marked it with the 9-spot of diamonds. Another pheler [
sic
], in his absence, came along with the 10-spot and took it. Upon that principle, we will try and take your big apple "in out of the wet." You will also diskiver by the contents of this box that we are some on pears. Our peaches and plums were like unto the vain Little Grave Digger--nipped in the bud.
Yours truly, JAS. H. TWOGOOD.
Oregon Sentinel,
Jacksonville, October 22, 1864, page 2
The "Little Grave Digger" was General George B. McClellan, "nipped in the bud"--removed from command--on November 5, 1863.
THANKS.--Many years have passed since we were more agreeably surprised than one morning this week. We went into our sanctum and found a keg of cider from Jimmy Twogood, proprietor of the Grave Creek House, with directions to keep it corked tight in order that the "devil" may be kept out. This precaution was unnecessary, as the Good Templars have got that personage; but we propose to get in even if the devil follows.

Oregon Sentinel,
Jacksonville, March 10, 1866, page 2
Mrs. Chapin, widow of the late Col. A. R. Chapin, and sister of Jas. H. Twogood, late of Grave Creek, is an applicant for postmistress at Chicago. Her chances are about as good as any of the men's for the position.
"Letter from B. F. Dowell,"
Oregon Sentinel,
Jacksonville, May 1, 1869, page 1
FROM ILLINOIS.--Mr. Jas. Twogood, whom everybody in Oregon and many in Idaho knew as the long-time host of the Grave Creek House in Southern Oregon, has made his appearance among us--has come to stay. For several years he has been trying to make himself contented in Illinois, where they raise seven bushels of wheat to the acre, spring wheat at that, and sometimes have good sleighing by the middle of October. But it was no go. He couldn't stand it, and he picked himself up, family and all, and turned his steps toward the Pacific side again. He feels impressed that he can make a living where wheat yields from forty to fifty bushels per acre.
Idaho Statesman,
Boise, October 25, 1870, page 2
Letter from Jas. Twogood.
We give a few extracts from a private letter from Mr. Twogood, formerly of Grave Creek, in Josephine County:
Cherry Valley, Winnebago Co. [Illinois]
June 23rd, 1869.

I received a short note from you dated at Washington, D.C., March 19th. I answered immediately, and went to the office every day for a week, looking for a response, but looked in vain. The next thing I hear of you is via the
Sentinel--
Mr. Dowell is in New York--will start for Oregon such a day, via Panama and Frisco. The next issue tells of Mr. Dowell being in Chicago, Denver, Cheyenne, Salt Lake &c. There must be a good deal of the Frenchman's flea about you--you will take some big and sudden hops.
And so you are back among the Webfoot nation. Well, I almost wish I was there with you, for I can't somehow reconcile myself to always live east of the mountains. You of course have been to Salt Lake City--what do you think of that country. Please give us the result of your conclusions in regard to the people, climate, country and chances for making a poor but honest living. How would a hotel do there a little out of town, as a sort of private resort for visitors and those traveling for pleasure. I should think it would be a good point, now that the railroad is through. The lively climate we have here is enough to disgust a saint. A very cold, wet, backward spring, and we have had a thunder shower regular every other day for the past three weeks. It is full as bad here now as Southern Oregon is in mid-winter. Last Sunday between six and eight inches of water fell inside of two hours. Oregon can't beat that much. It floods the whole country, washing corn right out by the roots, taking off fences, culverts &c. If it don't light up soon farmers will come out at the little end of the horn.
Sunday, p.m., June 27th.

It is Sabbath today, and I have not had time to finish this. Oh, what weather "ish dish." Still raining. It rained every day the past week and is still raining. Full six inches of water fell yesterday and last night, and no sign for a clearup for some time to come. Wheat is rusting--corn you can't see for the weeds, and you can't go through a cornfield without getting mired. Ain't it lovely. And such sharp claps of
dunder mit blitzen
--enough to make a fellow's hair stand on end.

Oregon Sentinel,
Jacksonville, July 17, 1869, page 2
James Twogood, Esq., who lived for years in Oregon, finally went to the States to settle for life. After living there for some time he became disgusted and is now in Boise City. He was asked the other day why he broke up business in Webfoot and went back to the states, and replied that he went there to live and die among his people, but after being there some time he discovered that they were all back in Oregon.
"Forty Years Ago,"
Idaho Statesman,
Boise, November 20, 1910, page 7
In 1870, when I first came to Boise, everything was running wide open, blacksmith shops and every store in what was then a village. There was more business done on a Sunday than all the rest of the week. Oldham & Taylor's big saloon was running several big games, with the piles of $20 gold pieces stacked up on the tables, and where any person who had the nerve was permitted to go in and "buck the tiger." It seemed like the good old times in Southern Oregon in the early '50s.
James H. Twogood, "Sundays, Past and Present; the Rest Law,"
Evening Capital News,
Boise, Idaho,
January 13, 1908, page 4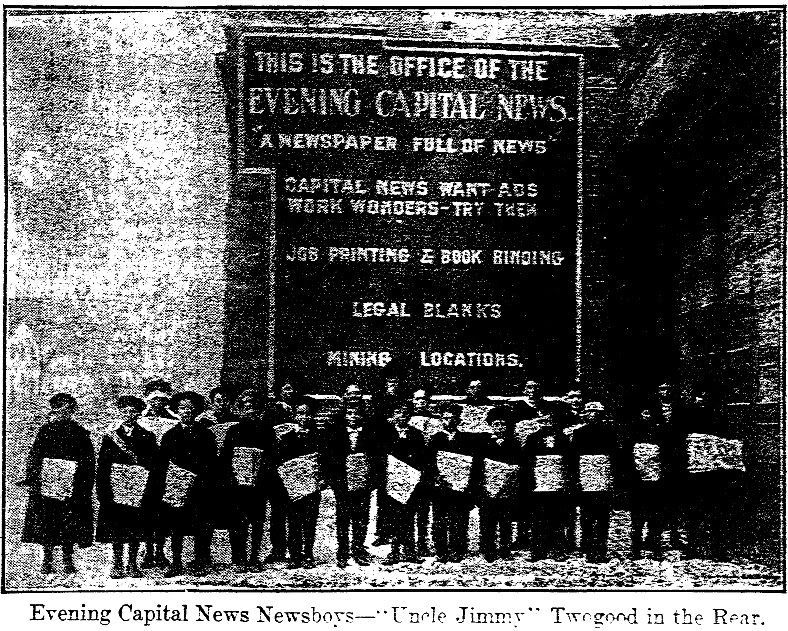 Boise
Evening Capital News,
January 14, 1908
In 1850 my brother and I had very virulent attacks of yellow fever and read much about Oregon, the Willamette and the "yellow truck" that was found in California. That fall our mother took a trip around the lakes to Buffalo and then by canal boat to Albany to see her father, Major Michael M. Vandercook, an officer during the war of 1812. The coast was clear, and there was no one to say "no," as she did when I enlisted to go to the Mexican war.
Well, my brother and I got up a good 4-horse rig, and equipped the wagon with lock chains. There were no brakes in those times, as I said before, and people had to go to California to be educated on such things. I drove and took care of the team, while O. B. ran the culinary department, and many was the good meal we had on the plains cooked with buffalo chips. After driving a 4-horse team across the plains from Chicago my [horse-driving] education was complete. But if some real driver had labored with me for 20 minutes and had told me what I know now about handling the ribbons, it would have been worth $100 to me in after years. It was not until the fall of 1858, when Washington Montgomery came up from Marysville, Cal. and established a stage station for the California and Oregon line, which ran between Sacramento and Portland, at the "Grave Creek House," Twogood & Harkness, proprietors. Montgomery made the route from Jacksonville to Canyonville, 70 miles over a very rough, mountainous road, including the big canyon, where in the early times it took a team two days to get through with a wagon and sometimes it could only get through with the four wheels [
i.e., the wagon bed and cargo would have to be packed separately
].
Well, they put on Asher Wall and George Richmond as drivers. They each had five strings of stock, 20 horses, and had to make that 70 miles each and every day, rain or shine. They were as good drivers as ever sat on a box. In after years Wall, a very good boy, was married at our house--in 1865. He was driving between Canyonville and Roseburg in after years. One rainy day he was driving down the Myrtle Creek hill. In a deep gully, where I drove many times, the hill was sidling and slippery. I think he was driving a 6-horse coach. Every horse was on the dead run as the stagecoach struck the bottom of the gulch. It gave a "wild [
illegible
]" and turned bottom up, killing Asher Wall. For many years he was in the habit of taking dinner with me.
James H. Twogood, "The Art of Driving, As Viewed by an Old Timer of the Plains,"
Evening Capital News,
Boise, Idaho,
January 18, 1908, page 12
It was while keeping a stage station that I had a chance to study drivers. Some would take a string of stock and always get there on time. The stock looked fine and was always kept up to the standard. That driver would be transferred to some other route and a new man put on in his place who did not make time and at the end of the month his stock would be all run down. Why was this? Simply because he didn't drive but simply shoved on the line and let the team do its own driving. Bob Van Dusen, the division agent between Jacksonville and Eugene, Ore., used to say: "They starved their teams between stations."
* * *
I had a team in southern Oregon, where I teamed over some very steep grades. After I had learned a little horse sense, each animal had to do his level best to move the wagon two feet at a time. There was some groaning and scratching of gravel, but something had to move.
Uncle "Jimmy" Twogood, "'Uncle Jimmy' Has More To Say about the Art of Driving,"
Evening Capital News,
Boise, Idaho,
February 1, 1908, page 6
BEAR STORIES AND OTHER EARLY-DAY NARRATIVES
By James H. Twogood

In the month of August, 1851, Joseph Knott, of Ottumwa, Ia., located a ranch at the mouth, or north end, of the Big Canyon, in Umpqua Valley, built a log house, opened a sort of trading post and called it "Canyonville." This was in Douglas County. Douglas was then bounded on the north by the Calapooia Mountains, west by the Pacific Ocean, south by California and east by Utah--area enough for a gross of New Jerseys and a site left for New York City. Canyonville then was the last stopping place on the pack trail; there was no road then between Oregon and California until Rogue River was reached, a distance of nearly 40 miles.
In October Levi Knott took up his ranch, afterwards known as the Hardy Elliff place. I helped build the house, and the latter part of December rented it. Claud and Alex Vaughan, from Willamette Valley (the latter the father of the notorious Hank Vaughan, and for a long time a resident of Boise Valley), stopped with us overnight while en route to the mines. Next day, being warm and pleasant, Barney Simmons and I traveled with them as far as Grave Creek, 18 miles south, for the purpose of locating the Grave Creek Ranch. We camped that night in a beautiful little valley, considered, on account of Indians, the most dangerous point between Canyonville and California. Next day the Vaughans traveled on and Barney and I staked off the claim and I made the first mark for a settlement ever made in that section--December, 1851.
A rain set in at 10 o'clock. At 2 p.m. a dozen pesky redskins hove in sight. I had seen some of them at the canyon. When they came up they appeared friendly. I greeted them with "tlihiam six."* In return got a grunt and a "tlihiam icta mika mommuck, yaiequit alalopa nebushin kie." This was spoken in no uncertain tone, and in plain United States meant: "How do you do sir, but what in hell are you doing here?
We replied: "Mommuck house. Cocwah Boston man copa canyon." They then asked, "Ichtah potlach?" (What are you going to give us?) We answered, "Oh, tlonas tlost cuitain"--a good horse. "All right," they said, and started off for camp. We didn't just like their appearance, although the angelic smiles on their countenances was ever so serene.
By that time--great guns--talk about rain in Idaho. If you have never been to Oregon, you don't know what a rainstorm is. At 3 o'clock we broke camp and took the back track and got over to the next creek, where the timber was thick and the night so dark I couldn't see my nose. We were drenched to the skin. I saw a light. Indians was our first thought, and the second was--we must get to a fire or perish; we rode up and found the camp to be that of Knott & Co., on a prospecting trip. If ever two mortals enjoyed a drink of whisky and a good supper they were Barney and I. Next morning we struck out for home. Rain poured down in torrents all night and next day harder than ever. Water came down the mountainsides in sheets. As we neared Cow Creek, five miles from the camp, we had to cross a slough, which was dry when we went out, but belly deep to the horses now. I got through O.K., but when Barney's horse got into the deepest water he stubbed his toe and fell and Barney was submerged. We got to the main creek, found it out of its banks and running like a quarter horse. What should we do? The rain was coming down in torrents; we were drenched, and our teeth were chattering, and to camp without a fire was sure death. We must cross or perish. It looked dubious.
Barney was riding on a pack saddle and had an ax on his shoulder. I was well mounted: Had a Spanish serappo [
i.e.,
serape
] over my shoulders and a rifle to pack. I took the lead, starting well up. My horse was a good swimmer, but could not quite make the ford; we struck the opposite bank 10 feet too far down, in thick brush, where it was impossible to make a landing. I threw my gun on shore and caught hold of the willows, heading the horse upstream. He worked hard, but couldn't gain an inch; current was too swift. There I was, hung up, but not to dry.
With Barney it was different. The current turned him over like a log quicker than you could say "scat." He dropped his ax, came to the surface and struck out for the shore, made a landing 50 yards below and came to my relief, pulled me off the horse and started the animal downstream. He floated and made a landing all right and Barney got me on to terra firma.
I fell in a heap; was completely exhausted and chilled through. Ten minutes more in that water it would have been good-bye Jimmy. We were in swimming water twice before reaching home, where we found a big fire in the fireplace. We got some spirits and a cup of coffee. You never saw two more nearly drowned rats who felt more grateful than we.
February was pleasant, and we went back again during that month to build a cabin. We found a grove of large pines near the road, and one that was down, three feet through, was used for [the] front door sill, making a threshold about 20 inches high. The cabin was 12x16 feet in size. There were no teams in that country then, so we had to get all the logs in by hand. We finished the house and in March went with pack animals to Oregon City, 200 miles north, for supplies. In May we opened the house, as happy as two clams, for this was a free country then in every sense of the word. Whisky was 25 cents a drink and gold dust plentiful; there was no sheriff or tax collector, and freedom reigned supreme. As this is intended as a preface, you will wonder where the bear stories come in.
A Prowling Bear.
Well, one night in June, Barney and I made our bed down in the back end of the cabin, and it being a warm night left the door open. It was a clear, beautiful moonlit night, and about midnight I awoke, saw the cabin was all dark, couldn't think what it meant; just then felt our faithful watch dog, that was lying beside me, commence shivering. He shook as though he had the ague.
By this time I had my eyes open and began to come to my senses; I took a good look and there stood a monster black bear with his forefeet on the door sill, his body filing the whole door opening, and he was taking a good view of the interior of the cabin. At this juncture my hair raised, but I didn't. I simply turned over and whispered gently in to Barney's sunburned ear. "Barney! Barney!!" He awoke and asked "Whattherhellyerwant?" I replied "Thar's a b'ar on the threshold!" "Oh!"
This frightened Mr. Bear and he backed out, and as soon as there was an opening the doorway large enough for our faithful watch dog, he went out like a shot out of a gun with a kiyi ki-yi, that awoke the slumbering echoes of the solemn midnight. I had to smile, but not out loud. Barney grabbed the gun and rushed out, but his bearship had vanished. Next morning we found where he had made a raid on the camp and crushed up our tinware as he would paper boxes.
Close Quarters with a Grizzly.
In the spring of '57, after the close of the last Indian war in southern Oregon, one of our neighbors from down the creek--Robert Laing--came up and wanted my pard to go out hunting with him. They started out. A spur of the mountain reached down to the road about a quarter of a mile from the house. Harkness took up south, and Bob north side. At that time of year game was generally on the ridges. They hadn't proceeded more than a half mile when Harkness looked up on the ridge and espied a young grizzly and very unthoughtfully blazed away and hit the bear. Bruin doubled himself up like a ball and commenced rolling down on the north side of the ridge and right toward Bob, who gave a screeching whistle through his fingers. [Harkness] heard it, loaded his gun as quickly as possible and started over the ridge. The bear rolled down to within 10 feet of Bob and suddenly stopped and stood up on his hind feet. Bob took deliberate aim and shot him through the neck. The bear growled fiercely and came right at him, with mouth wide open. Bob hadn't time to load, climb a tree or think about running. He simply stuck out his gun. The bear, with one lick of his paw, knocked the gun 10 feet. The bear was as tall as Bob.
When the bear closed in on him Bob went for his sheath knife; raised his left arm, stuck the hand and wrist into the monster's mouth. The teeth went crunching through till they met, and then Bob plunged his knife, with his right, just behind the shoulder, and into the heart, shoved it in all but an inch of the handle, gave the knife a twist, and the bear relaxed his hold, dropped down, rolled over and died.
When [Harkness] got there, he said Bob looked wild. They started immediately for the house, and every little while Bob would look back over his shoulder with a frightened look. We bandaged up the wrist, and all we had with which to take the soreness out was turpentine. When this was poured on the poor man nearly fainted. No bones were broken. Nothing on earth would ever tempt that man to go on a bear hunt again.
In September or October 1864, a family named Baird lived 16 miles south of us--two miles from Grants Pass. The old gentleman was a genuine Kentucky hunter, tall and muscular. In his day he must have been a powerful man. He came over to Grave Creek, went down the stream three miles and struck camp at Bob Lang's place. The next day he took his dog and an old Kentucky muzzle-loading rifle about six feet long. He was a good shot; could put a squirrel's eye out at fifteen paces. He started out for a bear hunt and came back up the creek nearly a mile past John Mackin's house. There he found his game and mortal enemy.
It seemed as though he ran onto a big grizzly and very foolishly took a shot at him, and the bear turned on him. Of course he hadn't time to reload. As the bear came up he evidently shoved out his gun or tried to hit the grizzly over the head with it, but the bear knocked it out of his hand and broke his arm. The bear then struck him an overhand lick and laid one eye out on his cheek and raked his claws down his breast and abdomen, making an opening through which his intestines could be seen. Somehow, between the use of his knife and the help of his dog, Mr. Baird got away from the bear. To show what an unheard-of nerve and indomitable will this most powerful man had, you will hardly believe me when I tell you that he walked down by Mackin's place, crossed the creek on a foot log, went to his camp and laid down. [
omission?
] H. B. McMichael came right up to the house. I wired Dr. L. S. Thompson, at Jacksonville, 40 miles away, and sent a message to Mrs. Baird, but before any of them reached there that night Mr. Baird was dead.
Next day we made a coffin for him, and Mrs. Twogood made his shroud. (She came out from the East the year before.) This man of the iron nerve was the father of Ben Craig and former county assessor and tax collector Carol Baird, of Boise County. It was in 1845 Jesse Applegate's train of wagons was the first that ever came through southern Oregon.
The way Grave Creek got its name was this: In 1850 an emigrant train from the south camped there. A young lady in the train of Leland Crowley had consumption and died there. The men went to work, under a large oak tree, and excavated a place ten feet across by six feet deep, laid the remains in the bottom, filled up the grave, formed a hollow square around it with wagons, herded their cattle over the place and thought they had obliterated all traces of the grave so the redskins would not molest it; but they were hardly out of sight when the inhuman monsters pounced down upon the spot. They had no shovels, but threw out the dirt in some way and dug up the corpse, stripped off the clothing and left the remains lying on top of the ground, food for coyotes. These reds did not dream then that they were virtually digging their own graves, and that their days on top of the soil were numbered.
During the war of 1853-4 I helped plant six of these same Indians in that grave. The grave was close beside the road, so that no one could pass along without seeing it. It was soon well known from Oregon to California as Grave Creek and considered the most dangerous point on the road.
I camped there in 1852 alone, when men going to the mines--six to ten together--would not camp with me. Many of my neighbors and two of my partners were killed, but they never got me. Their blood-curdling war whoops caused my hairs to stand on end so often that with a liberal application of hair oil it can't be made to lie down smooth to this day.
Evening Capital News,
Boise, Idaho, March 24, 1908, page 5
*If you're interested in exploring the Chinook jargon Twogood used to talk to his neighbors, try Googling these more standard spellings, which should be more standard: "tlihiam six"="klahowya sikhs" "tlihiam icta mika mommuck, yaiequit alalopa nebushin kie"="klahowya ikta mika mamook, yakwah alah enahpoo shem kiyah" "Mommuck house. Cocwah Boston man copa canyon."="Mamook house. Yakwah Boston man kopa canyon." "Ichtah potlatch?"="Ikta potlatch?" "Oh, tlonas tlost cuitain"="Oh, klonas kloshe
kiuatan"


"UNCLE JIMMY" TWOGOOD DESCRIBES
BATTLE OF HUNGRY HILL

In the great battle of Hungry Hill with the Rogue River Indians, October 30, 1855, seven or eight companies of volunteers and one company of regulars were pitted against 80 well-armed warriors, and they got "licked." Whenever anyone tells you that the Rogues, Grave Creeks and Umpquas were not fighters, he is way off!
I was one of the first settlers among them in 1851, and claim to know what I am talking about. A braver set never existed. Of course they never came out in the open and stood up to their work, like white folks, but always got behind a log or tree or in the bush.
In the great Chicago massacre at Fort Dearborn in 1812, those Indians were mere squaws in comparison to our western Indians.
The engagement was opened by a company of volunteers from Jacksonville, October 9, 1855, near Table Rock. They gave them a scare, and they came down the river killing and burning as they went.
Governor George L. Curry mustered into service this year, by proclamation, some 10 or 12 companies in Josephine and Jackson counties, four companies in the Umpqua Valley under Sheffield, Sam Gordon, W. W. Chapman and P. C. Noland, and Fort Leland, as our place was called, was made headquarters of the southern battalion.
I had been to Roseburg for supplies for the Grave Creek House, arriving home with the train October 30, 1855. I was surprised to see seven or eight companies of volunteers and Captain A. J. Smith's company of regulars from Fort Lane, all camped there. I met one of Captain Smith's lieutenants, who seemed jolly and I liked to talk over matters, so I asked him what it all meant. Said he:
"Mike Bushey's spies have been out and found the Injins. They are all camped on an open grub-oak flat about eight miles down Grave Creek."
These volunteers were all concentrated and after it got dark, so the Indians could not see their movements, they were going to all march down the creek, aiming to get there just before daylight, surround the camp and wipe them all out! Thus they were going to end a war where many more whites than Indians had already been killed.
I looked the young man over, sized him up and saw that he was a tenderfoot, and then thought of the old adage: "Where ignorance is bliss, 'tis folly to be wise"--or otherwise! I said to him:
"You aren't going to kill all the squaws and papooses, are you?"
"Yes," he said, "all and nits breed lice, and we don't propose to leave anything that will breed. Vas dot so?"
"Yes," said I, "there is a little squaw among them who used to live here with George W. Harris and family. Sophy Harris and she are about of an age and great chums." (Harris was killed at his home the first day of the outbreak, October 10.) "Well, Lucy is a bright little girl and talks good English. If she is killed will you kindly bring me a lock of her hair?"
"Oh, certainly," he answered, and I thought sure that he would not.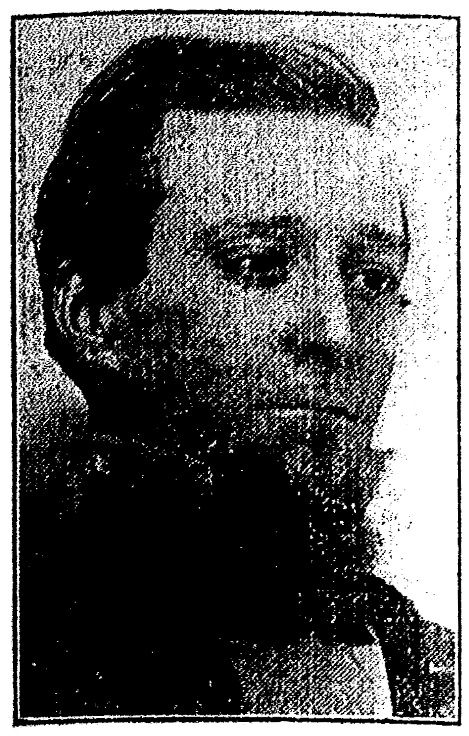 Twogood in 1857.


Well, it seems that all the companies had all arrangements made to start down the creek as soon as it became dark. There were all the cavalry companies, but they left all their horses and detailed guards for them. There was Captain Labon Buoy, Jonathan Keeny, Joe Bailey from Willamette; from the Umpqua were Captain J. S. Rinearson, Sam Gordon, Ed Sheffield, P. C. Noland and W. W. Chapman; from Jackson and Josephine T. Smiley, Harris, with company A, A. S. Welton, with company F; M. T. Alcorn, with company H; Abel George, with company L, and "Mike" Bushey's company of spies, also Captain A. J. Smith's company of regulars.
Smith and his company were named as the leaders of the gang, Smith acting in the capacity of advance agent, and captain John K. Lamerick was the "gig-e-deer brindle," and John E. Ross, colonel.
I well remember that cold, frosty, bright, moonlit night of October, when the companies were lined up for marching orders. Each man had a muzzle-loading rifle, and some had Colt's revolvers for close work--but never used them. A pair of blankets, a "pone" of bread, baked in a frying pan, two slices of bacon and a tin cup for coffee--that was their outfit. They were told there would be but a 2 hours' engagement, when they would wipe out the band of redskins! They were called into line at dark, each company forming in single file. Then they started on their lonely march on a narrow trail down Grave Creek. As they left I thought and wondered, with a shiver, if they ever came to an engagement how many of them would ever get back. It must be remembered that the trail down Grave Creek was very narrow, through thick underbrush and heavy fir timber.
Two weeks after the first outbreak I went over to Cow Creek, 10 miles north, with a train for a cargo of oats. We ran right into the whole band. An ox team came down from Smith to take Redfield's family away, and had got about 200 yards from the house when we looked back and here came the whole band. Over a spur of the mountain there appeared about 80 bucks, each stripped to the waist, with only a breech-clout, and each carrying a rifle. They gave one of their blood-curdling war whoops that raised our hair. In five minutes the house was in flames. The bullets commenced whistling all around, making beautiful music, but on such a high key that we could not enjoy it! About that time we were doing the same kind of traveling that would put to shame the automobile of today. We had many very close calls, but all got in safely. I will probably write this up someday--it was the most thrilling adventure of my life.
Well, to get back to Grave Creek, these hardy volunteers, after stumbling along all night over a rough trail, reached their destination before daylight. Oh, how I pitied them if they ever came to a showdown! I well know, from personal experience, that there were Indians, Siwash, in that band, that would face anything that wore hair.
Well, Captain Smith had the different companies deployed, part to go south and part to go north, and gradually work up to the center. No one was to fire a gun without orders, and they thought it would be a picnic to pick off each buck as he jumped up out of his blankets, but they had "counted without their host." As they closed in they simply found 15 or 20 campfires, but not a living thing. They immediately took their trail.
They had gone over a ridge and down into a deep canyon and the volunteers were close after them, but they came to a very sudden halt, as a dozen guns were discharged and several men fell dead. The Indians were too smart for them and had every advantage. They got down into this deep, dark canyon and behind big fir trees, while our people stood out on the open top of the ridge.
Captain Smith was a brave man, but he did not possess good judgment for an Indian fighter. He stood right out in the open. The bullets were whistling all around him when Bob Hadley, who crossed the plains with me, stepped up and told him that there was no use of standing there in the open for a target. Hadley took him by the shoulder and pulled him into camp, thus saving his life, so that he could be made a general in the war in '61 in the East.
Well, those brave men and pioneers stood and fought those Indians all day on empty stomachs, and so it was called the battle of "Hungry Hill." The result was that there were some 30 whites killed and wounded and perhaps they killed three Indians, but no one ever knew that.
Captain Smith concluded that that would never do, so he at dark ordered all the men, who were also supperless, to camp right there, and to sleep on their arms.
The next morning as soon as it was light enough to see to charge and rout them he had planned to rout them out of that canyon, for he vowed not to leave that field without a few scalps. Result No. 2 was that Mr. Indian had, in the meantime, made different arrangements, and before daylight, from the top of the hill began shooting the soldiers, who were so completely surprised that they became demoralized and all stampeded like a bunch of Texas steers.
They all came staggering back, all that were left living being very glad to get back to Fort Leland. But they were the most woebegone, bedraggled, crestfallen set of men that I ever beheld. That young lieutenant was not half as chipper as he had been, but sneaked off to camp and covered himself in blankets, and didn't get up until the next day, when he said: "Yes, we got licked."
Hon. John Hailey, Idaho delegate in congress and James A. Pinney, our ex-mayor, both residents of Boise, were in that first day's engagement.
J. H. TWOGOOD.
Evening Capital News,
Boise, Idaho, February 13, 1909, page B1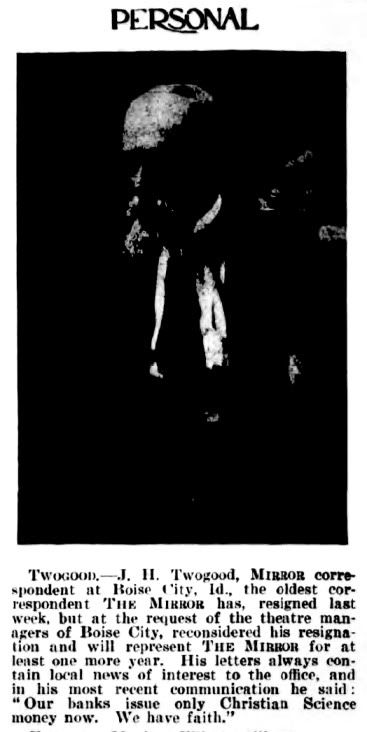 New York Dramatic Mirror,
December 14, 1907
TWOGOOD--"Uncle Jimmy" Twogood, correspondent of
The Mirror
at Boise, Idaho, recently wrote for a local paper a spirited story of the battle of Hungry Hill, the same being an account of a bloody contest between the Rogue River Indians and early settlers of his locality--of whom he was one--on Oct. 30, 1855. Mr. Twogood is in his eighty-third year.
"Personal,"
New York Dramatic Mirror,
March 20, 1909, page 2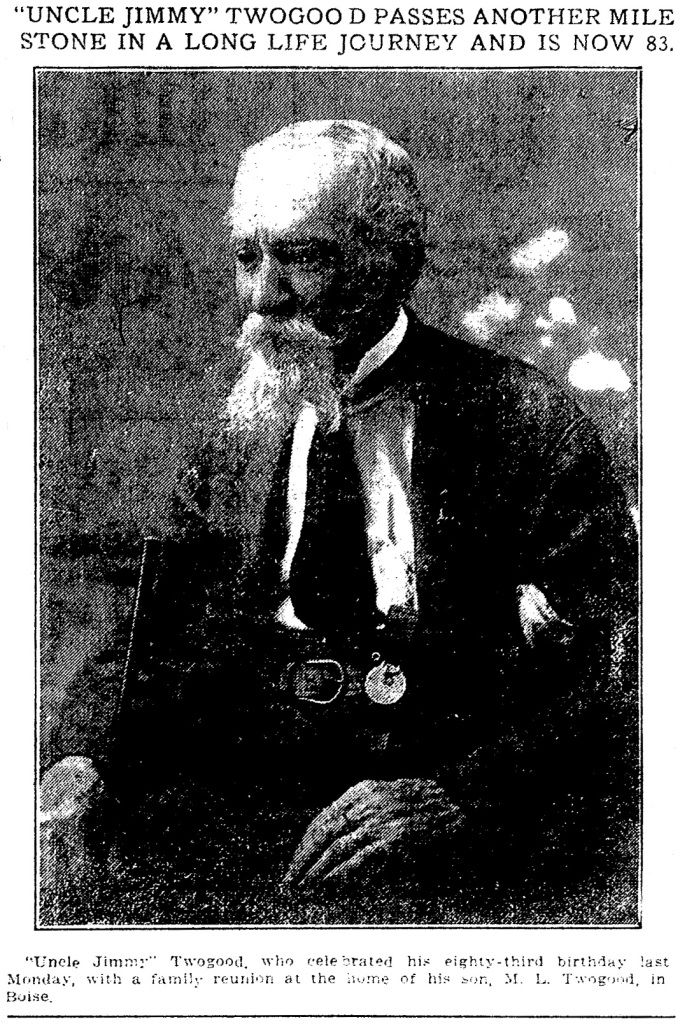 July 17, 1909 Boise
Evening Capital News,
page 7
CONTEMPT CASE 51 YEARS OLD
Interesting Paper Dug Up in Courthouse Files of Josephine County--
Man Decides Case in His Own Behalf.

(
Courier
)
Contempt of court in these times is considered a serious proposition, and if a person is summoned to appear before any court and fails to do so they are liable to a heavy penalty. However, these matters were evidently not looked upon so seriously 51 years ago in this county, according to the following letter on file in the county clerk's office and which explains itself:
"Leland, Oregon, March 28, 1859--To the Hon. George E. Briggs, Judge of Probate for Josephine County.
"Sir: This is to inform you that I will not make my appearance at court on the first Tuesday in March (for it will not pay to go sparking a man in these wet times). My presence before your honorable court is not required anymore, and all our former proceedings except my taking out letters of administration are (in the beautiful language of the poet) null and void for the following reasons, viz:
"First. The deceased had not lived his time out and, according to law, the land claimed under the Donation Act falls to the heirs.
"Second. The probate court has no right to grant an order of sale nor can the administrator give any title to the land whatever.
"Third. Any lawful deed to said land must necessarily, according to the donation act, come from the heirs of the deceased, else if there be no heirs living it has to escheat to the territory. (Therefore our courting is at an end and no more business to be did, except you sue me for breach of promise.)
"There is no news in these parts worthy of note; it rains or snows all the time, and we have not got in any grain yet.
"Respectfully, your obedient servant, JAS. H. TWOGOOD."
It will be seen by the above that Mr. Twogood refused to appear before the court when cited to do so, and practically tells the court that it is off its base and has no jurisdiction in the matter at issue and indulges in some levity at the court's expense. There is no further record that anything was done with Mr. Twogood, and again it is possible that he knew more about the case than the court did. In looking over the old documents in the courthouse some very interesting papers come to light.
Medford Mail Tribune,
May 4, 1910, page 6
The county clerk has granted marriage license to Edward C. Foss and Josephine C. Twogood, also to Henry P. Twogood and Grace G. Purves.
"Local Notes,"
Democratic Times,
Jacksonville, March 24, 1898, page 3
J. S. Howard:--"Do I remember 'Uncle Jimmy' Twogood? I certainly do, although he left this country soon after I came. Still I remember that he had about the best memory for dates and statistics of anyone I ever met. Jump him up anywhere and ask him for dates and figures concerning any occurrence with which he had been connected and he would give them to you--quick as a flash, and they were always correct. So he is still living and scored
The Mail
for a small error in Col. Maury's memorial notice? I traded with Maury & Davis when I first came to Jacksonville, and that firm erected the first brick in Southern Oregon, where the Jacksonville town hall now stands."
"Street Echoes,"
Medford Mail,
April 6, 1906, page 1
"Uncle Jimmy" Twogood, formerly a resident of this section, but now living at Boise, Idaho, has an interesting letter in the
Capital News
of that city of March 24th, dealing with pioneer incidents of Jackson County and referring particularly to the career of the late Col. R. F. Maury. Mr. Twogood takes exception to a sentence in the brief sketch of Col. Maury's life which appeared in the
Mail
wherein Col. Maury was mentioned as having been in the freighting business in 1852, calling attention to the fact that there were no wagon roads in Southern Oregon in those days and that the word "hauling" was incorrect. We accept the correction and promise not to offend again. Mr. Twogood mentions the names of many pioneers of Southern Oregon, most of whom have crossed the great divide.
Medford Mail,
April 27, 1906, page 4
MRS. JAS. TWOGOOD DEAD
WAS PIONEER RESIDENT OF THIS CITY.
Had Been Il for Past Six Weeks with Stomach Trouble and End Came Monday.
The news that death had claimed Mrs. James H. Twogood Monday morning was received with sorrow by her many friends in the city that has been her home for more than 30 years. Mrs. Twogood has been seriously ill for the past six weeks. She rallied somewhat about three weeks ago, and her daughter, Mrs. Loring, who had been sent for, returned to her home at Portland. A week ago Mrs. Twogood again became critically ill, and her daughter arrived New Year's night in time to see her mother a few hours before she died.
Mrs. Twogood's illness appeared to be stomach trouble, and her suffering was intense. Mrs. Twogood was Miss Permelia A. Custer, one of a family of 10. She was born at Monroeton, Penn. January 25, 1837. She moved to Cedar Rapids in 1860 and was married to James Twogood at the home of his younger sister, Mrs. J. F. Hervey, at Marion, Iowa, June 17, 1863. The bride and groom started at once for their new home in Southern Oregon, going by way of Chicago, New York and the Isthmus for San Francisco, from there taking a 400-mile stage ride to their Oregon home, where they lived until 1866, when they returned with their two boys to Rockford, Ill., by way of San Francisco and the Isthmus. They remained here for four years and then came to Boise October 1, 1870.
At one time in the '70s there were five sisters of the Custer family living in Boise. The oldest, Mrs. J. M. Betts, came in 1863; Mrs. Amos T. Bennett, Mrs. E. R. Sherman and Mrs. Thomas Healey coming later. They are all gone now except Mrs. Sherman, who lives at Spokane.
Mrs. Twogood leaves a husband, J. H. Twogood, one of the well-known pioneers, and two children, Mrs. Carrie Twogood Loring and Merritt Twogood. The body was taken to Schreiber & Sidenfaden's parlors Monday and will be brought back to the family home, 1110 Idaho Street, this morning. The funeral will be held from Schreiber & Sidenfaden's chapel Wednesday at high noon. Bishop Funsten will officiate. Mrs. Twogood affiliated with the Episcopal Church in 1871, receiving communion from Bishop Tuttle. Interment will be at "Elk's Rest," at Morris Hill.
Idaho Statesman,
Boise, January 3, 1911, page 7
JIMMY TWOGOOD PASSES AWAY WHILE ASLEEP
Aged Boise Pioneer Dies on Anniversary of Deceased Wife's Birth.
"Uncle Jimmy" Twogood died yesterday morning at 6 o'clock. His passing was peaceful. He slept when the summons came, and those at his side hardly realized that the transition had occurred.
The aged pioneer had been living with his daughter, Mrs. Robert E. Loring. He had not been feeling well, although up and around. He retired at 9 o'clock Friday night. Early yesterday morning he experienced a fit of coughing. Medicine was administered, and he was laid back on his pillows. In a few moments he was dead.
The funeral will be held from Elks Hall, Seventh and Idaho, at 2:30 this afternoon. The body will be taken to the hall at 10 this morning.
T. P. Woodcock, president of the Boise Volunteer Firemen's Association, has called the volunteers to meet at Central Station at 1:30 to attend the funeral. The deceased was one of Boise's most enthusiastic and energetic volunteer firemen prior to the organization of the paid department. He joined the Chicago volunteer department in 1845 and fought historic conflagrations there. The picture he thought most of was one in his firemen's uniform, shown on this page. [
The photo was not printed in the edition of the
Statesman
microfilmed.
]
James H. Twogood was born at Troy, N.Y., July 12, 1826. He went to Chicago in 1837, attended school and learned the harness maker's trade. He crossed the plains in 1851 and located in the Rogue River Valley, Oregon. He went through the Indian Wars of 1853 and 1855-6. Mr. Twogood went to Rockford, Ill. in 1856 and came to Boise four years later to remain until his death.
Mr. Twogood's wife died January 2, 1911, and he passed away on the anniversary of her birth. He is survived by a son and daughter, Merritt L. Twogood and Mrs. Robert E. Loring. He also left a brother and four sisters, W. S. Twogood of Los Angeles, Mrs. M. L. Satterlee of Chicago, Mrs. S. P. Jones of Jacksonville, Ore., Mrs. J. H. Hervey of Riverside, Cal., and Mrs. Sarah Chapin of Rockford, Ill.
Idaho Statesman,
Boise, January 27, 1913, page 11
JAMES H. TWOGOOD DEAD
Resident of Southern Oregon in Early Fifties.

James H. Twogood, well known to Southern Oregon pioneers, died at his home in Boise, Idaho, early this (Saturday) morning. Death was due to heart failure, and the end came very peacefully, the message bearing the sad news stating that he "just went to sleep."
Mr. Twogood was a Southern Oregon pioneer of the early '50s and was well acquainted with the early history of the country. He was one of a family of seven, the father of seven children and the grandfather of seven. He is the first of his family to die, one of his sisters, Mrs. Stoughton P. Jones, residing in this city. Mr. Twogood had the distinction of being the oldest member of the B.P.O.E. lodge in Idaho. Funeral services will be conducted under the auspices of the Elks of that state.
Jacksonville Post,
January 25, 1913, page 3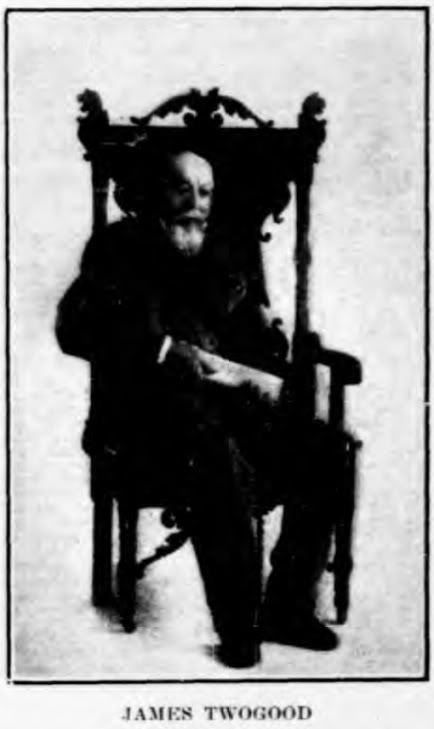 OLDEST CORRESPONDENT
James H. Twogood, Western Pioneer and Prominent Elk, Dies at Boise, Ida.

James H. Twogood, the oldest correspondent in point of age attached to
The Mirror
staff, and a pioneer of Idaho and Oregon, died shortly after five o'clock Saturday morning, Jan. 25, at his home in Boise City, Idaho. Mr. Twogood, better known to a large circle of friends as "Uncle Jimmie," was born at Troy, N.Y., July 12, 1826. In 1837 he settled in Chicago with his parents and there received his early education. In 1850 he crossed the plains and located the Grave Creek Ranch in Rogue River Valley, Oregon, in 1851. During the Indian wars of 1853 and 1855-56 he was an enlisted volunteer, and took an active part in the fierce battles against the Indians. In 1870 he made his permanent home in Boise, and contributed many important articles on the early history of the West.
The Boise
Capital News
of Jan. 25 says: "He was prominent in the Capital City Lodge No. 310. Benevolent and Protective Order of Elks, in which he held the office of tyler. Since 1892 he had been correspondent for the New York
Dramatic Mirror
and was a conspicuous figure in all the theaters in the city, even to the picture shows, and he continued his correspondence until a short time ago.
"Mr. Twogood is survived by two children, Merritt L. Twogood and Mrs. Robert Loring, of Boise, and four sisters, Mrs. M. L. Satterlee, of Chicago, who is past ninety years of age; Mrs. S. P. Jones, of Jacksonville, Oregon; Mrs. J. H. Hervy, of Riverside, Cal., and Mrs. Sarah Chapin, of Rockford, Ill. He also leaves a brother, W. L. Twogood, of Los Angeles. The funeral will be held tomorrow afternoon at 2:30 o'clock at the Elks Hall, at Seventh and Idaho streets. The body will lie in state at the hall from 10 o'clock in the morning until the funeral service. Burial will be in Elks' Rest in Morris Hill Cemetery."
The New York Dramatic Mirror,
February 4, 1913, page 17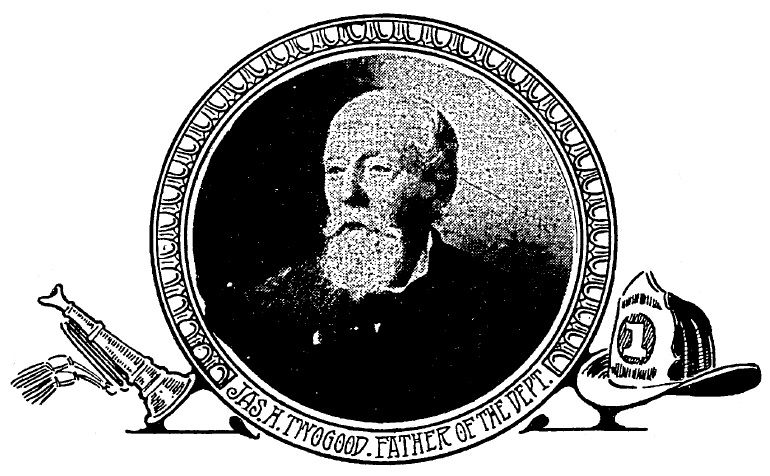 Father of the Boise Fire Department, October 15, 1911
Idaho Statesman
[Rosenstock's] house, like all others between Dardanelles and North Canyonville, was surrounded by a stockade, which was constructed by digging a trench four or five feet deep around the house, generally in a square, and then setting timbers twenty or thirty feet long upright so as to make a bulletproof wall and then tramp them solid with earth, and cutting loopholes through for the purpose of firing on an approaching foe. Generally there was a small bastion at each corner with loopholes so that the sides could be protected. A majority of all the houses in southern Oregon were so protected.
* * *

The post office of Leland, on Grave Creek, had the largest and best stockade on the road. James Twogood was the postmaster. The Indians killed his partner, Harkness. The Indians called Twogood Jimmy Mox (Two) Close (Good), and it was said that a young squaw gave Jimmy a warning of the Indian outbreak at the risk of her own life.
* * *
The post office of Leland, on Grave Creek, had the largest and best stockade on the road. James Twogood was the postmaster. The Indians killed his partner Harkness. The Indians called Twogood Jimmy Mox (Two) Close (Good), and it was said that a young squaw gave Jimmy a warning of the Indian outbreak at the risk of her own life. I think I told you before how Grave Creek got its name.
Leland was one of the chief rendezvous and harbors of safety for the whites during the war.

* * *
October 23, 1856, Holland Bailey, with a drove of hogs, four ox wagons loaded with goods and men sufficient to drive the same, were ambushed by a band of hostile Indians. Mr. Bailey was killed, his hogs scattered through the woods, the oxen shot down in the yokes, and the wagons and contents taken or burned. The drivers and herders saved themselves by flight. Just about this time Jimmie Twogood came along with his small pack train and two helpers.
Jimmie was a favorite of the Indians, and they did not wish to kill him. So the Indians hid behind a big sugar pine log and let them pass.
William H. Byars, "Pioneer Day Pony Express Rider Led an Eventful Life," undated
Roseburg News-Review
article, DAR scrapbooks vol. 18, RVGS.
Byars rode the mail route on the Siskiyou Trail in 1856-1858.
Last revised May 22, 2017